Explore Scotland and some of its most exciting events with the Caravan and Motorhome Club
06/02/2019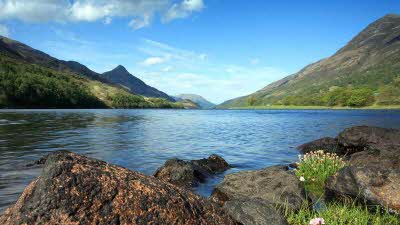 With membership starting from just £52 per year for two people, why not take advantage of the year round benefits and set off on a Scottish adventure?
Here are five of the Club's top event picks complete with nearby sites to head to in 2019:

1. Glasgow: European Athletics Indoor Championships, 1-3 March 2019
Strathclyde County Park Club Site
This March, Glasgow will welcome some of the continent's greatest athletes at the 35th annual European Athletics Indoor Championships. The sporting competition will see over 600 athletes representing 50 nations take to the tracks at the Emirates Arena to compete for prestigious European Athletic titles.
Spectators can head to one of the six sessions over three days of intense competition and can expect to see some of the greatest athletes competing on track and field, including the likes of Mo Farah and the Great Britain relay teams. Located just 20 minutes outside of Glasgow, Strathclyde County Park Club Site is a great base for some rest and relaxation after an exciting few days watching the sport.
The site is just a ten minute stroll from its namesake park, which offers 1,000 acres of woodland, waterland and parkland to explore.
From £12.90 per standard pitch per night based on one adult staying

2. The Islands: Islay Festival of Music and Malt, 24 May-1 June 2019
Situated just off Scotland's west coast, the Island of Islay is famous for producing single malt whisky at its eight working distilleries, and for offering panoramic views of Northern Ireland from its southern tip.
The Island's festival of music and malt offers visitors the chance to experience traditional song, dance, poetry, food, language, piping and, of course, whisky tasting all in one place! Visitors can stay just across the water at Carradale Bay Caravan Site on the mainland, which boasts fantastic views across the Kintyre Peninsular.
The site is just a 40-minute drive to Kennacraig, where holidaymakers can easily catch the ferry to Islay. The ferry itself takes around two hours and the picturesque landscape and the warm welcome from the people of Islay means it's a trip worth taking.
Contact site directly on 01583 431665 for prices and availability

3. Edinburgh: Royal Military Tattoo and Fringe Festival, 2-24 August 2019
Edinburgh is the place to be in August and it's no wonder as it plays host to two world-class events. The Royal Edinburgh Military Tattoo is a unique event featuring performances from military bands, both national and international, as well as dancers from around the world. The acclaimed Edinburgh Fringe Festival offers visitors the chance to see live comedy, musicals, wacky children's shows and creative dance shows at venues across the city, and some are even free. Many famous names have played the Edinburgh Fringe Festival over the years, including the likes of Ruby Wax, Jason Donovan and John Bishop. The Edinburgh Club Site offers a great base to explore the city and is only a short drive from the centre. It is also perfect for those wanting to combine the coastal scene with the city vibe. Dog walks and cycle routes surround the site, making it a great location for those who also like to enjoy the great outdoors.
From £22.30 per standard pitch per night based on one adult staying


4. The Highlands: Braemar Gathering Highland Games, 7 September 2019
Possibly the most famous of all the Highland Games, the Braemar Gathering attracts visitors from all over the world. It is little surprise because the ancient Highland festival has a history dating back 900 years and is traditionally attended by The Royal Family. Clans and athletes of all ages from across Scotland come together to compete in an array of traditional competitions including Highland dancing, tug of war, solo piping and heavy events. The Forfar Lochside Club Site is located just over an hour's drive from the Braemar Gathering and is also just over an hour from Balmoral Castle. The site is located on the shores of Forfar Loch and within the stunning country park. It is ideal for walkers and dog walkers, offering routes with panoramic views across the Highlands and the North Sea.
From £16.00 per standard pitch per night based on one adult staying

5. Perthshire: Scone Palace Spirits of Halloween, 25-31 October 2019
Regal Scone Palace is the perfect place to spend the spookiest time of the year. Home to the Earl and Countess of Mansfield, the palace will be transformed into a terrifying playground with ghouls and ghosts hiding in the garden maze, lurking in the woods and coming out to play in the state banquet room when they are least expected. For the perfect Scottish getaway this year, visitors can combine a trip to Scone Palace with a stay at the nearby Balbirnie Park Club Site, just a 40-minute drive away. The site is set within 400 acres of parkland, so it's no wonder it's so popular with hikers, cyclists and dog walkers.
From £11.80 per standard pitch per night based on one adult staying
For more information on the Caravan and Motorhome Club, please visit www.camc.com

-Ends-
About the Caravan and Motorhome Club
Champions of the great outdoors, the Caravan and Motorhome Club represents the interests of over one million caravan, motorhome, campervan and trailer tent owners across the UK. Founded in 1907, the Caravan and Motorhome Club has a wealth of experience and prides itself on offering great value and high quality sites for tourers.
Caravan and Motorhome Club membership is just £52 per year and provides members with access to 2700 quality sites in the UK and overseas.
The Club offers over 330 sites across Europe including France, Spain and Germany amongst other destinations. All members can take advantage of expert advice, overseas travel services, great ferry offers, cover and insurance and exclusive member offers and discounts.
In addition, the Club offers a choice of glamping pods, yurts, camping pods, tent camping plus a motorhome and Airstream hire scheme available to non-members through its Experience Freedom operation. To find out more, visit www.experiencefreedom.co.uk
For further information about becoming a member of the Caravan and Motorhome Club, please visit www.camc.com or call 01342 318 813.