We're celebrating a triple win at the 'Top 50 Companies for Customer Service' 2017 awards
06/11/2017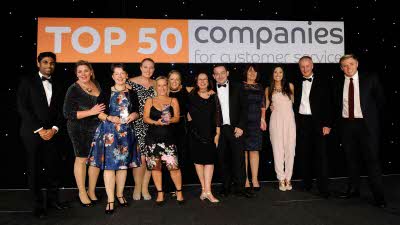 The Caravan and Motorhome Club has won three awards at the prestigious 'Top 50 Companies for Customer Service' 2017 awards. The Club was named as the best company for customer service in the travel and hospitality sector for the second year running; the most improved company overall for Live Chat; and Member of the Year 2017.
The Caravan and Motorhome Club's customer service team is made up of over 140 employees at its East Grinstead head office as well as a network of sites staff across the Club's 200 Club sites and 2,500 privately owned places to stay in the UK.
Commenting on the Club's triple win, Peter Martin, Head of Operations, Membership Services at the Caravan and Motorhome Club, said: "I am, once again, so proud of the whole Contact Centre Team and all our staff who have contributed to these three award wins. These accolades are well deserved and testament to the strength of our customer service team, both at head office and across our network of sites. We pride ourselves on offering the best possible experience for our members, from the first enquiry right through to when they are on holiday, so it's incredibly rewarding to have our efforts recognised.
"We're delighted to have been named Member of the Year too as it demonstrates how we assist other companies and constantly strive to improve performance in the industry overall."
The 'Top 50 Companies for Customer Service' 2017 awards were announced on 25 October at a gala event at the Vox Conference Centre in Birmingham where the leaders in customer service turned out in force for an evening of celebration.
The Top 50 Companies for Customer Serviceis the largest benchmarking exercise for customer service in the UK run in partnership with GfK Mystery Shopping, one of the UK's leading independent market research organisations. It is the only benchmarking service to use customers to provide analysis across calls, email, live chat and social media. The report is based on an extensive programme of mystery shopping. Assessors, who are both actual and potential customers, engage with member contact centres and then record what happens during their phone conversation, email, live chat and social media channels.