Re-discover what is on the Great British doorstep in 2019 with the Caravan and Motorhome Club
16/01/2019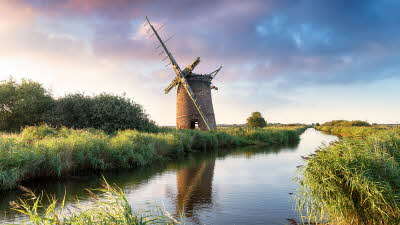 With over 55 Club and Affiliated Sites, as well as many more Certificated Locations, that stay open all year round there's no reason to wait until the summer before enjoying the great British countryside.
With heated washrooms, hot showers and electric hook ups at most sites holidaymakers will stay dry and warm all year round. There's a financial incentive too, the Caravan and Motorhome Club has more open all year round sites than any other club providing great value touring with many sites offering kids for a £1 and 50 percent off midweek stays. Prices start from just £6.20 per night, based on one pitch and one adult.
Explore the best of the UK by staying on the Caravan and Motorhome Club's unrivalled number of privately owned, quality sites. For the best of the great outdoors, the Club has sites in close proximity to all 15 National Parks, from Scarborough West Ayton in Yorkshire to the Norfolk Broads and the Brecon Beacons in Wales there are boundless beautiful landscapes to explore. From climbing majestic mountains to gently passing the time away on the water there are countless activities to be enjoyed and even new skills to learn.
Get to grips with Great Britain's grand past by exploring historic houses. There are numerous stately homes and castles to be explored from the well-known Sandringham Estate in Norfolk to Allerton Castle near Knaresborough and Callendar House in Strathclyde, up and down the country there are nearby sites and some of them are even in the grounds of the stately home itself.
Caravan and Motorhome Club members who are history buffs and fans of the great outdoors will also benefit from the Club's 8 per cent saving on National Trust giftcards. The cards can be put towards: entry for day-trips, used in the cafes and restaurants, redeemed in the on-site shops, holiday cottage bookings or put towards National Trust membership, which gives unlimited discoveries and free annual access to over 500 places.
Whilst making the most of the great outdoors and discovering new places is always high on the agenda for Caravan and Motorhome Club members, there's generally time to relax, have a drink and a good meal. The Club is always keen to hear recommendations and has now compiled a top sites near cosy pubs guide, detailing all the favourite hostelries and their nearby sites, tried and tested by members.
To ensure that members have a consistently good experience the Club carries out an ongoing investment programme. Some developments for 2019 include: upgrading the washroom facilities and providing a washing up and food prep area at the Commons Wood site in Hertfordshire and a brand new toilet block in Sutton-on-Sea in Lincolnshire, together with 16 new serviced pitches, additional play equipment in the children's play area, a site reception refurbishment and road resurfacing.
There is so much to explore in the Great British countryside and there has never been a better time to re-discover not only the old favourites but some of the lesser known yet idyllic spots the UK has to offer.
For more information on the Caravan and Motorhome Club, please visit www.camc.com
- Ends -