Tewkesbury Abbey Caravan Club Site is triumphant in Sites in Bloom Awards
04/11/2015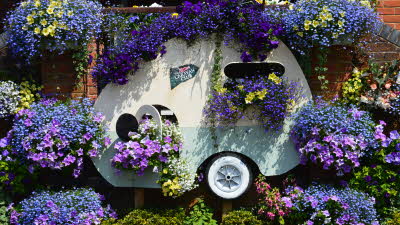 Tewkesbury Abbey Caravan Club Site, Gloucestershire, has taken top honours at The Caravan Club 'Sites in Bloom' 2015 competition. With superb mature trees screening the caravan site, Tewkesbury Abbey is one of the most impressively located sites on the network. It is only a short walk from the charming old town of Tewkesbury, almost in the shadow of the ancient Abbey from which it takes its name.
Morn Hill Caravan Club Site scoops second place while Malvern Hills Caravan Club Site comes in with third place.
The Sites in Bloom Awards were introduced in 2003 by Executive Member and Caravan Club Life Member, the late Alan Payne OBE, who wished to recognise the creative and horticultural skills of site wardens and volunteers, and to showcase their success in making their sites colourful and welcoming.
The displays were evaluated using criteria including layout and creative use of space, variety, innovation, flair and colour coordination, with particular attention being paid to economy and low maintenance. The geographical location of the site is also taken into account by the judges and the fact that plant species are chosen to suit the local environment.
The Caravan Club's Head of Site Operations, Neil Windeatt said, "the standard of entry is very high, Committee do find it difficult to judge the winner and runners up and Committee are appreciative of the effort the sites all put in."
Grenville Chamberlain, Caravan Club Chairman, presented site wardens, Mike and Ros Mears, with the magnificent Alan Payne Trophy for their fantastic horticultural achievement, at an awards ceremony at the House of Commons on Tuesday 3 November.
Runners up were: Morn Hill Caravan Club Site, a large, well-kept site divided into two main areas, well segmented by trees and shrubs to give each visitor a sense of privacy. Malvern Hills, home to the largest area of open common land, was awarded third place.
Chamberlain commented, "Our site wardens are very busy people so we are extremely grateful for the time and effort that they put into making sure our members and visitors get the most out of their stay on Club Sites."
---
Contact information

Nikki Nichol
External Communications and Sponsorship Manager
The Caravan Club
01342 336 797 / 07771 834 443
nikki.nichol@caravanclub.co.uk

Rochelle Claxton
Communications Administrator
The Caravan Club
01342 779 346
rochelle.claxton@caravanclub.co.uk

Notes to editor

Champions of the great outdoors, The Caravan Club represents the interests of over one million caravanners, motorhomers and trailer tent owners across the UK.

The Caravan Club offers its members over 200 Club Sites and 2,500 privately owned places to stay, and provides all members with expert advice, overseas travel services, financial services and exclusive member offers and discounts.