The Big Little Club Welcome… a week of advice and tips for beginners from the Caravan and Motorhome Club
27/08/2020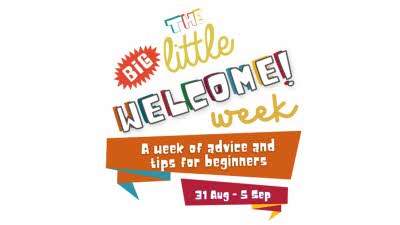 Having or hiring your own leisure vehicle means you can have an adventure on your own terms, in your own private space, whenever you choose.
The Caravan and Motorhome Club has launched The Big Little Club Welcome, a week of advice and tips for beginners. The Big Little Club Welcome follows on from the successful virtual events hosted by the Club earlier in the year, The Big Little Tent Festival and The Big Little TeaTime Festival. The Big Little Club Welcome launches Monday 31 August, for one week, follow and like @CandMClub social media platforms to get inspired. The Big Little Club Welcome is designed to help people with a dedicated week of advice, tips and the opportunity to connect with this huge community of helpful tourers to help them answer any questions they may have about camping, caravanning, campervanning, motorhoming and glamping.
People wanting to adopt a leisure vehicle touring lifestyle may have questions as to how to start enjoying this pastime. The Caravan and Motorhome Club represents a community of some one-million like-minded people, the Club asked it's members to complete the sentence "When I first started touring, I wish someone had told me…" The responses were both practical and heartwarming, and the Club is going to be sharing the responses with members, new and old, present and future, to help inspire people to take to the road and start their own adventure.
Harvey Alexander, Director of Marketing and Membership at the Caravan and Motorhome Club, says: "The Caravan and Motorhome Club is a huge community of friendly and helpful people, from fellow members to campsite and head office staff. I know when I've been on a campsite and needed help, fellow members are always quick to roll-up their sleeves and pitch-in or offer tips and hints. We all share a common passion for being in the great outdoors and enjoying time away in our leisure vehicles. My answer to the question 'when I first started touring, I wish someone had told me…' would be that I wish I'd known what an amazing lifestyle this is and how great it is to be part of this incredible community - I would have started years before! We hope The Big Little Club Welcome will help to inspire people and answer any questions they have on how to get started".
Here's a small sample of some of the responses to the question: When I first started touring I wish someone had told me...
"That 32 years later we'd still be loving the touring life as much as we were then!

"Just a couple of love-struck teenagers starting out together with a tiny tourer, no money and no idea of the incredible worldwide van travels our future together would bring.

"Above all we've learnt that every trip is an education, each day of touring another memory made but most significantly... The world is a very big place so just get out there and start exploring!"

"How hard the 'withdrawal' would be during lockdown and how desperate we would be to have a weekend away as soon as the sites opened."

"How much we would love it! And how helpful other caravanners are when you've bought your first awning off eBay with no instructions and everyone around you ends up helping to put it up."

"That you'll have the best night's sleep in your caravan."

"That it would be the best thing we ever did for quality family time!"

"Don't drag your cables. The awning is easier to put up if you ask for help."

"There's a switch just inside the doors that needs to be on before any 12v light will work."

"

How amazing life can be on the road, we are having the best time ever, should have done it years ago."

"To buy ratchet straps to put around the awning when it is down and folded so that it goes in the bag much easier!"

"Don't go into a showroom out of interest or a small item and come away with a caravan. Oh go on then do."

"How many wonderful memories we would make, and how happy we would be when we are in our caravan."
The Big Little Club Welcome will offer peer recommendations and advice; a helpful decision tree to help you find out what type of holiday and vehicle will be right for you, your family, friends and furry friends(!); inspirational videos and content on the website and social media channels; useful checklists; a live quiz; advice on campsites; details of training courses; services and products and a whole host of entertainment and information.
The Caravan and Motorhome Club can help you to make the most of your holidays, whether you want a city break, walking in the wilds, surfing in the sea, or using your leisure vehicle as accommodation to enable hobbies like rambling, attending motorsport races, cycling or painting.
Membership of the Caravan and Motorhome Club is just £54 per year. Members have access to thousands of UK sites, plus expert advice, overseas travel services, cover and insurance and exclusive member offers and discounts. You can find a whole host of hints and tips at Touring with the Caravan and Motorhome Club. On the Club website the 'Club Together' online forum brings together thousands of like-minded tourers who share experience, offer advice and handy hints and tips.
To find out more about Club membership and its campsites, and to view all its advice for first-timers, visit https://www.caravanclub.co.uk/uk-holidays/start-a-new-adventure and www.camc.com