Knaus Campingpark Viechtach
Knaus Campingpark Viechtach
Waldfrieden 22, Viechtach , 94234, Germany
View on map
Gallery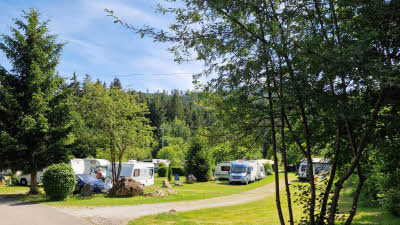 Why stay here ...
The site is set in the low mountainous area of the Bayerischer Wald National Park and driving to Viechtach you pass through the many green fields and forests. This is the largest protected forest area in Central Europe
Viechtach itself is a small typical town with the church square in the centre where you can enjoy an ice cream or meal.
With the holiday tax paid on site you get free travel on the "Waldbahn" railway which is a fantastic way to travel through what is called "Bayerishe Kanada", with its green fields and forests. It's perfect for leaving the car behind and discovering the local area. A bus picks you up from outside the site to take you to the railway station and off you go. The views are amazing.
There are also lots of activities in the local area for all the family, animal and attraction parks, distilleries, museums and the Waldwipfelweg, a 52 metre high and 16 kms long wooden structure to walk above the forest with stunning views of the countryside.
Onsite the friendly staff welcome you to a family campsite which also positively welcomes dogs and has its own agility course and training sessions with fabulous walks for your pets in the adjoining forest.
There is a heated pool open all year round included in the pitch price, a sauna room, a bar and restaurant, an indoor kids playroom and a tourist information area.
Around and About
Schwarzer Regen river, Hollenstein See lake, Sankt Englmar, Waldwipfelweg Germanys longest tree experience 16kms long, Ski and Bike Park in Giesskopf,
Loifling - Churpfalzpark Attraction park, Bike and Walking trails all around site, cross country skiing.
Prices
Map
Sites key: Overseas Site
Postcode:

94234

Region:

Germany

Distance to Calais: (kms)

0
GPS:

Lat 49.08450166 / Lon 12.853280663

Michelin map no.

0