Huttopia de Meinweg
Meinweg 7, Herkenbosch , 6075 NA , The Netherlands
View on map
Why stay here ...
Huttopia De Meinweg is set in 27 hectares in the beautiful region of Limburg. With Belgium to the West and Germany to the East the site is located in the heart of the De Meinweg National Park which is wonderful for cycling.
The campsite offers an unspoiled setting with spacious tree lined pitches and is an ideal base for visiting the south of the Netherlands with its landscapes, local traditions, culinary delights and historical sites.
The site has 2 heated pools but alternatively you can swim in the beautiful Meuse lakes which can be found in Roermond, just 12 km from the campsite, where you can relax on the sandy beaches and take a dip in the summer.
On site you will find two food-trucks where you can enjoy a drink, a delicious homemade pizza or share an aperitif platter. You can also opt for the breakfast menu so you don't have to prepare anything.
Prices
Map
Sites key: Overseas Site
Postcode:

6075 NA

Region:

The Netherlands

Distance to Calais: (kms)

350
GPS:

Lat 51.16101 / Lon 6.1021721

Michelin map no.

0
Transport links
Buses go to: Herkenbosch

Daily public transport within 2 kms

Nearest port: Hook of Holland (209 kms)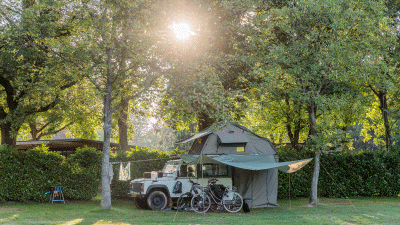 22.58 miles