Caravan in the sky
30/09/2021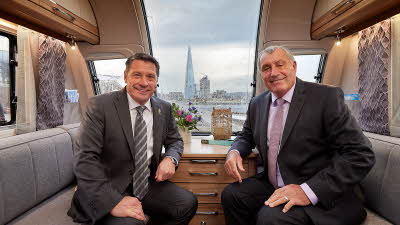 Many of us enjoy a pitch with a decent view – ideally with decent public transport links and shopping opportunities nearby. Well Bailey of Bristol took this concept to a new level in September when it hoisted a new Unicorn Vigo caravan onto the roof terrace at One New Change shopping centre in the City of London.
Meticulous planning was involved in order to lift the 24ft-long, 1,430kg four-berth onto the sixth floor of the building, where it enjoyed magnificent views of St Paul's Cathedral.
The stunt, designed to celebrate Britain's staycation boom, was followed by a reception attended by multiple celebrities, all with their own stories about caravanning or their love of the great outdoors. The Club was proud to support this exciting event.
England goalkeeping legend Peter Shilton remembers: "We had a caravan at Mablethorpe on the east coast. That was the 'big holiday'. We'd have a week or 10 days once a year. I was about nine or 10 and I was football crazy. I always took my football with me and you went up a slope to the beach. We used to make a couple of 'goalposts' out of sand. My dad would be whacking balls at me and people on the beach used to come up and say to him, 'He's not bad that lad - can we try and beat him!' I've never lost those memories of going on a caravan holiday."
Television commentator and former West Ham and England striker Tony Cottee also has great memories of time spent with his parents on the east coast: "My caravanning days go back to my youth [from the ages of five up until about 13] in Clacton. The caravan we used to stay in was nothing like the one that's over there! I've got some fantastic memories – I used to look forward to those holidays every year."
JB Gill, member of the successful pop combo JLS, says, "I remember staying in a caravan with my family at about the age of seven or eight and witnessing a solar eclipse. It was unbelievable – I remember everything going quiet and it being really dark at about 4 o'clock in the afternoon. I remember thinking, 'We're going to be invaded by aliens' or something!"
Gill, who also runs his own farm and presents the Down on the Farm show on CBeebies, continued, "This July we went glamping in Norfolk - it was fantastic, we had a great time. It was nice to reconnect with nature and that's something I am incredibly passionate about."
It just goes to show that, no matter who you are, a touring holiday lives long in the memory. To find out more about the Bailey Unicorn Vigo, see baileyofbristol.co.uk.
Paralympic gold medallist Emma Wiggs MBE