Club achieves silver award from Green Tourism
20/05/2022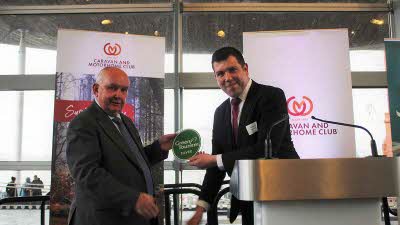 We are delighted to announce that this week, the Caravan and Motorhome Club achieved a Silver Award, from the Green Tourism accreditation scheme, at a Parliamentary Reception in Wales.
Green Tourism are renowned and trusted eco experts who provide guidance on greener ways of operating as well as offering advice to businesses on how to be more sustainable and socially responsible.
Image: Club chairman, Grenville Chamberlain being presented with a silver award from Green Tourism
They support touring businesses like ours every day to ensure we're all doing the best we can for everyone's future. To achieve one of their prestigious awards, we had to hit a number of achievements rated by Green Tourism's "People, Places and Our Planet" criteria. In turn, their awards are recognised and acknowledged across the world as an indicator of good environmentally-friendly practices.
Mark Feast, the Club's Sustainability Advisor, said, "The Club is exceptionally proud to have achieved a Silver Award from Green Tourism. Together we are on a continuous journey of responsible actions to reduce our environmental impact and help our members, guests, and future generations, get more from the great outdoors."
Image: (L-R) Emma McQuillan (Head of Governance, CAMC); Sam Rowlands MS; Dawn Bowden (Deputy Minister for Arts and Sport); Vaughan Gething (Minister for Economy); Nick Lomas (DG for CAMC)
As a tourer himself, Nick Lomas, the Club's General Director, is always striving for more ways to be green, whether that's on a Club campsite, in the office or on the road. He said "The Club is taking action by committing to understanding our environmental and social impact by engaging with Green Tourism, they will act as a springboard for future sustainable actions across the Club and we look forward to sharing the journey with you."
We have lots of exciting plans for how we make continuous progress and adopting better ways to be greener whether that's on our large Club campsite network, within our head office or at the many events that we attend every year. The future is green and we're excited for you all to be a part of our eco journey.