Competitions, celebrity hosts and free towing tasters, all rolled into this year's October NEC show
24/10/2018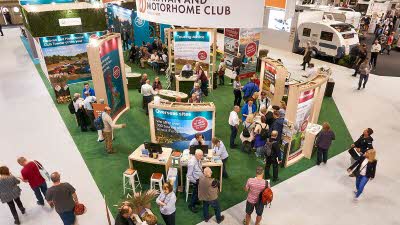 The Motorhome and Caravan Show 2018 at Birmingham's NEC was another hit this year for the Club and its members.
We always love to see our members visit us at our stand to say hello, share feedback and ask about our latest products and services.
Our competition stand was bustling! Thousands of visitors entered our Win a Weinsberg caravan competition – and you can still enter today as the competition closes 28 February 2019!
Club Day is the opening day of the show and to celebrate, TV presenter and journalist Matt Allwright hosted a series of forums, where he answered audience questions about his passion for the great outdoors and tales from his campervan adventures. Also, special guest and Club member, Arthur Bostrom (from the 80s/90s TV show 'Allo 'Allo) was on stage talking about his new book 'Good Moaning France'.
We launched our 2019 worldwide tours at the show where we run fully escorted motorhome tours to New Zealand, Australia, Canada, USA and Southern Africa.
Club Director Nick Lomas and the Director of Marketing, Harvey Alexander were on site to talk about all the things you can do through the Club, whether it's jetting off on a motorhome tour of the Californian Coast, to taking advantage of our extensive member offers.
What is The Motorhome & Caravan Show?
The Motorhome & Caravan Show is one of the UK's largest outdoor leisure events, brimming with caravans, motorhomes, trailer tents and outdoor accessories from leading manufacturers. If you are looking to buy or browse, you are always guaranteed to get expert advice from the stands.
If you've never driven a motorhome or towed a caravan before, we run free taster sessions each year and this year we invited visitors of the show to come and have a go at driving a motorhome with our experienced instructors.
Visit us next time
Can't wait until next October? We will be at the Birmingham NEC again from the 19 to 24 February 2019 for The Caravan, Camping and Motorhome Show. Where you can come and chat to our technical experts, have a go at manoeuvring, find out about our latest products and join us if you're not yet a member.
Keep an eye out on our caravanning shows page for more information about our 2019 shows later on in the year.