Australia's Northern Territory
Australia's Northern Territory
Gallery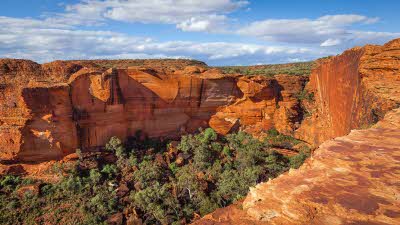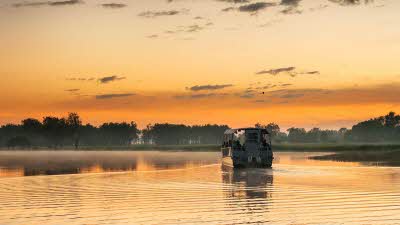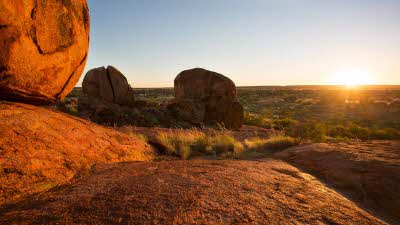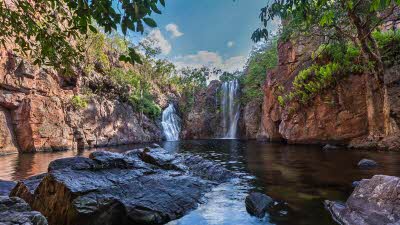 Florence Fall at Litchfield National Park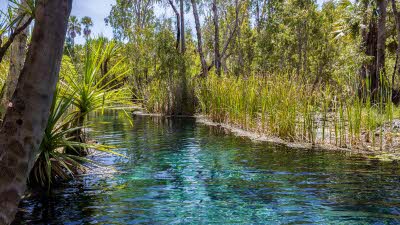 Mataranka Hot Springs in Waterhouse River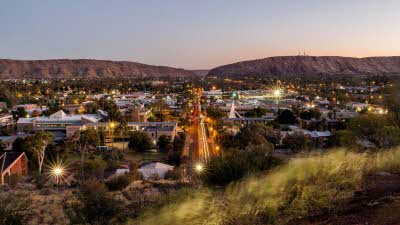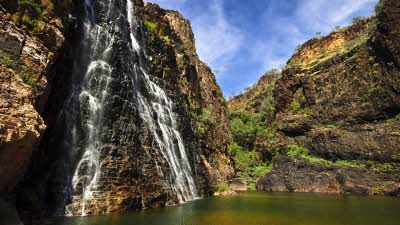 Twin Falls, Kakadu National Park
Tour highlights
Darwin
Litchfield National Park
Kakadu National Park
Devils Marbles
Alice Springs
Kings Canyon
Uluru (Ayers Rock)
Days 1 - 8: Darwin to Jabiru (Kakadu National Park)
Read more
Days 1 - 4: UK to Darwin
Fly from the UK to Darwin where you will be met and transferred to a centrally located hotel for a 2 night stay.
Darwin is Australia's most northern capital and is a relaxed, multicultural, and modern city with tropical beaches.
Days 5 - 6: Litchfield National Park
Distance: 116km / 73 miles
This morning you will be transferred to the motorhome depot to collect your vehicle before heading east to Litchfield National Park. Litchfield National Park is a true wonder of the Top End, complete with idyllic waterfalls, pristine swimming spots, beautiful walking trails and hidden natural wonders including Wangi Falls and Florence Falls.
Wangi Falls adorns many a Territory postcard. With picturesque walking tracks and stunning waterfalls coming from sandstone cliff faces, you'll be sure to remember your time here fondly. Camping is the only option to stay overnight. You'll find all the facilities you need, including a kiosk, hot showers and barbecues. There are several walking tracks of varying difficulty, or you can simply lie back in the relaxing fresh water.
Florence Falls is Litchfield National Park's best-kept secret. The secluded plunge pool is located right in the middle of monsoon rainforest, providing plenty of shade from the sun. From the lookout, you can survey the surrounding location, while there are a few walks that provide a different perspective of the area. Florence Falls is open for swimming for most of the year.
Days 7 - 8: Jabiru (Kakadu National Park)
Distance: 301km /
Covering some 20,000 square kilometres, Kakadu is Australia's largest national park. Its vast wetlands and ancient escarpment are home to one of Australia's largest and most diverse bird populations and carry outstanding natural and cultural significance. Visit rock art sites at Nourlangie Rock - the name 'Nourlangie' is an anglicised version of Nawurlandja. The most famous rock art picture at Nourlangie is called Namondjok and for some Aboriginal groups he is a Creation Ancestor who now lives in the sky and can be seen only at night, when he appears as a dark spot in the Milky Way galaxy. Perhaps visit Warradjan Aboriginal Culture Centre where the traditional Aboriginal landowners (Bininj) of Kakadu National Park tell stories of their culture through the displays and exhibitions.
Days 9 - 16: Cooinda to Tennant Creek
Read more
Day 9: Cooinda (Kakadu National Park)
Distance: 57km / 36 miles
Make a stop at Nourangie Rock where you will find some of the world's oldest and most impressive rock art as well as some spectacular views of the Arnhem Land escarpment.
Nourlangie (Burrungkuy) is one reason why Kakadu is UNESCO World Heritage-listed for outstanding cultural values. This famous site with its stunning rock paintings, documents life in the region from 20,000 years ago to the first contact with European explorers. The 1.5km walk invites you to take a visual journey through time to an outdoor cultural museum where paintings, shelters, and artefacts present traditional ways of life from numerous epochs.
The Cooinda Camping Ground is the perfect place to base yourself for a Kakadu Adventure. The shady camping area is located next to Yellow Water Billabong and is surrounded by the spectacular landscape of Kakadu National Park, where you can witness the unique wildlife, flora, and fauna of this unique part of Australia.
Days 10 - 11: Katherine
Distance: 294km / 184 miles
As you head south towards Katherine, make a stop at Edith Falls where you can enjoy swimming in the natural pool at the base of the falls most of the year, (although it may be closed to swimming at times between November through to April).
Included on day 10 is the Yellow Water billabong cruise where there's a chance to view a myriad of birdlife and crocodiles. You'll then visit the Warradjan Aboriginal Culture Centre where the Aboriginal landowners tell stories of their culture through displays and exhibitions.
While in Katherine on day 11 you'll take a traditional Nit Nit Dreaming cruise and discover the cultural significance to the traditional landowners, the Jawoyn people and be enlightened by the history and traditions of the indigenous inhabitants.
Katherine, once a 'one store, one pub' town, now has a population of almost 4000 and is the third-largest centre in the Northern Territory. Gold and tin mines and huge cattle stations surround the town. Katherine was also established as an important tourist destination with the creation of the nearby Katherine Gorge National Park in 1963. Katherine Gorge, one of Australia's greatest natural wonders, is comprised of 13 separate gorges.
Days 12 - 13: Mataranka
Distance: 108km / 68 miles
Continue south from Katherine to the Mataranka Homestead, which is situated between two rivers, the Waterhouse River where freshwater crocodiles can be seen basking on the banks and the Little Roper river which abound with Barramundi and other fish species. Mataranka Homestead is also the home of Maddie and other orphan wallabies which have been hand-raised at the homestead.
Day 14: Daly Waters
Distance: 168km / 105 miles
The Daly Waters Pub has in past witnessed murders, shoot outs in the main street, cattle stampeding through town and the odd drunken brawls. Station owners threatened to burn the place down or buy it and bulldoze it to stop the local ringers from riding into town, hence the old bathtub and rail to hitch your horse onto. Today the only shoot out is at the bar during Happy Hour and the only brawling done is between the gangs of Happy Jacks (local birds).
Days 15 - 16: Tennant Creek
Distance: 406km /
From Daly Waters continue your journey along the Stuart Highway towards Tennant Creek and the Barkly Tablelands, known for its million-acre cattle stations, gold mining heritage, iconic rock formations and Aboriginal culture. This is genuine Outback Australia.
Visit the sacred Karlu Karlu (the Devils Marbles), where hundreds of granite boulders, some up to six metres tall, are scattered. The best times to visit are sunrise and sunset when the morning and evening sun highlights their deep red colour. Learn about the Dreamtime story of the site on an interpretive walk or from a ranger during the cooler months.
You could also re-live Australia's last gold rush in the 1930s on an underground tour at the Battery Hill Mining Centre. This area was Australia's third-largest gold producer, and the centre has Australia's last operating ten-head gold stamp battery. Check out the new Borella Exhibit about Albert Chalmers Borella, the Northern Territory's only Victoria Cross recipient, awarded in 1918.
Days 17 - 26: Alice Springs, Kings Rock and Uluru
Read more
Days 17 - 18: Alice Springs
Distance: 507km / 317 miles
Alice Springs came into existence as a result of the building of the Overland Telegraph in 1871, still a major visitor attraction today. Situated on the frequently dry Todd River, the town has a population of 27,000 and offers city facilities while retaining its Outback friendliness.
Days 19 - 20: Kings Canyon
Distance: 332km / 208 miles
Kings Canyon is the deepest gorge in the Red Centre and magnificently beautiful. Waterholes on the canyon floor never completely dry up and foster lush growth, which includes palms of ancient biological origin. A path to the rim of the gorge leads to the Lost City, where the rock has worn away to resemble ruins. High in the canyon and very difficult to reach is the Garden of Eden, an oasis of waterholes and plant life.
Days 21 - 23: Uluru
Distance: 324km / 203 miles
Uluru (Ayers Rock) is steeped in the mystery of legend, mythology, and folklore. Coupled with the mysterious rock formations at Kata Tjuta (the Olgas) a visit to Central Australia is a truly unique experience.
The Sounds of Silence dinner is included here, and you will be transferred to the dinner site for champagne and canapés before being seated for dinner while the sun sets. Enjoy dining on the Northern Territory's culinary delights such as barramundi, kangaroo, crocodile, bush salads, and classic Australian desserts. Following dinner, the lanterns are extinguished to reveal a star-filled night. Be guided through the night sky by the resort's Resident Astronomer.
Day 24: Alice Springs
Distance: 446km /
Return to Alice Springs and drop off your motorhome before being transferred to a centrally located hotel.
Days 25 - 26: Alice Springs to UK
Check out of your hotel this morning and transfer to the airport for your journey home, arriving back into the UK the next day.
Tips and advice for touring all year