Wide eyed
Rob McCabe is spellbound by a four-berth that makes superb use of every inch of its eight-foot width
Top of many caravan buyers' wish lists these days is width – the more the merrier. Which explains why a new breed of 8ft-wide tourers is especially in demand. The impressively sculpted Adria Alpina Mississippi offers this special dimension and has the added attraction of an island double bed as well as a number of other nice touches.
Build quality - 92%
Even before you step inside the Alpina, there are encouraging signs. Over-engineered corner steadies are always good to see (although the winders for the front pair are fiendishly tricky to access), and the sturdy metal retractable step under the entrance door is an excellent, user-friendly addition.
Adrias are put together using the company's Comprex build method, featuring composite wood panelling, polyurethane sealing and insulating foam, and glossy exterior polyester sidewalls that pass the thump test with flying colours.
On our test model, there was nice craftsmanship in evidence throughout the interior, backed up by quality materials along with solid-looking catches and brackets.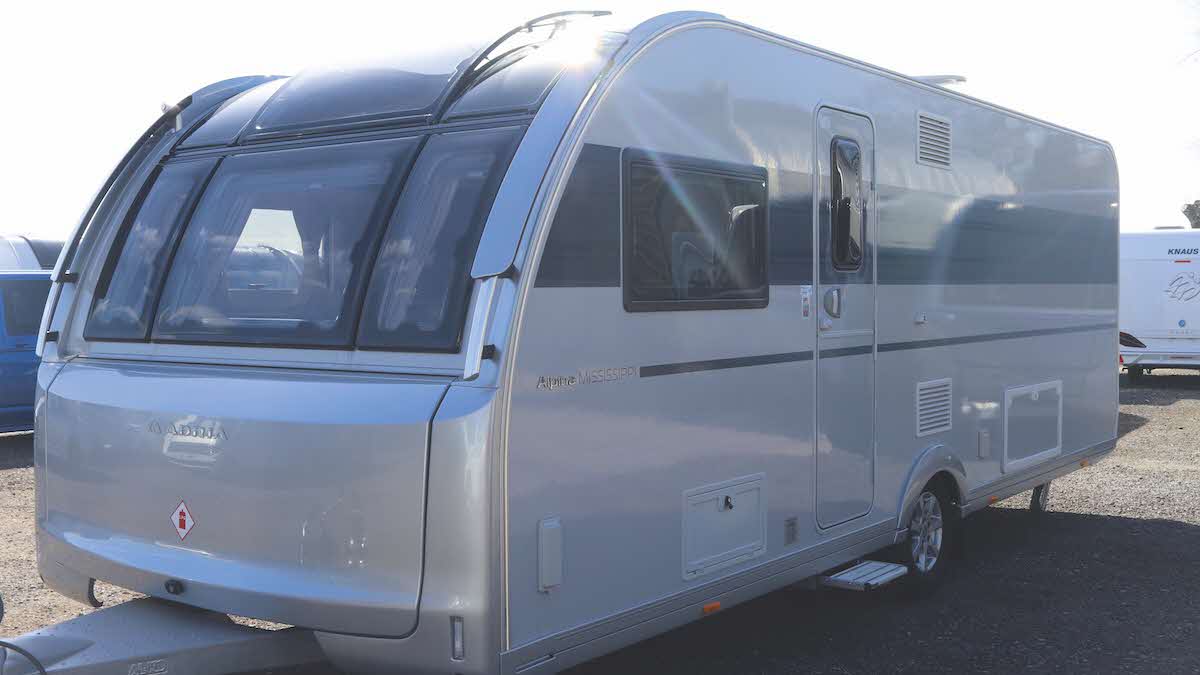 Towing - 90%
This is about as heavy a caravan as you can get on a single axle – just 150kg shy of 2 tonnes when laden to the max – so you will need a big, powerful towcar or pick-up. With a good match in place, everything else is on your side: Al-Ko Trailer Control (ATC) and a built-in stabiliser are included and you also benefit from an extra-long A-frame. Indoors, the built-in appliances are all directly over, or slightly ahead of, the axle for optimum weight distribution.
It's the 8ft width that will need consideration before undertaking some journeys – it's definitely worth asking the CL owner if any hedge-lined lanes leading to the field have enough leeway!
Daytime - 94%
I don't think I've encountered an eight-footer that has made such exceptional use of that extra width. Sitting in the lounge and glancing down past the kitchen into the bedroom, it feels more like a small holiday apartment than a caravan (the entire middle section around the entrance door and kitchen is positively swimming in space). The blend of dark and pale cabinetry looks high-class, while the total lack of locker or drawer handles is aesthetically pleasing. It's all beautiful to look at – just like the exterior body shape.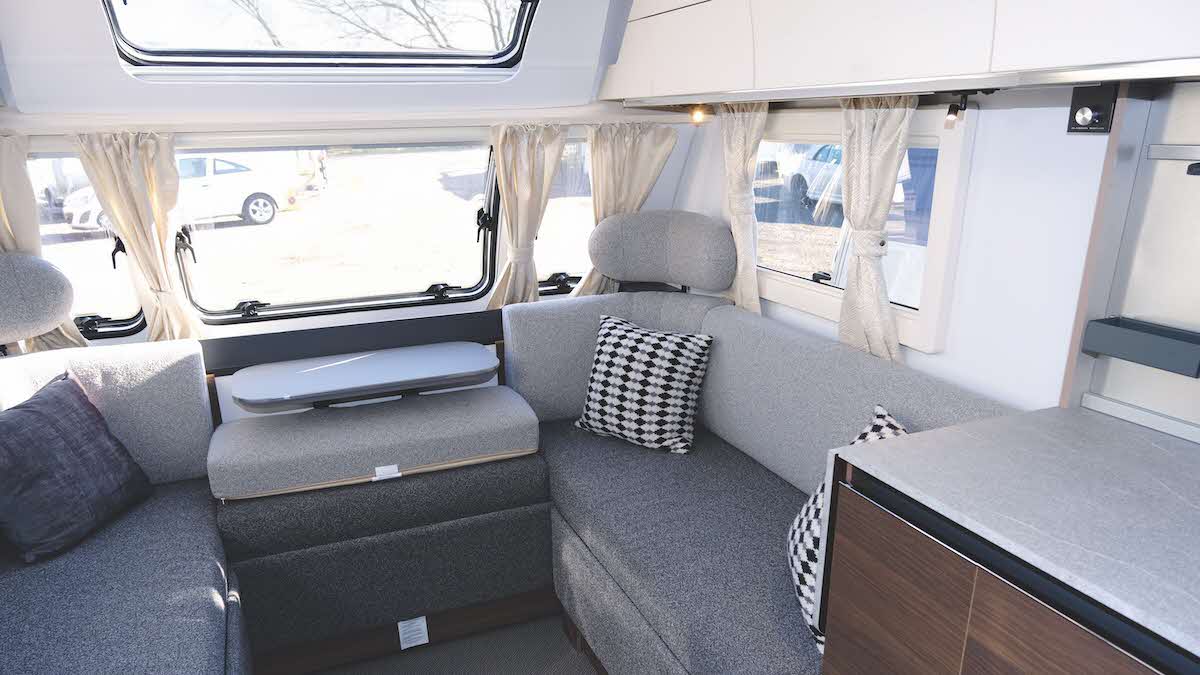 There's plenty of practicality to go with the glamour. The vast gas locker at the front includes a nest of stackable plastic crates, secured by elasticated cord. A sealed wet locker on the nearside wall includes a mains socket for use in the awning, while a wide hatch farther back gives access to the space under the double bed. Indoors, storage provision is generous, although it's so awkward to get to the front seat lockers it would put me off using them for anything that I'd want to get to more than occasionally.
The little box hanging down from the kitchen lockers is the Adria Media Controller – and what a fabulous bit of kit it is. It's basically a Bluetooth receiver: pair it with your phone, tablet, laptop or Bluetooth-enabled radio and play your music through the caravan's devilishly concealed speakers that reward with rich, immersive sound throughout the entire interior.
There are USB sockets everywhere, and almost as many mains sockets. You get a built-in TV wall bracket above the dresser on the nearside, although you'll need to make your own arrangements if you want to watch telly in bed.
The lounge is very comfortable – and the built-in headrests in the front corners aren't a gimmick. They're height-adjustable so can be fine-tuned to suit anyone, and it's actually very cosseting to drop back into one. Don't believe anyone who tells you this is 'wraparound' seating though – the narrow strip along the front is fine for stretching your legs out on, but you wouldn't want to sit there for any length of time.
Night-time - 90%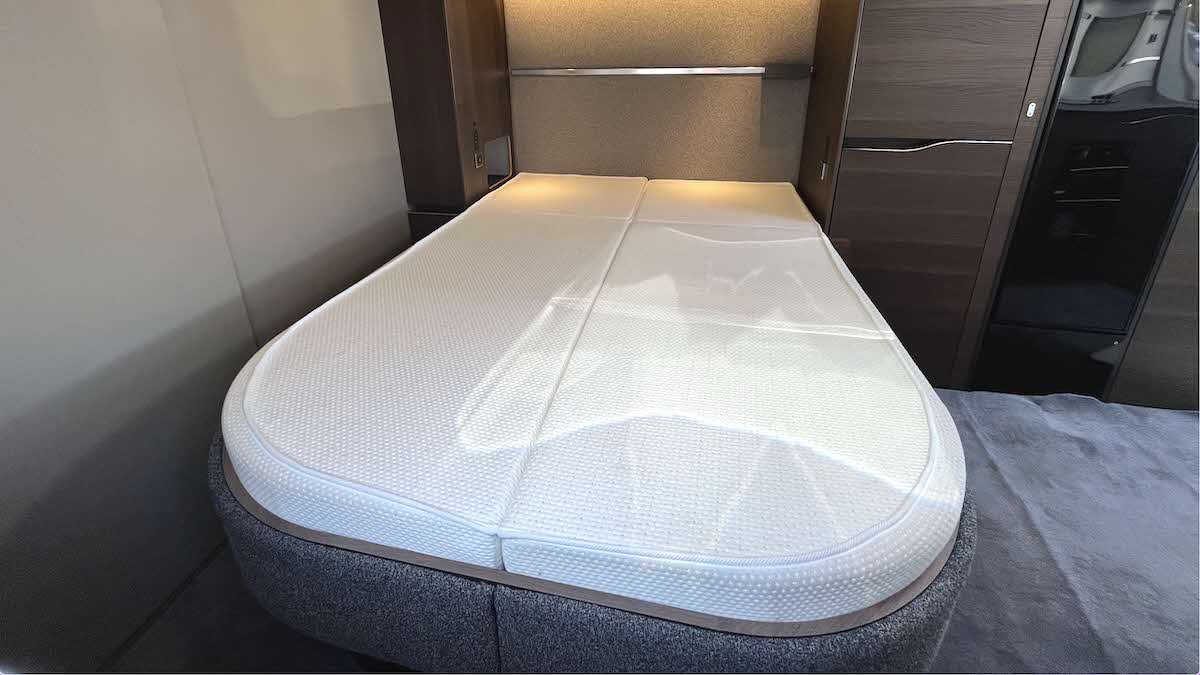 The bed is sumptuous – the mattress moulds itself to your shape, offering great comfort and support. The mattress and bedbase are also cleverly configured so that each occupant can adjust the angle of the backrest for reading in bed. The picture window at the foot of the bed and the sunroof overhead let in loads of light. Only one occupant has a bedside hatch for overnight paraphernalia – there's nowhere at all for the other person to put anything, which is an oversight.
Up front, you get one of the better made-up double beds, thanks to slide-out base sections that are filled by two perfectly-fitting bespoke mattress pieces. The result is a big, flat, tight-as-a-drum bed that will ensure any guests are well looked after. It's worth pointing out that the washroom is at the extreme rear of the caravan – not overly convenient if you have friends staying.
Kitchen - 93%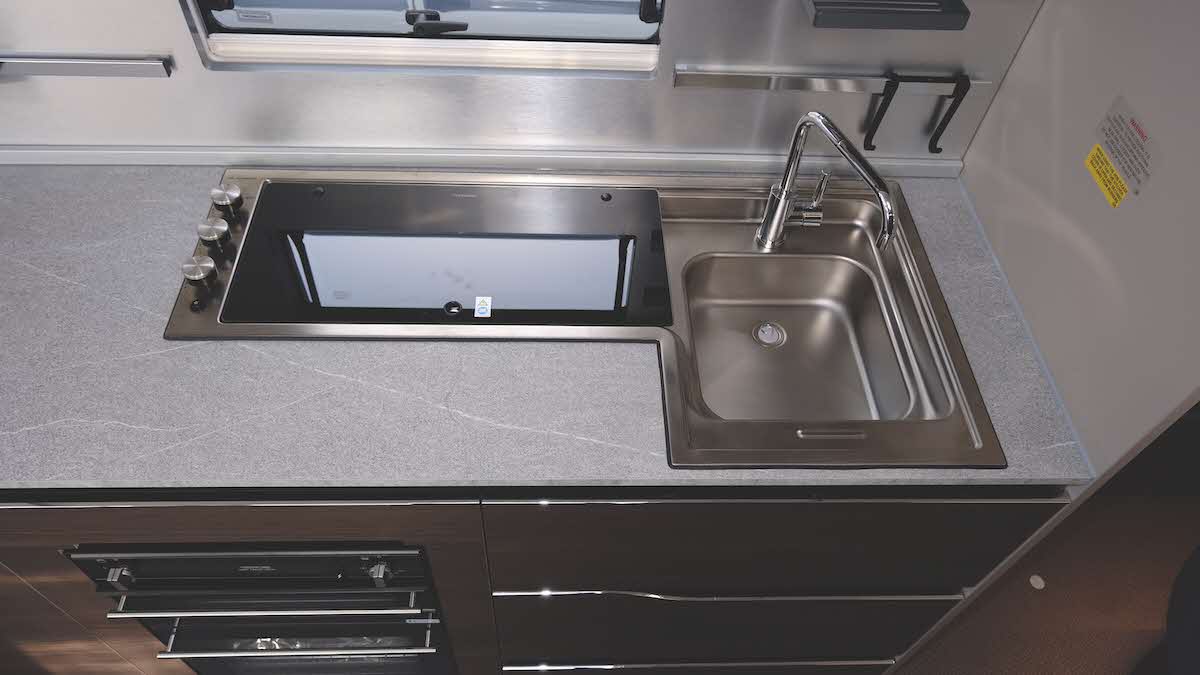 I'm a big fan of Adria's one-piece hob/sink unit, which looks modern and elegant in brushed stainless steel. There's no electric hotplate but there is a fitted microwave concealed within one of the overhead lockers. This has the twin benefits of keeping the overall look of the caravan clean and uncluttered, and covering up the fact that it's not the most seamless- looking microwave installation. The glossy black fridge is quite the opposite – very tidily built-in.
Generous work surface, plenty of storage and an integrated extractor fan make for a very practical set-up.
Washroom - 90%
Unlike the kitchen, it does feel a wee-bit pinched in this corridor-like room, although it is beautifully presented. The restrained palette, soft backlighting and nicely- styled wash bowl combine to exude a chic ambience. There's plenty of storage and the shower cubicle feels much more spacious than its surroundings.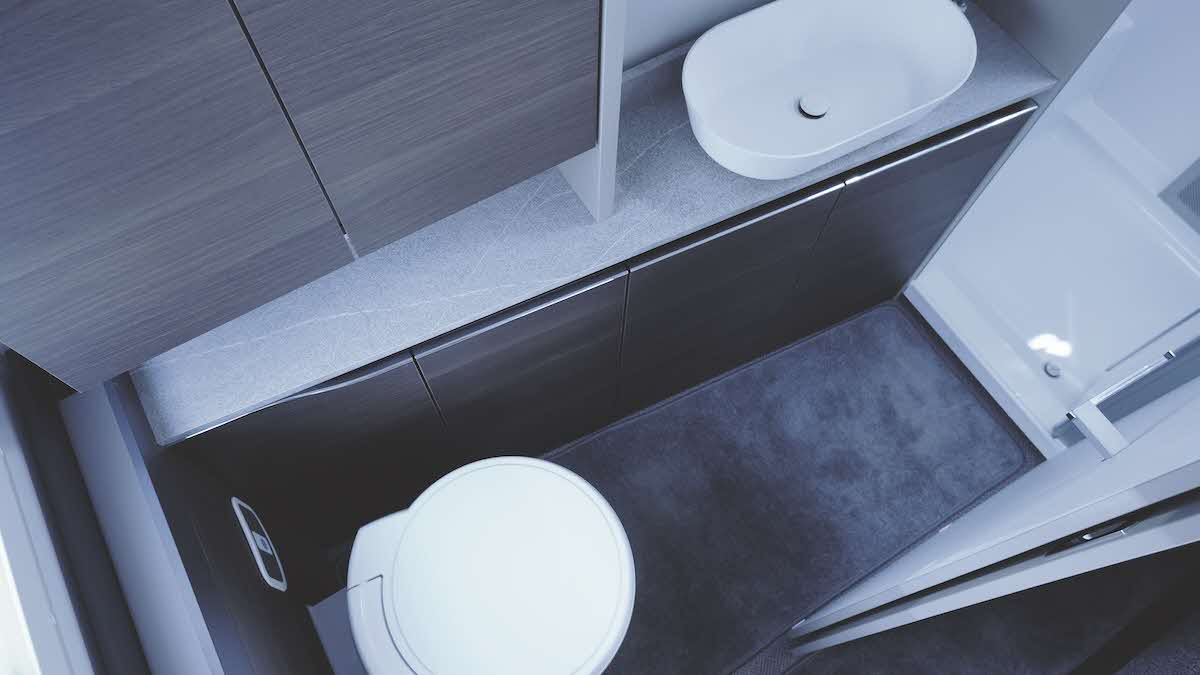 Lighting - 97%
Can't see an awning light in the exterior photo? That's because it's a continuous LED strip that runs along the edge of the nearside sidewall, pretty much following the route of the entire awning channel. It's bright enough to be useful in the dark and different enough to stop passers-by in their tracks. The rear road lights can also be turned on, if one talking point isn't enough for you.
Indoors, the touchscreen control panel operates a comprehensive array of lighting options, including ceiling- and floor-level ambient strips, some of which are dimmable. You even get a touchscreen table lamp that you can put anywhere, or leave docked on the dresser by the door to recharge.
Verdict - 92%
It may be expensive but this is a nicely- equipped, gorgeous-looking caravan both inside and out.
More like this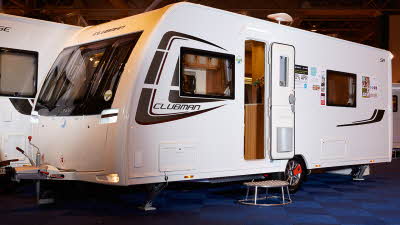 By Rob McCabe
08/01/2019
Rob McCabe tests a four-berth caravan with plenty of pedigree