BeauEr 3x review
Rob McCabe takes a look at a cylindrical caravan from French company BeauER that extends to three times its 'on-the-road' size at the twist of a key.
Here's something a little bit different – a cylindrical French-built offering that extends to three times its 'on-the-road' size at the twist of a key.
The BeauEr 3X – named after its inventor
 Eric Beau and because the floorspace increases threefold when extended – is being officially imported to the UK by Yorkshire-based motorhome conversion specialist RP Leisure (trading as RP Motorhomes). It will have a quite different spec from the French-market model that we have for this sneak preview – but the wonderful technology that underpins it will be the same.
Build quality – 90%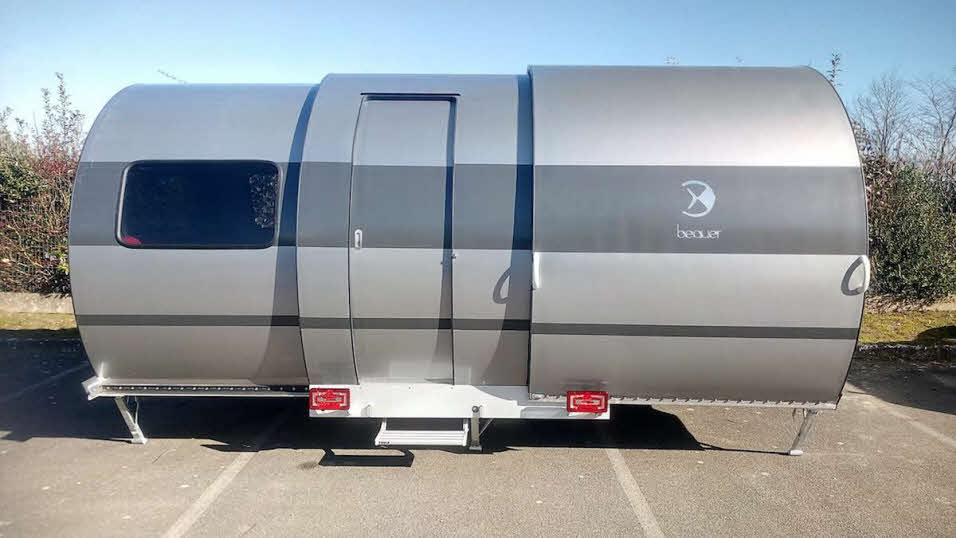 Having pitched the caravan in your desired position, undo the safety latches and insert the key into the slot by the A-frame; turning it activates electronic actuators that slide one segment out to the left (as you face the caravan) to form the lounge area, and one to the right to form the fixed double bedroom. During this process – which takes less than a minute – the furniture inside folds into place automatically. Lower the corner steadies, unlock the sliding entrance door around the other side... and you're in.
The opening and closing procedure can be powered either by the chunky 100Ah lithium-ion battery or by hook-up; and in the difficult-to-imagine event of neither of these sources being available to you, there's a manual override.
The curvy polyester body panels are smooth and thumptastically sturdy. Indoors, the joinery is all very neat and precise; and although the two big window blinds were consistently awkward to retract, it's nothing to concern would-be buyers in this country – all the windows will be served by the blind/flyscreen combination we're all familiar with on 'normal' caravans. It's one of many upgrades that the importer will lavish upon UK-market models.
Towing – 94%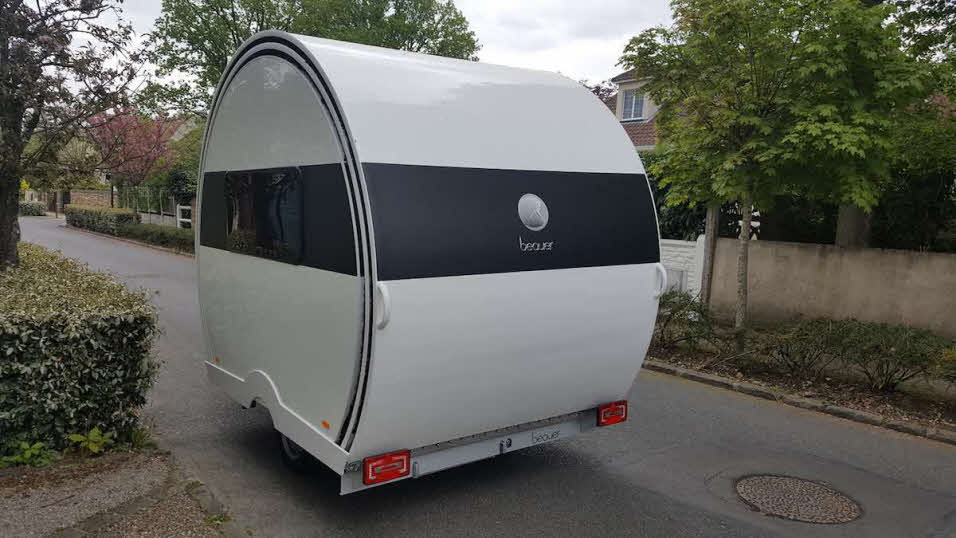 At first glance, the MTPLM of 1,300kg looks a little bit on the high side for something that packs away so small when ready for the road. But it's that minuscule footprint that makes towing (and storing) it so straightforward. The 3X is less than 13ft long and, at just 6ft 5in wide, it is only six inches broader than a Volkswagen Golf.
As with many continental caravans the A-frame extends for miles (nearly), which
is a boon to stability under tow; and the built-in hitch stabiliser is, as always,
a reassuring fitment. Almost by necessity, everything is compressed into the space over the axle, so weight distribution is about as good as you could wish for.
Daytime – 80%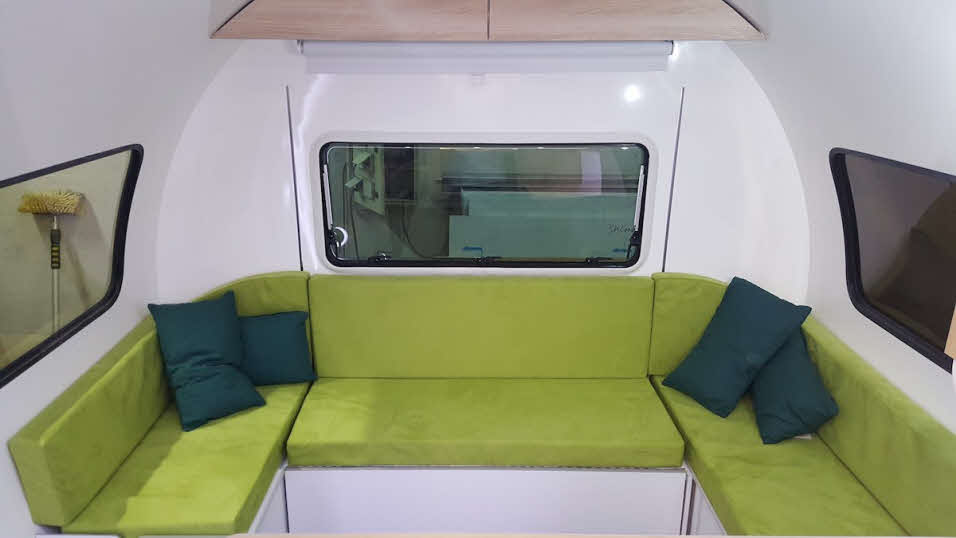 The lounge area requires a leap of imagination from all of us, because the UK model will be much plusher than this rather spartan example (which, interestingly, is destined for life with a new owner in California). The not-altogether- very-cosseting red leatherette seating will make way for deeper squabs finished in a luxurious fabric, with scatter cushions to add a more homely touch.
That big table, which sits flush against the kitchen unit when not in use, will have a wood-grain finish to help counter the rather clinical, shiny whiteness of this example's interior; the same goes for the kitchen furniture, and for both sides of the wall that separates the bedroom/washroom from the rest of the cabin.
The bank of opaque-fronted storage cabinets by the entrance door is not only a practical feature, it is also rather attractive. Each unit is accessible either from the main body of the caravan or from the bedroom – a neat touch. One of them can give a home to a TV wall bracket, enabling viewing from lounge or bedroom.
Our test van had an electric heater bolted to the edge of the kitchen cabinet, but UK models will get a Truma Combi heating/hot water unit, which will be placed in a front external locker (alongside two gas bottles) and will be controlled from inside by a seven-inch touchscreen.
The two internal doors can be configured several ways, including to close off the bedroom and the lounge/kitchen area – which also results in a fully-enclosed loo/shower space. Or you can leave the bedroom door open, tucked against the wall, and close off the loo door to give an open 'corridor' from front to back. This format is probably the one to use during the day.
Night-time – 85%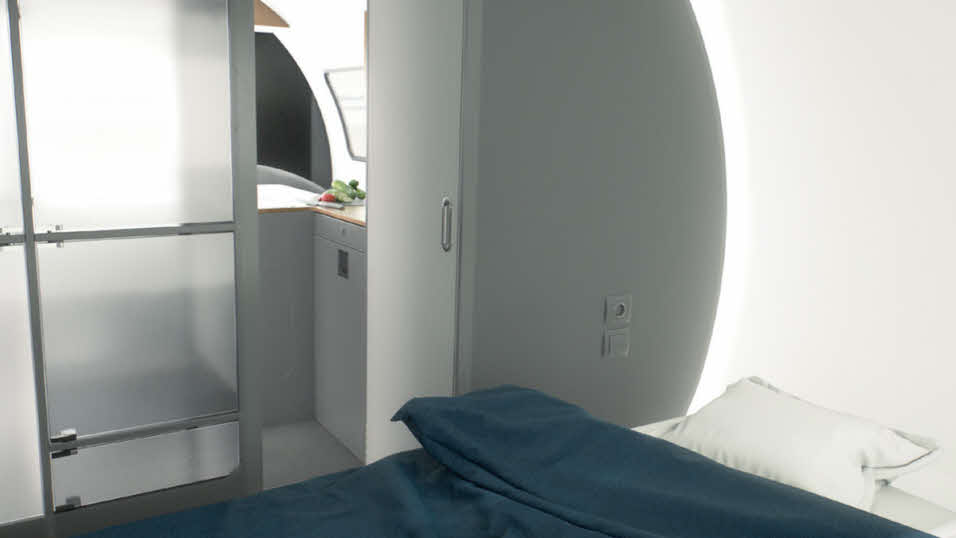 Like nearly every fixed-bed four-berth, the 3X is most likely to be used by couples – but the lounge transforms into a good-sized double to ensure that guests won't feel short-changed. The bedroom (it takes quite an effort to avoid referring to it as the 'rear' bedroom; 'The East Wing' is more accurate) is unlike any other I've experienced, largely due to the odd sensation that comes from lying in what looks like an oversized torpedo tube.
The mattress – slightly smaller than the one that'll be in UK versions – is agreeably comfortable, although the curved walls mean you'll have your work cut out if you harbour any notions of sitting up in bed to enjoy a morning cuppa or having a read before lights out. And on that note, there's only one reading light, so one of you probably wouldn't even bother trying anyway.
Storage space is largely taken care of by the aforementioned bank of shared lockers; and the raised platform that you step on to enter the room contains a couple of useful cubby holes, which is a clever use of what would otherwise be wasted space.
Kitchen – 88%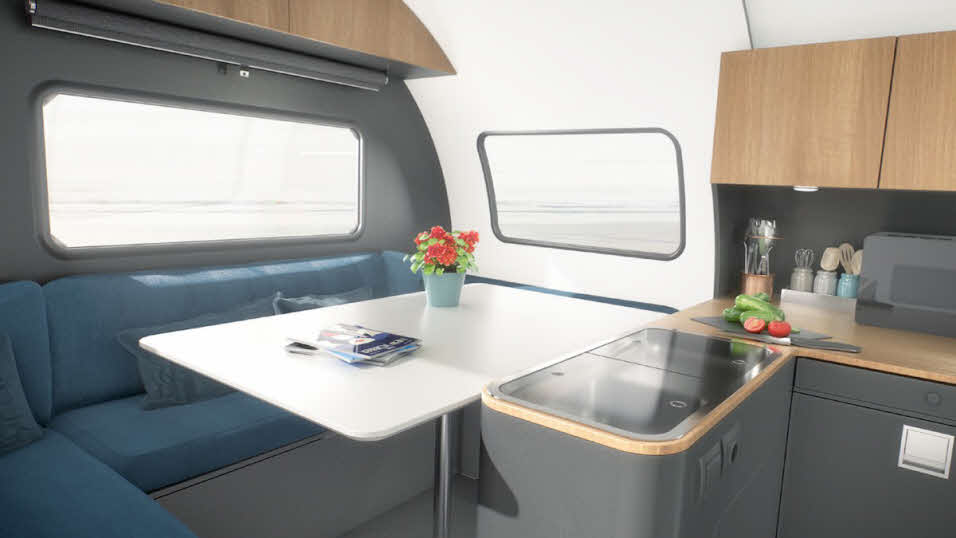 Another leap of imagination is needed here! In essence, the layout stays the same – which is good, because it's an attractive, coolly contemporary L-shape facility which any chef should enjoy. But the UK version gets a massive specification boost, headlined
by a dual gas and electric induction hob. The gas bottle compartment underneath the hob in this example will be replaced by a Thetford Duplex oven and grill, while the existing compressor fridge makes way for a Dometic 70-litre fridge/freezer.
There's a good, deep slab of work surface, and although dedicated kitchen storage space is modest, there should be enough spare capacity in the opaque-fronted lockers for
a few tins and jars.
Washroom – 74%
The best that can be said for the shower is that it's there if you really, really need it. The shower tray is covered by a lift-off floor section that forms part of the corridor between living and sleeping areas, but it's tiny – and you'll need to hold the attachment yourself to ensure full body coverage. As well as all that, the small on-board fresh water tank means you'll need to get a bit of a wriggle on. The toilet compartment has a space-saving tip-up basin.
Lighting – 80%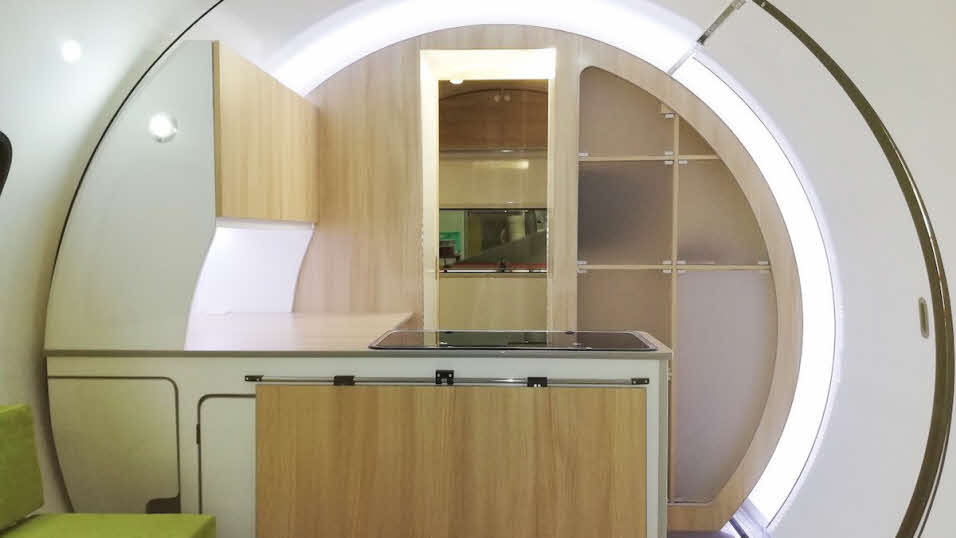 A big shout-out for the ambient lighting, which looks great as it arcs around the centre dividing wall and casts a pleasant glow on either side of it. The kitchen and the washroom are both brilliantly lit, but the aforementioned single reading light in the bedroom is a let-down. The lounge area is well enough served by a couple of flush-fitting LEDs in the ceiling, but a subtle table lamp brought from home would give more laid-back illumination when relaxing in the evening.
Verdict – 84%
The BeauEr will certainly stop folk in their tracks, anywhere and everywhere. Owners will just have to get used to heads turning. The £38k asking price for the UK version is also a bit of an eye-opener but, to be fair, this is a low-volume, hand-built leisure vehicle with a brilliant, hi-tech party trick up its sleeve. Kitchen aside, there are compromises that potential buyers will need to ensure they can live with before they take the plunge.
More like this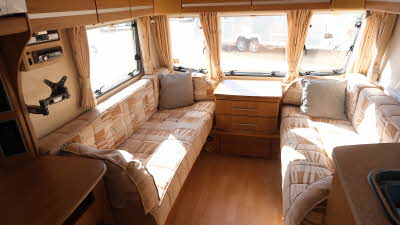 By Rob McCabe
24/11/2021
Despite demand for used caravans being at an all-time high it is still possible to unearth a bargain if you know what to look for. Rob McCabe casts his eye over three potential second-hand gems.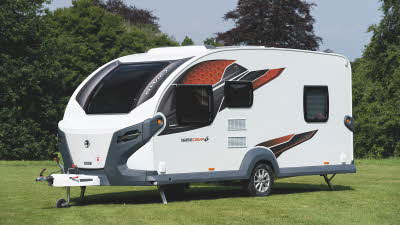 By Rob McCabe
10/11/2021
Ready for an adventure? Rob McCabe takes a closer look at the innovative Swift Basecamp 6 which is designed with active families in mind.