Buccaneer Aruba
The Buccaneer Aruba is a real heavyweight as it tips the scales at nearly two tonnes. The six-berth also comes with a hefty price tag but does it give you bang for your buck?
Did you know that Aruba is 
a Caribbean island? Well, the similarly-monikered caravan from Buccaneer may not quite have the same proportions
 as an island but it is big. It's eight feet wide, nearly 23ft long and weighs almost two tonnes fully laden. This six-berther is a formidable beast – and there's a price tag to match.
Build quality – 91%
Like all the products that emerge from the Consett production line, this Buccaneer has been put together using the 'SoLiD' ('Strong, Light and Dry') fully-bonded construction method, which is designed to eliminate water ingress.
One of the overhead locker doors drooped noticeably more than the others, and there were a couple of unsightly drill holes inside cupboards, but the interior craftsmanship was generally impressive, with fine attention to detail.
Towing – 85%
This is a hefty caravan once loaded and that means you're going to need a full-size SUV (although even some
 of these won't be big enough). The eight-foot width is a consideration too, especially where traffic-clogged narrow high streets and Certificated Location farm gates are concerned. On the plus side, the Aruba has four wheels on the road for enhanced stability and low-speed manoeuvrability when hitched up, while ATC trailer control is welcome. So too is the automatic levelling system – at the push of a button, the caravan will shrug off your uneven grass pitch and adjust itself until it's sitting perfectly level. Cool, eh?
Daytime – 90%
Living space is what this new caravan is all about. As soon as you step in through the entrance door, that width really makes its presence felt: four people can settle back into the sumptuous seating with room to spare. The upholstery 
looks elegant and restrained,
and there are practical
 benefits, too – a virtually imperceptible outer membrane means that stains can simply be wiped away with a damp cloth.
The prominent, U-shaped centre dinette with chunky telescopic table is the Aruba's unique selling point. Seating four people comfortably, it's a genuine 'kitchen table'-style offering, which makes this a very social space. It's easy to imagine this being used as a breakfast bar every morning if it's not being left made up as a bed.
It's a Buccaneer, so it's no great surprise that there are lots of touches on board to help make your day go that bit smoother. The built-in stereo is good quality, there are plentiful mains sockets (and some USB points, too), you get interior and exterior satellite TV points, there's a solar panel on the roof, and you can switch between an internal water tank (great for the winter) and an external container.
 Talking of things that are great for the winter, the ever-efficient Alde central heating is backed up by underfloor heating – a real treat for your toes when you climb out of bed or the shower on a frosty morning. An Alde load monitor keeps an eye on your electricity usage at any given time, so you can avoid the risk of tripping the system.
There's plenty of storage and it's all easy to get to – there are exterior-access hatches for the lockers under the double bed and the nearside front seat locker. Drawers and cupboards are bountiful; the shelves in the latter can be removed to provide extra height.
The long, narrow sunroof above the lounge lets in plenty of daylight, but I'm not convinced that's a decent trade-off for one that opens fully – this one does so by just a few inches.
Night-time – 77%
The Aruba is a six-berth but I can't imagine many will operate at full capacity. The main stumbling block is the wraparound centre dinette, which the spec sheet tells us converts into a double bed. In practice, the make-up/put down process is such a faff that it's unlikely many will bother with the twice-daily manhandling of upholstery and joinery. You couldn't realistically leave the bed made up because, when extended, it runs almost all the way out to the kitchen. And, unfortunately, the privacy curtain doesn't cover the entire area.
The new Buccaneer makes a lot more sense as
 a four-berth. The front lounge converts into a big, agreeably comfy double bed or two 5ft 11in singles that could easily be left made up, leaving the big centre dinette as the on-board seating area.
The nearside rear bedroom also contains
 a very comfortable French double. But there's no room for anything else – it's hemmed in by walls on three sides and a privacy curtain at the base, so some may feel a little claustrophobic. I was non-plussed by the lack of overnight shelving for water, glasses, paperbacks and the like. There's connectivity for a wall-mounted TV, and a second pair of speakers for the on-board stereo back here.
Kitchen – 87%
Even with the little flip-up extension in place, there's not a lot of work surface – especially if you need access to the big sink as well. But in all other regards, this is a cracker of a kitchen. The cast iron pan support covering the dual-fuel hob is a suitably Buccaneer-esque upmarket touch, and so is the low-level cupboard that conceals two massive, heavy-duty, pull-out wire racks. The built-in microwave sits lower than many while the generously-sized fridge also has a roomy freezer compartment.
Washroom – 94%
The compromises found in the bedroom on the other side of the wall at the back are nowhere to be seen in this super-smart, super-spacious facility. The tile-effect finish in the shower cubicle looks great, as does the back-lighting on the usefully long mirror. Add in a swanky hand basin and the heated towel rail/radiator and you have a set of features that make this the most stylish caravan washroom I've seen for a while. The retractable hanging rail in the shower is a useful touch, and there's very good storage provision. Outstanding.
Lighting – 95%
I'm something of a caravan lighting nerd. One of the first things I do in any test caravan is to embark on a mega switching session to figure out all the available permutations in the separate areas. And I couldn't find any shortcomings in this caravan – I found lights where I would expect to find them and sometimes where I wouldn't.
For example, flicking one switch just inside the entrance door brings on a service light on the offside exterior wall and one that shines into the front gas locker. Open the wardrobe and a bright courtesy lamp illuminates. As well as the usual mood lighting emerging from above the roof lockers, there are two pinhole night lights down at floor level. Brilliant – quite literally.
Verdict – 88%
The Aruba is not the most seamless option as
 a six-berther but it offers top-quality, spacious accommodation for four – or even two – complete with a separate kitchen/diner.
 It's a heavyweight, in all senses of the word.
More like this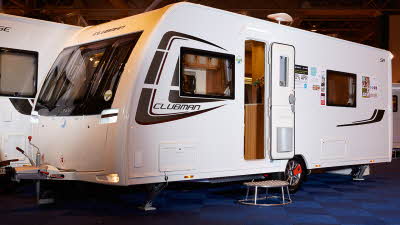 By Rob McCabe
08/01/2019
Rob McCabe tests a four-berth caravan with plenty of pedigree