Go Barefoot Barefoot
The stylish Barefoot from Gloucestershire-based company Go Barefoot is a caravan with a difference. Rob McCabe took a closer look at the super-lightweight two-berth.
The curved profile of the Barefoot makes even a teardrop caravan look a bit passé; and if you think that 1950s-inspired retro exterior styling looks cooler than James Dean chewing on a toothpick, wait until you see inside.
Please note: This review originally featured in the March 2017 edition of the Club Magazine and some of the technical details have been updated in line with those published on Go Barefoot's website. You can watch a video review of the Go Barefoot Barefoot from March 2017 above.
Build quality – 93%
Two-berth Barefoot (from Gloucestershire-based Go Barefoot) is made from a single, swoopy piece of fibreglass, so your investment should be leak-free for evermore – there's simply nowhere for water to get in. There's no need for any kind of framework underneath, either – that low-profile bodyshell, mounted on to a bespoke galvanised chassis, provides all the strength and rigidity required.
On the outside, the door is attached by muscular hinges that could have been purloined from a 1950s security vault; it would help to something more substantial to grab on to inside, because it needs a good pull to close it.
The interior may be compact, but it is of exceedingly high quality. After being built, each new Barefoot goes off to upmarket motorhome manufacturer Auto-Sleepers to be fitted out, and that's all been done really well. Everything looks and feels solid and, apart from some untrunked wiring inside a section of overhead shelving in the test model, it was all very nicely finished off. The undoubted highlight is the use of solid oak for the kitchen surface and on the dresser directly opposite. Set off against the leather-look cream vinyl of the upholstery, it looks stunning. If you're not a fan, you can choose from another five colours.
That's not the only decision you have to make. The bodyshell of our test caravan is grey – cream, duck-egg blue and dusty pink are the other options. You then choose from seven finishes to the kitchen and washroom units, and from a range of patterns for the curtains – you can even provide your own fabric and Go Barefoot will make them for you. Oh, you also get to choose the colour of the cute Roberts Revival DAB radio that's included in the package.
Towing – 95%
The company's own publicity material shows
 a Barefoot being hauled by a Mini, which tells you all you need to know. Its MTPLM is a mere 1,050kg (note: MTPLM on Go Barefoot website is now 1,200kg), putting an enormous number of compact cars on the suitable-towcar radar.
 For added reassurance, a Winterhoff hitch-mounted stabiliser is fitted as standard. It's a great shape for efficient towing, the
total lack of any slab-sided
edges an aerodynamic boon.
So too is its squat, low-profile
stance – at 7ft 9in tall, it's only
four inches higher than the Eriba Troll in roof-down mode, which means you may be able to fit it into some larger garages.
The user payload of 140kg (note: user payload on Go Barefoot website is now listed as 240kg) is okay for two, though you may need to keep the scales handy when loading up, just to be on the safe side.
Daytime – 72%
For all that the lounge is beautiful, comfort is compromised. At first glance, it looks like the two front corners are the ones to go for – but the steep rake of the window means that, in either of these corners, your head makes contact with the curtains, more so in the evenings when you have them closed. The backrests are also a bit on the short side.
The single, tubular leg of the thick, thumping table slots securely into its recess in the floor (neatly covered by a plastic bung when not in use). It lives in the compact wardrobe next to the entrance door, held in place by a latch and a guide sleeve.
One of the two mains sockets is on the side of the dresser, adjacent to a 12V socket and a USB slot for charging phones, tablets and other devices. Speaking of devices, not only does the retro-designed Roberts radio look good, it sounds good too. It has an auxiliary cable input so you can play music from your phone or MP3 player and works off mains or its own rechargeable battery, so you can take
it with you on your picnic.
Headroom tops out at a modest 6ft, although this obviously falls away as you head either fore or aft. At 5ft 11in tall, I could feel the top of my hair brushing against the ceiling but I found it easy enough to adapt.
When the Arctic decides to send its scything, winter wind down through Siberia, the first place it makes landfall in the UK is the east of England. So thank you, Arctic, for doing precisely that during the duration of this test. And thank you, Barefoot, for seeing it off so effortlessly. Granted, it's not a huge space to have to warm; but even so, the Truma central heating – which operates on either gas or electric – warmed up an ice-cold caravan impressively quickly. Before too long, I was turning the dial right down. Shame there's no carpet, though.
The separate gas locker on the front may look compact, but it more than earns its keep: as well as two gas bottles, the spare wheel has a home in here. Storage space inside the caravan has been well thought out, with a couple of big cupboards, underseat lockers (one of which hosts a fresh water tank, complementing the usual external inlet) and attractive, semi- enclosed, overhead shelving providing adequate space for two people's goods and chattels. The wardrobe is necessarily bijou, though, so don't expect much in the way of hanging space.
Night-time – 81%
The compromises of the daytime arrangement melt away as soon as you lay your head on the 6ft x 6ft double bed (note: now listed as 5ft 9in x 6ft 1in on Go Barefoot website) into which the lounge seating quickly transforms into. All the upholstery sections are flat, which means a completely level mattress that offers fine comfort and support. It's easy to make up: first retrieve the extra section of bed base and fitted mattress section from under the 'seating' section along the front. Then slide out the two bits of bed frame from under either sofa, put the extra little piece in place and rearrange the upholstery accordingly.
The side windows and compact sunroof are served by flyscreens and posh concertina blinds, but the graceful, sweeping curve of the front window means the only practical solution here is to fit lined curtains. They're seriously nice but they obviously can't compete with a blind when it comes to shutting out the light.
Kitchen – 69%
The kitchen is small, but very nearly perfectly formed. The combination of the solid oak surface, the subtle shading of the units, the white-backlit overhead cupboard, the sleek, black-covered sink/hob cluster and the piercing ceiling light that exhibits this area in all its finery combine to give it the 'wow' factor.
What you don't get, though, is anything in the way of work surface – you'll need to put the table up and sit down on the sofa to do your prepping. That's fine by me – radio on, glass of wine to hand, job's a good 'un.
With cooking facilities limited to just two gas rings (both spark-ignited), you'll need to plan your menus accordingly – there's enough room on the dresser opposite to park a toaster, which would fit comfortably inside the cupboard below when not in use. The Isotherm fridge has a tiny icebox (note: now features a 65L Wabesto marine style compressor fridge with small freezer).
Washroom – 59%
While the washroom, like the kitchen, is eye-catching to look at, it's a bit of a squash in here, mainly as it is situated almost at one extreme of the egg-shaped body. The floor of the shower is recessed to eke out a bit more headroom and you can lift out the wooden duckboard to claim a few more millimetres. The shower head detaches to double up as the wash-basin tap.
Storage comes courtesy of a wall unit, which is the same colour as the furniture elsewhere in the caravan, and there's an opaque window that helps make it feel airy in here by day. You'll also be nice and toasty on a raw winter's day, thanks to a strategically-placed warm-air outlet.
Lighting – 95%
Exceptional. The two handsome, touch- operated LED clusters on the ceiling emit a piercing, white light that almost dazzles. One serves the lounge, which also has a pair of adjustable reading lamps, and the other is perfectly positioned to illuminate the entire kitchen area. The orange ambient lighting that glows within the overhead storage compartments is seriously cool, as is the white light that lives within the opaque-fronted kitchen locker. The washroom is bathed in light too, although you'd get by just fine with your mobile phone's built-in flashlight in here!
Verdict – 81%
In terms of £££s per square foot, this is an expensive caravan, but it doesn't take long to see what you're getting for your money – outstanding build quality, head-turning style, first-class materials and a caravan made just for you. There are compromises, as mentioned, which any potential buyer will have to weigh up. Me? I love it.
More like this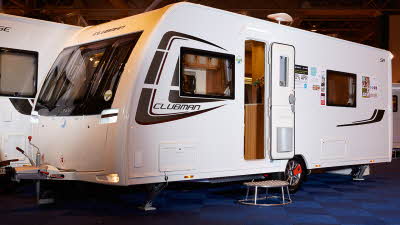 By Rob McCabe
08/01/2019
Rob McCabe tests a four-berth caravan with plenty of pedigree