Knaus Deseo 400 TR
Rob McCabe is wowed by Knaus's compact yet highly adaptable Deseo 400 TR.
It must be great fun being a caravan designer at Knaus HQ in Germany. When you present your boss with an idea for a squat, rectangular bodyshell with a vast tailgate that permits hybrid outdoor living – not to mention being able to switch between living space and garage – and your boss says: 'Go on, then – let's do it', the fun can begin.
And that freedom of expression results in the Deseo 400 TR, which is every bit as enjoyable to explore as its dramatic appearance suggests.
BUILD QUALITY – 95%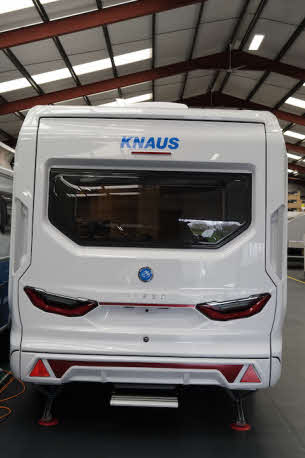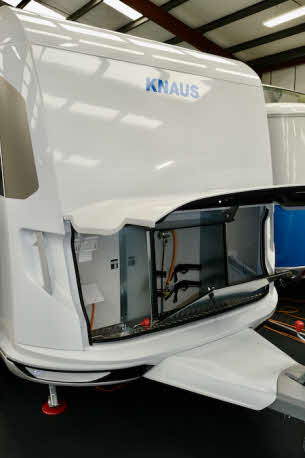 I've long been a fan of the way Knaus products are put together, and getting up close and personal with the Deseo only serves to reinforce my admiration – inside and out, the quality of fit and finish is exceptional. Whereas on some caravans there's evidence of 'Let's save a few bob by making this bit plastic', on this one it's more a case of 'Let's spend a bit more and make this bit feel like it's indestructible'. A good example is all the heavy-metal bracketry on display inside the front gas locker/service hatch, which makes me feel more excited about a gas locker than I probably should be, to be honest.
TOWING – 92%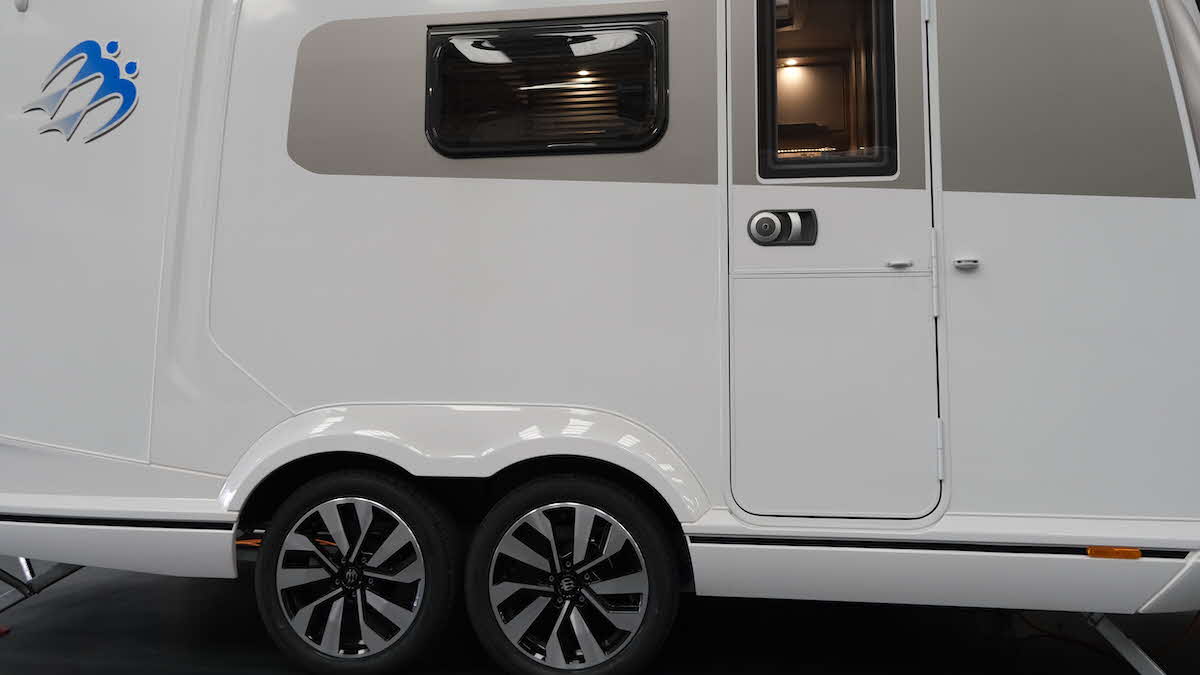 Not even 20 feet long with a fat, four-wheel footprint? Now, there's a recipe for surefire stability on the road, and for predictable, precision manoeuvring at low speed. That said, most buyers will probably fit a motorised mover, given how much effort is needed to persuade a twin-axle to move even slightly if you're using elbow grease alone.
All the built-in muscularity means it's a hefty old thing – more than a tonne and a half even without your worldly goods in it – so your chosen towcar will have to be SUV-shaped.
Just a word about those four wheels – the 17-inch black-spoked, polished alloys are absolutely stunning. If ever there's a caravan you want to keep away from kerbs, it's this one.
DAYTIME – 93%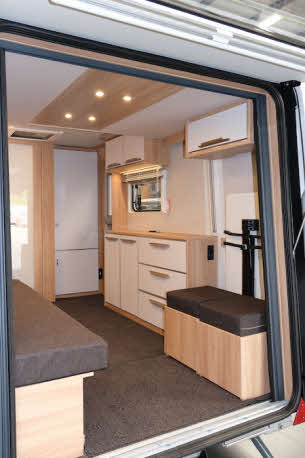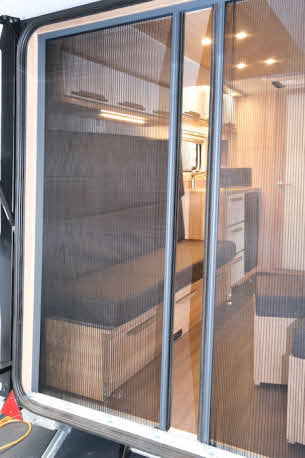 One of the many unique features of the Deseo is the enormous tailgate which, when open, allows you to lounge inside with the sensation of being outdoors. No need to forego that when dusk falls, either, because that open space is protected by a flyscreen on either side. You can haul either of them all the way across or bring the two together to meet in the middle – or indeed to meet anywhere you like.
The two freestanding stools illustrate perfectly the adaptability of this caravan. Take them outside with the freestanding table for breakfast on your personal veranda. Lift off the tops and see how much gear you can stash away in them. Place them strategically as foot stools when lounging on the sofa – perhaps when watching the optional 24-inch smart TV that retracts into its hidden compartment under the shelf on the opposite wall when not in use. There's an adjacent mains socket for that – one of five on board – and there's a USB socket too.
Leaning back into the sofa's oversized backrest with your feet up makes the Deseo great for lounging in – not always something you can say about continental caravans. Easily accessed drawers underneath it form part of the generous storage options, which include a wardrobe with plenty of hanging space. The service hatch at the front, as well as accommodating two 11kg gas cylinders, gives access to mains hook-up and the toilet cassette.
Of course, one significant benefit of the gawping tailgate is the ability to easily load bulky bits of kit such as paddleboards, cycles – or even a motorbike. The price quoted here includes a ramp, lashing eyelets and motorcycle holder. And that nice-fitting carpet is removable.
If the weather's not playing ball or you just don't fancy having the tailgate open, there's a 'normal' entrance door too.
NIGHT-TIME – 88%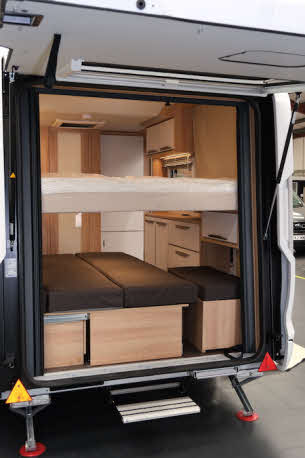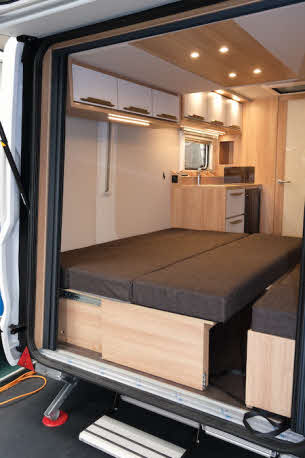 The Deseo offers two huge doubles, one of which is a transverse that's pulled down into place from the ceiling and sits above the in-line bed underneath. The path of least resistance if just two of you are in residence is to make up the one at ground level simply by pulling out the sofa and its backrest, which at least means you can pay a middle-of-the-night visit with eyes half-closed – you don't want to be half-awake when exiting an overhead bed!
Again, you have the option of opening up the tailgate for a spot of stargazing before lights out, although you should come armed with plenty of pillows: one occupant can prop up themselves up against the kitchen sidewall, but the other has nothing to fall back on (literally).
KITCHEN – 80%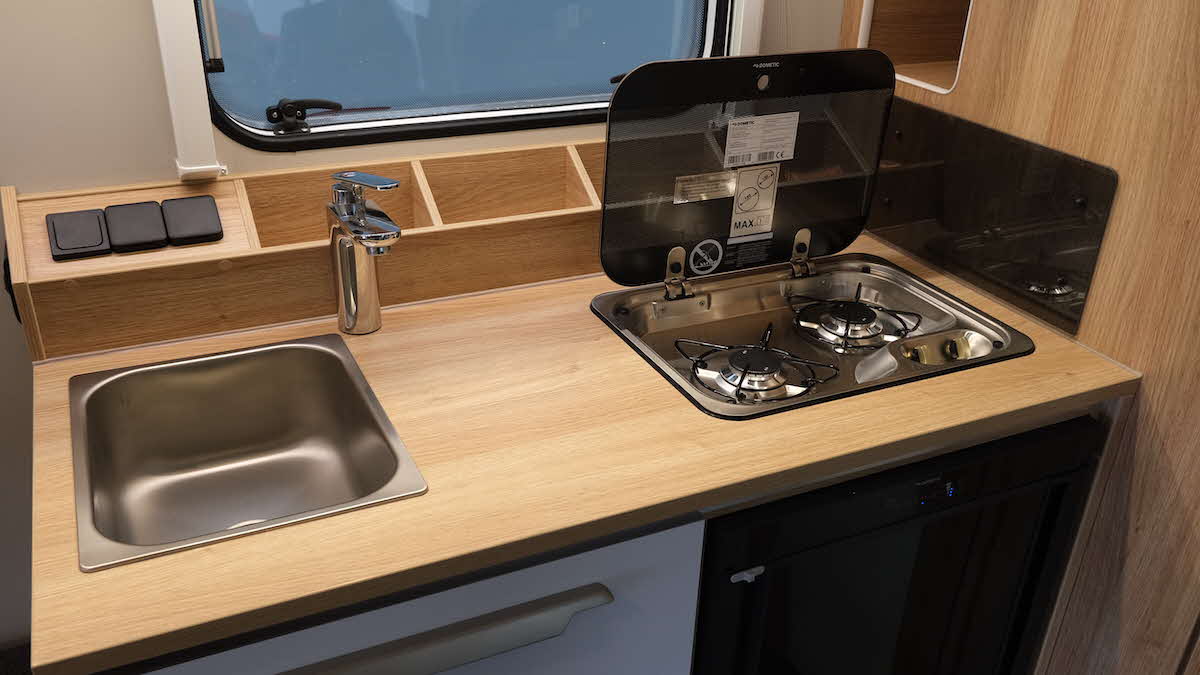 Two gas rings, a fridge and a sink – as rudimentary a set-up as you'll find in a caravan. I'm guessing the Deseo's design team worked on the premise that most buyers will have an exterior barbecue on almost permanent set-up, and be happy to stick to stove-top curries, pasta and risottos in the colder months.
There's not a huge amount of workspace, but storage options are plentiful – I especially like the row of secure pods underneath the window. And talking of pods, there's a built-in cubby hole on the wall designed to accommodate a coffee machine.
WASHROOM – 85%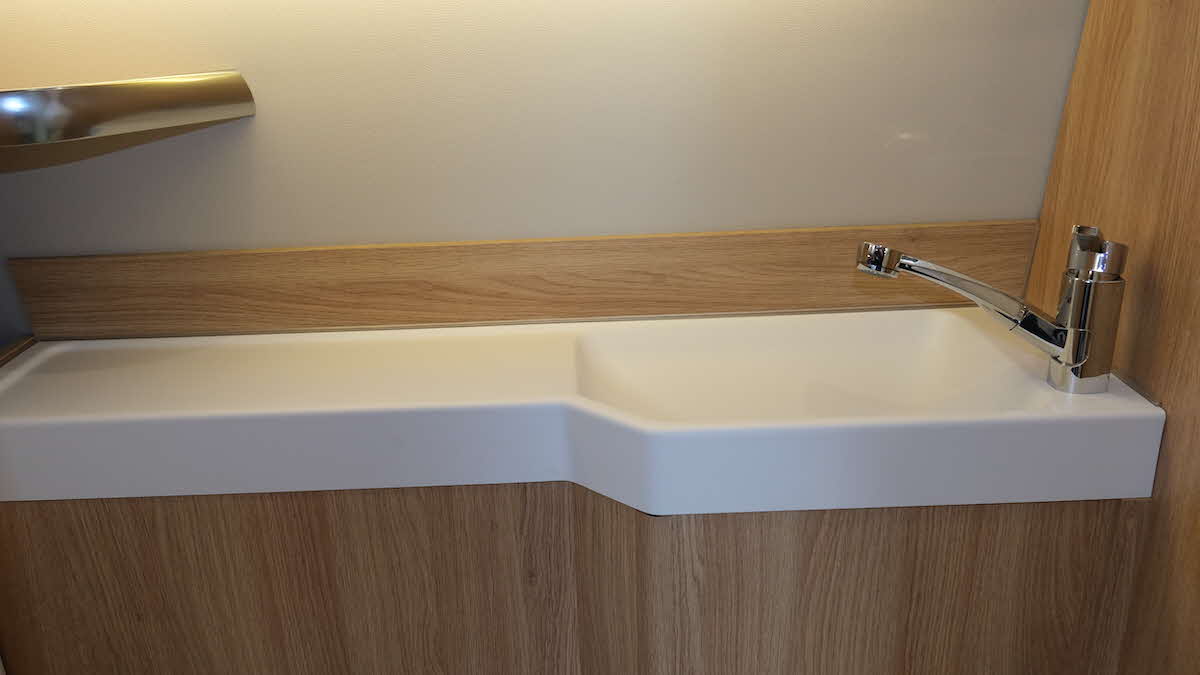 As you gaze into the wide-open spaces of the Deseo from the back, the washroom door against the wall at the front is what faces you, so full marks to the designers for making it such an attractive focal point with its full-height glossy panel down the middle.
Inside, it's compact but functional, with a fixed Thetford loo and a shower whose head is shared with an elegant, elongated wash basin. Yet another practical design touch is the built-in storage hatch for laundry, but which I guess you can use for anything you want – they're unlikely to check up on you.
LIGHTING – 94%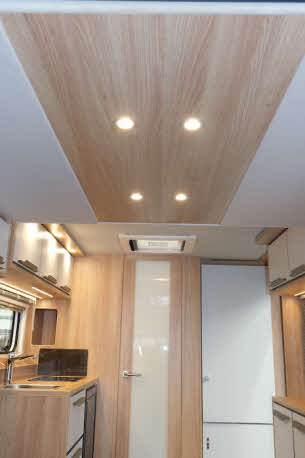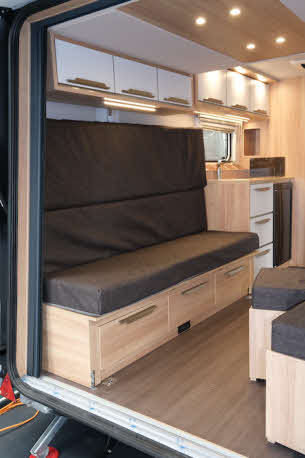 Subtle but effective. Flush-fitting LEDs are strategically placed throughout the interior, including a bank of four on the ceiling in the lounge. A strip under the overhead lockers above the sofa provides extra illumination for reading, and it's good to see so much lighting firepower aimed directly at the kitchen.
A touch of glamour is reserved for the exterior. As well as the usual light above the side entrance door, the elegant rear road lights can be switched on, ensuring that the Deseo stands out in a crowd after dark just as much as it does in daylight.
VERDICT – 90%
The dealer who provided our test example sold a Deseo to a first-time buyer who thought he wanted a campervan – until he saw this. It certainly offers a unique proposition, which you really should see for yourself if you get the chance.
More like this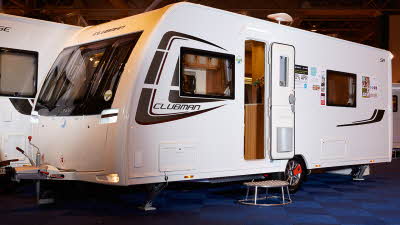 By Rob McCabe
08/01/2019
Rob McCabe tests a four-berth caravan with plenty of pedigree