Knaus Starclass 695
Rob McCabe takes a closer look at the award-winning Knaus StarClass 695 which at more than 8ft wide has comfortably enough room to accommodate a family of four.
Even before I set foot inside the Knaus StarClass 695, I knew it was a winner. That's because it was awarded the title of Best Caravan Over £34,000 in the Club's 2020 Design Awards, where it was also named as the winner of the Caravans Over 8ft Wide category. StarClass models are manufactured in Germany, but with British buyers firmly in mind, reflected in the decor and the amount of equipment on offer (whether standard or optional). Let's see what impressed the judges so much.
Build quality – 95%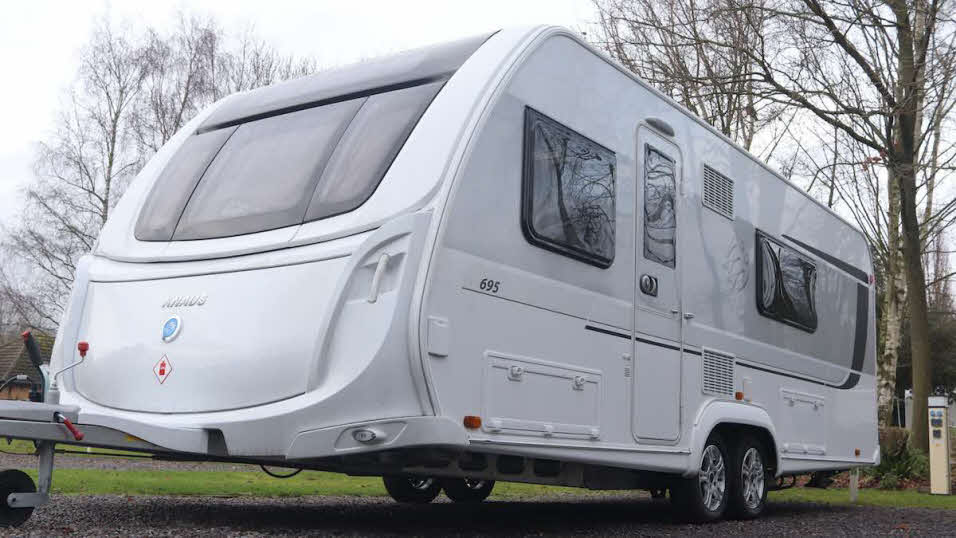 This caravan is impressive to behold. The thick, smooth aluminium sidewalls give off an aura of indestructibility, and the theme continues indoors with impeccable joinery work and details, such as over-engineered hinges on the bedlockers that look as though they'd support the weight of a prop forward, never mind a bed base. For added reassurance, buyers receive a 10-year, factory-backed bodywork warranty.
Towing – 88%
The StarClass weighs just over 1,600kg unladen, and a full two tonnes if you use up all of the extremely generous payload. Clearly, that means nothing short of a full-size SUV will be capable of hauling this beast comfortably.
Everything else combines to make this an easy tow. Twin axles give a reassuringly large footprint on the road while bringing precision to low-speed manoeuvring, while the Platinum package included with our test vehicle (more on that later) features the desirable ATC trailer control system.
Daytime – 88%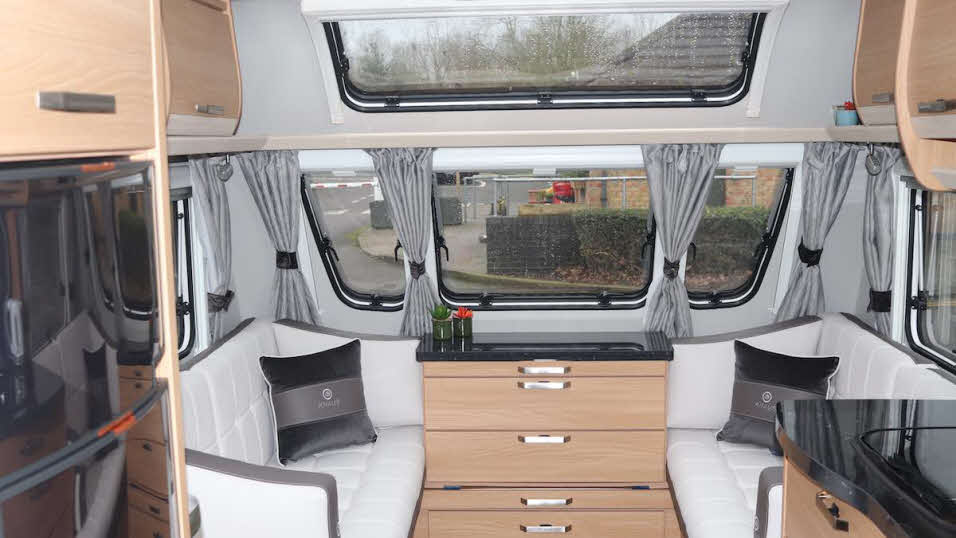 The lounge is small yet welcoming, with comfortable, supportive sofas. Although there are bolsters for all four corners, there's no bulkhead to support the one nearest the entrance door – so you can't actually lean into it. In my opinion, those bolsters and the plump scatter cushions are rather too prominently 'Knaus'-branded, making it look as though the lounge has been sponsored. However, the cream-coloured upholstery does a very good impression of real leather; a more conventional beige fabric is also available.
As is so often the case with new caravans nowadays, the StarClass is offered with optional 'packs' that are almost de-facto standard because pretty much everybody specifies them (or a dealer will order the caravans so-equipped). In this case, the £2,850 Platinum pack includes Alde radiator central heating, ATC, a fitted radio (shame that the basic £31k doesn't buy you that), Al-Ko wheel locks and some carbon-effect graphics. The Convenience pack – which can only be specified in conjunction with the Platinum one – costs a further £447 and adds really nice-quality, loose-fit carpeting, heavy-duty corner steadies, a jack, exterior gas and mains sockets and a front chest.
A freestanding table is easily accessible from its bespoke cradle on the underside of the nearside bed base. From here, it can also be lifted outside via the exterior hatch – a neat bit of user-friendly design. There's a huge amount of storage space for anyone who uses this four-berth as a two-berth: there's a lot of room under the beds and the seat lockers alone, never mind the multitude of drawers, shelves and lockers (12!) at your disposal. And if you're an everything-but-the- kitchen-sink type of caravanner, this is the vehicle for you – there's a monumental 355kg of payload available.
Night-time – 90%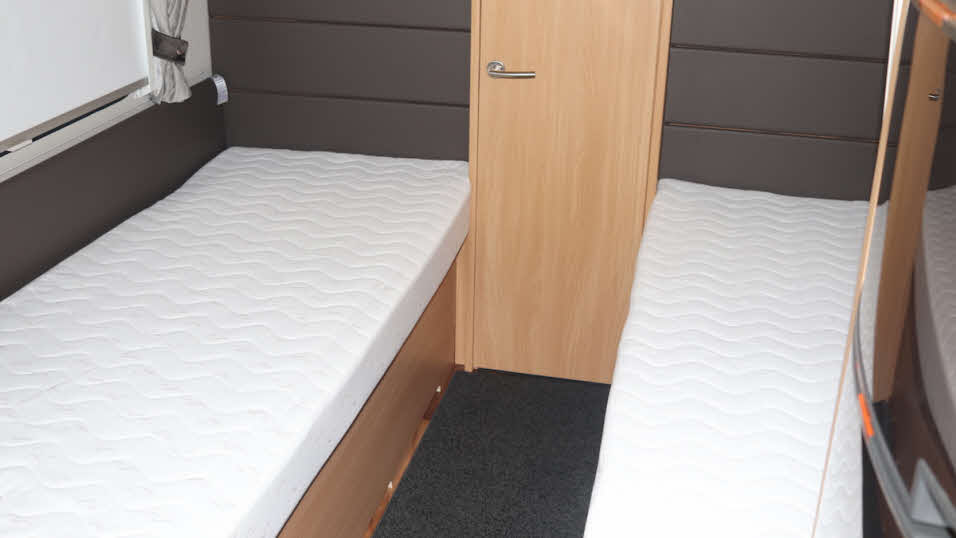 Let's start with the only real disappointment in this department. The blind that separates the bedroom from the front of the caravan looks like something you would find in an entry-level tourer; the cutaway to clear the bottom of the offside bed looks especially unappealing to me.
The bedroom itself, however, is peachy, boasting single beds (one slightly shorter than the other) that are exceptionally supportive and comfortable. Each occupant is well looked after, benefitting from a reading light and an overhead shelf for specs, coffee mug, phone and the like. They even get a personal mains socket. The wall-mounted TV bracket above the dresser next to the entrance door swivels right around to allow viewing from the bedroom.
The 695's width means any overnighting guests benefit from a huge double bed when it's made up, supported by beautifully put-together slats that look like they'll last an eternity.
Kitchen – 87%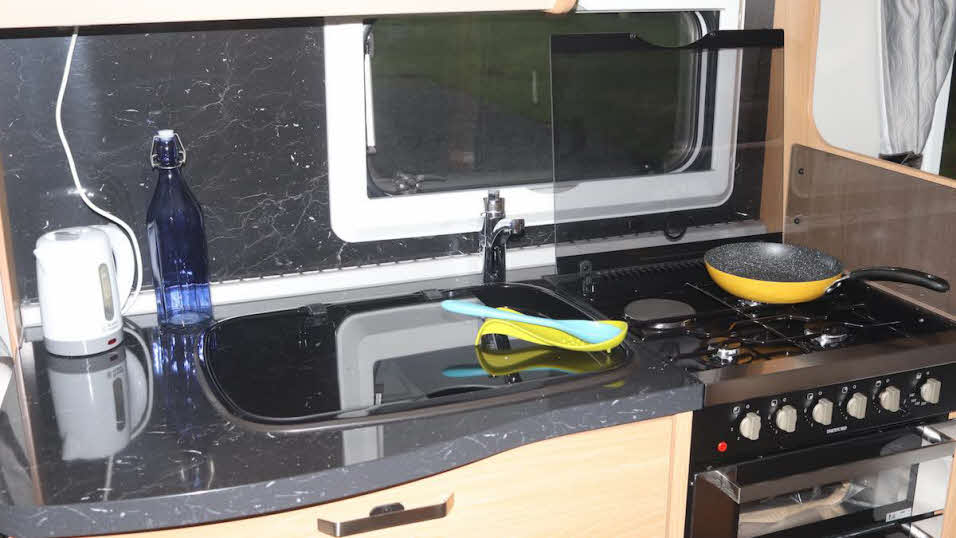 With its thick, dark-coloured, granite-look worktop and matching wall panel, the kitchen really oozes quality. A fold-up extension helps provide decent working space, as does the fact that the glass sink cover has a big cut-out, so you can still use the tap when it is lowered.
There's a roster of cooking options that you would expect at this price level: dual-fuel hob, separate oven and grill, and a fitted microwave. The Dometic tower fridge is a beauty – sleek and elegant, and featuring a huge freezer compartment that'll serve you well on extended trips.
Washroom – 88%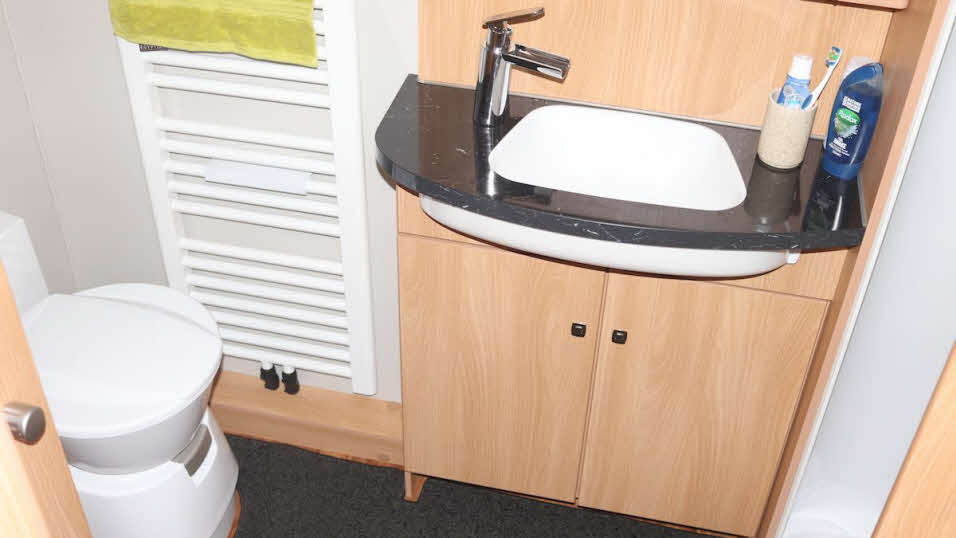 The floorspace that might otherwise have gone into the compact lounge looks like it has fetched up in here – this is one seriously roomy end washroom that's capacious enough to be used as a dressing room. It's nicely turned out too, with the shallow wash basin encased in the same thick, granite-look surface that adorns the kitchen. On the back wall next to it is a tall, elegant heated towel rail/radiator that wouldn't look out of place in a posh hotel en-suite.
Unfortunately, there's nowhere to site gel or shampoo in the shower cubicle, but in all other regards it's a truly wonderful washroom.
Lighting – 92%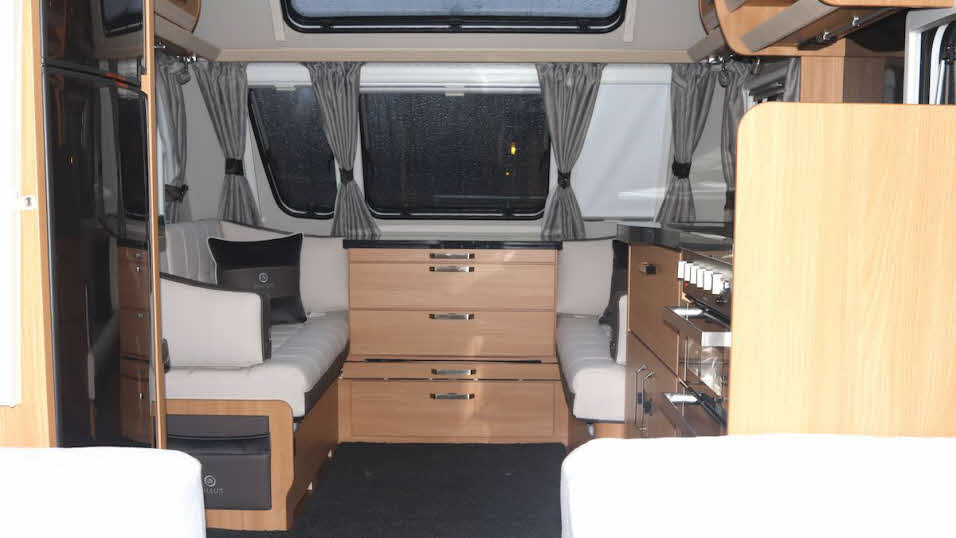 The lounge may be small but there's lots of illumination available, thanks to a quartet of directional reading lamps, ambient lighting running above the overhead lockers and a trio of flush-fitting lamps built into a very classy-looking binnacle on the ceiling.
The kitchen is similarly well catered for (sorry...), with three bright, flush-fitting lamps (one directly over the hob, which is good to see) and a little strip that runs along the underside of the cabinetry.
There's another of those classy binnacles on the bedroom ceiling, adding punch to the reading lamps that live above each of the single beds, and the ambient lighting imparts a pleasing glow. There's a bit of a throwback in the washroom, where two handsome-but- decidedly-old-school wall lamps flank the mirror. The shower gets its own dedicated light.
It would have been good to see a light above the mirror on the nearside dresser, as this could have added a finishing flourish to an already impressive showing.
Verdict – 90%
Yes, it's an expensive caravan – but most Knaus buyers will be looking to get many long years of trouble-free service in return for their outlay, and the sturdy StarClass does give the impression that it'll oblige. The bedroom (that blind apart) and its ensuite facilities are superb, making this a great option for those lucky enough to go away in the caravan for extended periods.
More like this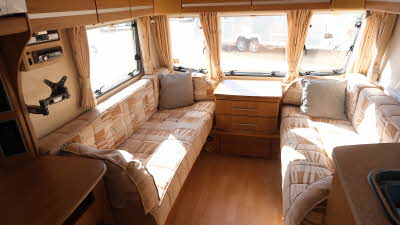 By Rob McCabe
24/11/2021
Despite demand for used caravans being at an all-time high it is still possible to unearth a bargain if you know what to look for. Rob McCabe casts his eye over three potential second-hand gems.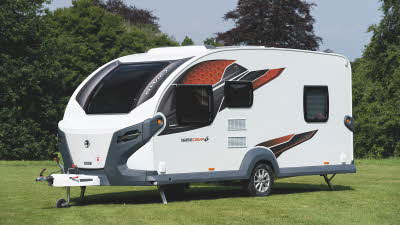 By Rob McCabe
10/11/2021
Ready for an adventure? Rob McCabe takes a closer look at the innovative Swift Basecamp 6 which is designed with active families in mind.