La Mancelle Fantaisy 360 CL
Fantaisy world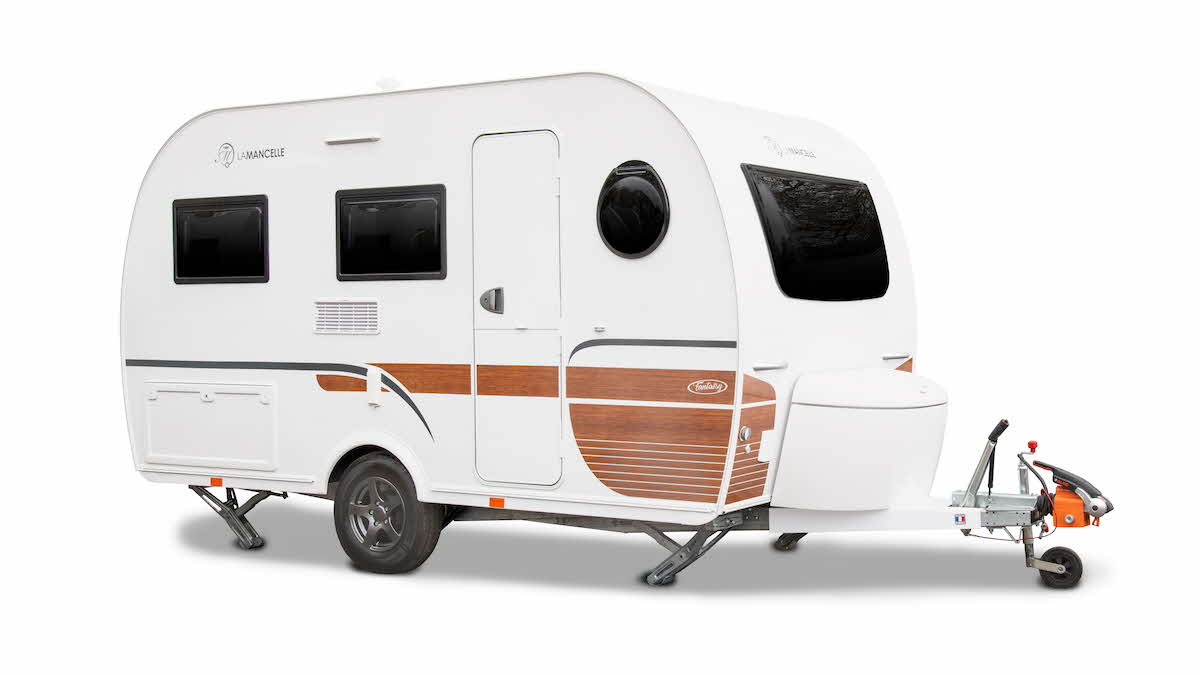 Striking timber- effect graphics
It might be a new name on the UK scene, but La Mancelle has been manufacturing tourers in Le Mans, France since 1960. Marquis Leisure now imports two of its ranges – Fantaisy and Liberty – each comprising caravans that have been adapted specially for the UK market, which, as La Mancelle customers have come to expect, offer something a bit different. (In France it is possible to request bespoke modifications to a vehicle on the production line.) Interesting caravans indeed, as we found out for ourselves when we spent time with the three-berth, fixed-bed Fantaisy 360 CL, the entry-level UK model.
Build quality
– 95%
You'd be forgiven for thinking the exterior panels are made from timber – but the all-polyester bodyshell (which is sleek and impact-resistant) simply sports very convincing graphics. Indoors, we couldn't find a single fault: presentation, attention to detail and quality of materials were all exceptional. A seven- year anti-water-ingress warranty offers reassurance.
Towing – 92%
At under a tonne unladen and maxing out at 1,200kg, the Fantaisy is accessible to many modestly proportioned towing vehicles. There's no electronic stability fitment available, but the extra-long A-frame plays its part in good towing behaviour, as does the built-in hitch stabiliser. And at a slimline 6ft 9in wide, you'll be able to negotiate most village streets and CL farm gates with room to spare.
Daytime – 87%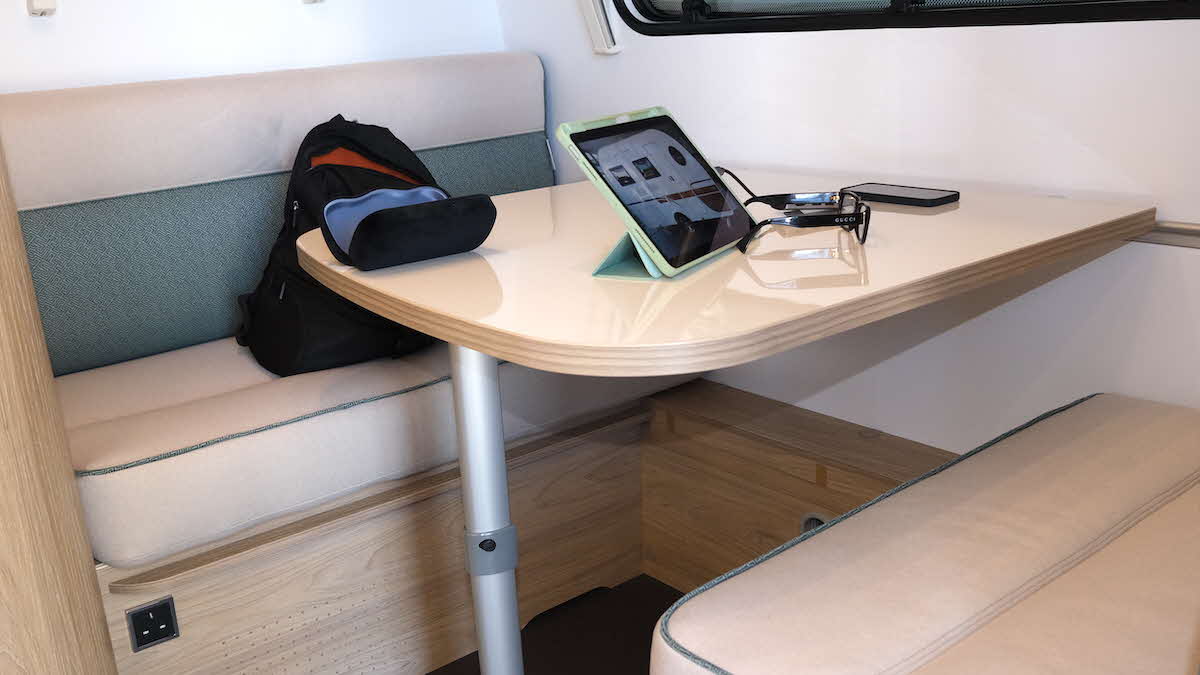 Dinette up front
With the entrance door on the offside, compact seating area to the right (ie, the front), kitchen immediately to the left, small washroom more or less opposite, and transverse fixed bed at the back, the Fantaisy is configured virtually the same as the T@b 400 teardrop tourer (June 2022 issue), and even shares the porthole windows idea.
Up front, there are seats for two and one, either side of the glossy, substantial clip-on table. It's a squeeze for three, but the upholstery is thick and supportive for two. As with the T@b, something has to give, and lounge size is the most obvious compromise in a small caravan that still gives you a sought-after fixed bed.
UK vans come with a TV aerial as standard, with the 12V/coaxial/sat/mains socket ideally placed for wall-mounting a telly in the bedroom. You could also relocate the set to the kitchen and watch from up front, where it would be perfectly viewable from either seat. There's no carpeting, but the flooring is attractive. And sitting here, you can take in how coolly stylish the décor is – it's pale and interesting, and you just gotta love those portholes.
The 360 CL scores highly on the practicality front. There are plenty of cupboards and lockers, and a huge space under the double bed, which is also easy to access from an exterior hatch. Unusually, the entrance door is a stable-door fitment, protected by a full-height flyscreen. The dual-fuel Truma heating/ hot water system is touchscreen-controlled and quietly efficient in operation.
Five mains sockets, a dual USB socket, an inboard fresh water tank and an exterior gas barbecue point finish off a very thoughtfully equipped caravan.
Night-time – 92%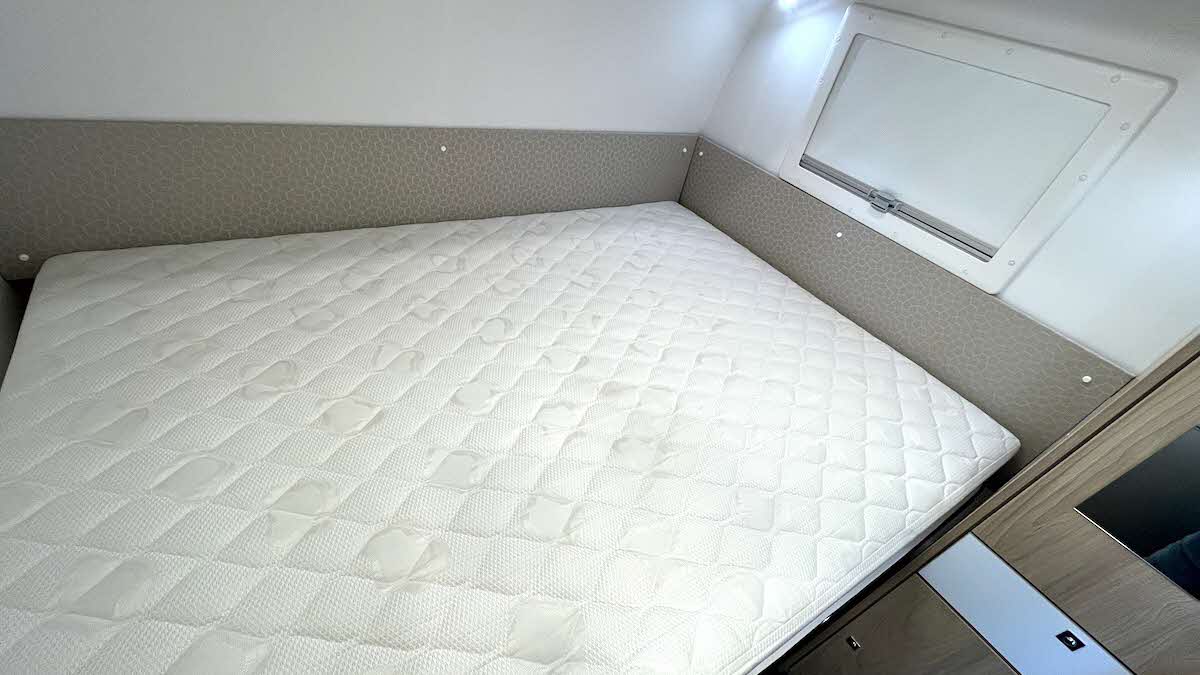 Comfortable rear double
The 360 CL is officially a three-berth, but the excellent 'single' bed formed at the front seating area would, I think, accommodate two people in an admittedly cosy kind of way – it's certainly fine for a one-night sleepover. Otherwise, whoever gets to use it as a single will appreciate its outstanding comfort.
At the back is the transverse fixed double, which features the kind of luxurious, high-quality mattress that is very much the norm these days. One occupant has ready access to a neat, recessed cubby hole, with a mains and USB socket; the other, on the side nearer the back wall, will have to reach across to get to their glass of water. The sunroof above the kitchen lets the morning light in.
Kitchen – 87%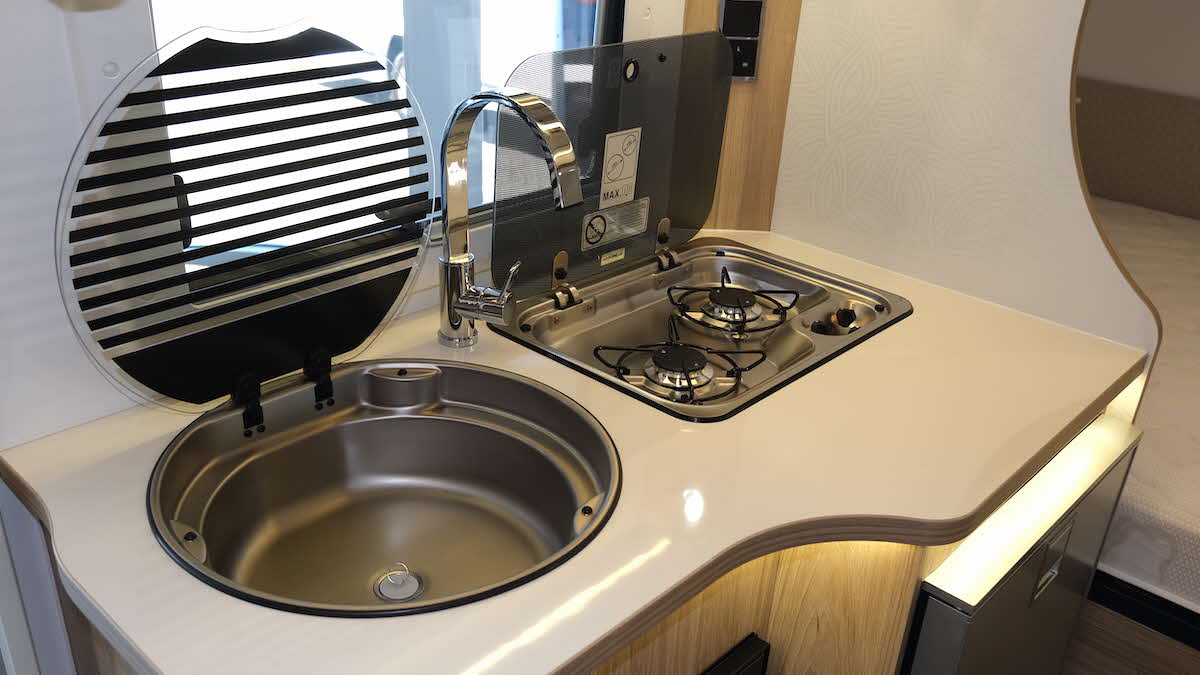 Neat kitchen with solid-looking worktop
It's small, but perfectly formed, boasting a thick, thumping worktop, darkened glass sink and hob covers, and a smart, subtly patterned bulkhead separating it from the bedroom. La Mancelle has equipped UK-market caravans with a Thetford combined oven and grill to complement the two-ring gas hob, a top-quality Webasto marine-style compressor fridge and a posh-looking extractor fan. There's not much work surface, so the dinette table will probably pay its way at serving-up time.
Washroom – 88%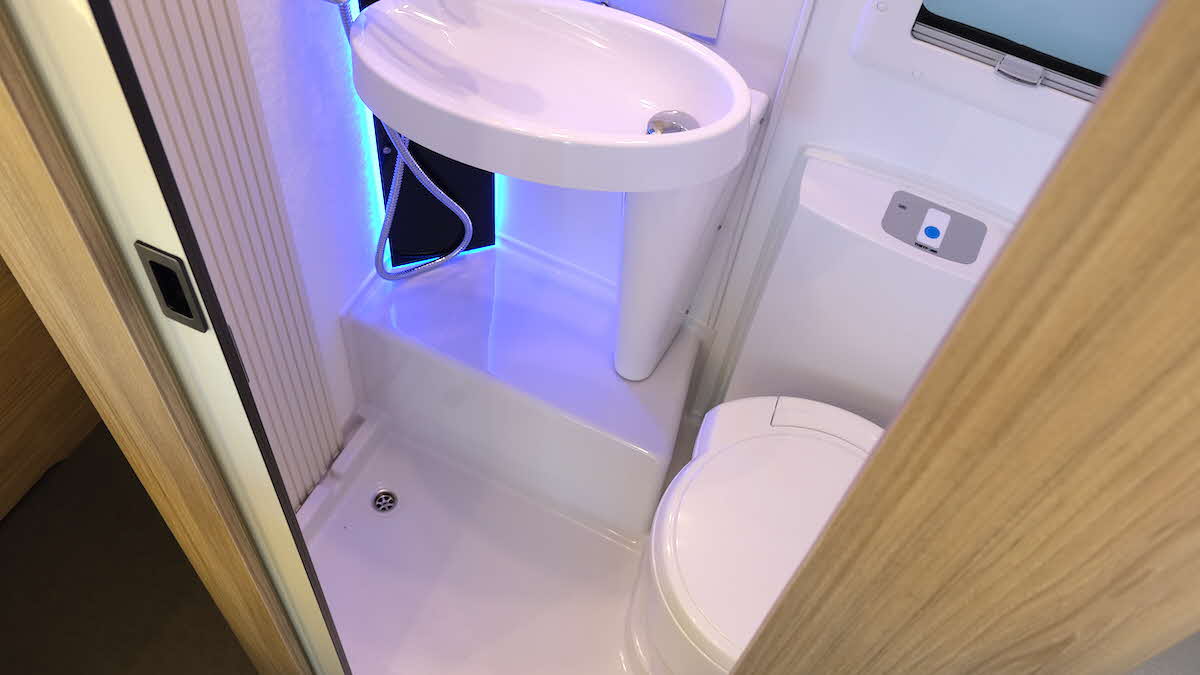 Compact, stylish washroom
Like the kitchen, the washroom is compact but easy on the eye. Slide open the concertina door, and you notice the feature black panel in the corner, which is nicely blue-backlit. The wash basin and shower share the mixer tap, the basin swivelling out of the way to create more room when using the shower. There are two plugholes in the shower tray and a decent-size mirror, plus an even bigger one just outside.
Liighting – 95%
The big story here is the best-illuminated kitchen in the history of caravanning. You've got a trio of flush-fitters on a ceiling-level plinth, and an LED strip slung under the overhead lockers. There's also a highly effective built-in light on the extractor fan and a directional, reading-style light on the wall above the hob. And, just for a bit of bling, the underside of the work surface is lit too.
Two flush-fitting lamps fill the washroom with light, or you can choose just to have the blue backlighting on, which looks fantastic. The three ceiling-mounted lamps in the lounge are, if anything, a bit too bright, with no option to dial them down a bit – maybe bring a dimmable table lamp from home. Reading lights, ceiling lights and an LED strip are all you could want in the bedroom.
Verdict – 91%
It may appear expensive but you're paying for a head-turning, outstandingly made fixed-bed caravan that can be hitched to any one of a vast pool of towing suitors. Inside and out, it's a lovely thing.