Second-hand round-up December 2022
Fancy seconds?
Why not dodge the waiting lists by investing in a pre-loved 'van? Rob McCabe reviews a trio of appealing caravans for varied budgets on a local dealer forecourt
2012 Bailey Pegasus Ancona
–

£12,995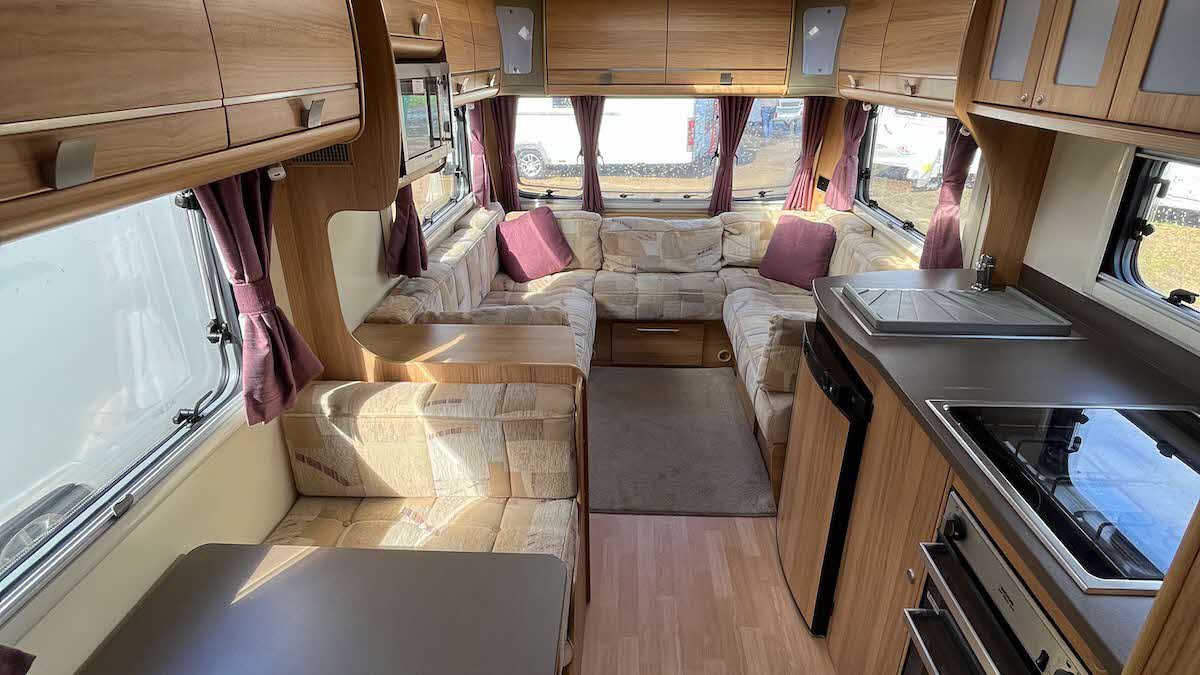 Let's start with a throwback: a six-berth layout with wraparound front lounge, centre kitchen with side dinette opposite, rear corner washroom and three fixed bunks along the offside wall. Caravans with this layout were only manufactured for a brief spell, so it's rare to encounter one on a forecourt. This 2012 Ancona may be one of the last produced.
It's a fantastic option for four-children families: there are three permanent beds and the side dinette can be left in single-bed mode, meaning it's only the double bed at the front that needs to be configured every day – a small price to pay! All three bunk mattresses are in excellent condition, and each occupant benefits from their own window/blind, plus a wall-mounted reading light.
A full-height concertina blind provides privacy at night-time.
Of course, rapidly growing kids will eventually outgrow the two weight-restricted bunks – although the limit for these upper two bunks is a generous 75kg (nearly 12 stone in old money). The floor-level one will accommodate an adult, although a video of a grown-up attempting to get out of it in the morning would be guaranteed to go viral.
This example is in fine overall condition, showing some signs of use. The most obvious is a blemish on the kitchen worktop – a shame, but it is at least purely cosmetic.
The appliances show some signs of tarnishing, but they're all perfectly clean. Outside, there's not a mark on it, and the alloy wheels look exceedingly smart.
As well as the spark-ignited cooker with separate grill and oven, you get a fitted microwave – a near-essential in a busy family caravan. Somehow, they managed to fit in a separate shower cubicle in the washroom, which has a bright, fresh ambience. Plenty of cupboard space too.
Al-Ko ATC electronic trailer control is a welcome addition to the equipment roster, although there's no motorised mover fitted – something with which to practise your bartering skills when closing the deal, maybe?
Verdict
A rare find. It's in very good nick overall and feels like a nice place to be – probably nicer still when you can pack the kids off to bed without having to lift a finger.
Technical info
6 berth
MRO: 1,311kg
MTPLM: 1,499kg
Internal length: 18ft 8ins (5.69m)
Overall length: 23ft 9in (7.25m)
Mover fitted? No
Warranty: Six months' parts and labour
2014 Swift Challenger
SE 565

–

£16,995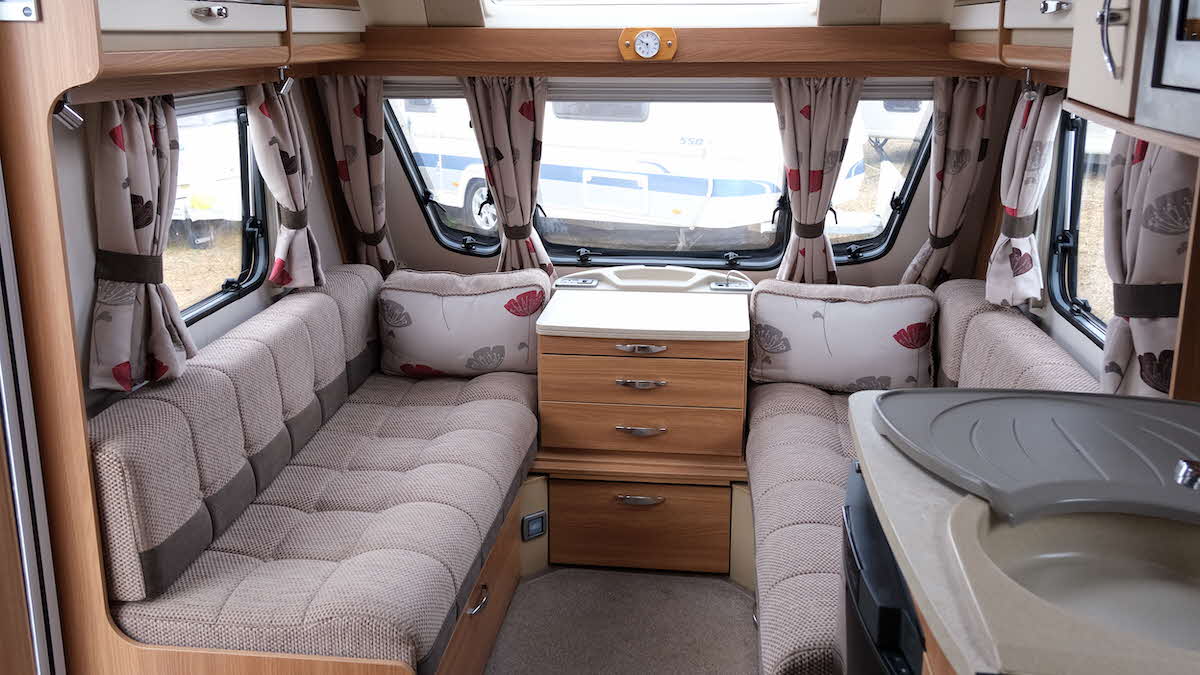 The Challenger SE was a mid-range offering in Swift's 2014 line-up, but its spec remains impressive. This smartly turned-out 565 features Alde central heating, Al-Ko ATC, exterior gas and electric sockets, solar panel, fitted stereo and ceiling-mounted extractor, and also benefits from a motorised mover. In other words, its next owner isn't going to want for much.
The presentation is typical Swift – take that as a good thing. Upholstery looks and feels plush and plump, and every single blind on board is posh and pleated for a refined evening ambience. Aside from the rug in the lounge area, the loose-lay carpeting was rolled up in the wardrobe, and looked to be in perfect condition.
All the lockers and doors open and close with a pleasing tightness and precision, and every surface is unblemished.
In the bedroom, which shuts off from the front of the caravan by way of a perfectly functioning concertina blind, the excellent Duvalay mattresses on the fixed single beds still have their factory freshness.
The bedroom has a television viewing point (there's another in the lounge) with a chunky wall bracket already fitted; this has a built-in spirit level, which is a clever little idea. There's also a wide-opening sunroof in here to complement the one that serves the lounge. For overnighting guests, the parallel sofas make up into a double bed via sliding slats that are delightfully effortless in their operation.
The end washroom is in lovely condition, with a roomy shower cubicle that may or may not have ever been used – hard to tell. The heated radiator/towel rail and big, backlit mirror add a dose of refinement.
All the kitchen appliances, which include a low-level fitted microwave, are super-clean – and it's always good to see pull-out wire racking storage, which adds to overall user-friendliness. The overhead extractor on this one is missing its fan, although a brand-new replacement will be fitted when the caravan gets its pre-delivery inspection. As with all three tourers we're looking at today, a six-month warranty is included in the price.
Verdict
An obviously well-cared-for caravan, with a pretty much full equipment roster. This is a smart, practical and keenly priced tourer.
Technical info
4 berth
MRO: 1,360kg
MTPLM: 1,513kg
Internal length: 18ft 4in (5.60m)
Overall length: 23ft 9in (7.25m)
Mover fitted? Yes
Warranty: Six months' parts and labour
2018 Bailey Unicorn Seville IV – £20,995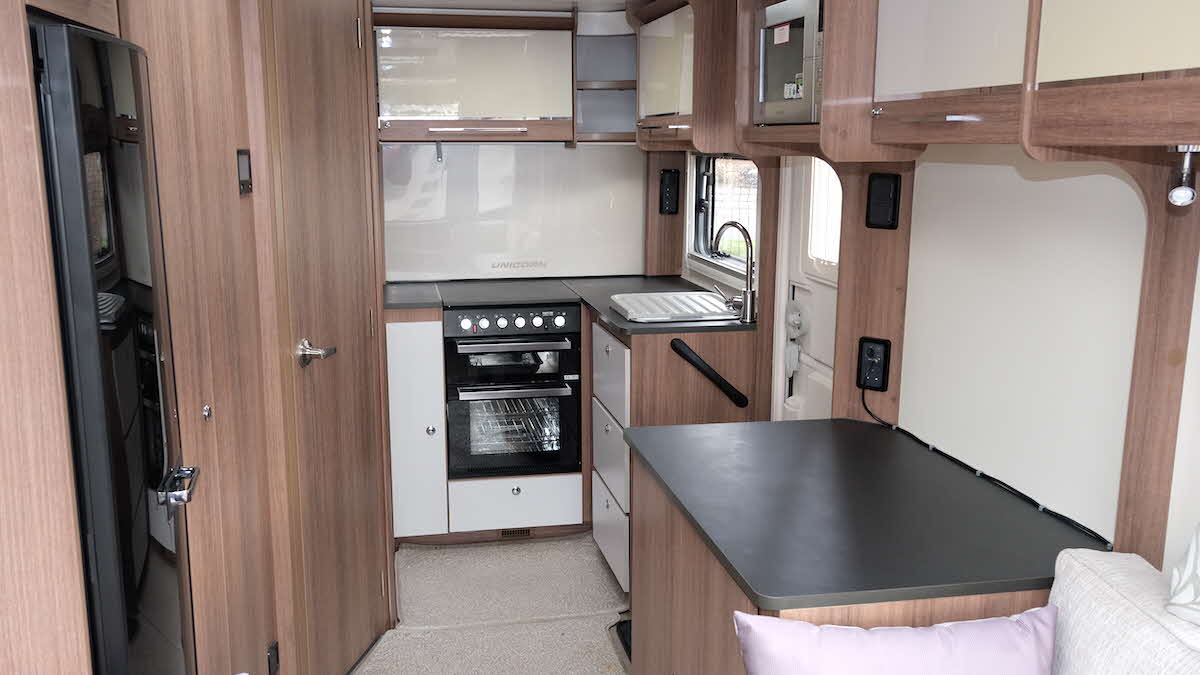 Looking for a new caravan but don't want to take your place on a lengthy waiting list or pay 30 grand or more for the privilege?
Well, something like this Unicorn may be just what you're looking for. The documentation says it was built in 2018; the naked eye says it could easily have been yesterday. As such, my condition report on this end-kitchen two-berth is simple: immaculate, in every respect.
It also prompted a 'never-seen-that-before' moment. I've looked at hundreds of pre-owned caravans over the years, but this was the first in which the loose-fit carpet sections were still wearing the protective cellophane covers fitted at the factory. That suggests they've never been used – I can't imagine that a fastidious former owner would lay them out with the covering still in place.
The lounge is a peach, with four great corners to fall back into – and Bailey pulled off a neat trick by using individual backrest cushions instead of one big slab. This improves the look no end, and they're obviously much easier to manhandle.
As well as offering stacks of lounging room, the sofas can also be used as two proper single beds at night – they're just a quarter-inch off 6ft 3in long – which calls for minimum bed-making and putting away. Otherwise, you'll find that easily operated slats pull out to make a terrific double bed.
Being a relatively recent offering, the Seville has USB slots built into the reading lights in the lounge, and the good-quality stereo includes a DAB radio tuner and Bluetooth. Like the Challenger, this one also comes with the desirable duo of Alde heating and Al-Ko ATC. The elongated front panoramic window is another latter-day design feature.
The kitchen appliances look like they've been professionally cleaned after every use – it's almost a surprise to see that the grill pan isn't also still in its protective packaging. The whole area looks very smart in all its L-shapeness; and if you take into account that vast swathe of nearside dresser, it's awash with serving and prep space too.
The previous owner has made a (predictably neat) nice little DIY upgrade: a coaxial cable has been trunked unobtrusively from the dresser along the wall and behind the sofa to emerge on the front window shelf, giving a second TV viewing location.
Verdict
I'd almost be frightened to take it anywhere in case it should start to look in any way used. Amazing.
Technical info
2 berth
MRO: 1,203kg
MTPLM: 1,326kg
Internal length: 15ft 3in (4.65m)
Overall length: 20ft 4in (6.19m)
Mover fitted? Yes
Warranty: Six months' parts and labour
---
With thanks to:
Featured caravans were on sale (November 2022) at John Wicks Caravans, Lynn Road, Grimston, King's Lynn, Norfolk PE32 1AG (johnwickscaravans.co.uk, 01485 601212)