Swift Select Compact C500
New beauty
Nick Harding's head is turned by a two-berth motorhome from the Swift Group - a new model for 2022 which is full of style with a competitive price tag.
The Swift Select Compact C500 here is a new model for the 2022 season, taking the range up to four models. Despite its 'compact' moniker, it actually measures 6.65m (21ft 10in) long, although its 2.26m (7ft 5in) coachbuilt body is a little narrower than the norm. The layout holds few surprises – there's an end lounge that converts to bedding, as well as seating up front for four people. That leaves an offside washroom and wardrobe mid-'van, with a kitchen extending along the nearside.
Build Quality 82%
Swift is adept at making its vehicles look good from all angles and the Compact C500 is no exception. The GRP outer walls and roof look like they can handle a few dings, while the timber-free, Styrofoam-insulated bodywork is backed by a 10-year integrity warranty. Several features point to this being a premium vehicle: 15in black alloy wheels; one-piece habitation door with window; opening sunroof over the cab; acrylic side and rear windows that are almost flush-fitting; the hatch that provides exterior access to the under-settee storage space; and fittings for a Thule bike rack.
Driving 82%
Fiat's Ducato chassis cab provides the base for the Compact C500. The standard 2.2-litre, 120bhp engine/manual transmission offering will be sufficient for many drivers, but paying an extra £995 for the 140bhp unit could be money well spent. If you want to have automatic transmission as well there's a somewhat substantial £3,495 premium. Along with new, more environmentally friendly engines, Fiat has upped its game in the cab. You get a smarter dashboard, with the main instrument panel lighting up at the turn of the ignition key. The star feature is the 7in touchscreen 'infotainment' unit with DAB radio and lots of other connectivity, the display also acting as the monitor for the twin rear-view cameras.
Cab air conditioning is standard, and there's a user-friendly steering wheel with controls; factors contributing to a vehicle that is reassuringly easy and comfortable to drive. And don't forget that the C500 can take two additional passengers, despite it being a two-berth for sleeping. The forward-facing seat behind the driver has an upright, slightly sculpted backrest and fixed padded head restraints.
Daytime 78%
This is a proven floorplan – dare I say one that has particular appeal to caravanners looking to make the switch to a motorhome? That rear lounge is the place where you'll want to kick back and enjoy the views (there are windows to the three sides and a Heki Midi opening sunroof overhead). There's a decent amount of space for a couple to sprawl out here too.
You may also want to swivel the cab seats around to face the double travel seat, creating a separate dining area around a slimline table on a single pedestal leg. The raised floor section means that your legs won't dangle when you are sitting in the cab seats when they face away from the front.
The C500 is set up for year-round use. Like almost all new motorhomes and caravans, it has the highest level rating (three) for its heating and insulation. The Truma dual-fuel heating system has digital programming and can be employed while driving, thanks to the Crash Sensor Mono regulator fitting. As well as keeping any rear-seat travellers warm, it means you can arrive on site with nice, cosy living quarters.
Night-time 82%
If you don't want permanent beds but like the idea of converting day into night-time mode as easily as possible, the Compact C500 ticks that box. You have a choice between two single beds or a positively palatial double. The latter is simple to make by extending the settee squabs and pulling out the folding legs before folding the backrest cushions into place.
The singles are 1.96m (6ft 5in) long nearside and 1.90m (6ft 3in) offside, with all cushions involved in making the transverse double. Blackout comes courtesy of concertina blinds (with flyscreens) on the living quarters windows and fitted blinds in the cab.
Kitchen 76%
In the kitchen you benefit from a Thetford Triplex Plus cooker – dual-fuel hob (three gas rings, single electric hotplate), plus combined oven and grill – as well as a microwave oven set directly over the hob. The fridge has an 85-litre capacity and automatic energy selection. Storage is largely limited to one main overhead locker (with plate rack and mug holder) and a double drawer with a slide-out cutlery tray. There is also a drawer and floor locker under the oven, but the exterior-access gas locker steals valuable space here. A flip-up extension creates some handy additional worktop space.
Washroom 70%
Now this is where things do get a bit more compact. The solid door to the washroom comes with a domestic-style handle and lock, while inside there are the usual Thetford toilet, fixed basin and shower facilities.
The trigger-operated (and therefore water-saving) showerhead also doubles as the tap outlet to the basin, behind which sits a generous mirror on a plastic section stretching from roofline to shower tray. Two downlights are incorporated here, while the other walls are in a matching white wallboard finish. There's a curtain to pull across the doorway when showering, while a Micro Heki rooflight provides ventilation and an upper-level vanity unit will house your shampoos.
Details 80%
There are plenty of nice details, such as the double coat hook inside the habitation door and the waste bin on the door itself. The furniture features pleasing curves and the locker catches are particularly easy to use. Reading lights on stalks over each cab seat are part of an interior lighting scheme – all LED, of course – that also includes ambient strips between the ceiling and upper-level lockers. And there's provision to watch television in either of the seating areas.
Note that the fresh and waste water tanks are 100 and 50 litres respectively. The leisure battery is a just-about-sufficient 80Ah; you might want to talk to your supplying dealer about an upgrade, and perhaps a solar panel too, depending on your needs. For many, the underslung spare wheel will be a bonus.
Verdict 79%
A more than competent all-rounder that scores well in the style stakes. It's aesthetically pleasing inside and out – but maintains a competitive price.
More like this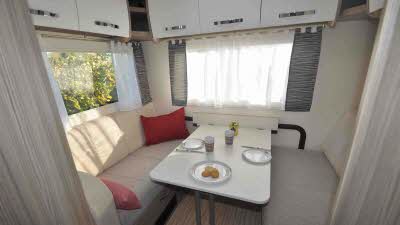 By Nick Harding
04/01/2019
Nick Harding checks out a competitively priced option from Spanish brand Benimar