Towcar review: Dacia Duster
Towcar review: Dacia Duster
A practical towcar which doubles as a no-frills family SUV for less than £20,000 – surely there must be a catch? Lesley Harris investigates whether the Dacia Duster offers good value for money.
Don't be put off by the Dacia Duster SUV's relatively low price tag. While it may not have all the comforts found in more expensive rivals, it's a practical family towcar that has plenty going for it.
The Romanian manufacturer (acquired by Renault in 1999) has long had a reputation for creating reliable, well built, reasonably priced cars. And I have to say the lack of gadgets and gimmicks in this utilitarian SUV is rather refreshing. My test model was the mid-range 1.5-litre Comfort Blue dCi 4x4.
Comfort – 79%
Now in its second generation, the Duster has been given an overhaul – every panel has been revised, while other subtle changes really make a difference. The grille is deeper and features chunky square detailing, for example, while a more pronounced, sculptured crease adorns the bonnet.
There are stylish new headlamps, incorporating LED daytime running lights and a large, scratch- resistant skid plate, while the front fog lamps give the front a rugged and purposeful appearance.
It doesn't stop there. A raised window line, flared wheel arches and a subtle crease running along the sill – along with roof bars (standard on all but entry-level vehicles) – add to the macho look. At the rear, new square-shaped lights are a great addition.
While it still can't be described as 'plush', the Duster's interior has also been given a facelift. Seats have been greatly improved, offering more bolstering and cushioning than before, and that should keep everyone comfortable on longer journeys. The driver's seat is now more adjustable, while the new, leather-clad multi-function steering wheel can now be adapted for rake and reach.
Dacia claims the car is 50% quieter now too, thanks to better soundproofing materials throughout and thicker window glass.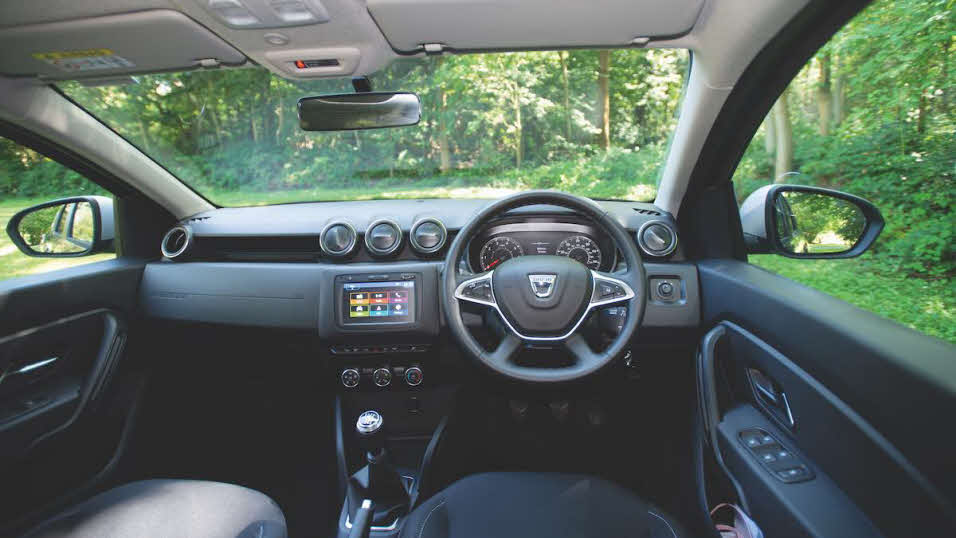 The higher-set 7-in touchscreen infotainment system is standard, although USB and aux sockets are awkwardly sited at the top of the unit, so trailing wires obscure the screen. The system is easy to navigate (although the graphics aren't the sharpest) and incorporates radio, sat-nav and smartphone connectivity via Apple CarPlay and Android Auto. Neat, piano-style switchgear sits above the chunky heating controls. Cruise control is now standard but, weirdly, the rocker switch to activate it is located on the central console while the speed settings are on the steering wheel!
In the rear there is enough room to seat three adults comfortably – a low transmission tunnel means there's plenty of foot space too. Wide- opening doors issue a reassuring thud when closed, and getting children's seats in and out is a doddle.
Driving – 82%
Let's face it, the Dacia is not the most dynamic car to drive – but that's not what this vehicle is about.
The steering feels a little vague and detached on faster roads but the 16in tyres offer reasonable grip and it feels fairly well balanced through corners. The ride is supple, with the suspension softening out lumps and bumps adequately.
The Duster gets a six-speed manual gearbox, which has an extremely short first and second gear. While this is great for towing and off-roading, it becomes a tad irksome when driving solo.
Towing – 83%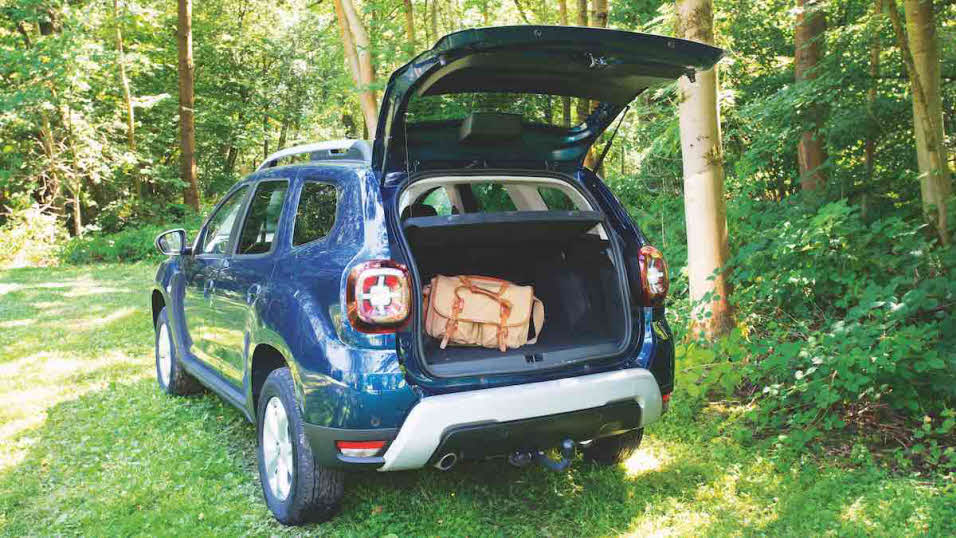 So what is this budget-conscious SUV like to tow with? Well, for starters the addition of a rear camera and parking sensors make parking and hitching a piece of cake.
The 1.5-litre diesel engine, which offers a modest hike in power over its predecessor, pulls well and the ride is comfortable without any tugging or pitching from the back. Even on inclines it performed reasonably, although, as acceleration isn't blistering, overtaking manoeuvres needed a bit of planning.
During blustery test weather, the outfit was unfazed by crosswinds and gusts, while it remained relaxed and confident on the motorway, suffering very little buffeting from other vehicles. The Dacia was able to keep pace with the surrounding traffic without having to constantly change gear.
Boot space is 445 litres with seats in place, rising to 1,623 litres – a reasonable size.
Verdict – 80%
The Dacia Duster is a no-frills, decently-sized, practical family SUV that drives well and looks great too. And, with the price tag of a supermini, what's not to like?