Towcar review: SEAT Leon Estate
Towcar review: SEAT Leon Estate
The SEAT Leon Estate was crowned overall champion in last month's Towcar of the Year 2022 awards. Lesley Harris took a closer look to see what impressed the judges so much.
The SEAT Leon Estate FR beat off stiff competition in its class to triumph in the virtual Towcar of the Year 2021 competition. The 1,100kg to 1,200kg category featured a varied selection of estates, SUVs and family hatchbacks all vying for top billing but it was the practical Leon that impressed the judges most.
It then went one better to be crowned overall champion in the Towcar of the Year 2022 awards – so what made it stand out from the crowd? Let's find out.
COMFORT – 85%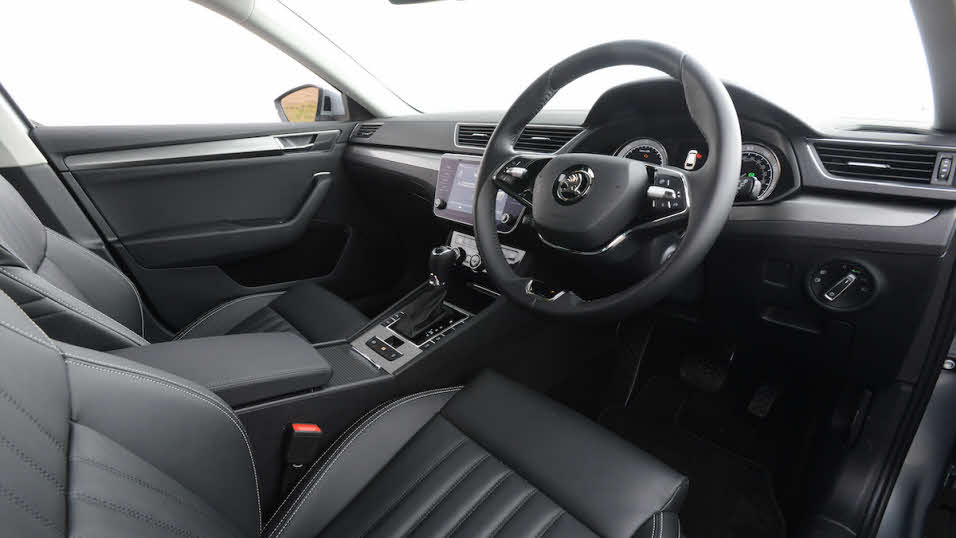 Our test vehicle was certainly handsome on the outside, its angular, diamond-shaped grille and triangular headlamps giving it a super-smart look. In FR trim like this you also get 17in alloy wheels, a sportier front bumper and FR-specific suspension. At the rear, the full-length LED brake light, stretching between the tail lights, gives it a distinctively sharper appearance than its Golf cousin.
The stylishness continues inside, where a minimalist interior creates a modern feel. The upper dash is clad in quality material, with chrome-style inlays and trim, while air vents that mirror the front grille are a nice touch.
Our car was fitted with the wraparound lighting option (£265), which gives it a lift, especially when driving at night. The colour changes depending on which driving mode you choose and the lighting even acts as a blind spot warning indicator.
The main dash is uncluttered and devoid of any physical buttons, everything being run through a 10in touchscreen. While this may look snazzy I do find it too fiddly to use while driving.
The screen's graphics are colourful, it responds well to pinch and swipe actions and it caters for all the regulars such as DAB radio, sat-nav, driving data and information and driving aids. SEATs offer smartphone mirroring as standard across the range.
A digital cockpit is standard on the FR and it is easily customised. Controls are mounted on the sporty-looking, leather, flat-bottomed steering wheel (which features natty red stitching and the 'FR' logo), including the speed limiter, cruise control and voice control functions.
Passengers will be happy with the space on offer in the back. Even with a tall driver up front, there is adequate room for both feet and knees, while there's decent headroom too.
The large, 620-litre boot is a handy square shape with a small load lip. There's a useful lever to drop the rear seats as well as a ski hatch.
DRIVING – 88%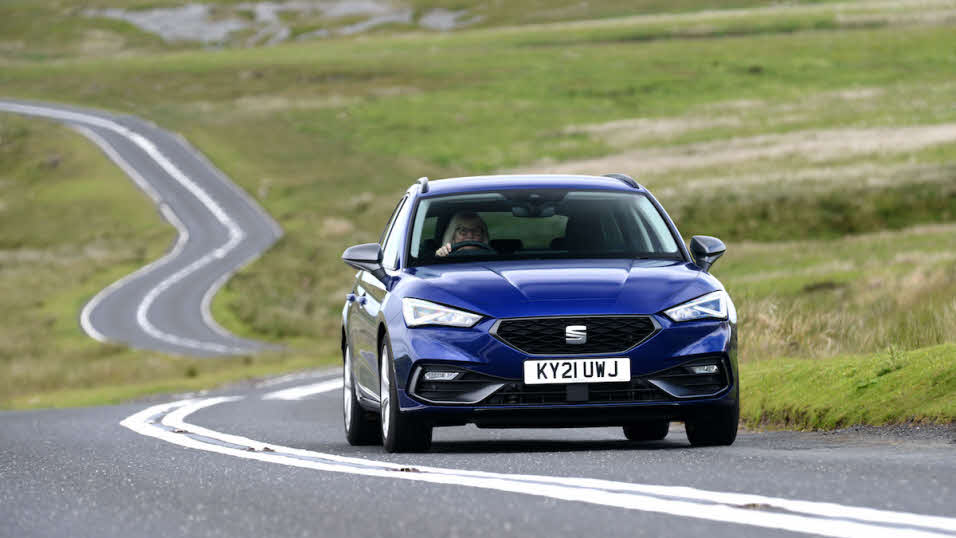 SEAT has ditched all diesel variants of the Leon Estate, instead offering a 1.5 TSI engine - with either 128bhp or 148bhp outputs - a 1.4 hybrid and the 1.5 eTSI 150 DSG mild hybrid (the electric motor only supports the engine during acceleration and cruising and cannot power the car on its own) tested here. Settling into your perfect driving position is easy with good adjustment – including lumbar – and the comfortable cloth seats provide adequate support. The steering is light and agile and there is a good turning circle, so driving through towns is no problem at all. Visibility could be a bit of an issue but thankfully our model had parking sensors as standard.
The FR comes with slightly stiffer suspension that can cause the ride to be a bit bumpy at times over poorer surfaces. But on the motorway and smoother roads it's quiet and comfortable. The seven-speed DSG (Direct Gear Shift) automatic gearbox is nicely responsive and the tiny gear selector looks really neat while leaving more room for stowage, wireless charging and plenty of USB-C ports.
There's some body roll when cornering but also a decent amount of grip, and the peppy 1.5-litre engine has enough power to overtake safely when needed. An economy figure of 45mpg is easily achieved when driving solo.
TOWING – 90%
So, is the 1.5-litre petrol engine good enough for towing? Well, in a word, yes... and it does so with great gusto. Acceleration is spritely and the willing engine cruises up to motorway speeds with very little trouble. Once there, you're rewarded with a safe and stable drive. There's also very little movement from the caravan; even when passing lorries or in heavy crosswinds, it remains composed, giving the driver plenty of confidence. Lower town speeds aren't a problem either, as it remains steady and comfortable.
Again, the gearbox is a delight when towing, always selecting the correct gear for the situation quietly and smoothly. And the Leon delivers plenty of power when you need it for those steeper inclines and overtaking manoeuvres, when hitched.
VERDICT – 88%
The Leon Estate FR is a great all-round family wagon, offering solid performance and great practicality.