Towcar review: Skoda Superb Estate
Towcar review: Skoda Superb Estate
The Skoda Superb Estate came out on top in our virtual Towcar of the Year competition last year. When restrictions eased, Lesley Harris jumped behind the wheel to see what made it such a worthy winner.
The Škoda Superb is no stranger to the winner's rostrum at the Caravan and Motorhome Club Towcar of the Year awards. For the 2021 edition, restrictions meant that the judging was done virtually, but the Superb Estate SE L Executive 2.0TDI 150ps DSG still managed to pull a fifth win out of the bag for Škoda. Thanks to the easing of restrictions we now have the chance to see how it drives...
COMFORT – 92%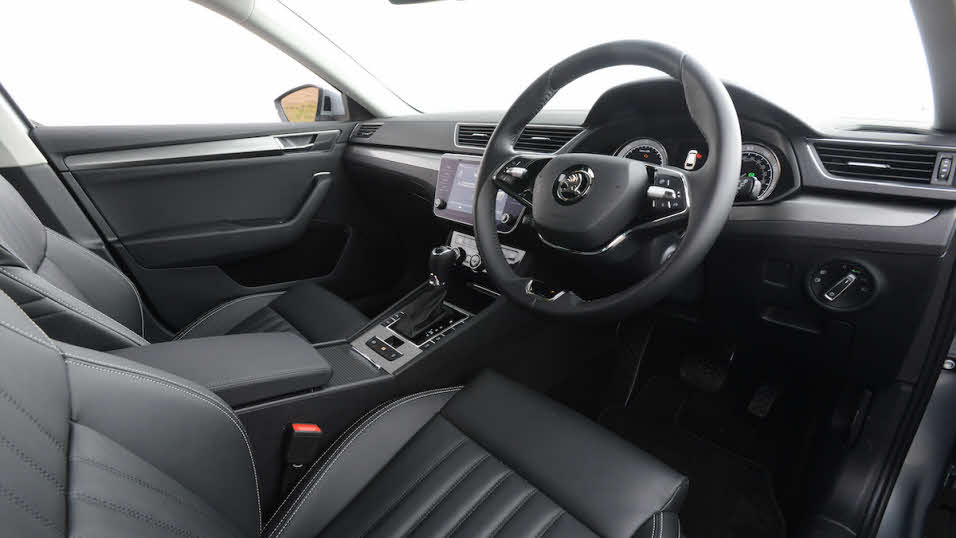 The updated Superb Estate has had a few nips and tucks. At the front, new, shallower LED headlights extend inwards to meet a revised grille (in SE L trim and above you now get full Matrix LED adaptive lights/daytime running lights as standard). Meanwhile, redesigned fog lamps give the Superb a sleeker look than its predecessor.
A new thin chrome strip runs the entire width of the tailgate and through the freshly designed tail lights.
Inside, the premium feel continues, with plenty of high-quality, soft-touch materials, chrome accents and black gloss detailing. More importantly, it's all well put together and feels family-friendly.
Our test SE L model gets heated leather seats as standard, and I have to say they are really comfortable. There's plenty of adjustment, allowing you to find a perfect driving position, and with the huge amount of space in the Superb, even the tallest pilot will have room to spare.
The light and airy cabin is practical, with lots of stowage space. A new larger 'phone box' offers wireless charging, the deep central cubby is ventilated (to stop your choccy bar melting) and you also get lined door bins. The Superb also boasts several USB-C charging ports, and one USB-A.
The 8in infotainment system is nicely integrated into the dash, offering pin-sharp, colourful graphics that are on a par with those featured in more expensive marques. The touchscreen is easy to use and responds quickly to inputs, whether swipe, pinch or prod.
DAB radio, sat-nav and smartphone connectivity are standard, along with a host of other driving and safety functions.
I was delighted to see Škoda hasn't gone too far down the touch-sensitive road. The dials for heating, ventilation and radio are all easy to locate and use – what a treat! On the steering wheel, you'll find nicely detailed chrome thumb wheels to allow even easier access to functions.
The rear space will be to everyone's liking. Although there is a relatively large transmission tunnel at floor level, there is masses of leg and headroom, meaning even the middle seat passenger won't feel squished.
There are Isofix mountings on the outer seats and plenty of storage space. And if you need to carry longer items there's a handy ski hatch too!
DRIVING – 96%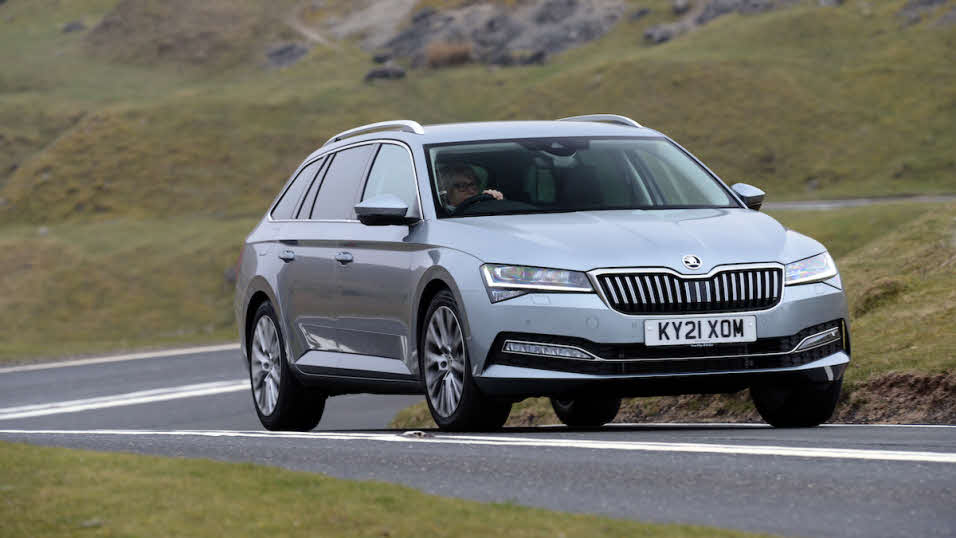 Our test Superb is fitted with the reliable 2.0TDI 150PS (148bhp) engine with a DSG gearbox that works brilliantly. Once you are settled into the comfortable seat, the Superb is a delight to drive.
The light, precise steering is well suited to town driving, and there is great all-round visibility. Front and rear parking sensors are standard, though a rear-view camera can be added for £385.
However, the motorway is where the Superb feels most at home. The ride is supple and comfortable as the Škoda glides over even the bumpiest surfaces, taking the strain out of longer journeys, and the cabin protects you from most road noise, creating a relaxed environment.
Although the Superb is definitely built for comfort, it does handle more than adequately when pushed into a corner. Accurate steering, impressive grip and a beautifully composed body really instil confidence while on the move.
TOWING – 93%
I was expecting great things from the Superb in the towing department, and I wasn't disappointed. The towbar release is nicely incorporated into the boot lip and, once deployed, there is easy access to the electrics.
There was the slightest tug when first pulling away, but this was quickly forgotten about, the car and caravan remaining stable at all times; even at speed it maintained its composure.
The 2.0-litre TDI engine works effortlessly, breezing its way to the top of steep inclines. There's also plenty of power on tap for any overtaking manoeuvres, and the DSG gearbox is smooth and seamless in its changes. Running costs won't break the bank either due to a towing figure of 33.1mpg and an impressive solo count of 50.9mpg.
The Superb Estate has a larger boot than all its rivals: 660 litres with seats up and a massive 1,950 litres with them folded. There are some nifty extra features too – a removable LED boot lamp, two large underfloor stowage spaces, an umbrella in the driver's door, and an ice scraper/tyre gauge in the fuel flap.
VERDICT – 94%
Well, I think the Superb Estate speaks for itself. It proves itself a worthy winner of the Caravan and Motorhome Towcar of the Year trophy, and I can't think of a reason not to buy this reasonably priced, family-friendly towcar.