Towcar review: Volvo V60 Recharge Plug-in Hybrid
Leading the charge
Estate cars are now making a comeback against their SUV counterparts as a great alternative for caravanners and this plug-in hybrid electric option from Volvo offers reliability, lots of space and added safety features.
Estate cars. There was once a time when they were the de facto choice for families wanting a practical set of wheels, but then the SUV began to dominate the market. With higher ride heights, commanding driving positions and solid builds, SUVs have won many a caravanner's heart. However, estate cars are now putting up a fight – much to the satisfaction of those who want a roomy car without the associated running costs of an off-roader. One manufacturer that has never shied away from this area is Volvo. The Swedish brand has long enjoyed a reputation for reliable, spacious, conservative and, of course, safe, estate cars. The V60 is the latest in this long lineage.
Comfort - 90%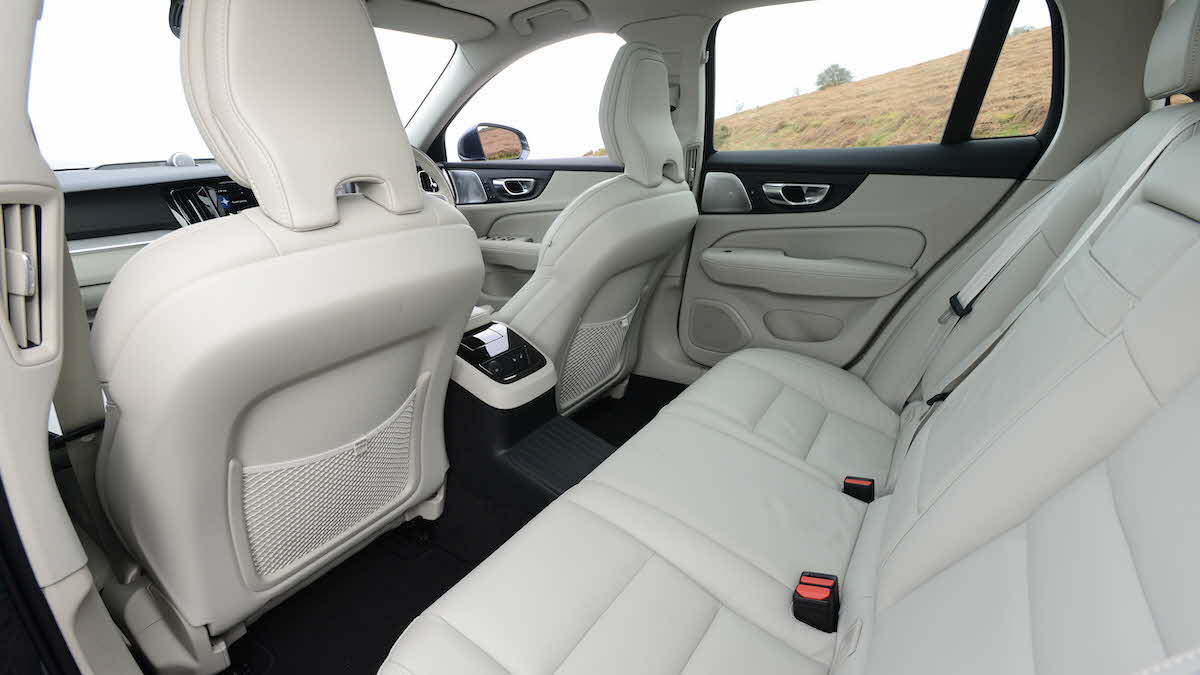 The Volvo V60 Recharge Plug-in Hybrid T6 AWD Plus, in particular, impressed the judges in the Caravan and Motorhome Club Towcar of the Year Awards 2022 so much that they handed it the Plug-in Hybrid Vehicles award.
Volvo was one of the first manufacturers to move away from diesel power and concentrate instead on hybrid petrols and pure electrics. Like so many Volvo estates in the past, when the V60 first launched back in 2018 there was a selection of petrols and diesels under the bonnet – but not anymore. Walk into a Volvo showroom today and there's just the choice
of mild hybrid petrols and one plug-in hybrid (PHEV) petrol.
While diesel power presents obvious benefits for caravan owners, PHEVs – if used correctly – offer more. For the V60 – badged Recharge T6 AWD – there's a 2.0-litre engine under the bonnet while, at the rear, there's an electric motor giving between 31 and 54 miles of pure electric driving.
That 'AWD' in its name hints at the combination of petrol power for the front wheels and electric drive for the rear; the V60 is all-wheel drive. And, rather unusually, that petrol engine is turbocharged and supercharged; unnecessarily complex, you might think, but in theory it gives the engine extra punch at high and low speeds – a potential boon for caravanners. This combination of petrol and electric drive results in some very impressive numbers – 345bhp, and claimed economy and emissions figures of 352mpg and 18-46g/km of CO2 respectively.
Rivals in this section of the market are few and far between. Two of the most obvious are the BMW 330e Touring and the Mercedes-Benz C300e Estate, but the Volvo pulls ahead in a couple of key areas.
The first is that classic Volvo attribute: space. The previous V60 was rather lacking in the loading department, but this iteration is the Swedish maker at its best. While the BMW 330e and Mercedes C300e sacrifice some boot space to squeeze in their electric motors and battery packs, there's no compromise in the Volvo, with the same 519-litre boot you get in the normal petrol-powered V60. And, being a Volvo, the boot is square and practical, with little wheel-arch intrusion, thereby maximising usability.
Volvo has been able to give this model the same size boot as the non-PHEV petrol models because it has been clever with the batteries. Rather than sticking them under the boot floor, Volvo has positioned the 18.8kWh (14.9 useable) battery pack down the centre of the car.
Inevitably, this reduces foot room for a middle seat passenger in the back and the storage space under the front armrest, but it has to go somewhere. This aside, the V60 Recharge's interior is a masterpiece of quality and attention to detail. The design is eyecatching, and the light upholstery, real wood and metal trims in our test car gave off a restful, inviting feeling.
Driving - 88%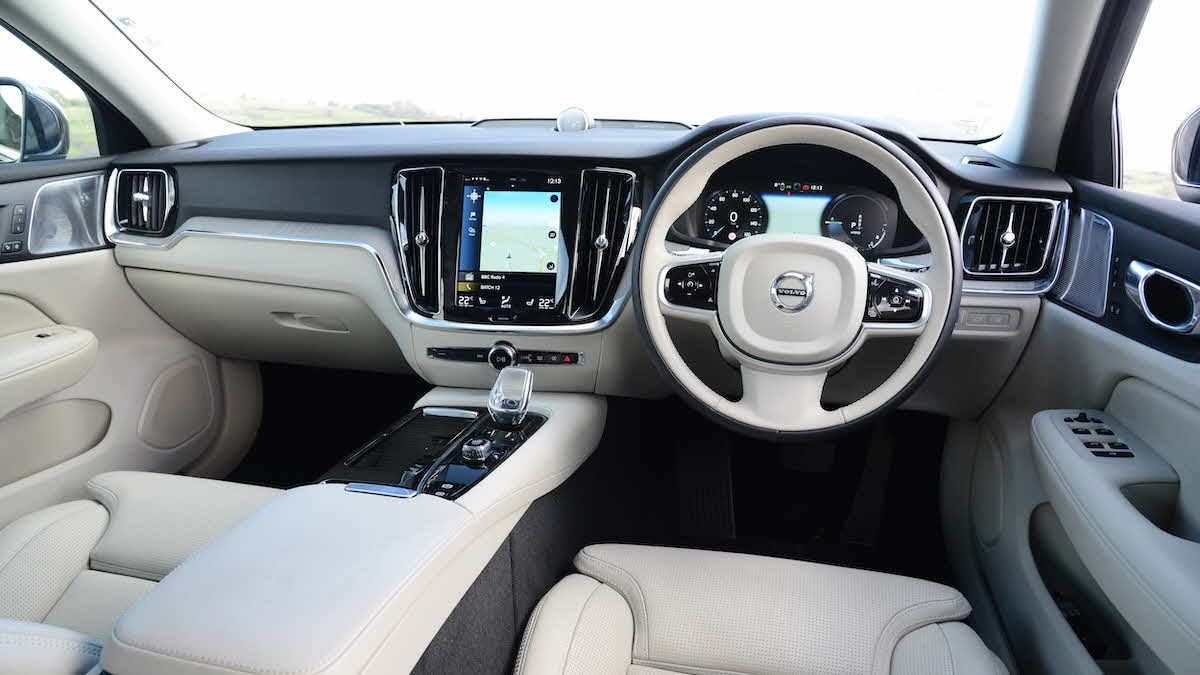 Twist the starter switch and the V60 Recharge defaults in 'Hybrid' mode – one of several different driving modes on offer. When pulling away, the car goes about its business in pure EV mode, and from thereon in flits between petrol, electric, or a combination of the two.
It does this almost imperceptibly – only the switching sound of the engine provides a clue as to which power source is being prioritised.
'Power' mode spools up both petrol and electric motors to optimise performance, while a pure EV mode is also available. Press the 'Battery Hold' button and the car's electric range is preserved for a later time – particularly useful if you have a long-distance journey, where hybrids are at their most uneconomical, or will be driving through low emission zones in big cities that reward electrically powered cars.
Charging the V60 Recharge takes around 2½ hours from a 3kW or 7kW home wall box, or roughly six hours when connected to a domestic plug socket.
As previously stated, Volvo claims that a full charge gives between 31 and 54 miles of pure electric running (in our testing we were regularly getting in the mid-40s), but while the EV range is achievable, that 352mpg figure is much more of a stretch. The key to running a PHEV is to charge regularly and keep the batteries topped up. Do this, and high mpg figures are possible, but if you deplete the battery, that turbocharged and supercharged petrol engine can be thirsty.
Towing - 87%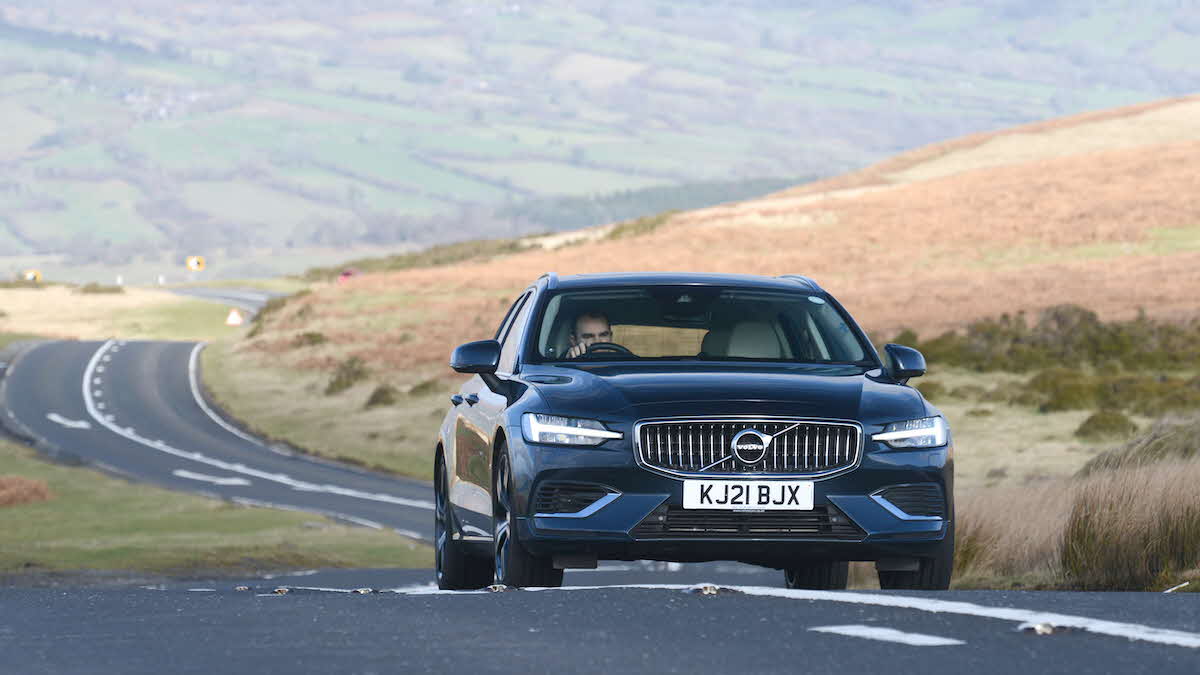 When hitched to a caravan, many PHEVs defer to petrol power rather than electric, but I was impressed at how the V60 often prioritised electric. On a 50-mile test route hitched to a Bailey Unicorn Vigo Series 4 we averaged 51mpg, although the switch-over from petrol to EV was slightly more clunky when hitched.
The V60 is a hugely composed and compliant car to drive, but especially so when towing. Volvo hasn't chased after handling prowess like BMW has with its 330e; instead it takes a more comfortable and relaxed route.
The well-judged suspension, light steering and super-supportive seats make the V60 Recharge a supremely comfortable long-distance tourer. It's this combination of all-round usability, comfort, style and practicality that makes the V60 Recharge a very compelling estate.
Verdict - 88%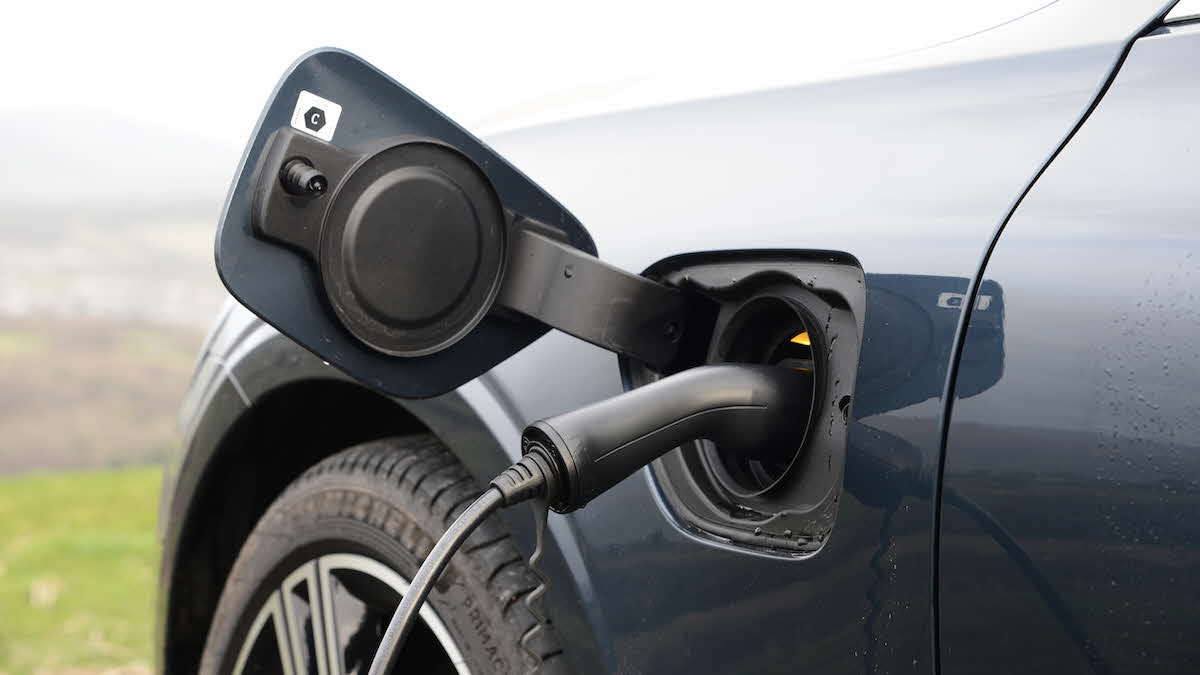 Few cars can offer such an enticing all-round package of comfort, style, quality, practicality and smooth driving.