Towing with a Tesla
Lee Davey hitches a Tesla Model 3 to a Bailey Discovery D4-2 for a trip to Hunter's Moon Club site to see whether towing with a fully-electric vehicle is already a viable option.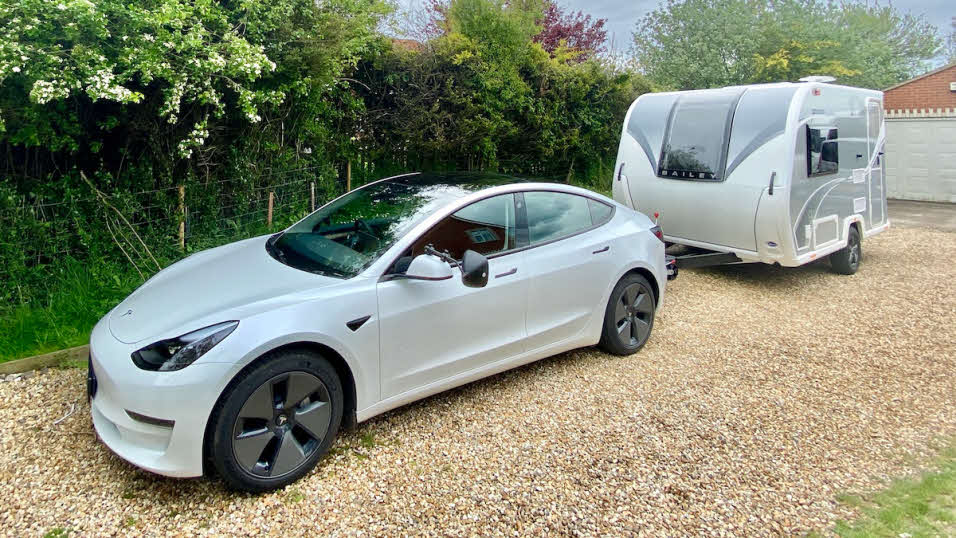 When the Government announced a sales ban on new petrol and diesel cars from 2040, it seemed a lifetime away. However, when the deadline was brought forward 10 years, the reality of the situation hit home and, if I'm honest, I had trepidation about the future of towing with electric cars.
At present, several electric vehicles (EVs) offer the sort of family-friendly towing capacity we're used to, but the price tags can be eye- watering. Tesla's Model X hit the headlines in 2015 for multiple reasons, one of which was its ability to tow a reasonable weight, although, again, current prices are beyond the reach of many. Then the Model 3 came along – and although the RRP is still north of £40,000 – its size, spec and green credentials makes it an attractive prospect as a towcar.
So, with a Tesla Model 3 Long Range AWD (1,000kg towing capacity) and a Bailey Discovery D4-2 (995kg MTPLM) booked for the weekend, my son, Charlie, and I began planning our first ever EV caravanning break.
The distance covered needed to represent a 'reasonable' weekend away, so I booked Hunter's Moon Club site, 44 miles from my home. I must stress this was a test to see where we are now in terms of technology and infrastructure – I'm not saying this is how things will be in 2030.
As I didn't have a 'safety net' of back-up vehicles or generators waiting on standby, the sensible thing would have been to plot a route that featured a series of charging points along the way. Not being that sensible, I booked a site based on the fact there were some good mountain bike trails nearby, with apparently no charging facilities in the vicinity nor any en route. However, before the trip proper, I needed to collect the fully charged car/caravan combo from Bristol, hoping I would make it to my house in Dorset; this would serve as an initial range test.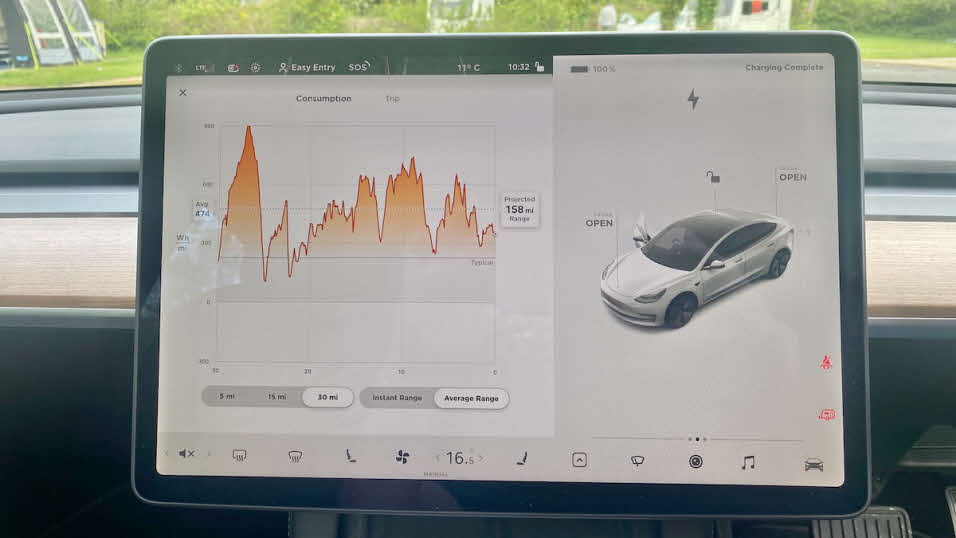 Setting off, the Model 3 displayed a fully charged range of 376 miles. Impressive, but this figure is based upon a journey (or journeys) without the additional weight or wind resistance of a caravan.
My journey to Dorset would be tough. Weather warnings promised 50mph winds over the Mendip Hills and, as it happened, horizontal rain allowed me to track the direction of each gust. However, the Tesla/Discovery combination was super stable – remarkably so – thanks to a combination of factors. First, a 1,844kg car with a 995kg caravan should feel balanced thanks to a comfortable 54% ratio. Secondly, the D4-2 is a two-berth caravan, so it doesn't have a huge surface area to act as a 'sail'.
'Range anxiety' is a very real issue, something that made me glance repeatedly at the screen as the predicted capacity dropped by 100 miles after just six miles on the road. With a hilly 55 miles to cover and my head full of mathematical equations as the numbers continued to tumble, I was delighted to actually reach my house with 60% of the charge remaining.
Not having a fast charger at home, plugging the Model 3 into a normal three-pin domestic socket revealed a charge time of 15 hours 40 minutes. This wouldn't be a problem for this trip as I'd built in an extra day for such eventualities, but it underlined the future importance of a country-wide fast charger network should mid-journey top-ups prove necessary (a similar Tesla Supercharger top-up could be achieved in as little as 30 minutes).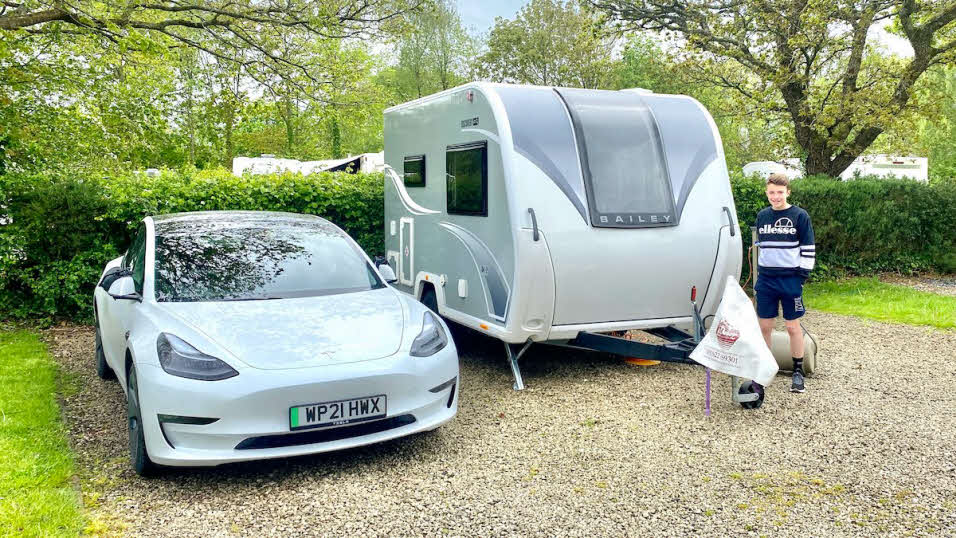 Thanks to my earlier journey from Bristol to Dorset, Charlie and I knew we would reach our chosen site comfortably. I'd already spoken to the Club's Technical Department about charging EVs on-site, and was pleased to be greeted by equally knowledgeable site staff at Hunter's Moon.
While fast-charging facilities have been installed at the Club's Cayton Village site near Scarborough (see page 21 of this issue for more information), our procedure for topping up in Dorset would be different. Current Club guidelines require EV users to plug the caravan into the bollard and the car into a three-pin socket inside the caravan. Granted, it's a slower way to charge, but it allows the consumer unit inside the caravan to act as an additional safety feature. In addition to pitch fees, charging an EV costs £8 (hybrids are £2). I'd also spoken to the Technical Department about how best to heat the caravan and hot water tank while charging the Tesla. Following advice, I reduced the amps drawn by the car (via the Model 3's screen) to 6A and switched on both heating and hot water inside the caravan.
With the car charging, Charlie and I removed our mountain bikes from the D4-2 and spent the afternoon pedalling furiously along Wareham Forest's Sika Trail. Resting our tired legs in the evening, dinner was enjoyed in the caravan as the car kept charging. Once the majority of electrical items inside had been used, I was advised to increase the charge rate to 10A (2kW).
Our sights were once again set on Bristol – a 99-mile trip to return the car and caravan. Relatively empty roads interspersed with junctions and roundabouts saw large spikes on the car's energy graph. The opposite applied when heavier traffic was encountered, where lower speeds created a flatter line. Towing at 60mph saw the graph shoot upwards, a 10mph increase in speed using much more energy than expected, leading to discussions about weight versus aerodynamics. When encountering hillier terrain, weight seemed to be the dominant factor, but aerodynamics appeared to play more of a role in energy consumption when towing at faster speeds on dual carriageways, etc. Longer motorway trips will undoubtedly be reliant on an efficient charging network in years to come.
Pulling into Bailey's Bristol headquarters was something of an anti-climax. I'd anticipated a nail-biting finale, perhaps phoning ahead with news of a flat battery, but I rounded the corner with an astonishing 54 miles of range remaining.
Are EV's the future of caravanning? With 2030 fast approaching and alternative fuel sources grabbing fewer newspaper column inches, this may be a glimpse into the next decade. Technology is forging ahead, and although the infrastructure isn't quite there yet, campsites with fast chargers and electric vehicles that can tow a caravan 100 miles (or more) are reassuring. What's more, EV towing manners could make for very relaxing trips indeed.