VW Golf Alltrack
If you don't want an SUV as a towcar and aren't keen on an estate either than Volkswagen might have the perfect solution in the VW Golf Alltrack. Lesley Harris takes a closer look.
An SUV is not the first choice of towcar for everyone, so what options are available if you need a practical family car with four-wheel drive?
Well, you could take a look at the new Volkswagen Golf Alltrack. First launched in 2015, the Alltrack is a standalone model in the Golf line-up, with VW pitching it as a crossover between the Estate and an SUV.
Comfort – 75%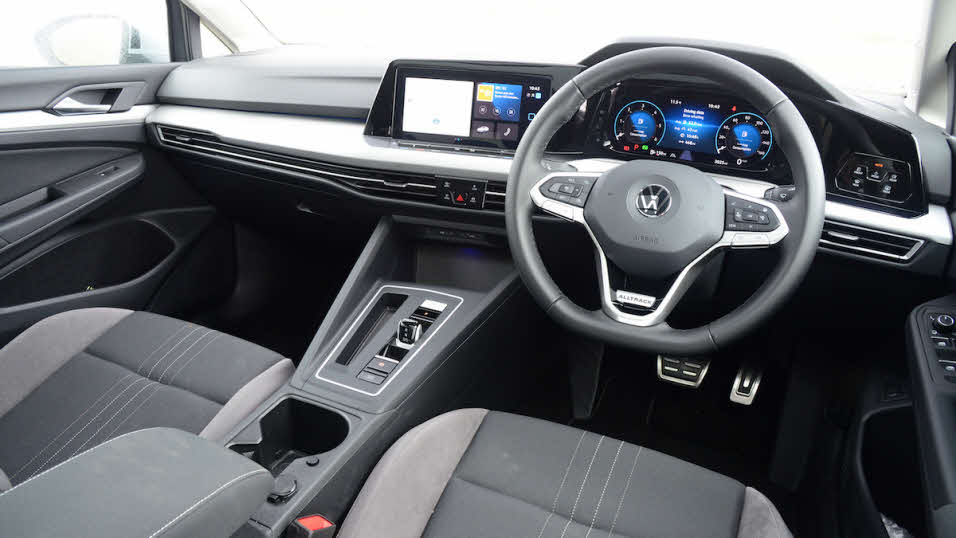 It is definitely more rugged in appearance than the regular estate, with distinctive front and rear bumpers, chunky wheel arch protection and side skirt protection. The Alltrack has also been given an extra 15mm ride height, allowing more ground clearance for off-road driving.
At the front, it proudly sports the Alltrack badge along with LED 'Plus' headlights. And there's a nifty LED light strip that extends across the radiator grille, creating continuous illumination between the headlamps. Another smart feature is the 'X' formation of LED front fog lights. Chrome trim and roof bars finish off the look.
Once inside, apart from the logo-clad seats and steering wheel, it's pretty much standard Golf fare. The seats are supportive and well bolstered, keeping you snug while driving. And there's plenty of room for both driver and passenger, with lots of adjustment in both seat and steering wheel.
Interior materials are decent up front and, as in all Golf variants, the dash is dominated by the large, 10in touch-sensitive infotainment screen.
The Alltrack comes with all the same tech as you get in the hatch: digital cockpit, DAB radio, cruise control, sat-nav etc. There's also wireless or USB-C charging depending on your device, and, of course, a host of safety features, such as Adaptive Cruise Control, Side Assist and Travel Assist.
In the rear, passengers will be pleased with the amount of space on offer. There's loads of head and leg room, the middle seat is comfortable, and there's plenty of foot space too. However, you'll quickly notice the distinct lack of premium materials used at the back, with hard plastics in evidence from the tops of the doors to the centre console.
Driving
– 80%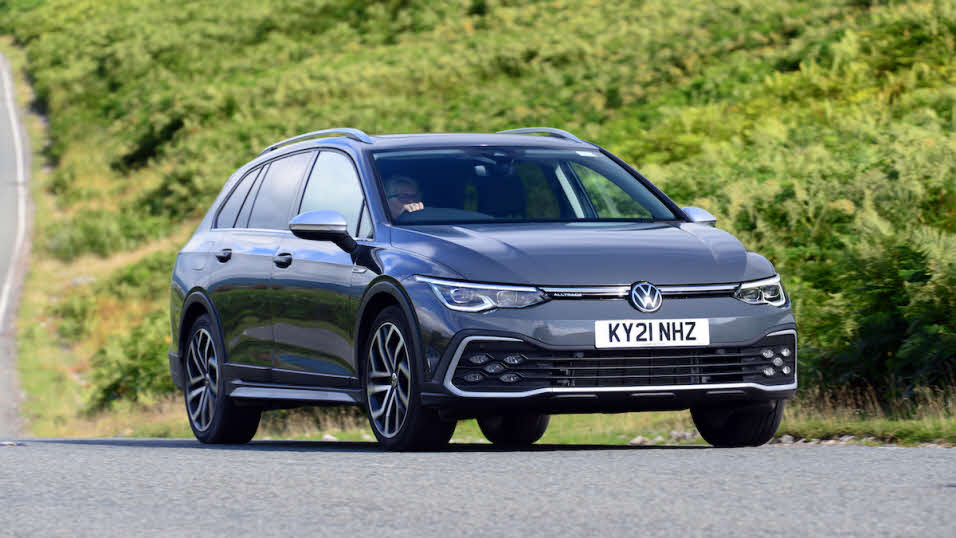 As the Alltrack is a unique model, there are no engine and gearbox options: it comes with Volkswagen's tried-and-tested 2.0TDi unit, offering 197bhp and 400Nm of torque, mated to a seven-speed DSG automatic gearbox, so there is plenty of power on tap when needed. It also gets the 4MOTION 4WD system as standard – which will help you on muddy pitches or snow-covered tracks!
It's reassuringly Golf-like to drive, so there are no major surprises. And even with the increased ride height, it still maintains composure on some of the twistier roads. Slogging through town traffic won't give you too much trouble either; great visibility and nicely weighted steering make tight manoeuvres easy.
Our test car was fitted with optional 18in wheels, and the ride was a little harsh, especially over rougher surfaces. On smoother asphalt, it was fairly comfortable but, again, larger tyres produced noticeable road noise.
Towing – 70%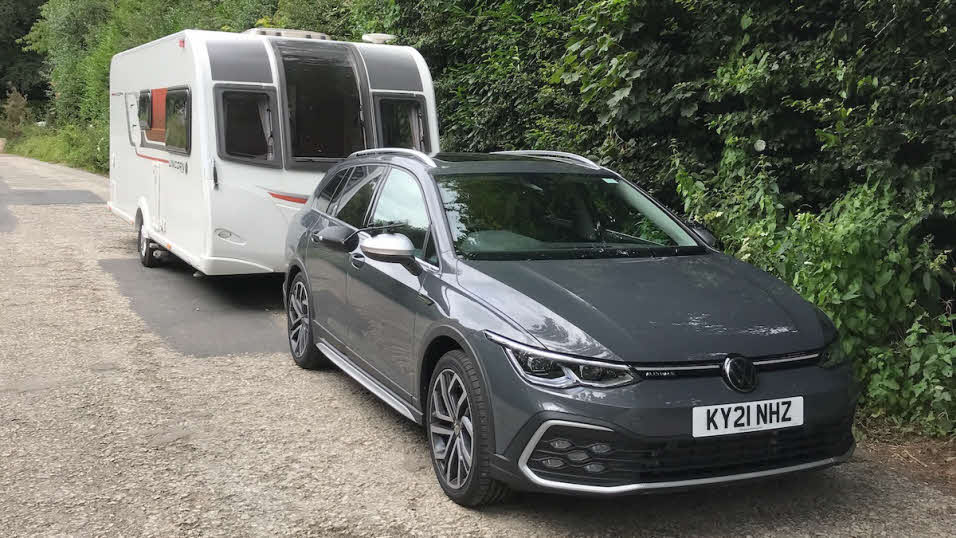 When it came to towing, the Alltrack didn't behave as well as anticipated. Again, it could have been due to the large wheels, but the ride when hitched was fairly bouncy at lower speeds, and there was more movement in the caravan than hoped for.
It didn't improve much on the open road: on the faster A roads, it felt strangely vague and not very reassuring; and on the motorway, there was too much buffeting by passing vehicles or when overtaking.
However, the engine delivered its power smoothly and efficiently, hauling the caravan up steep inclines without missing a beat. And overtaking was easy enough despite the slight swaying.
The boot is a great size and will hold all your family caravanning luggage and some, with 611 litres rising to 1,642 litres with seats folded.
Verdict – 75%
If you really need four-wheel drive and don't want an SUV, then the Alltrack is worth a look. But, for many, the regular estate would be a better option. You'll save yourself around £4k on the list price, and benefit from better fuel economy (although I still achieved better-than-average fuel figures on this test).