The Caravan and Motorhome Club announces 2023 winners
17/10/2023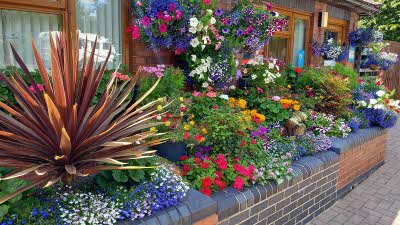 The Caravan and Motorhome Club has announced the 2023 winners of its Sites in Bloom Award and its third year of Sites to Inspire and Sustainability Chairman's Award. All three awards recognise the dedication and commitment of the Club's valued campsite staff.
There are awards for both single-couple campsites (those that are managed by one couple) and multi-couple sites (larger sites managed by two or more couples). All entries for the Sites in Bloom and Sites to Inspire are judged by the Club's Sites and Accommodation Committee.
Sites in Bloom
The Sites in Bloom Award recognises the colourful and warm welcome given to visitors through the creative agricultural skills of campsite staff and volunteers. The award was originally created by Club Honorary Life Member, the late Alan Payne, OBE in 2003, who sought to award those campsites with beautiful landscaping and floral designs.
The Multi-Couple Site Winner for 2023 is Pembrey Country Park Club Campsite in Wales for its vibrant and captivating display of colours and Single-Couple Site Winner is Ashridge Farm Club Campsite in Hertfordshire that won for its ingenious arrangement of pots and hanging baskets.
Nick Lomas, Director General at the Caravan and Motorhome Club, said: "This year we received a remarkable number of entries for our Sites in Bloom Awards. The images are proof that we have talented gardeners among us, who work so hard to brighten up our visitors' day with their amazing floral displays. Congratulations to this year's winners for their great work."
Sites to Inspire Awards
The Sites to Inspire Award has been running for three years and was created to celebrate staff who go above and beyond to ensure an exceptional visitor experience. Campsites are nominated by members and non-members alike.
In addition, this year the Club's Regional Managers were asked to nominate a minimum of two campsites from their area to go forward for selection by the Sites and Accommodation Users Committee. The campsites were chosen for their creative initiatives that sparked interest and engagement among guests.
2023 Multi-Couple Site Winner:
Black Knowl Club Campsite in Hampshire is the 2023 winner of the multi-couple site category.
Regional Manager, Mark Houghton, said: "Our campsite staff have worked tirelessly as a team in not only delivering a high occupancy level, but also for presenting the campsite in pristine condition at all times and delivering a constant high NPS score (74.6 YTD). They find the time and motivation to undertake extracurricular activities while still delivering every aspect of the 'day job'. Extra focuses have included sustainability, cost control and ensuring we deliver a great customer experience for our members and non-members alike."


2023 Single-Couple Site Winner:
North Yorkshire Moors Club Campsite in North Yorkshire is the 2023 winner of the single-couple site category.
Regional Manager, Phil Monkman, said: "Our staff have spent the last few months transforming our North Yorkshire Moors campsite into one of the most popular and prettiest sites in the region. The green agenda and sustainability are always at the fore of anything they do and they are masters at recycling and reusing materials on site. This season they have carried out many initiatives such as creating permanent no-mow areas around the site, which grew wild orchids that have never been seen before on site; replanting large wildflower areas, and creating their own areas of 'imaginative planting' such as clematis towers around the site. A 'find the wooden animal' hide-and-seek trail and hand-carved planters (made from old logs), bird tables/bird boxes have also been also introduced. The crazy golf course was completely refurbished and a circular seating area near the Wi-Fi hotspot was created for visitors to make use of whilst online."
Sustainability Chairman's Award
Also running for its third consecutive year is the Sustainability Chairman's Award, created to celebrate the campsite network's environmental, social and economic commitments, actions and engagements.
From tree planting and waste reduction projects, growing wild meadows, hosting local food vendors and raising money for local charities a great many sustainable activities have taken place at campsites throughout the year. The entrants were judged on the award criteria by the Club Chairman, Grenville Chamberlain OBE.
The 2023 winner is Broadway Club Campsite in the rural spot of Broadway, Worcestershire. Staff picked up the award for their unwavering commitment to establish a sustainable environment for their guests. Initiatives set up include the installation of bird boxes and a Bugway Tower, a dedicated focus on plant diversity and innovative approaches to recycling.
Grenville Chamberlain OBE, Chairman of the Caravan and Motorhome Club said: "This year the quality of submissions has been outstanding and the imagination of the site teams was stunning. The Club is proud of its commitment to offering a sustainable environment for touring and our members, allowing everyone to fully appreciate the great outdoors."