American tours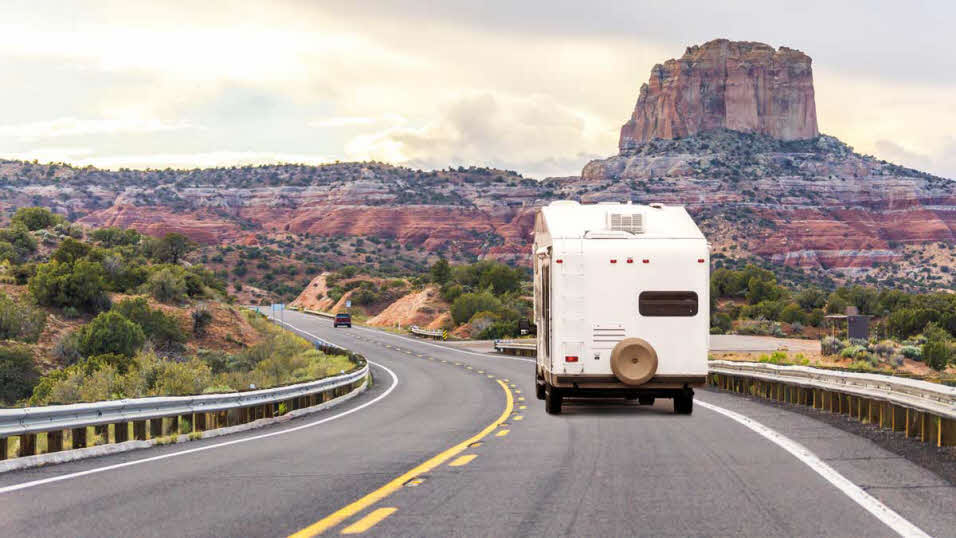 Drive your motorhome down California's Highway 1 coastline, through the glorious national parks of Wyoming or along the length of Route 66 - let us make your American dream come true.
The thrill of America is that the reality exceeds your expectations. That first sight of the Golden Gate Bridge or the Statue of Liberty; the red rock canyons of Utah and Arizona, these and a hundred other images will take your breath away. We call it the shock of the familiar; place names from rock 'n' roll songs spring into life; panoramas straight out of Hollywood movies spread across the horizon; road trips taken by your favourite literary characters can be re-created.
Top driving tip: In most states in America you can turn right at traffic lights even if they are red, unless there is a sign to the contrary, as long as you come to a complete stop first, the road is clear and it is safe to make the turn.
Helpful contacts
For general information about touring, driving, and accommodation:

Discover America LLC
1100 New York Avenue NW
Suite 450
Washington
DC20005
Web: www.discoveramerica.com/uk

The Visit USA Association:
Web: www.visitusa.org.uk
Stanfords Ltd
12-14 Long Acre
Covent Garden
London
WC2E 9LP
Web: www.stanfords.co.uk
Email: sales@stanfords.co.uk
Telephone 020 7836 1321


Maps and campsite guides for the USA

Kampgrounds of America
Kampgrounds of America Inc
P.O Box 30558
Billings MT 59114-0558
Web: www.koa.com
Telephone: 001 406 248 7444

An organisation which has good information and campsite listings

American Automobile Association (AAA)
100 AAA Drive
Heathrow
Florida
32746-5063
USA
Web: www.aaa.com

The AAA is an association of 96 clubs in the USA and Canada. Lodging and campground publications are available for a small fee when your Caravanand Motorhome Club card is shown. If you are a member of the AA or RAC it would be helpful to take your membership card with you as well as your Caravan and Motorhome Club card in order to obtain assistance. This organisation has over 900 branch offices and nearly 150 affiliated clubs. Write to the Assistance Secretary for a list.
Worldwide Tours brochure
Find escorted and independent tours in iconic destinations with fantastic itineraries