Overseas driving regulations
Overseas driving regulations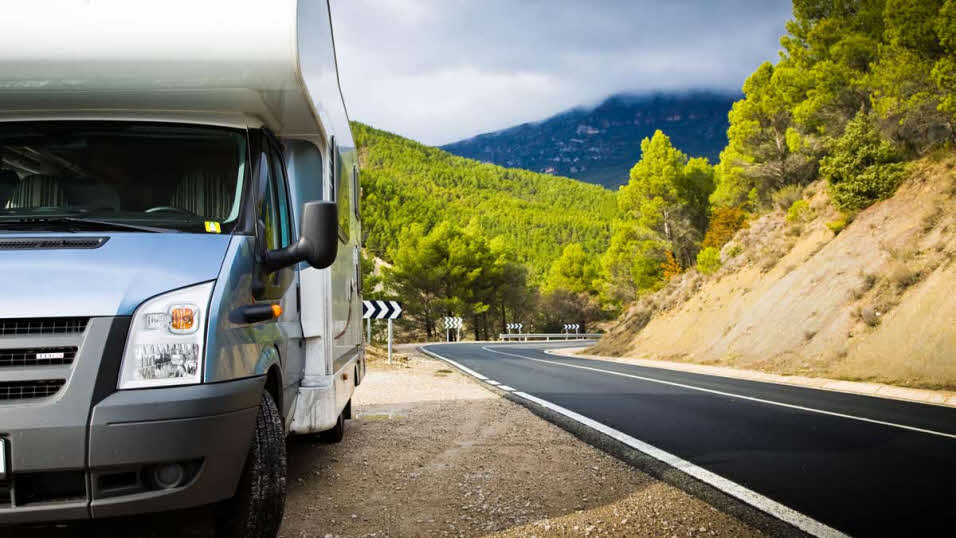 Every country has its own traffic and driving regulations, it's always best to know these as best you can before you set off.
A-frames
If you are towing a car behind a motor caravan overseas, our advice would be to use a trailer with all four wheels of the car off the ground. Although most countries do not have a specific law banning A-frames, they do have a law which prohibits a motor vehicle towing another motor vehicle.
Bike racks
You can carry your bikes on the roof of your car provided they are attached to an adequate roof-rack and the total height does not exceed 4m.
You can also carry your bikes on the back of your vehicle, provided they do not obscure lights, indicators or number plates. If travelling through Portugal, make sure your bikes are carried at the rear of your caravan or motorhome and not your car.
Bike racks can only rest on the towbar if the maximum weight on the towbar is not exceeded.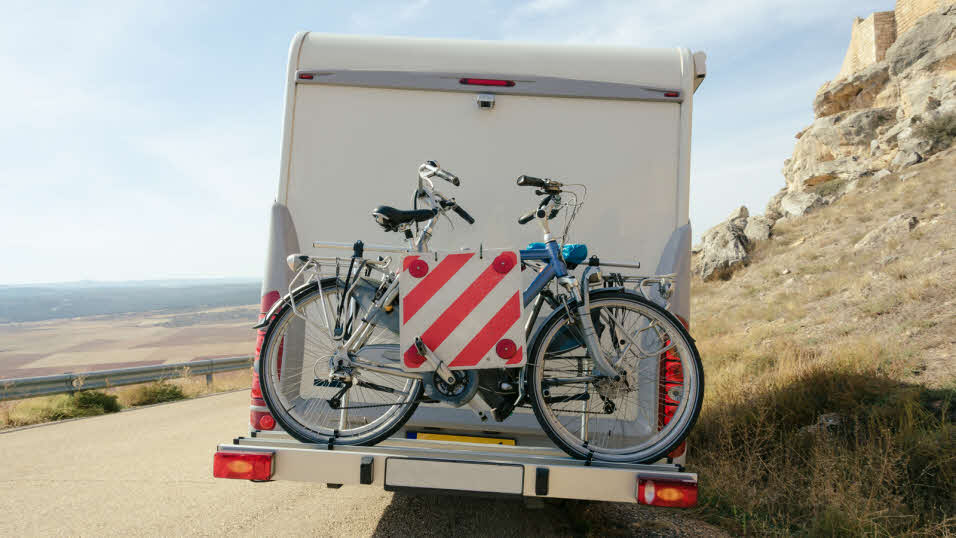 The image above shows how to display the marker boards in the cycle carrier if the overhanging load doesn't exceed the width of the vehicle (it should be perpendicular with the lighting board). If it does exceed the width of the vehicle you will need two hatched reflective stripes one at each edge pointing down (forming an inverted V). The Lighting board and the marker board are both needed for Spain and Italy. For the rear marker board, the design in Spain is 3 red and 3 white hatched, reflective stripes. In Italy, the design is 5 red and 4 white hatched, reflective stripes.
In Spain and Italy, any overhanging loads must be indicated by a square panel measuring 50cm x 50cm. The square must have reflectorized red and white diagonal stripes. Panels can be purchased from Fiamma stockists are available in aluminium and plastic. In Spain you can use either, however, in Italy the panel must be aluminium.
Number plates
You need to display a UK identifier on the rear of your vehicle when travelling in Europe. If your number plate includes UK on its own or UK with the Union flag then you do not need a separate UK sticker, unless you are travelling in Spain in which case a separate UK sticker is also required. You will need a separate UK sticker displayed on the rear of your vehicle if your number plate has a Euro symbol, a national flag of England, Scotland or Wales or no flag or identifier.
Outfits over 12m
If you're travelling in Spain and your outfit exceeds 12m, you are required to fit marker boards to the back of your vehicle. You can either have two small boards or one large board but they must be placed at the back of the outfit between 50cm and 150cm off the ground.
Your marker board must:
have plain yellow in the centre with a red outline
be made out of aluminium
be manufactured to ECE70 standard
Marker boards can be purchased from most HGV suppliers including HGV Direct.
In Italy as per Article 3 of EU Directive 96/53/CE, caravans and camper vans registered in another EU country can be used in Italy provided they do not exceed 12 m in length, 4 m in height and 2.55 m in width.
Vehicles exceeding 3,500kg in France
All motorhomes and caravans (not combined with towing vehicle) with a total weight exceeding 3.5 tonnes must have a sticker showing the position of the blind spots, visible on the sides and at the rear of the vehicle. These regulations are in force since 1 January 2021.
The stickers:
Must be visible from the sides and rear of the vehicle, and at a height between 0.90 and 1.50 meters from the ground.
Can be glued, painted on the bodywork or affixed by riveting or any other means of fixing.
Must be placed so as to be visible at all times.
Must not obstruct the visibility of the vehicle's registration plates and various lights and signalling devices as well as the driver's field of vision.
Must comply with the model set by the decree of 5 January 2021.
Foreign vehicles passing through France are also subject to this signing obligation.
To view the stickers and more information, please visit https://www.securite-routiere.gouv.fr
Note: There are no specific blind spot stickers for motorhomes or caravans so you can use either of the stickers listed on the link above. There is no official distribution point for the stickers at present, but these can be purchased online at most big retailers (Amazon, ebay etc.).
Low emission zones
There are a number of countries that have introduced low emission zones in towns and cities, including; Germany; Italy; Denmark; Czech Republic; France; and Portugal.
Breathalysers in France
If travelling through France, make sure you have a breathalyser to hand. Although it is not a legal requirement anymore we still advise you carry one. Make sure your breathalyser is NF approved.
Sat-navs and dash cams
In nearly all European countries it is illegal to use car navigation systems which actively search for mobile speed cameras or interfere with police equipment (laser on radar detection). Car navigation systems which give a warning of fixed speed camera locations are legal in most countries with the exception of France, Germany and Switzerland where this function must be deactivated.
In some EU countries there are restrictions on dash cam usage and you may receive a hefty fine if you get caught using one.
In both Austria and Portugal it is illegal to own and to use a dash cam. Fines can be as much as €25,000 if you are caught using one. It is also illegal to use one in Luxembourg.
In Belgium, France, Germany, Norway and Switzerland they are legal but there are strict conditions for their use. Please check before you travel.
It is legal to own and use a dash cam without restriction in the following countries: Denmark, Italy, the Netherlands, Spain and Sweden.
Headlights
Adapt your headlights so that you 'do not dazzle oncoming traffic' by manually adjusting your lights or by using headlight converters. Eurolites are available from most motor accessory shops or on-line at www.travelspot.co.uk. These headlight converters come with a list of over 600 different vehicle types, with corresponding diagrams showing you how to position them. Eurolites are suitable for clear lens, projector and xenon headlights.
In certain countries it is compulsory to use your headlights at all times. Check the table below.
Fire extinguishers

Fire extinguishers are not compulsory but are recommended in the Netherlands, Denmark, Norway and Sweden.
| Country | First aid kit | High visibility vest | Warning triangle | Daytime lights |
| --- | --- | --- | --- | --- |
| Austria | Yes | Yes | Yes | No |
| Belgium | No | Yes | Yes | No |
| Croatia | Yes | Yes | Yes (2 if towing) | Yes (during winter months) |
| Czech Republic | Yes | Yes | Yes | Yes |
| Denmark | Rec | Rec | Yes | Yes |
| France | No | Yes | Yes | Rec |
| Germany | No | No | No | No |
| Hungary | Yes | Yes | Yes | Yes |
| Ireland | No | No | No | No |
| Italy | No | Yes | Yes | Yes |
| Luxembourg | No | Yes | Yes | Rec |
| Netherlands | No | No | Rec | No |
| Norway | Rec | Rec | Yes | Yes |
| Portugal | No | Rec | Yes | No |
| Slovenia | Rec | Yes | Yes (2 if towing) | Yes |
| Spain | No | Yes | Yes (2 if towing) | No |
| Sweden | Rec | No | Rec | Yes |
| Switzlerland | No | No | Yes | Yes |
Useful info
Take a look at more useful information before travelling abroad in your caravan or motorhome
Top questions
This is my first visit abroad with my caravan/motorhome. How can the Club help?
The Club's first time abroad section explains everything you need to know about going on your first overseas touring holiday.
Can I store my caravan abroad?
Yes, read our overseas storage page for more information and listings of storage facilities in France and Spain.