Tips to help you and your fellow members have a great stay
31/03/2022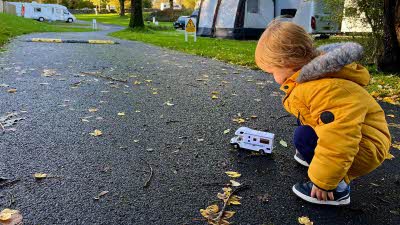 Image from Meatfell Hop Club Campsite. Photo by Christopher Marchant.
We always try and ensure you and your fellow members can have the best possible stay, that's why in 2021 we created a poster asking everyone to help us keep all members and guests happy and safe with a few points highlighted below:
Be mindful of campsite arrival times (1pm at most campsites) to avoid blocking roads or causing congestion

Keep the speed limit on campsites below 5mph

Reminder of 'Quiet Time' on campsites between 10pm and 7am

Protect children and dogs by keeping them close by and within sight
Since displaying the poster on our UK Club campsites in 2021, 60% of Club members recalled seeing them and were supportive of the initiative*.
"All excellent advice to ensure that every visitor enjoys their stay."
"All makes sense and helps to build a feeling of community in the club."
"A good idea. Generally we find that the majority of club members are helpful and respectful to each other. These posters are helpful in conveying the manner in which most club members wish to conduct themselves."
Image from Edinburgh Club Campsite. Photo by Wilma Urquhart.
The initiative was launched following the increase in new Club members as people started on their touring journey for the first time when the country was faced with Covid. The idea was to encourage our more experienced members to offer a helping hand to our newer members. Anything from guidance on how to pitch against the peg to just general touring advice. Making everyone's stay with us as enjoyable as possible.
"A great idea. As relative newbies (having purchased this our first van in Feb 2019) it is nice for everyone to be reminded of these things. We like the club sites because they are friendly, and have always found everyone to be mindful of the points raised. It is good to encourage a quiet time, even if the weather was quite noisy overnight!"
"A helping hand has always been welcome this is what this club is about. We need to support the next generation"
"A good idea and as a new caravan owner I found everyone to be very friendly and helpful"
Our campsite teams pride themselves on working hard on behalf of all of our members and guests to make sure everyone enjoys their stay. Which is why we can all play our part in helping our great community and being good neighbours by being mindful of different arrival times per campsite and the speed limit onsite to protect our loved ones while on holidays. Here's to another great touring season!
*
Based on 7,500 members' comments out of 32,000 visitors