Round off your summer at York Beechwood Grange Club Site
19/07/2018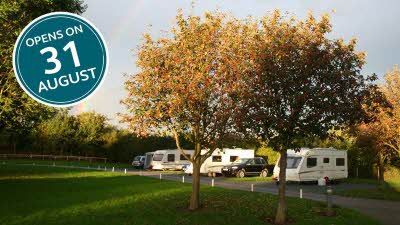 Discover wildlife, historic sites, ancient woodland and picturesque villages around our newly refurbished York Beechwood Grange Club Site, surrounded by trees and set on the edge of the North Yorkshire Moors National Park. We've reopened this site on 31 August.
We've refurbished this popular site so that it meets the standard you've come to expect from UK Club Sites. Some of the new facilities you can expect to see are:
New washroom facilities including a new family room with a baby bath, shower and toilet
Improved drainage across the site
New-style open grate motorhome and campervan waste point, for easy drive-over waste disposal and no heavy drain cover to lift!
New service points
New dog wash for those mucky pups


Get out and about in York
Visit York's most famous building, York Minster, with guided tours exploring the towers, basement rooms, nooks and crannies of the 800 year old building, which was designed to be the 'greatest cathedral in the kingdom'.
Journey through the reconstruction of Viking-Age streets as they would have been in 975AD and meet the famous Jorvik Vikings in the Jorvik Viking Centre's exciting exhibitions.
For those nature lovers, explore miles of stunning heather, towering sea cliffs, secluded beaches and grassy dales in the North Yorkshire Moors National Park.


Book your holiday today
Book your stay at York Beechwood Grange Caravan Club Site today for stays from 31 August – don't forget, if you're looking to plan ahead you can now book a year in advance!