Adria Twin Supreme 640SLB review
Adria Twin Supreme 640SLB review
Nick Harding checks out a van conversion based on the extra-long wheel base Fiat Ducato that offers that little bit more both in terms of space and kit.
As part of our series of campervan reviews, we take a look at the Adria Twin Supreme 640SLB.
Adria can lay claim to being something of a forerunner when it comes to van conversions with permanent beds, setting the trend nearly two decades ago. Here, we look at a particularly sophisticated take on the concept in the form of the Twin Supreme 640 SLB.
Prices start at just under £51,865; this example – a special demonstrator – comes in at £64,265 on account of the optional extras. This includes Pack 2 (£2,590, cab air conditioning, passenger airbag, cruise control, front fog lights, leather steering wheel and gear knob, ESP and Traction+ with Hill Descent); Luxury Pack (£3,060, alloy wheels, cup holder console, 6Q9 DAB radio with sat-nav, a rearview camera, roof rack, awning); 160bhp engine upgrade (£1,580); metallic paint (£890); towbar (£1,190); solar panel (£490); habitation air conditioning (£1,530); second habitation battery (£420); Isofix (£130); additional bed for dinette (£180); and sliding door flyscreen (£340).
Build quality – 91%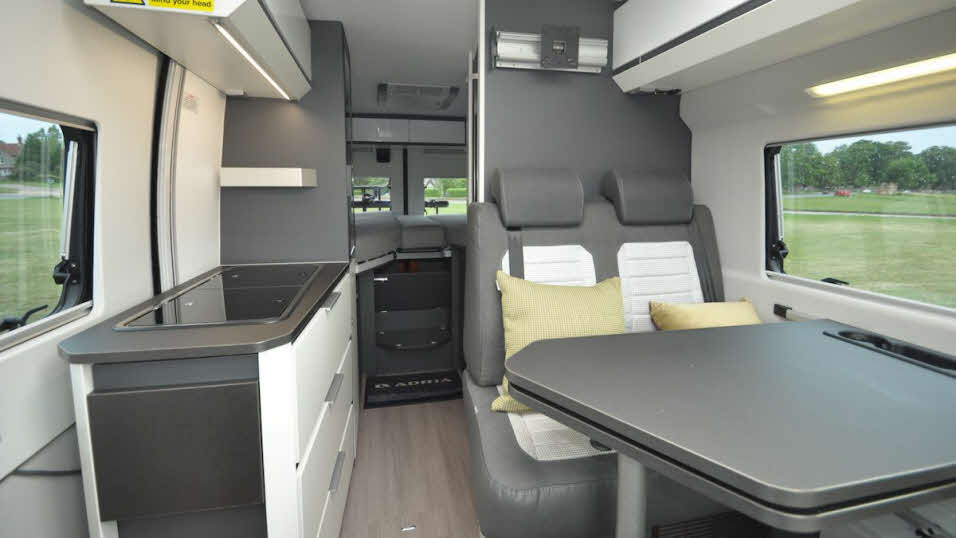 Adria's input into the overall build is minimal, adding top-hinged double-glazed windows to Fiat's high-roof Ducato van. However, inside, with the fixtures and fittings, it has created a genuine feel of quality as well as an overall style that's more automotive than a motorhome. There are lots of greys and whites that are a world away from more traditional velour and carpet lining colour schemes.
Housed in the rear travel seat base, alongside the circuit breakers, Truma's trusty Combi provides the hot water and blown air heating, the latter via single outlets to the lounge, kitchen area, washroom and foot of the nearside bed. All those factory-fitted extras mean an MRO of 3,182kg for this example, with a subsequent payload of 318kg (although an upgrade of chassis rating to 3,650kg won't cost you anything).
Driving – 88%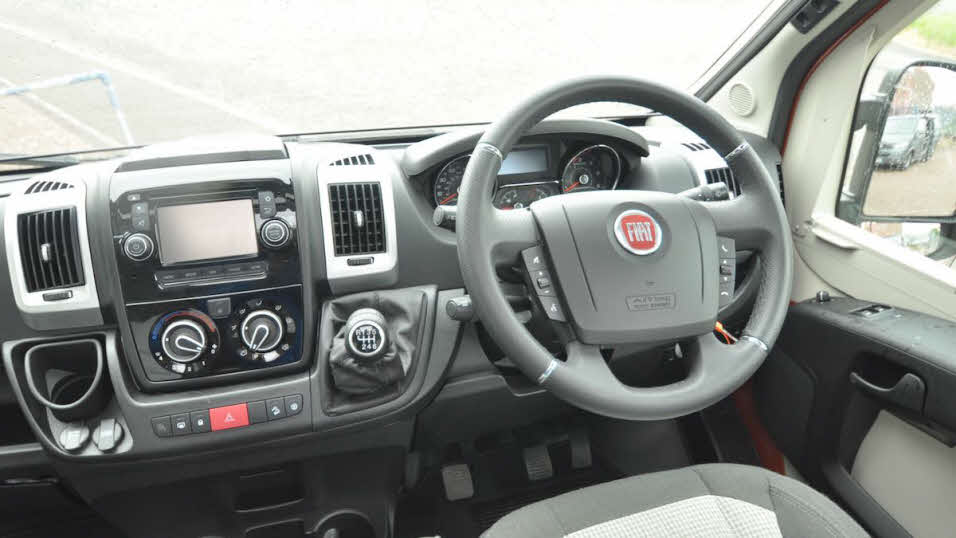 A curious anomaly in UK law means that motorhomes with unladen weights of over 3,050kg are subject to different speed restrictions to their lighter counterparts – 60mph maximum on non-motorway dual carriageways and 50mph maximum on single carriageways if no other general limit is displayed (see gov.uk/speed-limits). The MRO here, as stated above, is a good reminder to prospective purchasers that you do need to keep your eyes on weights and the law.
As for the driving experience, it's great. Most folk will find the standard 140bhp engine sufficient but you might be tempted to trade up to 160bhp or more, or be enticed by the (rather pricey) automatic transmission option, for an even more relaxing drive.
Daytime – 80%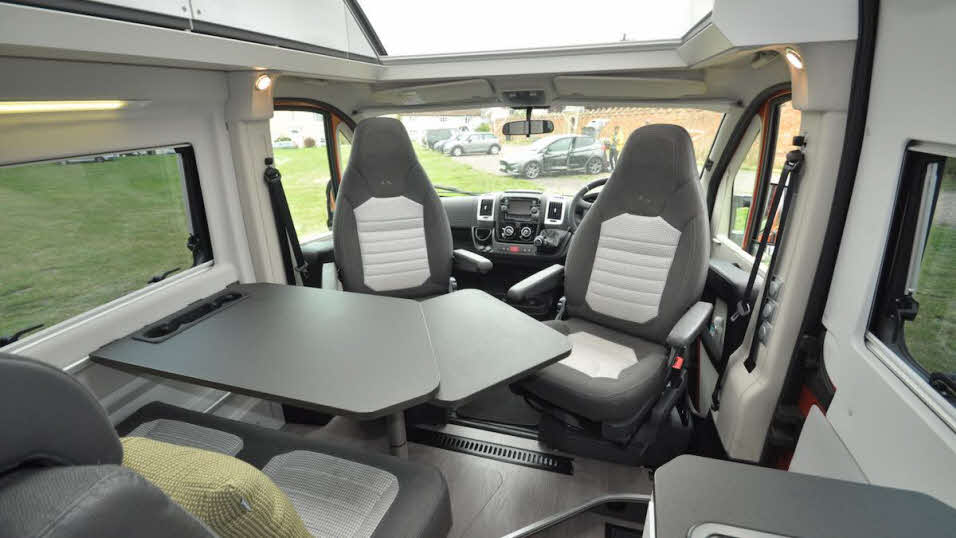 The double sunroof arrangement extends into the lounge from over the cab and really does let the daylight flood in. The almost full-width forward unit is fixed, while the smaller one over the rear seat and kitchen area winds open for ventilation – it also comes with a blind and flyscreen.
It's a typical floorplan for an extra-long Fiat Ducato conversion. The rear features twin fixed single longitudinal beds that can be adapted into a double or folded back to optimise a generous storage zone. The sliding door is on the UK offside, with kitchen tucked just inside and a double forward-facing travel seat directly opposite on the nearside.
The lounge is also typical – a four-seater as standard, with both cab seats easy to swivel and a side-fixing table that comes with a swing-out extension.
Night-time – 80%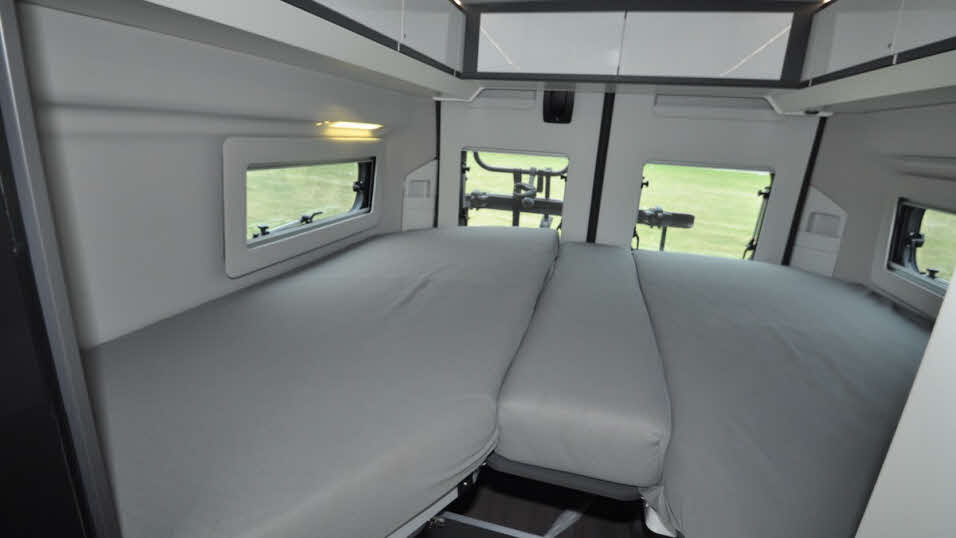 The bed bases are metal-framed and there are wooden slats for extra support, while there is ventilation to the underside of each main mattress.
All four windows are openable and have cassette concertina blinds with flyscreens, while illumination comes courtesy of LED strips to each side of the bed, as well as between the lockers and ceiling. There's a single step for access.
There's also an extra sleeping berth: an optional third (and surely only occasional) bed can be created using the lounge table dropped to a lower level.
Kitchen – 78%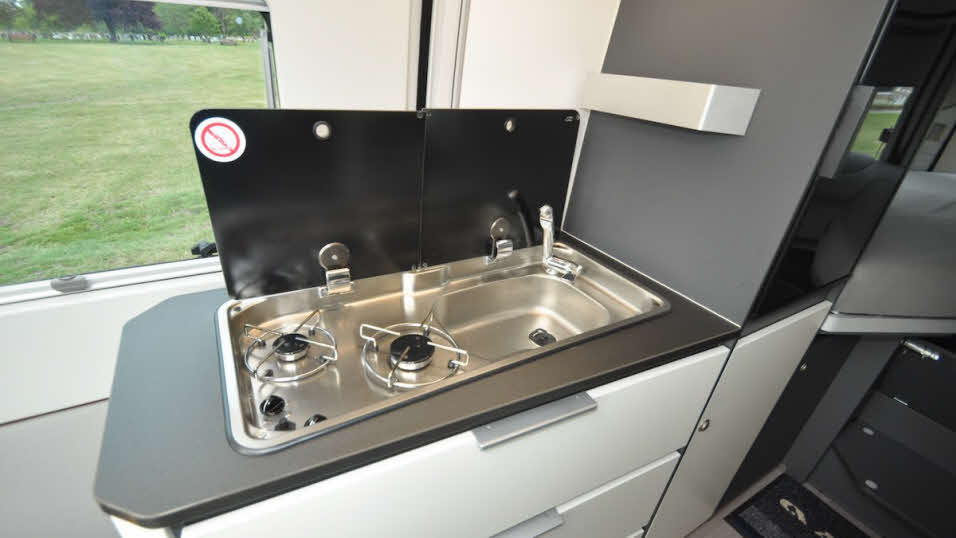 It might be a standard 'two gas rings and sink' combination in the kitchen but it's what surrounds it that makes the difference. There's a neat worktop extension to the left and three large soft-close drawers below the main unit, as well as a single locker overhead. Nice details include a couple of small shelves under the extension and a little spice rack, while a single mains outlet can be found on the underside of the upper locker.
Completing the kitchen, on the right, is a 90-litre compressor fridge with freezer compartment set high over a cupboard that sets out to be the main wardrobe. In practice, I wonder if this will emerge as a larder for most owners once some shelving is added.
Washroom – 83%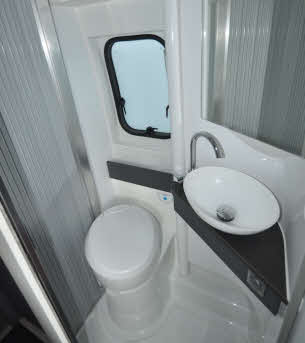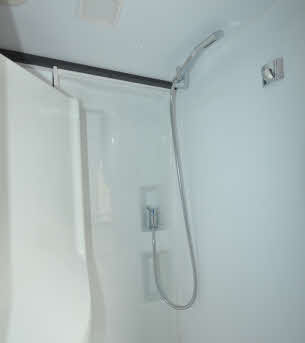 Adria calls its washroom design 'Duplex'. Slide back the space-efficient tambour door and you get what looks like a 'normal' swivel-bowl toilet and white counter-top basin, but that's only half the story. The whole washbasin bulkhead swings through 90 ̊ to create a fully-lined, dedicated shower area. It's very clever. The drainage outlets may be small, but there are two of them.
Storage in this room comprises a mirror-doored corner vanity unit and a small overhead locker, plus a pocket shelf in front of the opaque window. There's also a single towel hook.
Details – 82%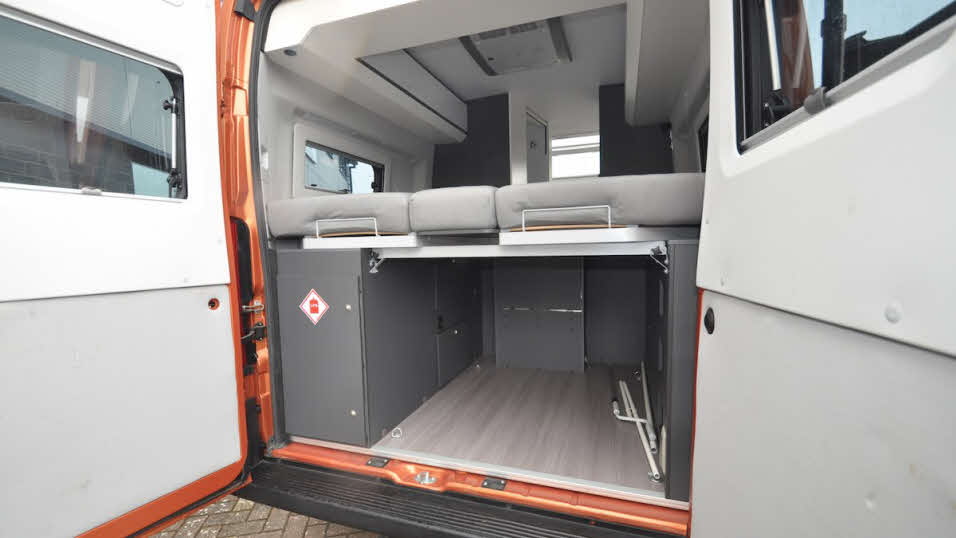 Storage is excellent. There are lockers to three sides of the bed as well as in the bed bases themselves. I counted 12 overhead lockers in total. All are lined, and feature doors with a white gloss finish that will be easy to wipe clean, as well as offering simple push-to-open catches and pneumatic struts.
Further storage areas include large lockers at the foot of each bed base – the nearside with slide-out hanging rail for clothes. Don't forget that there's that huge luggage space under the bed area too.
Other useful touches include a rail on the kitchen unit should you wish to use the table outside with the sliding door open, under the awning. Also, the double catch for the sliding door means you can have it partly open – particularly handy when cooking.
Verdict – 83%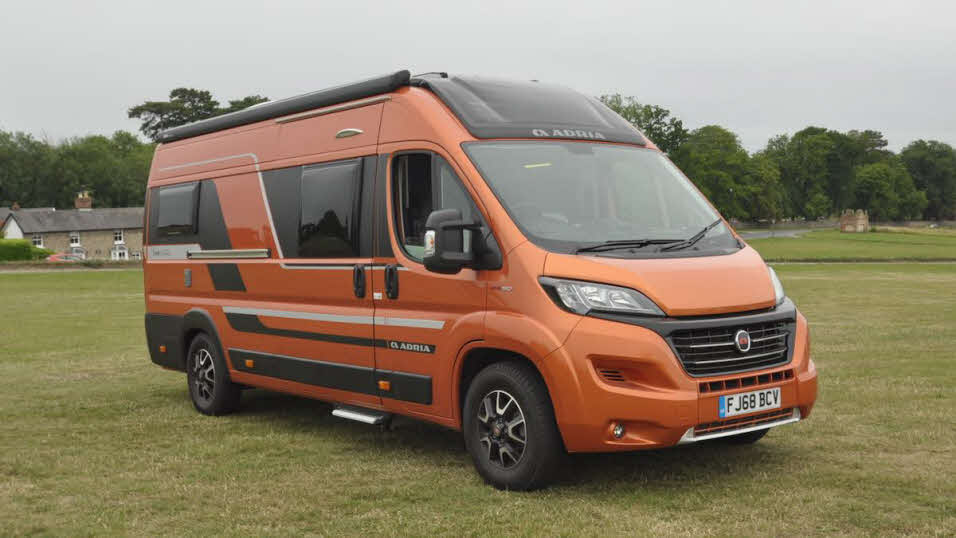 Prices may start at £51,865, but the figure will climb and climb with upgrades. You can always keep an eye out on second-hand selling sites, but I'd say the price is worth it: this is a very well executed extra-long van conversion.
If you're new to campervanning or simply want to find out more about what the activity has to offer, make sure you check out our guide to campervans, providing all the information you need to make the most of the lifestyle.
More like this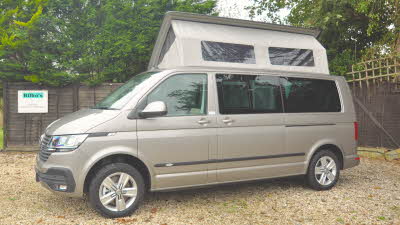 By Nick Harding
05/12/2021
Size isn't everything but the extra room the long wheelbase version of the Celex VW campervan conversion from Bilbo's certainly makes a lot of difference, as Nick Harding found out.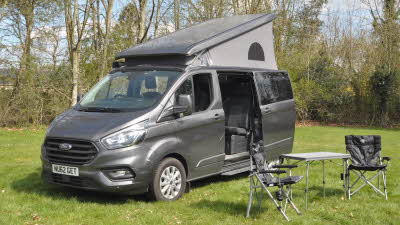 By Nick Harding
11/07/2021
The Ford Nugget could appeal to those who want to a campervan to double-up as a main means of transport as it has five travel berths and is excellent to drive. Nick Harding assesses its other qualities.