Bilbo's Nexa+ campervan review
Bilbo's Nexa+ campervan review
Nick Harding reviews a slightly different
 take on the Volkswagen-based campervan featuring an elevating-roof, four individual travel seats, twin beds and a plumbed-in, electric-flushing toilet.
Here we have a slightly different
 take on the Volkswagen-based campervan. It's Bilbo's Nexa+ – an elevating-roof model with four individual travel seats, twin single-bed sleeping
 accommodation and a proper, plumbed-in, electric-flushing toilet.
It's based on the latest Transporter, the T6.1, with new front-end look and a lot more.
 The starting price of £51,900 is attractive but, as ever, there are numerous options available that many might consider essential. Here, the Ravenna blue metallic paint (£1,000),
 rear-view camera (£290), diesel heating (£1,250), 80W solar panel (£595) and lithium leisure battery (£650) are some of the additions that will bump up the price. Other extras are available, as is a long-wheelbase variant.
Build quality – 88%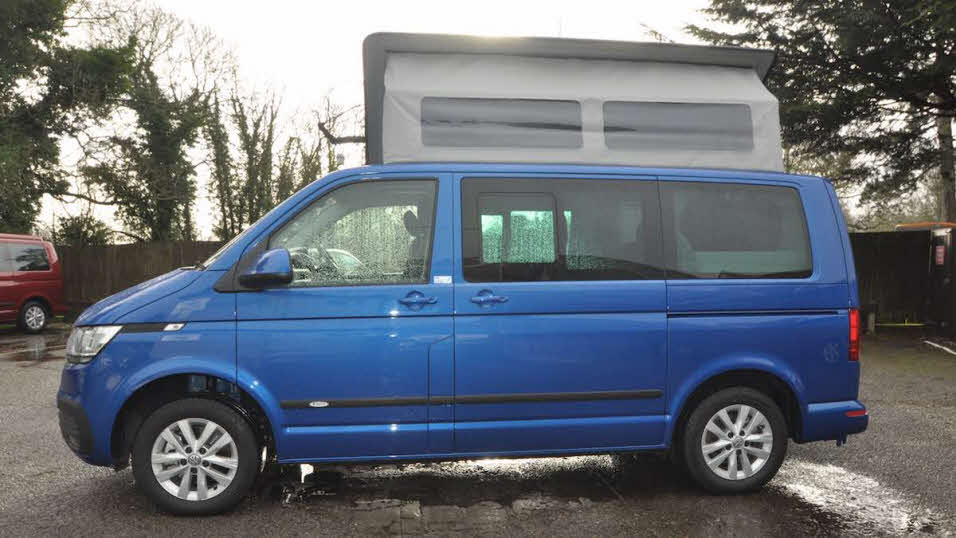 Bilbo's uses the solid Kombi version of the T6.1, ordered without the original rear seating but with extra windows. The company complements this with fuss-free, quality conversion work (incidentally, the first Nexa appeared on Volkswagen's T4 back in 1999). That side-hinged elevating roof, for example, is to Bilbo's own design and – typically – it's practical and easy to operate. Notably, apart from the elevating roof fitting, the only hole cut in the bodywork by Bilbo's is for the mains electricity inlet. As for the T6.1, dare I suggest the doors and tailgate feel a bit lighter than on my old T5? As you'd expect, this latest version has a sharper design, both inside and out. There are new colours too – like the Ravenna Blue shown here.
Driving – 86%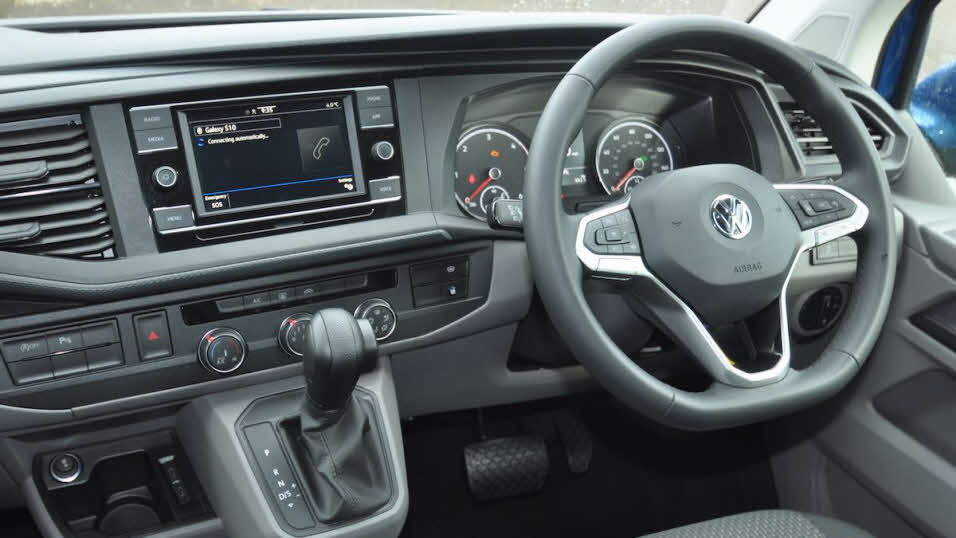 It took the briefest of journeys to confirm that this is the best Transporter to drive, ever. But it's on the safety front that the T6.1 makes most major improvements. It has better headlights, Crosswind Assist, Emergency Forward Collision Warning, Autonomous Emergency Braking, front and rear parking sensors... and that's just for starters. There are plenty of upgrade options available.
The advent of the T6.1 sees some diesel power changes – 109bhp is the starting point (up from 101bhp), while at the other end of the scale there's a 196bhp unit (down from 201bhp). This example sports the 148bhp powerplant, coupled to DSG double-clutch automatic – which adds a £4,400 premium. Just one of the reasons for the improved drive is the switch to speed-adaptive electro-mechanical power steering (from the previous hydraulic). On this evidence, it's quieter out on the road – and Bilbo's has always been good at keeping rattles to
 a minimum anyway.
There are changes a-plenty in the cab. This Nexa+ is based on the Highline version of the T6.1, so there's a decent level of standard kit including air conditioning, adaptive cruise control, heated windscreen and USB and 12V power outlets. There's also a general upgrade to the dashboard, as well as what I can only describe as a 'flatter' steering wheel, featuring more integrated controls than previously. Everything's still noticeably VW but it's decidedly sharper than before.
Daytime – 76%
As mentioned, Nexa+ eschews the most popular, side-furniture VW camper floorplan and adopts
a walk-through layout offering four individual travel seats and a kitchen and toilet at the back. Those rear seats are RIB models from Scopema,
a company long associated with such items. As dual-purpose units, just note they have rather long squabs for sitting and are fairly narrow when it comes to making the beds. Also, you might want to leave the head restraints at home if only two of you are using this camper. There's a lightweight table to retrieve from its travel location just inside the tailgate when you want to dine – indoors or al fresco. It fixes to a rail on the offside wall for the former, and there's a rail just inside the sliding door for the latter (although I suspect most owners will prefer to take a separate outdoor table with them).
Night-time – 76%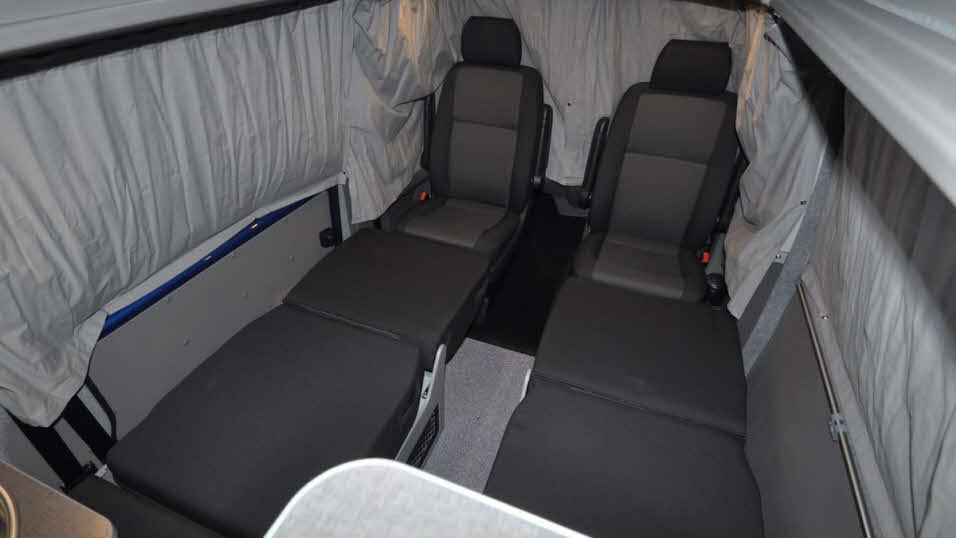 Two single beds are the order of the day here, utilising the cab seats swivelled and the rear units folded out. There is sufficient floorspace that occupants can get out of bed and visit the loo – or, indeed, kitchen – at any time. There's an option to make a double bed, but it's rarely ordered according to Bilbo's. You'll no doubt find it easiest to store your sleeping kit in the seat bases. Bilbo's is one of the few campervan producers that offers proper curtains on tracks for all windows. They're lined and – according to the converter – offer better blackout and insulation than others.
Kitchen – 80%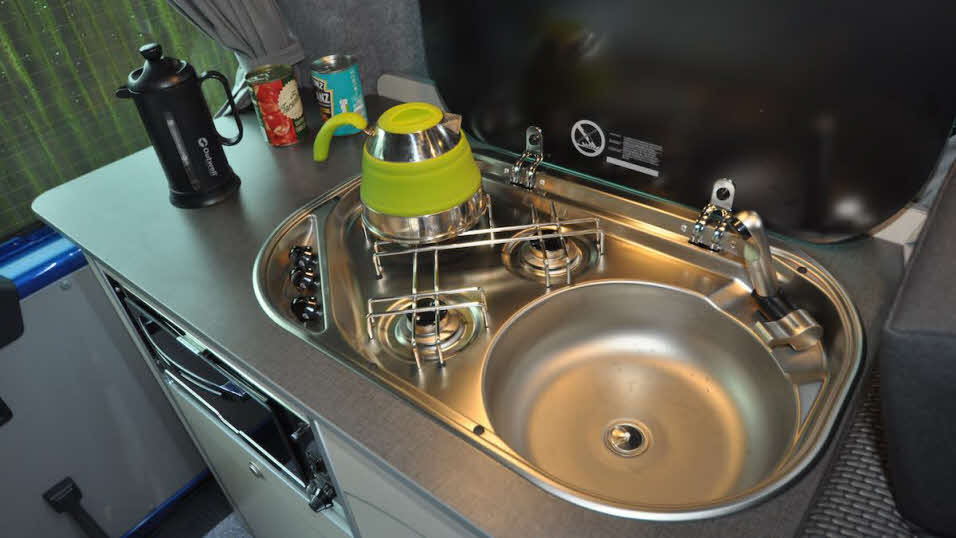 You're well kitted out in the kitchen department, with a three-ring hob and sink combination that has some worktop space to its left. The kitchen unit is also home to a grill (or you can order a microwave in its place) set over a drawer that includes a loose cutlery tray. Beneath the sink are a larger drawer and an unshelved locker. Across the corridor, a tall unit houses a 50-litre compressor fridge with lockers above and below. The floor locker here is also home to the leisure battery.
Washroom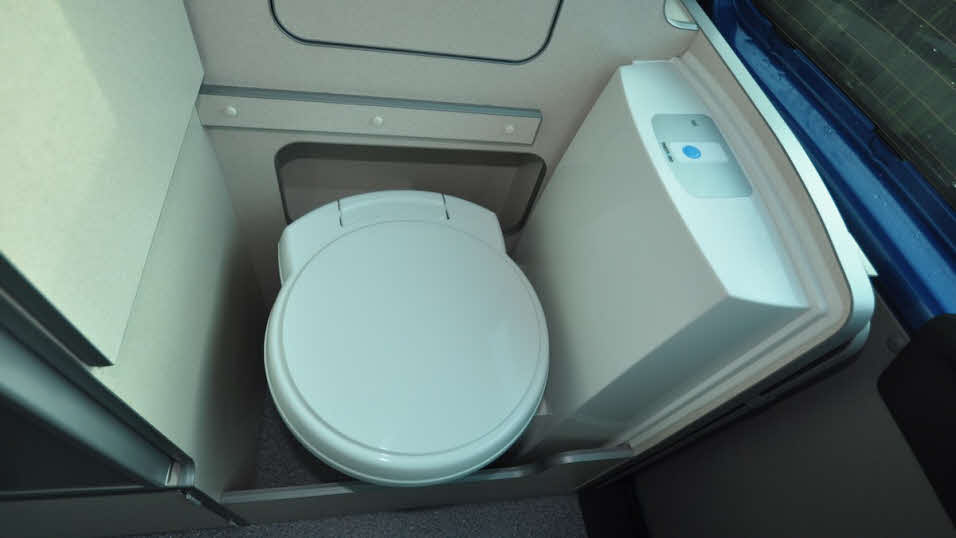 The proper, plumbed-in toilet is discreetly concealed, thanks to furniture built around it and a hinged lid. It is a Thetford swivel-bowl unit, but you'll want to ensure it suits you in terms of space. For complete privacy, there's a curtain that hooks on. There's the slimmest of wardrobes between the toilet and the vehicle side – offering a hanging rail as well as removable shelving.
Details – 70%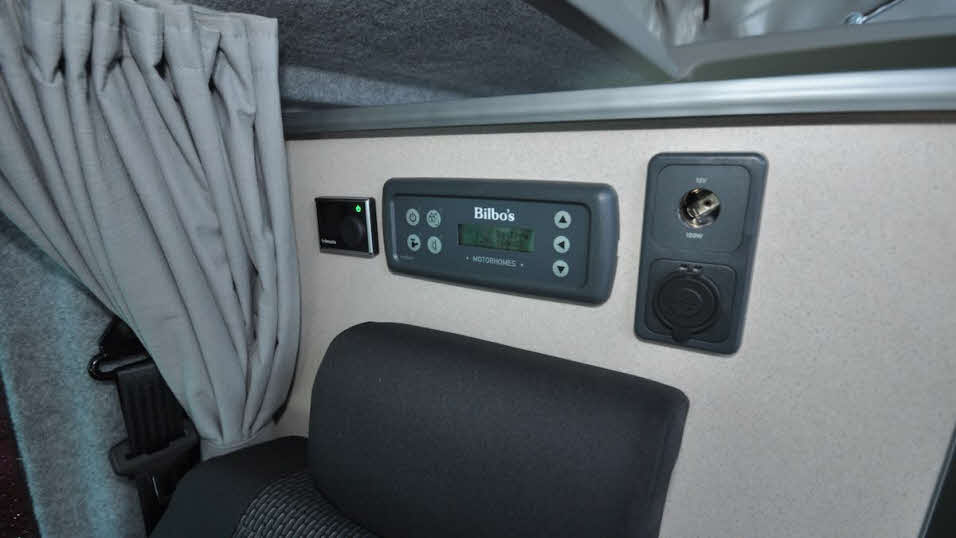 Practicality really is kept to the fore here – if you want bling, you should probably go elsewhere. 'Keep it simple' is the Bilbo's mantra. Do note, though, fittings like the touch-sensitive LED downlighters that are also dimmable, two sliding widows, proper metal- lined gas locker etc. Indeed, everything has a durable feel to it – from the flooring to the waterproof side and ends of the elevating roof, to the furniture, to the rubber strips along both sides (perfect for fending off the almost inevitable knocks and scuffs you'll get from others parking too close).
Verdict – 80%
Don't be fooled by Bilbo's straightforward approach to campervan manufacturing – this is a company that has an established reputation for practicality and reliability.
More like this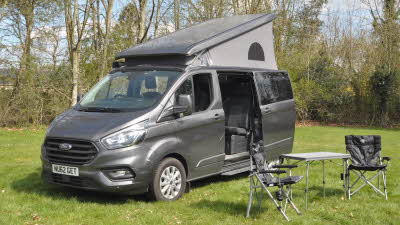 By Nick Harding
11/07/2021
The Ford Nugget could appeal to those who want to a campervan to double-up as a main means of transport as it has five travel berths and is excellent to drive. Nick Harding assesses its other qualities.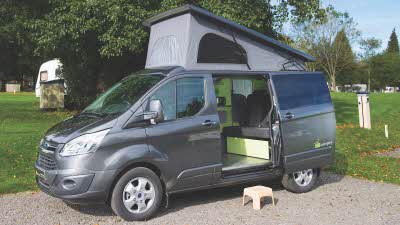 By George Hinton
20/07/2021
The Auto Campers Leisure Van offers plenty of flexibility with two or four berth options and coming on either a Ford Transit or VW Transporter base. It works well as both a family campervan or for daily driving, as George Hinton found out.