Reimo VW Caddy Camp review
Reimo VW Caddy Camp review
The Reimo VW Caddy Camp Maxi is aimed at those who want an ultra-compact, four-berth campervan that doubles as an everyday car. Our reviewer George Hinton puts it through its paces.
The Volkswagen Caddy Camp, by Concept Multi-Car (CMC), is a comfortable, spacious and 'garageable' (under 2m high) five-seater car that also allows you to take the family camping. Behind the rear seats, an offside furniture unit houses a sink with pumped water, a simple coolbox-type fridge and a single-burner cartridge stove. There's also a mains power supply system with leisure battery and charger. On the nearside, a split folding seat/bed unit folds against the sidewall. The optional elevating roof also houses a bed with luxurious dimensions for one adult or two children.
Build quality – 94%
The Hythe-based provider of our test vehicle expertly installs furniture kits from Reimo of Germany into the Volkswagen Caddy Maxi Life MPV base vehicle. There's quite a list of options, from the colour of the base vehicle to under-bonnet diesel heating and a rear-seat-come-storage-box that costs you two Volkswagen factory belted seats, but gives you a place to store a portable toilet, which is otherwise lacking.
Driving – 90%
There are three Euro 6 engine options – a 1.4-litre turbocharged petrol, developing 123bhp, a 2-litre turbo-diesel producing 100bhp and a similar unit with an output of 148bhp, as tested here. Five-speed manual or seven-speed Direct Shift Gearbox (DSG) auto transmissions go with the lower-powered pair, while the 148bhp comes with six-speeds (manual or automatic).
This DSG twin-clutch transmission can be popped into 'D' for 'Drive' and left to get on with it. When you might appreciate some engine braking, simply tapping the lever left engages manual mode, then forwards and backwards changes gears up or down. A tell-tale in the clear instrument cluster shows which gear you are in, and hints, via an arrow, when you might like to consider shifting. If it decides you have got it wrong, it overrides you and changes itself. Foolproof.
There's no shortage of power and carrying three adult passengers made no noticeable difference to the lively performance, with the vehicle progressing to 60mph in a car-like 10 seconds. The lower-powered versions should offer perfectly agreeable solo performance, but the 148 would undoubtedly make a good towcar too.
Though the ride quality reflects the 2,365kg MTPLM, the Caddy remains very compliant over that standard British feature, the pothole, and handles well.
The automatic stop-start facility sometimes causes a hesitation when pulling away while, in contrast, when pulling out of a corner, just a small touch of throttle led the gearbox to kick down a gear and the vehicle took off like a darted tiger, which passengers could find a bit alarming. On the other hand, 70mph cruising requires a silent 2,000rpm, with the only noise a slight hum from the wind over the elevating roof.
Overall fuel consumption at 37.5mpg is fair but nowhere near VW's claimed 55.4mpg on the Combined cycle. CO2 emissions are 134gm/km.
Daytime – 81%
The Caddy is trimmed to Volkswagen automotive standard throughout, but big windows mean it is never dark inside. The split folding rear bed allows you to sit in the kitchen for meal prepping, with the centre of the bed clipped to the wall. An additional folding backrest permits the twin centre seat to be used facing backwards, so, together with the cab seats, there is space for a family to sit inside. The
elevating roof provides ample headroom or, if you pull the bed platform down on its gas springs, children can play away happily overhead.
Small elevating-roof campers generally lack storage and the Caddy lacks even a token hanging rail for clothes. But with acres of floorspace at the back, the easiest ploy is to allocate a watertight plastic storage bin to each of you to keep your kit in.
Speaking of water, this is stored in a 13-litre jerrycan with submersible pump in the cupboard below the sink. A matching can alongside collects waste water.
There is a small locker above the pull-out fridge at the rear. The table top, at 70cm x 44cm (27.5in x 17.25in), cleverly straps beneath one of the seat cushions when in storage, along with its clip-in tubular leg. Its main support is an extrusion on the edge of the kitchen unit that you simply hook it into.
Night-time – 70%
You have the option of making the lower bed as a 68.5cm (27in) wide single with standing space beside it, or a double that fills the available width at 110cm (43in). Either way, length is an excellent 195.5cm (6ft 5in). Mattress thickness isn't in the luxury class at 6cm (2.5in), but it features a high-quality foam and is actually reasonably comfortable, despite the solid base.
For privacy, there are twin-tensioned curtains for each window, while the cab has a curtain that clips around the edge of the overcab shelf and is stored on the overcab shelf in daytime.
The 180cm x 80cm (5ft 11in x 2ft 7.5in) roof bed is accompanied by an LED night light. There's the usual large PVC window and mesh air vent in the front-end wall and
a big mesh window each side, all with zipped canvas inner screens. You will need to pack an absorbent cloth with which to mop the windows in the morning, as the single glazing collects a lot of condensation overnight.
Kitchen – 50%
The kitchen area is ultra basic with next-to-no storage, so users will need to make maximum use of site facilities for food preparation and washing up. The cartridge stove's controls face the rear, so the cook will tend to sit right at the back, which handily leaves room for everyone else up front out of the way.
You need to boil a kettle for hot water, so you will find the adjacent mains and 12V sockets handy for an electric kettle to save gas. Waeco's Coolfreeze 18-litre electric coolbox is detachable – handy for a summer picnic as it can go to the beach with you.
The polished stainless sink bowl is 25cm (10in) diameter. There is just adequate worktop space at 38cm x 30cm (15in x 12in), supplemented by a flush-fit extension flap at the front and the table. Two shallow drawers cope with cutlery and bits and pieces.
Lighting – 90%
Few manufacturers use anything but LED lighting nowadays and CMC Reimo is no exception. Main illumination is by highly-effective striplights, but there are also two circular downlights at the back of the cab with individual switching.
Verdict – 79%
If you're looking for a day car that doubles as a camper – and trebles-up as a load carrier – the Caddy deserves serious consideration.
More like this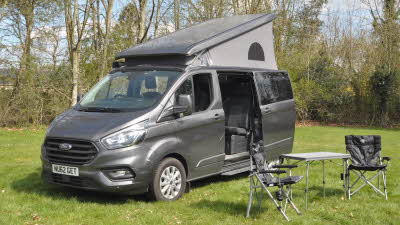 By Nick Harding
11/07/2021
The Ford Nugget could appeal to those who want to a campervan to double-up as a main means of transport as it has five travel berths and is excellent to drive. Nick Harding assesses its other qualities.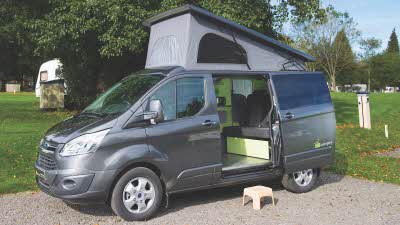 By George Hinton
20/07/2021
The Auto Campers Leisure Van offers plenty of flexibility with two or four berth options and coming on either a Ford Transit or VW Transporter base. It works well as both a family campervan or for daily driving, as George Hinton found out.