Auto-Trail Grande Frontier GF-70
Auto-Trail Grande Frontier GF-70
Auto-Trail have launched a trio of new A-class motorhomes on a Fiat Ducato based called Grande Frontier. Nick Harding takes a closer look at the smallest of the three models – the two-berth, end washroom GF-70.
Meet the Grande Frontier GF-70, the first of a trio of A-class models designed and built in the United Kingdom by Auto-Trail. This is a prototype, so do be aware that there may well be some detail changes when it comes to full production versions.
BUILD QUALITY – 80%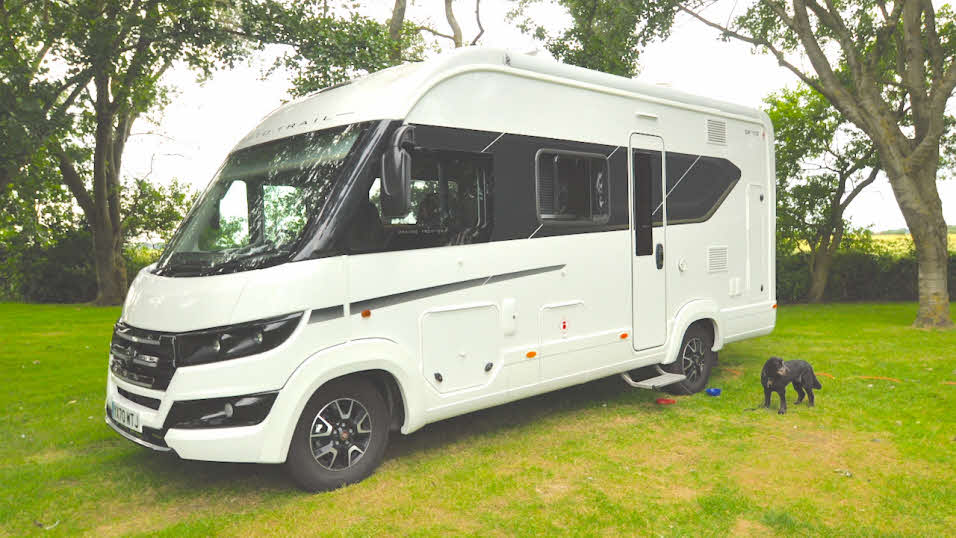 Auto-Trail (which is part of the influential French Trigano Group) is building the Grande Frontiers at its state-of-the-art premises near Grimsby. Excuse the pun, but it's done a Grande job. The GF-70 has all-GRP bodywork and immediately scores over any imported rivals by having its cab and habitation doors on the offside and nearside respectively. Note, also, the integrated awning, an earlier Auto-Trail innovation, while the flush-fitting side windows and black alloy wheels add further style to a neatly proportioned unit.
Auto-Trail's five-year habitation warranty is exceptional; its body integrity back-up matches this, and there's the option to extend it to 10 years. Driving licences allowing, it's also worth considering the free chassis upgrade to 3,650kg, upping the payload to a more respectable 380kg.
DRIVING – 80%
Few believe me when I say A-class motorhomes are often easier to drive than their coachbuilt counterparts. For a start, there's that panoramic windscreen and you soon learn exactly where your leading edges are,. Meanwhile, the coach-style mirrors give great views along each side and beyond. It's actually no wider than a typical low-profile coachbuilt motorhome using a chassis-cab base.
The 160bhp engine should prove sufficient for most folk in terms of power and delivery. There will always be the temptation to trade up to 180bhp, while the nine-speed automatic transmission option would be great if it weren't for the £3,354 premium. The GF-70's Fiat cowl with Al-Ko chassis underpinnings means a pliant ride. Economy? I had four days of relaxed driving and reckoned on registering miles per gallon figures in the mid-20s.
Auto-Trail has done a particularly good job in the cab, adapting the Fiat dashboard to the wider expanse of bodywork around it. Air-conditioning is standard on production models, while the Xzent touchscreen system extends to a reversing camera, sat-nav etc. Motorhome Wi-Fi is also here, while, should the worse happen, it is possible to track your vehicle using the Auto-Trail Connect system (with an annual subscription to pay).
DAYTIME – 78%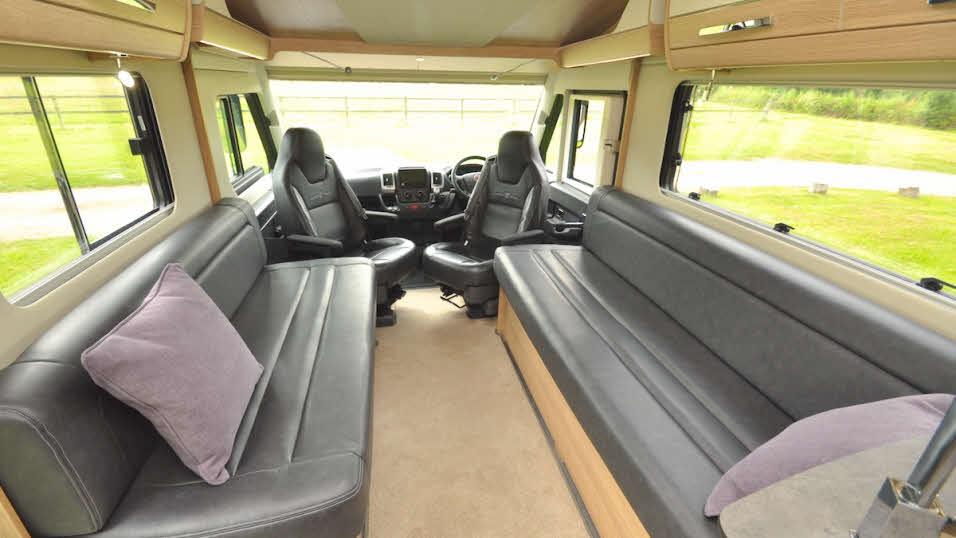 The GF-70 boasts a generous amount of elbow room throughout. The lounge is particularly spacious, comprising inward-facing settees (the offside is the longer of the two) and a free-standing table with its own dedicated locker. There is also the facility to easily swivel both cab seats. The black leather upholstery you can see here is a £1,399 extra.
Luxury is everywhere – like the Alde central heating system and media pack that includes a 21.5in Avtex TV tucked discreetly behind a tambour door. There's abundant storage throughout, including large overhead lockers, settee bases, double-doored wardrobe, etc.
NIGHT-TIME – 75%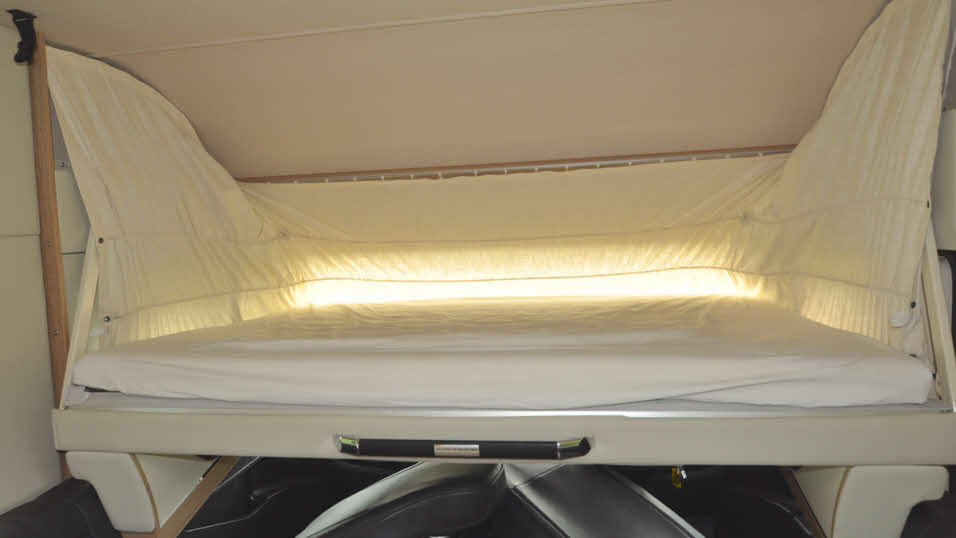 The drop-down bed over the cab area is a given in A-class motorhomes. The GF-70 bed is manually operated, but it's counter-balanced to make things easy, and there is a decent enough 6ft 1in x 4ft 7in one-piece mattress. There's quite some curve to the roofline and it's a real bonus not to have to pack away the bedding before retiring the bed.
KITCHEN – 76%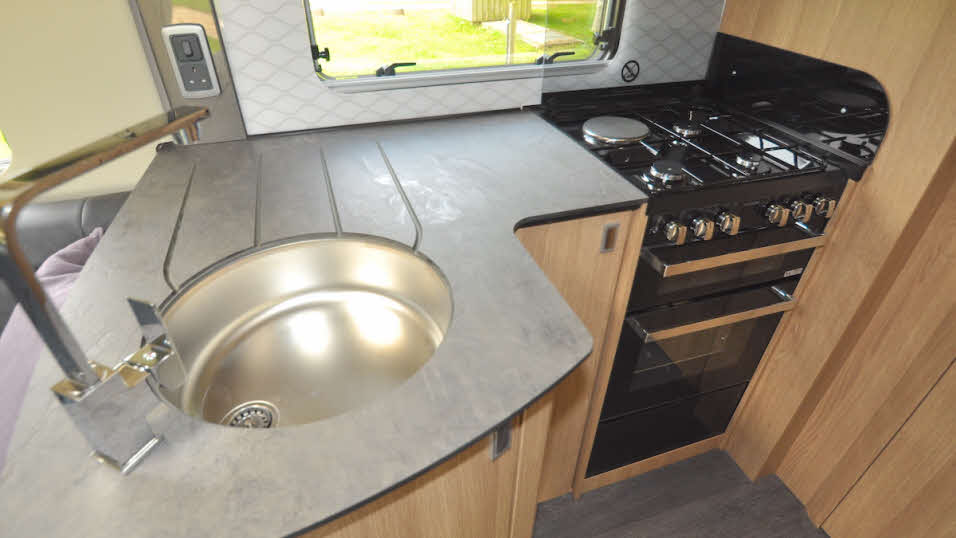 Auto-Trail kitchens are generally up there with the best. Here you get three gas rings, an electric hotplate and separate grill and oven. There's also a microwave oven, but its location directly over the hob won't appeal to everyone. The slim storage locker for the microwave's glass plate and/or sink's loose chopping board is a neat touch.
Other storage includes two drawers, slide-out chrome racking and overhead lockers (including crockery racks) – again, it's comprehensive.
The central rooflight also features a two-way electric fan, while a 142-litre/15-litre fridge/freezer, with automatic energy selection, occupies the nearside.
Just a couple of small points: the location of the mixer tap makes it easy to turn on accidentally; and there is just the one mains socket to hand.
WASHROOM – 70%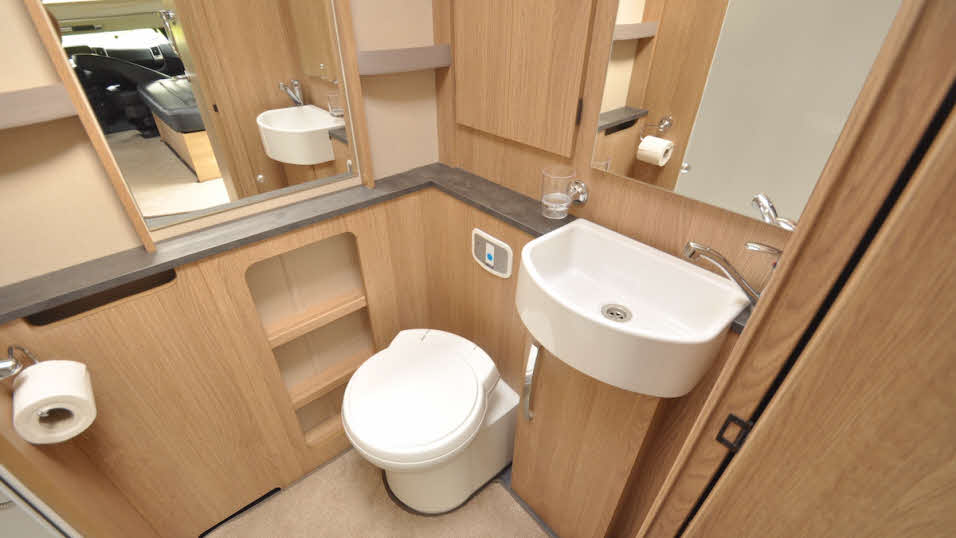 If a big shower cubicle is a priority, have a look through the folding doors here. However, this room lacks a window (not great for ventilation) and, while the shower has a riser bar, even at its highest setting the showerhead is rather low. And there's just the one plughole. There are plenty of pluses, however. Water is delivered powerfully (thanks, Alde), lighting is good and, although the whole washroom is not quite full-width, there's a full-height, exterior-access locker on the nearside.
The fixed basin is a reasonable size and there's a Thetford swivel-bowl toilet. Meanwhile, lockers and open shelves abound.
DETAILS – 80%
This motorhome is absolutely packed with nice touches, from the 100W solar panel on the roof to the internal catch for the gas locker. There's also the waste bin, key tray and branded umbrella on the habitation door as well as an auto-retracting electric step.
Further luxuries include ambient lighting strips, with dimmable function, over and under the upper lockers; an illuminated wardrobe; stalk lights with dual power levels (and USB ports in their bases) over each cab seat; and removable floor carpets in sensible sections. The list goes on and on.
VERDICT – 77%
Auto-Trail's reach into parts of the market where rival UK manufacturers seem fearful to tread is relentless. The UK-friendliness of its Grande Frontiers bodes well for sales, and I do like the more compact nature of the GF-70. It's definitely happier as a two-berth (although you might want to opt for two more travel seats). Touring life can definitely be Grande.
More like this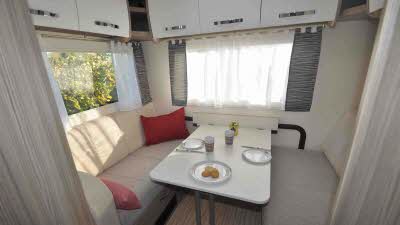 By Nick Harding
04/01/2019
Nick Harding checks out a competitively priced option from Spanish brand Benimar