Chausson X550
Chausson describes the X550 as "a van-motorhome combination" claiming it offers the driving experience of a van conversion with the interior feel of a coachbuilt motorhome. Nick Harding checks out whether it lives up to the billing.
It's fair to say that the X550 Exclusive Line from Chausson (which is part of the large, French Trigano group) is something a bit different and exhibits a certain 'wow' factor. Chausson describes it as "a van-motorhome combination" – at just 5.99m long and a slimline 2.1m wide, it offers the driving experience of a van conversion, but the design inside feels more akin to that of a coachbuilt motorhome.
BUILD QUALITY – 81%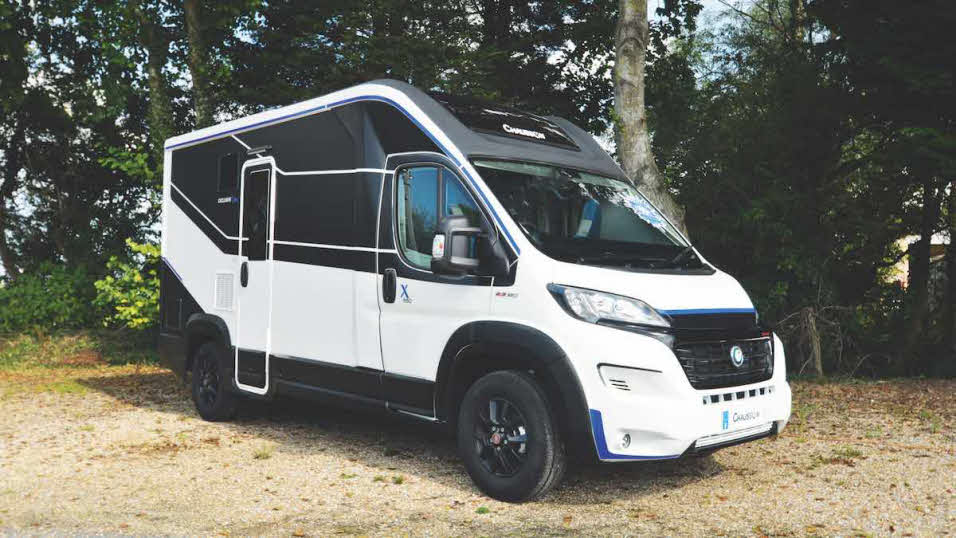 The black and white exterior – with blue highlighting, chunky black trim and extensive use of graphics – and the 16in black alloy wheels combine to give this Chausson a rugged look.
Admire the seamless lines of the body and cab and you'd be forgiven for not realising that the X550 is actually a coachbuilt. The innovation continues at the rear, where a very individualistic panel boasts fittings for a bike rack (although they appear to be located rather high to me). The main bodywork is GRP with Styrofoam insulation, while the roof is made from a material called pDCPD, a polymer that has been used on trucks and heavy plant machinery because of its resistance to impact, abrasion and chemical corrosion, and for its heat-deflecting properties. Chausson offers a seven-year water ingress warranty.
DRIVING – 88%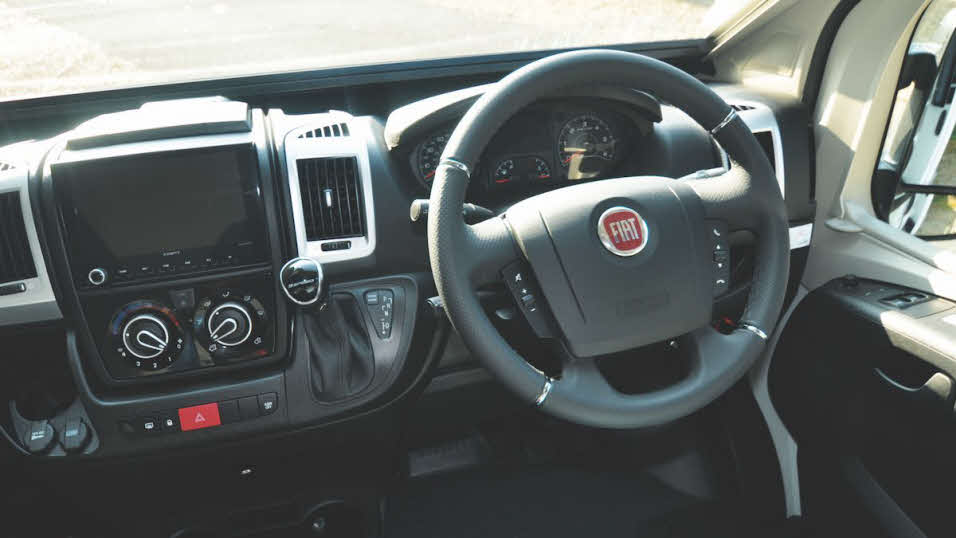 Fiat's Ducato is employed as the X550's base. As standard, you get the 140bhp, 2.3-litre turbodiesel engine with six-speed manual transmission, whereas our test model has the more torquey 160bhp upgrade as well as the highly-regarded nine-speed automatic box. Although you do get extra refinement with this combination, it adds some £5,200 to the price.
Increasing the cost of our test vehicle even more is the £1,840 Connect Pack, featuring an Xzent touchscreen infotainment system with DAB, reversing camera, Bluetooth connectivity and controls on the padded steering wheel.
The compact dimensions of the X550 make it both manoeuvrable and pretty easy to park, while the wheel-in-each-corner approach delivers surefootedness on the move. Its light weight and slimline, aerodynamic body should help in terms of economy, and you'll notice minimal wind noise at speed.
As it's a four-berth, it's great to see that this Chausson is equipped with four genuine belted travel seats – the two foldaway Aguti seats in the rear come with Isofix fittings and adjustable head restraints.
DAYTIME – 79%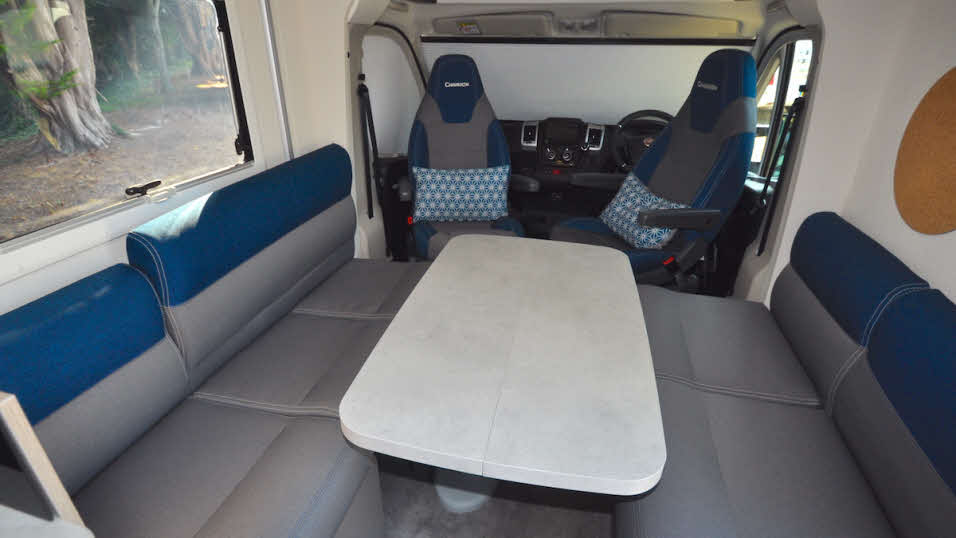 Immediately aft of the cab, the lounge comprises a pair of settees (once the travel seats have been folded away) and a generously-sized fixed pedestal leg table, which is electrically height adjustable and has a hinged rectangular top to aid access from the cab.
Eagle-eyed readers will spot that there is no window in the offside or rear walls, but two windows on the nearside and one in the (offside) habitation door, plus a sunroof over the cab and a larger-than-average wind-up rooflight over the kitchen combine to allow sufficient natural light in. In lieu of a window in the offside wall, you'll find a rather natty mirror, cork pinboard and a wipe-clean writing surface, all circular in design (which is repeated on the interior wall near the habitation door).
Space heating is courtesy of a diesel-powered Webasto system, while a gas/mains electricity Truma boiler provides the hot water.
NIGHT-TIME – 77%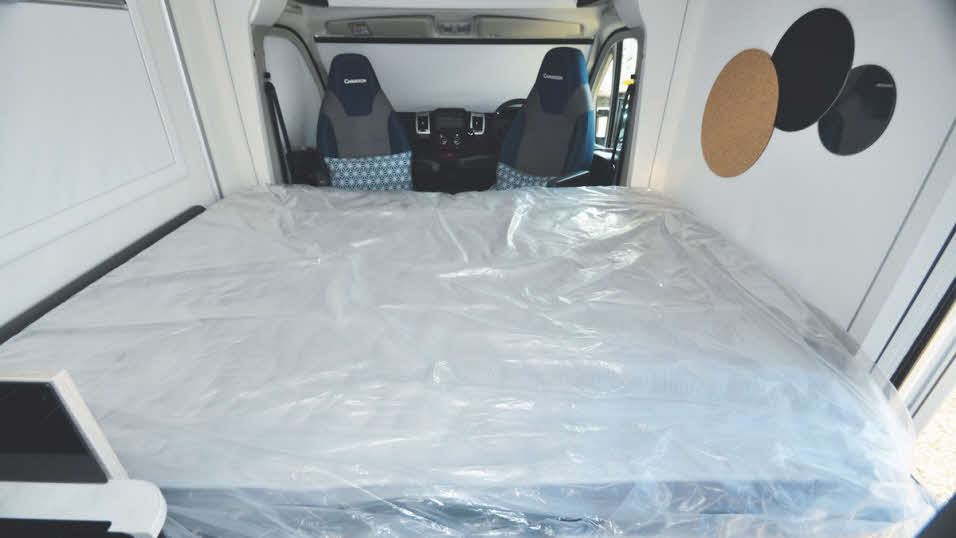 The main bed, over the lounge, electrically drops down low enough from its travelling position in the roof that you won't need to use the supplied ladder. Dimensions of 6ft 3in x 4ft 8in are decent, and you still have full access via the habitation door. With the neat, almost-flush-fitting LED halo lights, both of which have double USB ports, night-time illumination for the upper bed occupants is good.
The X550 is billed as a four-berth, but making the lower double is a bit of a faff. If, as we suspect most buyers will, you use this Chausson as a two-berth, there are some lower bed cushions that, like the ladder, can be left at home, thereby freeing up storage space.
Cab blinds – a single unit for the windscreen and fan designs for door windows – complement a cassette blind/flyscreen for the side window and concertina unit for the sunroof.
KITCHEN – 68%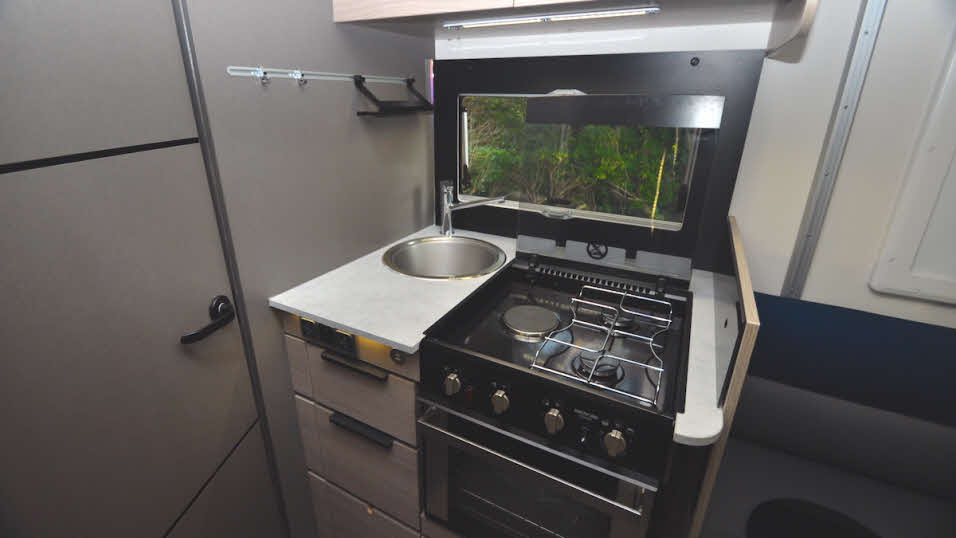 Although the kitchen is not the biggest, it still manages to pack a fair bit in. UK influence sees the X550 get a proper cooker – a Thetford Triplex unit with two gas rings and an electric hotplate, plus a combined oven/grill. There is just a bit of permanent worktop forward of the circular sink.
Details certainly haven't been forgotten. There's a handy rail featuring a couple of adjustable hooks as well as a storage pod for small bottles etc, an acrylic splash panel, a couple of USB ports and a 230V socket. Storage includes two small drawers and a locker, plus a double locker overhead, the right-hand side of which is shelved.
Across the galley, the slimline Dometic fridge comes with automatic energy selection and a generous 139-litre capacity.
Between the kitchen and washroom is a full-height storage area that's also accessible from outside. Underneath this is a small drawer and, at floor level, a heater outlet that presumably services the washroom.
WASHROOM – 83%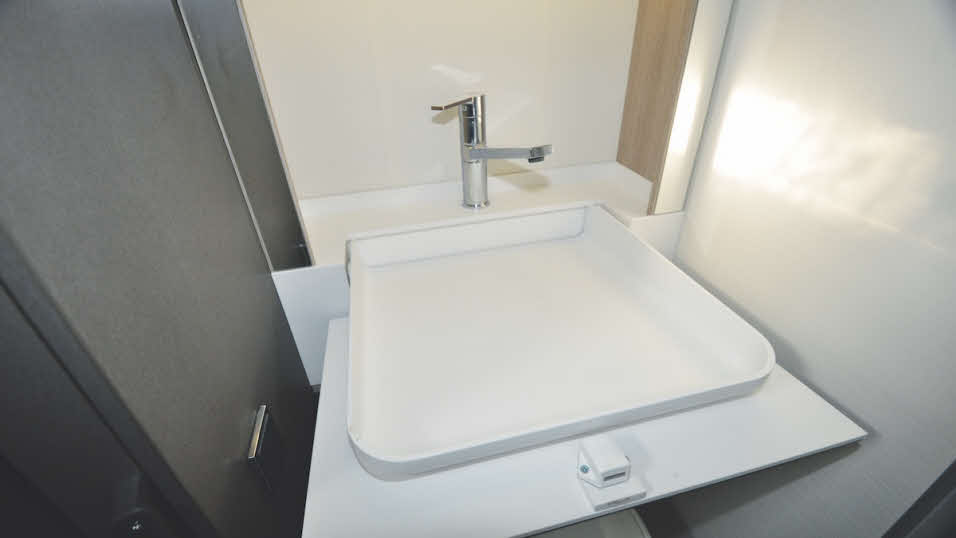 Stretching across the full-width of the X550 at the rear, and accessed via a sliding door, the well-proportioned washroom is a highlight of this vehicle. A clever, full-height tambour panel pulls around to create possibly the largest shower cubicle I've ever seen in a motorhome. The showerhead is on a riser bar with a soap tray, behind which is a panel containing six useful recesses for any number of shampoo bottles, flannels and more. Underfoot is a removable wood duck board and two plugholes.
Completing the picture here is a swivel-bowl cassette toilet with a drop-down soakaway sink above, plus an abundance of mirrors which enable you to see more of yourself than you might wish!
The ability to use the wardrobe door to create a dressing area here is a great touch – dry yourself (disappointingly there is no dedicated towel ring), grab your fresh clothes and you're ready for the new day.
DETAILS – 82%
Almost everywhere you look there's innovation – from the magnetic fixings for the settee backrests to the space-agey swirly light over the lounge, Chausson's designers have clearly been encouraged to think outside the typical motorhome box.
With so many strong cards elsewhere, it is perhaps no surprise that storage isn't the X550's game-winning hand. Having said that, there is some space around the travel seats in the settee bases and a useful tall locker on the nearside with exterior access – ideal for folding chairs etc (provided you leave the infills for the 'downstairs' bed at home, for this is where they live if you use the X550 as a four-berth).
VERDICT – 80%
Refreshingly modern, stylish and very practical, Chausson's X550 really does combine the best of both the campervan and motorhome worlds – although it is probably better suited to a couple than a family of four. If you already own a van conversion you might find yourself questioning whether you've over-compromised when you look at something like this.
More like this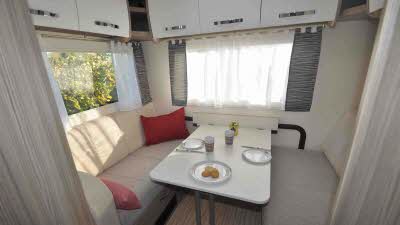 By Nick Harding
04/01/2019
Nick Harding checks out a competitively priced option from Spanish brand Benimar