Frankia I8400 Plus Platin
Frankia I8400 Plus Platin
Nick Harding enjoys a taste of the high life as he reviews the super-premium Frankia I8400 Plus Platin which offers real luxury and state-of-the-art technology but also comes with a hefty price tag.
This is luxury with a capital 'L' and with
 a price tag to match. The rear-lounge I8400 Plus on test here belongs to Frankia's six-strong, flagship Platin line-up. Prices start at £162,470 if you include the UK Pack of options (oven, carpet, coffee machine, microwave oven, external shower and barbecue points, on-demand water filler etc). There are all kinds of other features you can order, although it's fair to say, in the top-level 'Plus' trim, this Platin doesn't lack for much and is already packed with goodies backed by highly sophisticated electrical systems and exemplary workmanship throughout.

Build quality – 94%
The bodywork comes with an 11-year water ingress warranty and features a bonded construction that includes Styrofoam, an inner aluminium layer and exterior GRP as well as a padded, insulated ceiling throughout. It makes for an incredibly rigid structure. Alloy wheels, coach-style driving mirrors and flush-fitting windows are standard. Bearing in mind the end lounge necessitates a compromise on storage space below, a special step system to ensure any bikes will fit in makes for an interesting £1,890 option. The garage itself has three-way access.
The double floor houses a full Alde heating system as well as storage hatches. Upper-level lockers include aluminium framework, while the numerous exterior locker doors are solid and easy to operate. There are loads of other clever touches, from the water system – which features a retractable hose for filling up – to the retractable mains lead.
The Frankia's electrical system is excellent. Four 110W solar panels and two 110Ah lithium batteries, plus a 1,700W sine wave inverter and 90A smart charge system come as standard – all courtesy of German specialist Buttner. It's designed for quick recharging but also offers off-grid self-sufficiency for days, if not weeks.
Driving – 89%
The Mercedes running gear offers power and sophistication. The I8400 Plus Platin comes on the Sprinter chassis cowl with a three-litre V6 engine, seven-speed automatic transmission and twin rear-wheel drive – so you should hopefully avoid most stuck-in-the- mud scenarios. It has an MTPLM of 5,500kg, so you'll need category C1 on your driving licence.
Mercedes' latest dashboard is a model of modernity thanks largely to the central touchscreen for the MBUX infotainment system. Frankia adds double-glazed side windows and an electric two-way blind for the whole windscreen.
Daytime – 93%
Everything is large in this 28-footer – especially the C-shaped lounge. It's supremely comfortable with high backrests and there is a selection of scatter cushions to go with the cream leather upholstery. There are six different interior design options from which to choose.
A 32-inch Alphatronics smart TV slides out from a dedicated locker on the offside wall, while a full Teleco satellite receiving system is part of the package. You get views out to three sides, while overhead are two Heki Midi rooflights, the second of which is an £890 extra. Twin speakers and an Alpine sub-woofer help provide superior surround sound.
There's some adaptation required if you want to carry passengers. A fold-up, forward-facing travel seat is in the nearside settee base; a second one stores in the forward settee section and attaches to a pre-fixed mount when required. The Alde system includes underfloor heating and full pipework around the cab with outlets to the windows, an area where most heat is usually lost, while roof-mounted air conditioning can be used even when driving.
Night-time – 92%
A one-piece frame housing two single beds drops down over the cab area at night. Setting-up is minimal once you've folded the cab seats out of the way. The frame lowers electrically and extends so that cushions at the head end drop into place to increase overall length to more than 2m. A fully engineered double step slides out from a floor-level locker to make access easier.
Kitchen – 87%
There's a generous amount of space in the L-shaped kitchen. Worktop area is plentiful around the three-ring hob and the deep, inset sink. A Thetford Duplex oven/grill fits in easily under the hob, still leaving space for a trio of soft-close drawers. There are two large lockers overhead, complemented by two extending towel rails and a rack for spice jars. A removable waste bin is set into the worktop, while to the right is a 177-litre Dometic 10-series fridge/freezer.
Washroom – 89%
Facilities are split between a generous shower cubicle with glass doors on the offside and toilet room nearside, with the door for the latter also closing off the rest of the living quarters, should you wish. There's a further sliding door for full washroom privacy.
A ceramic-bowl Thetford toilet comes with two cassette holding tanks (another aid towards full self-sufficiency) and is accompanied by a rectangular fixed basin. There's excellent storage thanks to a triple-doored, multi-shelved cabinet unit as well as locker space under the basin (where you'll also find a waste bin).
The shower has stylish lighting down one side as well as overhead, while its two drainage points are diagonally opposed. There's also a neatly concealed retractable hanging rail.
Details – 93%
The list of details is extensive. A snapshot of features includes chrome taps and door handles, branded paddle-style reading lights, coat hooks and a shoe locker just inside the habitation door, concertina blinds with double insulation properties and a habitation door with three locking points.
The only niggle I could find was that the removable metal grilles for the electrical fittings in the garage had some rather sharp edging, while a charge of £240 for a spare wheel seems unnecessary.
Verdict – 91%
No motorhome is perfect, but this one comes pretty close. The price may put it beyond the reach of many people, but the I8400 Plus Platin is a truly exceptional vehicle.
More like this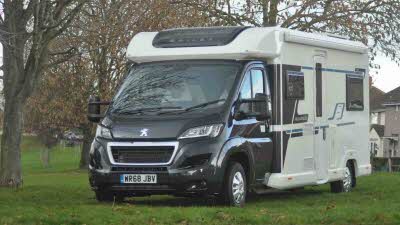 By Nick Harding
03/01/2019
Nick Harding tests the new six-berth, mid-range model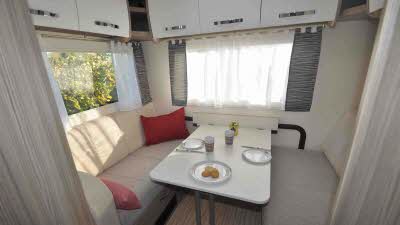 By Nick Harding
04/01/2019
Nick Harding checks out a competitively priced option from Spanish brand Benimar