Hymer B Class ModernComfort T 600
Hymer B Class ModernComfort T 600
Nick Harding runs his expert eye over the two-berth Hymer B Class ModernComfort T 600 which comes on a Mercedes Sprinter base vehicle and offers a touch of quality throughout. Does it justify an £84,000 price tag though?
There's no getting away from it – a motorhome like this is for people who know exactly what they want and are fortunate enough to be able to afford it. What they get for their money is a high-spec, supremely comfortable vehicle that's built to last.
Hymer announced the launch of the MC series last year, initially as a four-model range of low-profile coachbuilts and A-class equivalents. The 600 seen here is the latest addition, and it's primarily aimed at the UK market. All MCs are based on Mercedes' Sprinter in its latest (and best) guise. 'MC' stands for 'Modern Comfort' – but there's a whole lot more to this latest Hymer coachbuilt motorhome than that...
Build quality – 88%
The German manufacturer's PUAL wood-free, aluminium-clad bodywork construction technique results in a thumpingly solid vehicle with superior insulation and soundproofing qualities. Look underneath and you'll find a completely flat underside, too.
The B-Class MC-T 600 starts on the 3,500kg Mercedes base with Hymer's very own SLC chassis extension, but you'll want to speak to your Hymer dealer about moving up to the Sprinter 414 base, as featured here, which is rated from 3,880kg. You get a superior payload because, frankly, you're going to need it with all the optional extras available – although you'll need to double check your licence to see whether you qualify to drive a heavier motorhome.
Different cab and body colour finishes are available – the version you see here has the Iridium silver cab and white coachbuilt bodywork, for example.
Driving

– 84%
It's possible that you're already a Mercedes fan but, to reiterate, this latest Sprinter is on another level. It's front-wheel drive and, more importantly, there's a new 9-speed automatic gearbox available that most folk will surely
want to opt for (it's the slick-enough 6-speed manual box here).
Things have been upgraded inside, as well. Cab ergonomics are superb, starting with captain's style seats on easy swivels; an electronic handbrake option means there's nothing to get in the way of such swivelling manoeuvres. Another extra here is the leather steering wheel with controls – the rows of blanks switches remind you that so much more can be ordered from the options list.
It's 'MBUX' (Mercedes-Benz User Experience) that really steals the show, though. A central 10in touchscreen (standard version is 7in) controls the stereo system, sat-nav, Bluetooth connectivity etc. It also displays the best image I've seen from a reversing camera, plus the sound quality is great.
Is it good to drive? In a word, yes, and plenty of safety features give extra assurance.
Daytime – 79%
The standard 600 offering comes with a bench seat in the living area, but most buyers will want the optional arrangement shown here – with L-shaped settee. This makes the most of the room around that fixed pedestal-leg table.
It's a surprise that there isn't a window in the habitation door, although this is overcome to some degree by two large opening sunroofs (one a typical Hymer wind-up unit) over the front seating area.
Just inside that door, a panel with a trio of hooks can take anything up to a 32in flatscreen TV (stowed at a right-angle for travel). Open shelving is below, while the lower section has elasticated strapping that holds your footwear. There are, of course, interior scheme alternatives, with regard to both hard and soft furnishings.
Night-time – 83%
The bedroom features one of the neatest step designs I've ever seen in a motorhome. Folding out from its central location, it makes for easy access to really comfortable single beds, the offside being slightly longer. Each has a mattress on a loose membrane for support and ventilation, although a bugbear of mine with regard to raised sleeping arrangements is that you can't sit upright in bed.
A loose plastic panel sits on the upper mattress section between the two beds, offering a handy surface for anything you might like to have within reach during the night. Reading lamps are tucked in each corner, where they won't intrude, although there's just a standard rooflight overhead.
A curtain provides a touch of privacy. There's two-way access to a wardrobe in the foot end of the nearside bed, while the offside offers a shelved cupboard (with just single door access).
Although this test model has just two beds, it's worth mentioning that an electrically-operated drop-down double is another option (available on all layouts in the range except for the 580).
Kitchen – 75%
Retailer Travelworld has opted for Spinflo's Caprice cooker, with three-ring gas hob and separate oven and grill. It's a bit of a squeeze, but a proper cooker is an essential feature for nearly every British motorhomer.
The sink is immediately adjacent to the hob, with the only permanent worktop beyond it. However, the sink cover doubles as a chopping board, and can also protect from accidental splashes when in its upright slotting position.
Hymer offers floor-level drawers where many manufacturers look to get away with basic (and far less convenient) lockers. Owners will also appreciate details like the sliding hooks, recessed strip light and the large overhead shelved locker design.
To the left, there's a narrow-bodied Thetford fridge with freezer compartment, boasting a commendably generous 142-litre capacity in total.
Washroom – 84%
It's unusual these days to see a bench toilet in any motorhome, but I'm happy to defend the idea. It fits in particularly well here, and for those of you who've endured the process of trying to clean all around the often- unreachable base of a typical swivel-bowl design, say no more.
The quality seen elsewhere pervades. There's a shower cubicle with folding curved doors – it's an unusual shape but it works. Neat mouldings in here include shelving sections, plus there's a riser bar for the shower itself. Removable duck boarding underfoot is an option that most will consider essential.
A large mirror enhances the feeling of space in what is otherwise a rather compact room. There's good storage, though, with a shelved locker on the wall behind the toilet as well as a locker under the basin.
Details – 90%
The dual-setting reading lamps. The obvious quality of any mouldings (inside as well as out). The structure of the overhead lockers. The catches. The curves. The fit. The finish. The overall ambience. The lack of creaks. This motorhome does exude a certain quality that few others can match. Obviously the finer details will depend on the options you select – there are some 75 in total, plus six 'packs'.
Verdict – 83%
Two words – Hymer and Mercedes – were sufficient to ensure that this was never going to be run-of-the-mill. If you're looking for something just that little bit special, this motorhome should be on your radar.
More like this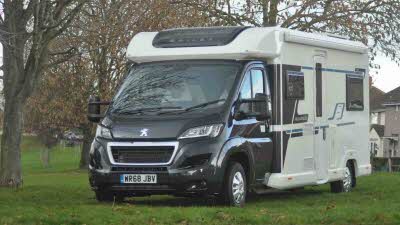 By Nick Harding
03/01/2019
Nick Harding tests the new six-berth, mid-range model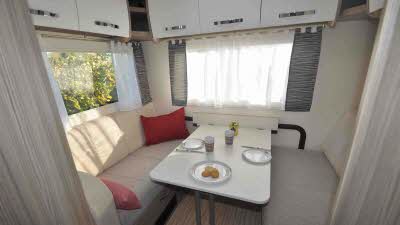 By Nick Harding
04/01/2019
Nick Harding checks out a competitively priced option from Spanish brand Benimar