Niesmann+Bischoff Arto 88F
Niesmann+Bischoff Arto 88F
Nick Harding gets a taste of the high-life while testing the super-luxury Niesmann+Bischoff Arto 88 F. The price tag will put it out of the reach of most people but it is always nice to dream...
Welcome to the very top of the Erwin Hymer Group. The company behind such names as Bürstner, Carado, Dethleffs, Eriba (for caravans), Laika (and Hymer itself) has the Niesmann+Bischoff super-premium marque at the peak of its family tree. The manufacturer likes to refer to its Arto models as "compact liners" ('liner' being the typical term for a large, seriously upmarket motorhome). In a 13-vehicle offering, the 88 F tested here is the perennial favourite.
On-the-road prices start at £102,050 but, as is typical in this rarefied stratum of the motorhome sector, there's a comprehensive range of options and packages to ensure it's very much bespoke to you. The example here comes to £147,052 but you could spend a lot more if you really wanted.
Build quality – 93%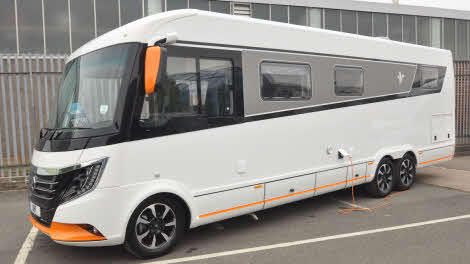 In a word, superb. N+B 'best practice' says apertures (ie holes cut in the bodywork) are kept to a minimum, which explains the smaller habitation door – it stays on the UK offside – and the fact there are no cab doors either. Even the second hatch to the garage is an extra. It's a policy that maintains structural rigidity.
The way doors and windows open is impressive and, inside, the fit and finish are exemplary, but for this price you wouldn't expect anything else. Looking into lockers and 'behind-the-scenes' sometimes tells a different story but I found nothing here to alter my initial impression.
This is all reflected in a starting MRO of a huge 4,300kg. That leaves a payload – before extras – of 700kg, although there's scope to upgrade the chassis to 5,500kg.
Driving – 80%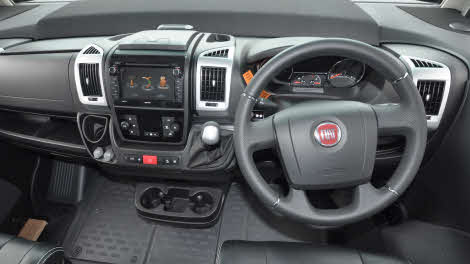 Based on a Fiat Ducato, the tag axle triumphs when it comes to driving, offering extra stability. And the powerful 177bhp engine and Comfort-matic transmission options on this example are well worth considering. A huge windscreen means great views and makes it easy to judge your leading edges, while coach-style double mirrors optimise the side views.
As mentioned, final equipment levels are up to you, but it's worth noting luxurious cab fittings on this example such as the electric windscreen blind, double-glazed side windows with pleated blinds, Zenec stereo system with sat-nav and reversing camera and automatic air conditioning.
One small moan is that shorter drivers (like me) will find the handbrake almost gets in the way of the seat adjusters.
Daytime – 80%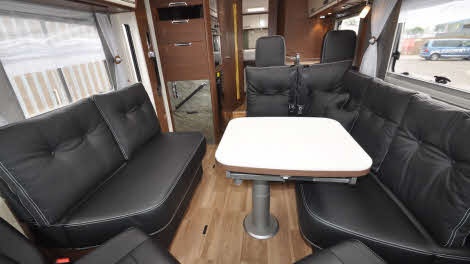 No matter how many factory-fitted extras you order, what doesn't change in the Arto 88 F is the layout. There is a roomy lounge up front – L-shaped seating and double settee, all with padded back rests, plus the easiest of swivel actions for the Isri cab seats.
The Anthracite leather here is one upholstery option – there are all kinds of seat and cushion configurations, right up to the suggestion you may even want a second set of the latter to suit different times of the year.
With a flat floor through to the bedroom at the back, the middle ground is taken by the kitchen, followed by en-suite facilities.
Night-time – 83%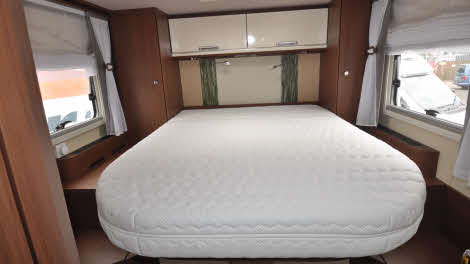 It's rather a squeeze around the foot of the bed as you make your way to the fixed steps either side (that's something you'll have to assess for yourselves). I can't imagine anyone complaining about the comfort, though. There is a one-piece mattress – I measured it at a generous-enough 6ft 4in x 4ft 8in – on plastic springing (which is great for ventilation).
There are his and hers wardrobes (the offside is bigger) and three large drawers at the bed's base, with a locking facility for travel. A personal gripe, but the overhead lockers mean you can't sit up in bed!
There's a front double, too. In the typical A-class style, it pulls down from over the cab area, once you've got the seat backrests reclined out of the way. Somewhat surprisingly, it's manual operation only but, again, there's that same level of support and comfort.
If you think I've been a tad critical here, fear not. An updated version of the 88 F sacrifices both wardrobes in favour of a wider bed, more overhead lockers and more space to manoeuvre.
Kitchen – 84%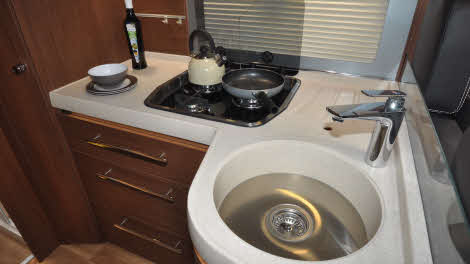 The stylish worktop with carved draining area is the first indicator of quality here. Inset in this is a circular sink and a Thetford three-ring hob.
But it's the storage that really stands out. There are three large drawers and a cavernous chrome-shelved unit, all with a central-locking facility, in the main kitchen unit itself plus two lockers overhead, each with adjustable shelving.
A floor-to-ceiling slim locker, again with chrome trays, is to the far left. Across the corridor, there's a Thetford oven/grill with a Siemens microwave.
Beneath the oven is a Dometic fridge with removable freezer compartment. The maximum capacity is only 106 litres so I wonder if the future will see a new location for the wardrobe adjacent to all this, so a larger fridge/freezer can be accommodated.
Washroom – 89%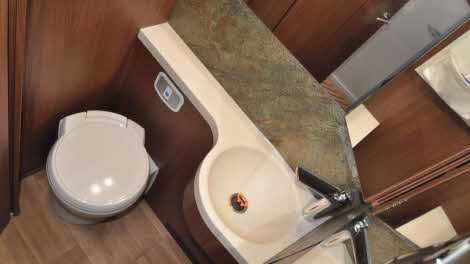 Facilities are split between a nearside shower cubicle and offside toilet room – the door to the latter can also be used to seal off the bedroom from the rest of the living quarters.
The shower cubicle is larger than average, with plastic walls, a removable wooden duckboard and an opening skylight. A neat feature of the sliding doors is each has a handle that locks it into place for travel. For the toilet room, Thetford's almost-ubiquitous swivel-bowl toilet is joined by a solid fixed basin, mirror-doored cupboard and some padded pockets.
Details – 94%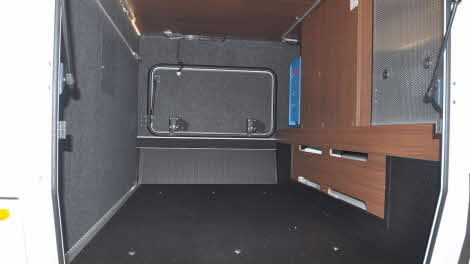 There are far too many clever touches to write about them all, but highlights include the 'green grass' illuminated displays for the toilet room door and island bed headboard, central locking to all the main doors (including the garage storage), reversing camera tucked behind the Niesmann badge, pneumatic struts for the overhead lockers, and discreet pull-down TV fitting in the lounge.
Storage is magnificent – from the lockers to the floor hatches, external skirt lockers to that huge garage, complete with strip lighting and other smart details.
It's the way everything fits together and works that really impresses. Dare I criticise? The fridge is a bit small (but changes were afoot to fix that when this review took place in October 2018) and the rear travel seating is too upright.
Verdict – 86%
It's a lot of motorhome for an awful lot of money. The eye-watering price tag means it will remain the stuff of dreams for many but it is also a great example of what can be achieved with a leisure vehicle, where the only limits seem to be your own imagination.
More like this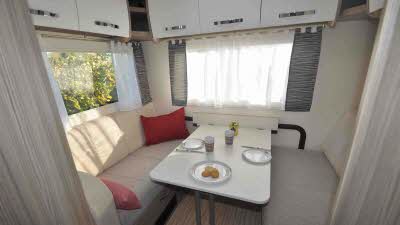 By Nick Harding
04/01/2019
Nick Harding checks out a competitively priced option from Spanish brand Benimar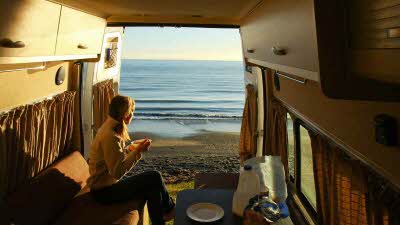 Browse for bargains from thousands of new and used vehicles for sale, or sell your caravan, motorhome, towcar or accessories.