Rapido M96 review
The Rapido M96 is a luxury four-berth motorhome which screams quality throughout. Nick Harding assesses whether it justifies its £100,000+ price tag.
French manufacturer Rapido has been offering superior vehicles for decades and currently boasts a portfolio that spans everything from van conversions all the way through to some rather upmarket A-classes. The flagship 'M series', initially comprising two models, are based on Mercedes' latest Sprinter chassis-cowl with Al-Ko extension.
Tested here, as part of our motorhome review series, is the island-bed M96 (the M66 sister model has single beds). It starts with a 3,500kg chassis and a price of £88,000. There are all kinds of optional extras to consider, beginning with the mysterious sounding 'Pack M' (£4,490), of which more later. The overall price for this example tops out at just over £105,000 which, I'd suggest, is around the amount most folk will end up paying for an M96 suiting their specific requirements.
Build quality – 86%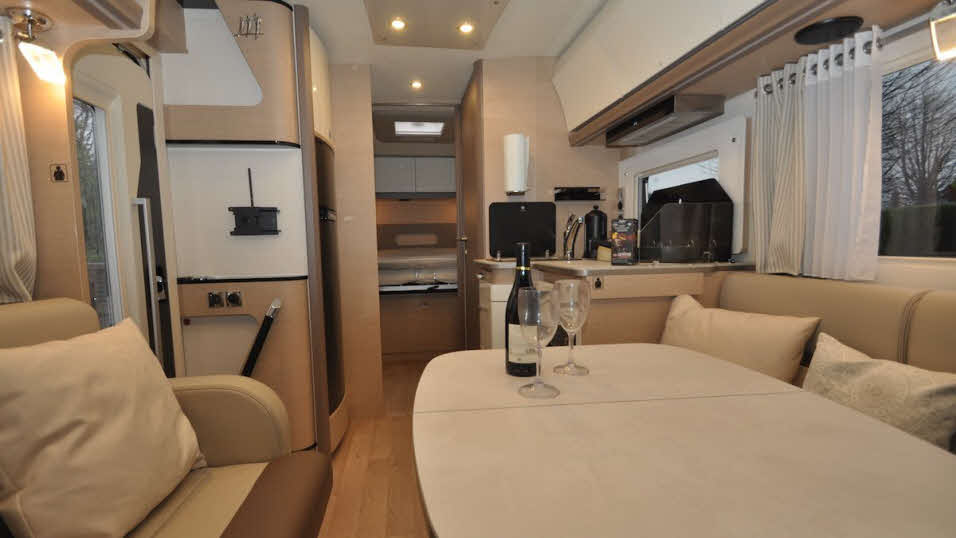 The spacious A-Class Rapido features all-GRP bodywork – sides, roof and underfloor – as well as Styrofoam insulation. This example has also been upgraded to the 4,500kg chassis and, as you'd expect at this level, it has a proper double-floor construction, offering not just superior insulation but also extra low-level storage, all accessible from the outside (surprisingly, not from inside). Meanwhile, features such as coach-style mirrors are a sign that you're dealing with an upmarket motorhome.
The interior also screams quality – just look at the furniture construction, those easy-clean, high-gloss locker doors and premium catches and handles. The cheap-looking hinges on the toilet door are a little disappointing, however.
Driving – 92%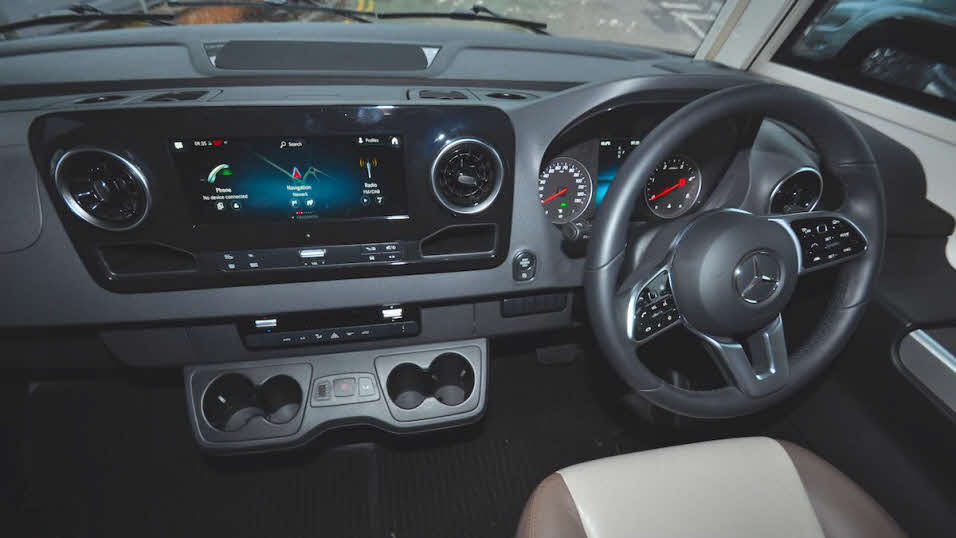 If you think driving an A-Class looks tricky, be assured that you do soon get used to it because you know exactly where your leading edges are in a unit like this. There's a good curve to that windscreen and the leading pillars aren't so thick as to impede vision.
This vehicle has a 188bhp engine and 9G Tronic automatic gearbox – adding £2,200 and £2,290 to the price, respectively. I'd argue they're in keeping with a vehicle of this stature, turning a decent performance into something a bit special.
Other key extras are included in the aforementioned Pack M, covering multimedia system, sat-nav, reversing monitor, semi-automatic cab air conditioning, adjustable leather steering wheel with controls, electric parking brake, fog lights, automatic headlights, cross-wind stability system and keyless starting, as well as elements such as the kitchen extractor unit, thermal windscreen blind, passenger's cab door and more.
Remember this is also a full four-berth. Either or both of those short, inward-facing settees can be adapted into forward-facing travel seats – not easy, but manageable, which makes them ideal for occasional use.
Daytime – 78%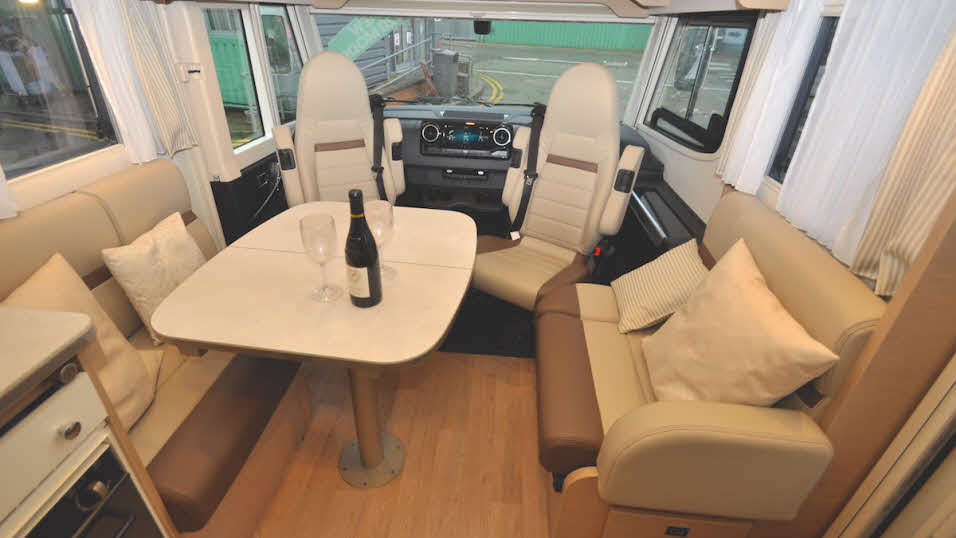 Despite the mid-'van placement of the kitchen and toilet and shower facilities, it's actually quite an open-plan layout. Up front you get a slightly unusual arrangement of two very short settees which complement the easily swivelled cab captains' chairs. Benefitting from plenty of natural light, lounge occupants sit around a fixed-pedestal-leg table with a hinged top, which helps when you want to walk through from the front to the rest of the living quarters.
The two-tone leather featured here is one of a number of upholstery options, and costs £2,280. In the UK, the M96 comes with Truma Combi 6 heating and hot water, with an Alde system available as an option.
Night-time – 85%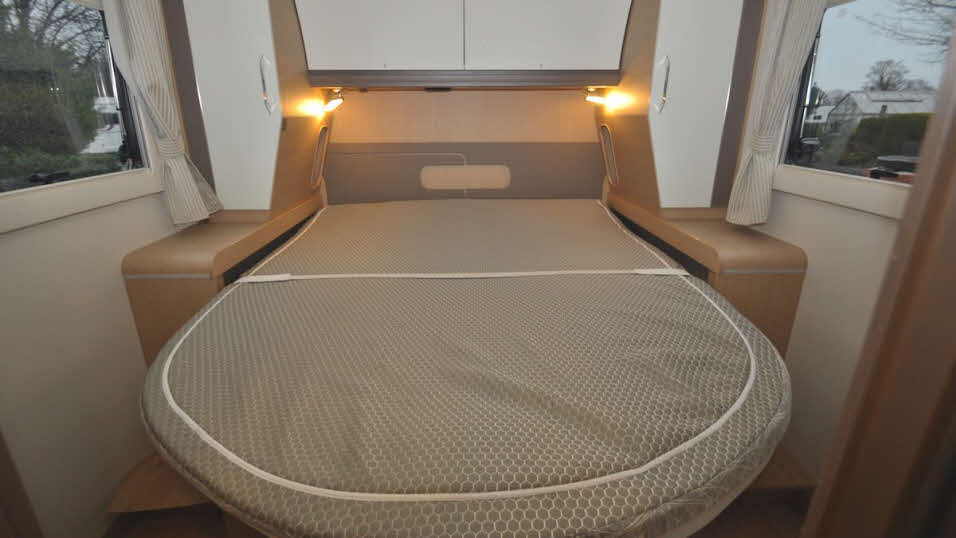 There are two great double beds available in here but the rear island will surely take precedence. It has some 30cm of electrical height adjustment and the mattress is 6ft 6in x 5ft 3in. In other words, it's a whopper.
Then there's the usual A-class drop-down double, also a pretty generous 6ft 3in x 4ft 7in, at the front end. It's manually operated, but there's little effort involved. Both mattresses are on sprung wooden slats. You'll sleep exceedingly well!
Kitchen – 80%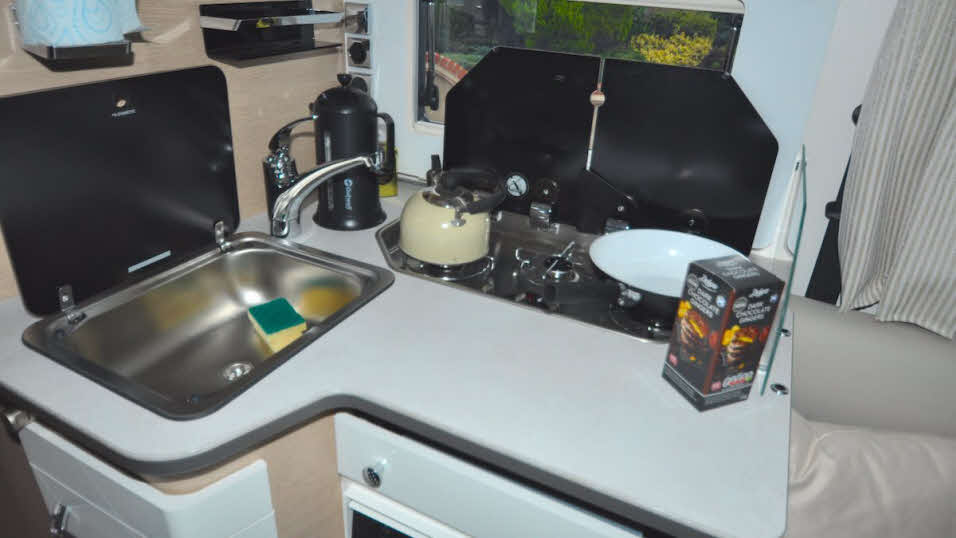 What initially looks like a kitchen that's slightly on the small side actually hides a few surprises. Its L-shape makes it space efficient, and it comes with a three-ring (in-a-line) hob and separate rectangular sink, which allows for a decent amount of permanent worktop. You can add to this with a slot-in extension to the left of the sink, should you wish.
There's a decent-sized cutlery drawer and an oven/ grill finished in colouring to match the gloss of the drawers and lockers. Over the hob is a rather swish, touch-control extractor unit with light, and other details include a kitchen roll holder and spice jar rack.
An automatic-energy-selecting 149-litre Thetford fridge/freezer sits across the corridor from the kitchen unit. It's set slightly off the floor for ease of access, over a drawer. There's a large, shelved locker above – presumably where a microwave oven will go if you have such a need.
Washroom – 80%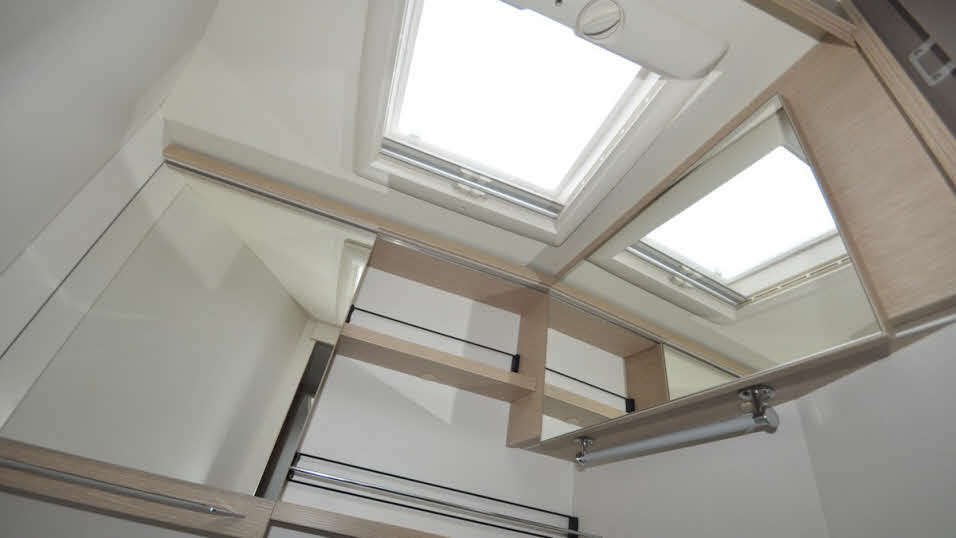 Washroom facilities are split across a shower cubicle on the offside and a toilet room on the near. The former is fully plastic-lined and has a rooflight with fold-down hanging rail as well as a small rack for soap and shampoo. I feel the choice of different coloured strip lighting around the central console is a bit of a gimmick, while the small-diameter plughole is a bit of a negative.
The toilet room is more practical. There's a rectangular counter-top basin with 'click-clack' plug and rather elegant mixer tap, although the basin itself isn't particularly deep. You don't get a window, but there are two mirrors, one of which forms the front of an upper-level locker (the other slides across shelved areas with elasticated retainers – ideal for storing all your lotions). Note, also, not one but two mug holders!
Details – 88%
Handy fixtures and fittings come thick and fast: from the shoe locker to the triple coat hook just inside the habitation door; from the shower fittings in the large garage to the cubbyholes either side of the island bed. Power sockets include the single mains and double USB in the kitchen, USBs and 12V outlets either side of the main bed and mains power in the toilet room.
Verdict – 84%
Of course you'd expect a Mercedes-based A-class that costs over £100,000 to exude quality – and this Rapido doesn't disappoint. Adding extras can seriously ramp up the price – but many love a motorhome that's perfectly suited to their requirements.
To find your perfect motorhome, make sure you check out our motorhome buying guide – ideal for anyone new to the different types of motorhome available.
More like this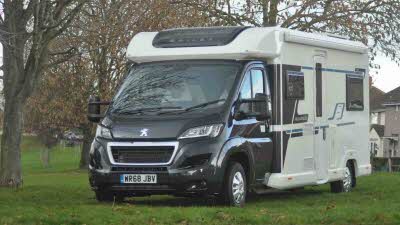 By Nick Harding
03/01/2019
Nick Harding tests the new six-berth, mid-range model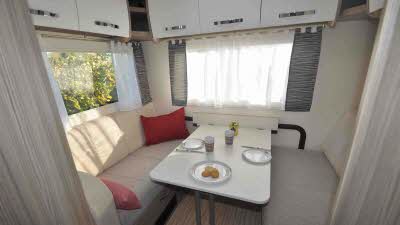 By Nick Harding
04/01/2019
Nick Harding checks out a competitively priced option from Spanish brand Benimar