Sunlight XV Edition T69L
The Sunlight XV is a special anniversary edition boasting a long list of extras to set it out from the crowd. Nick Harding checks whether it is worth celebrating.
Some useful advice for those of you buying a new motorhome: look out for the word 'edition'. Generally, whether preceded by 'Special', 'Limited', 'Anniversary' or, as is the case here, numerals, it means that you're going to get a whole lot more for your money. This Sunlight is a great example. From the Dethleffs stable, it is a celebratory anniversary version of one of its best-sellers. The T69L is one of just two low-profile coachbuilts getting the treatment, and it all starts off with a lot of black – for the front grille, awning, bike rack, cab – which gives this special edition a striking look.
Review tak
Build quality – 85%
In its native country Sunlight is very much a budget brand, but more often than not the phrase 'made in Germany' suggests top build quality. Indeed, the XV Edition features flush-fitting windows to the coachbuilt body, overcab sunroof, 16in black alloy wheels and silver finish to the sides. Frankly, the windowless habitation door is the only obvious cost-saving measure.
There's plenty more to suggest quality inside – everything from a 167-litre fridge-freezer to a Teleco satellite TV system with 22in screen and cab multimedia pack (which also includes a twin-camera rear-view system) – but it's the fit and finish that truly impress.
On-the-road prices start at £57,499 – quite a leap from the £50,149 for the standard T69L. However, there's reckoned to be more than £11,000's worth of extras in the XV specification.
Driving – 76%
Fiat's 120bhp engine comes as standard but for an additional £800 the 140bhp unit (included on the test model) is worth consideration. The latest nine-speed automatic transmission is a rather more serious £2,699. Note that these are the latest, cleaner Euro 6 powerplants. The rattle-free ride further enhances the impression of a high-end build. These Sunlights ride on Fiat's Ducato Camper chassis, with its wider rear track, although be aware that there's a considerable step height to negotiate at the habitation door.
Details like the leather-trim padded steering wheel, chrome-ringed instruments and silver plastic trim around the vents give the cab a little lift. The multimedia system from Zenec (DAB radio, sat-nav, Bluetooth, reversing monitor, etc) was yet to be added to this test vehicle, but completes a decent specification, even if the Ducato is beginning to show its age next to the more contemporary designs and features of its rivals.
Daytime – 78%
The floorplan is straightforward for a 7.4m-long low-profile coachbuilt, with a rear island bed and a drop-down double over the lounge. On-site seating is the usual mix of swivelled cab seats, inward-facing single seat on the offside and a forward-facing double travel seat nearside.
The XV Edition comes with real leather upholstery, and you sit around a pedestal leg table, with reassuringly solid operation of the height and swivel adjustments. Windows may be in short supply, but it's light enough inside, while there's plenty of LED lighting for night-time. Truma's Combi 6E provides the heating and hot water. Note that there are steps up from the lounge to the cab and from the kitchen to the shower/toilet/bedroom.
Night-time – 83%
This really is a proper four-berth. The rear island double, with its storage and en suite facilities, must be the favoured bed; it's also bigger. A fillet for the head end pushes the overall length to 6ft 5in, and width is a pretty generous 4ft 11in. Storage includes twin wardrobes and overhead lockers along the back wall, with handy ledges each side of the bed and individual switched reading lights above.
There's just a standard rooflight overhead, but there are decent-sized windows, complete with cassette blinds and flyscreens, to each side. There's a rather thin, unlined curtain for the cab windows, so you might want to invest in some thermal screens.
The bed over the lounge is manually operated. It only drops down partially – there's a ladder for access – and it does block the habitation door.
Kitchen – 70%
The main kitchen unit is L-shaped, for optimum space efficiency. A three-ring gas hob (surprisingly, no spark ignition) and a circular sink dominate the worktop area – a unit that's crying out for an extension. Positioned below, Spinflo's Duplex oven/grill is a space-saver, while directly behind as you prepare your meals is that huge Thetford fridge-freezer with automatic energy selection. It's set at a convenient height, too, allowing for floor and ceiling lockers, the latter occupied by a folding slide-out bracket for the 22in flatscreen TV (that comes as part of the satellite system package included in this special edition).
Kitchen storage is good, with a cutlery drawer, floor-level drawer under the oven, single large overhead locker (shelved and divided) and a shelved locker that also incorporates a waste bin.
Washroom – 79%
Conventionally, an end bedroom usually necessitates the splitting of the toilet and shower facilities, and here you get a toilet room on the offside and shower cubicle on the nearside. The cubicle has double door access and a duckboard on which to stand while you're drying. It's fully plastic-lined and there's a hanging rail for wet things. There's a rooflight and two LEDs, while the showerhead is on a riser bar.
The toilet room door can also be used to create privacy from the rest of the living quarters. As well as a fixed corner basin and Thetford swivel-bowl toilet, storage and fittings in here are particularly good, with a tall, multi-shelved locker, a double-doored locker under the basin, two hooks on a rail (as per the kitchen), two fixed hooks, a toilet roll holder and two rails on the back of the door.
Details – 82%
First, the big one: the rear bedroom format allows for a decent garage – a generous, uncluttered area with hatch access from both sides. Then there are the smaller, but often just as important, aspects: net curtains for the side windows; the solid grab handle just inside the habitation door, where you'll also find two conveniently place coat hooks (plus there's also one on the door itself) and, at floor level, a shoe locker; curved locker doors with substantial hinges and simple, easy-to-use catches; two floor lockers; height-adjustable head restraints for rear seat passengers; Heki rooflight over the kitchen; direct and ambient lighting; the kitchen's two mains sockets, plus convenient under-worktop location for the gas isolator taps. Phew!
No motorhome has it all, of course, but it's hard to find anything that's obviously missing from this Sunlight. Only the main touch control panel looks a bit low-rent.
Verdict – 79%
It's a much-favoured floorplan these days. You'll get island beds in motorhomes from a wide range of manufacturers, at varying prices, but bargain hunters who don't want to compromise on quality could well be interested in this special edition.
More like this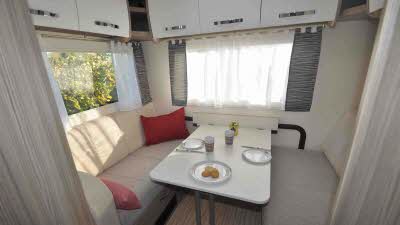 By Nick Harding
04/01/2019
Nick Harding checks out a competitively priced option from Spanish brand Benimar