Swift Escape 604
The Swift Escape 604 is certainly competitively priced for a four-berth compact coachbuilt at under £50,000. Nick Harding assesses whether it offers good value for money.
Anything with a price tag under £50,000 can be classed as value in terms of a brand new motorhome. The Swift Escape 604 fits into that category and at a sub-6m overall length it also qualifies as a compact coachbuilt. There's a nine-model Escape line-up and the 604 sees Swift cashing in on what is becoming more than just a fad for drop-down double beds.
Review from the February 2018 edition of the Club Magazine
Build quality – 70%
Swift's SMART construction features double GRP-clad sides, all GRP front pod and rear back panel, HD polystyrene insulation
and polyurethane blocks where in the past wood would have been used – it's a rather neat-looking vehicle. There's a nice radius to at the back, with minimal overhang beyond the rear wheels auguring well in terms of handling. There's no disguising its height, though – at 2.91m (9ft 7in), it's taller than many low-profiles. There is also an extra step at the habitation door, with Swift opting for a free-standing plastic unit rather than a fold-out design.
The 604 has a generous payload, so it's hard to see anyone wanting the 3,650kg chassis upgrade option (which costs £99). Even the Comfort Pack only swipes some 16kg and I'm happy to wager that not a single Escape will be sold this year without this particular bundle of goodies, which features cab air conditioning, opening sunroof over the cab, passenger airbag, windscreen blind, Status 570 TV aerial, reversing sensors, en-route Truma heating, winterisation (waste water tank heater, underfloor pipe insulation, fridge vent covers) and more. That costs £1,695.
SwiftShield upholstery is another £450. Other extras include satellite TV system from £2,248, habitation air conditioning (£1,500), detachable towbar (£595), cycle rack (£288) and awning (£795). A £95 subscription for the pre-installed Swift Command tracking system seems a good deal.
The windowless habitation door is the biggest giveaway that this is a 'budget' model, and considering that the drop-down bed means you lose out on daylight over the lounge, the lack of an extra window pane is a shame.
Driving – 75%
Is there anything left to be said about the Fiat Ducato base vehicle? 'Proven' sums it up. In standard chassis-cab format here, it comes with the latest Euro VI 130bhp engine allied to the easy-going six-speed manual transmission, with Comfort-Matic robotised automatic transmission the only available upgrade.
It's all highly capable, especially when being asked to power a compact coachbuilt like
the 604. Take it relatively easy and you should be looking at 30mpg economy. You get the latest captain's style Fiat cab seats with adjustable height and two armrests each, and the standard Ducato dashboard, plus details such as 12V and USB sockets. There's a slight step down from the cab to the rest of the living quarters. The rear travel seat is rather upright and lacks headrest adjustability (taller folk, take note).
Daytime – 76%
Swift has had time to study the form – nearly every imported mainstream marque has a front lounge/drop-down bed formula on offer. If you want something a bit 'British' – habitation door on the nearside, better-equipped kitchen, cosier lounge – the 604 has it covered.
Of more concern – to me, at least – is the table arrangement. First, it's a single pedestal leg design, which is never going to score highly for stability. There are points for having a dedicated locker nearby for stowing the tabletop and its slide-in extension section, but the leg itself is relegated to the wardrobe in the washroom.
Also, converting the lounge from travel mode to L-shaped settee is probably not something you'll want to do on a regular basis.
Night-time – 74%
With multi-height manual adjustability and ladder access, it should be a relatively straightforward task to get the drop-down bed to your preferred location. That could depend on whether you want to use the double bed made up from the downstairs seating as well.
Unfortunately, the prominence of the lockers on the underside of the dropdown prevents you from using the lounge once its lowered. There are no qualms about the upper bed's comfort but a single striplight for the occupants is a little disappointing.
Kitchen – 80%
What looks initially like a rather restricted kitchen will surely prove itself with use. There's a Thetford cooker comprising a three-burner gas hob and a combined oven and grill. The circular sink has a lever-operated mixer tap, and there's an add-on plastic drainer plus flip-up worktop extension to the right of the hob.
Other kitchen kit includes a microwave oven, two mains sockets and two mini lights (but nothing directly over the hob). As for storage, there's a large, shelved locker under the sink (which also houses a cutlery drawer),
a single overhead locker with racking for crockery and cutlery and a large drawer followed by a floor locker under the oven/grill.
Across the galley is a 138-litre slimline fridge, set at a convenient height and with locker storage above and below.
Washroom – 78%
Angled for extra space, this is a full-width washroom. Storage is excellent thanks
to a second wardrobe as well as a locker adjacent (large enough to take clothing and/or spare towels, etc), with a further locker under the basin. There's also some handy ledging around the fixed basin, plus a high-level towel rail.
The separate shower cubicle has bi-folding doors and an Ecocamel Orbit showerhead, with water-saving trigger operation. Thetford's ubiquitous swivel-bowl toilet makes an appearance here. Ventilation is courtesy of
a rooflight and a clear window.
Details – 65%
No doubt about it, this Escape (with all-important Comfort Pack) has the kind of specification that, even a few years back, would have signified a premium product. Worthy of note are fittings such as the easy-to-operate locker door catches, TV bracket, small (but still handy) exterior-access locker etc.
Interior lighting is all-LED of course. They're mainly neat mini downlighters, but Swift determinedly sticks with the flexi paddle lights over each cab seat – it would be even better if they were just a bit less floppy. Topping all this is Swift Command, the app that puts full control of your motorhome's facilities – heating, lighting, fridge, water and power levels – in the palm of your hand.
Verdict – 74%
Ideal for two, and the 604 can cope with four. For a compact coachbuilt with a drop-down double bed at a keen price, Swift has nailed it, and with a few common-sense tweaks it would be even better.
More like this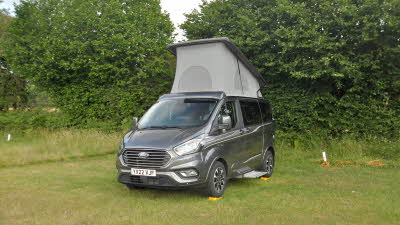 by Nick Harding
06/10/2023
Nick Harding takes a look at the award-winning, four-berth Monza