Swift Escape 640
Nick Harding takes a closer look at a stylish new addition to the popular Swift Escape range which can sleep four but is arguably better for two.
With a starting price of £69,895, the new-for-2022 640 kicks off the five-model Swift Escape range. Although many will appreciate its four-person capacity, there's no doubt most interested parties will be couples. Let's have a closer inspection...
BUILD QUALITY – 79%
The 640 is an inch short of being a 23-footer, which these days is the average length for a coachbuilt motorhome. Escape cabs come in one colour choice – Iron Grey Metallic. Black alloy wheels complement the look, while nice use of graphics – including rather classy raised decals – give the whole vehicle a further lift.
Its good looks are not just skin-deep. The walls and roof are made of highly durable GRP, and the main framework features polyurethane blocks that are impervious to water. Styrofoam insulates the floor; polystyrene the walls.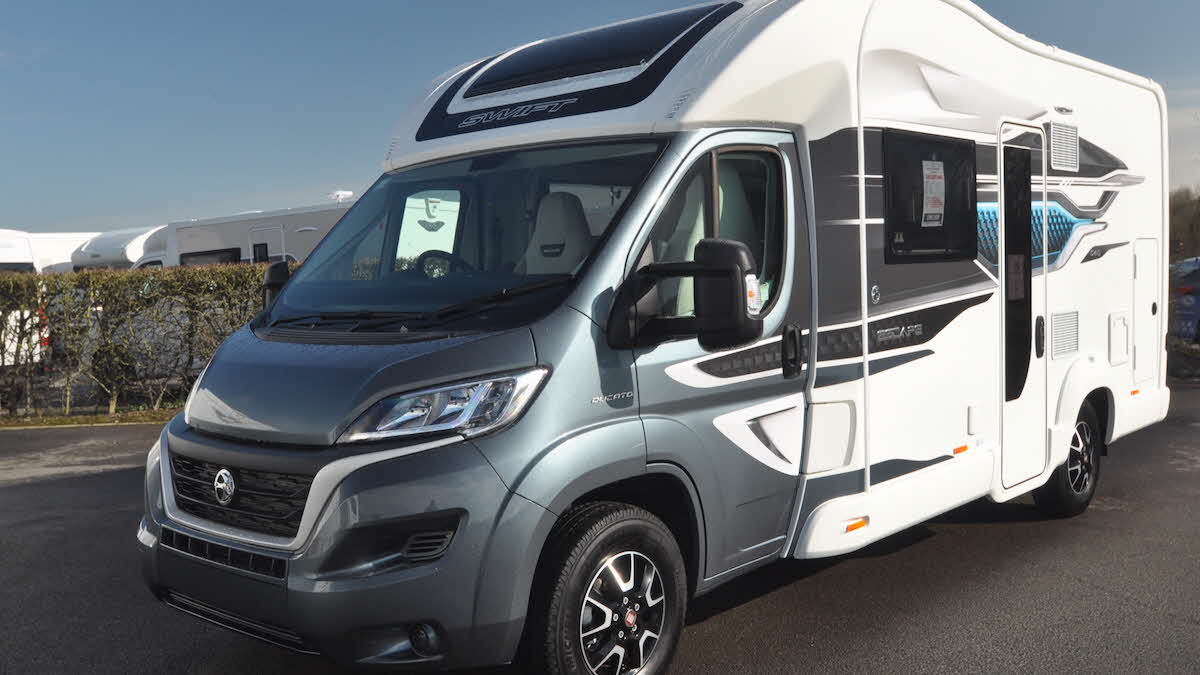 It's worth noting that the habitation door, at 60cm, is that bit wider than many, while the waste and fresh water outlets boast solid, wide pipes.
There's an opening sunroof over the cab, while you'll find fixings for a bike rack at the back. Not that you'll necessarily need the latter: the 640 also boasts a decent-sized garage.
A 3,700kg chassis upgrade is available if you'd like an extra 200kg of payload.
DRIVING – 80%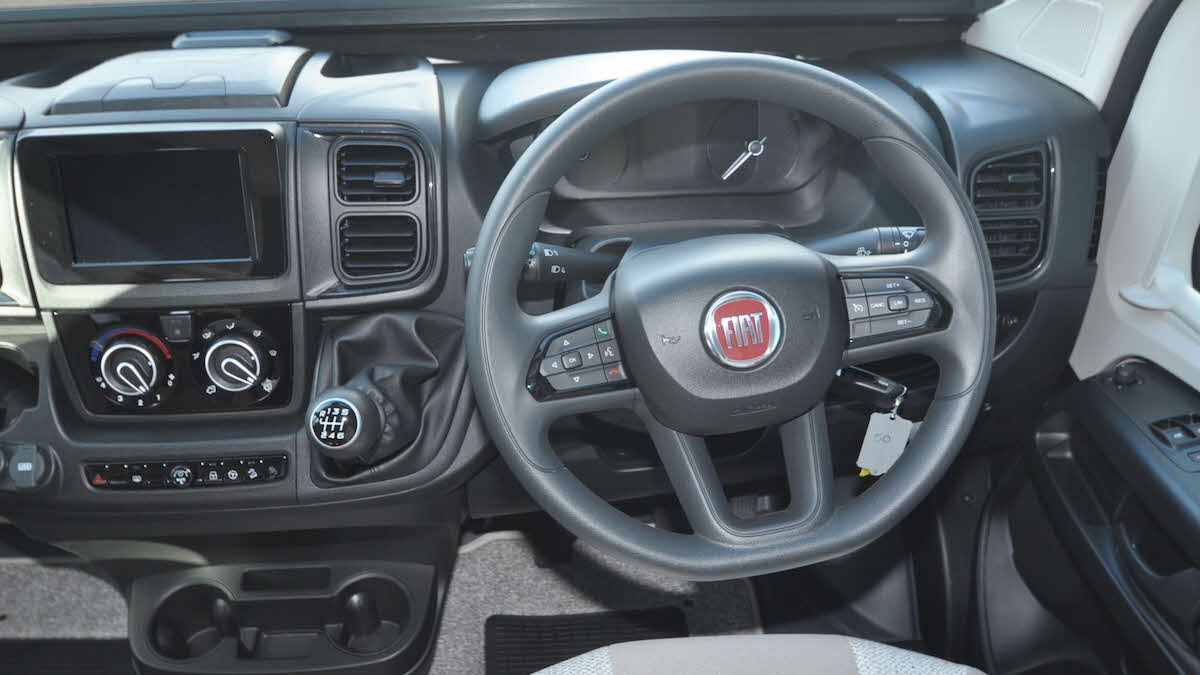 Under the bonnet is Fiat's latest, environmentally friendly, diesel 2.2-litre engine. While the standard 140bhp unit should be sufficient for most, upgrades are available that offer not only more power, but also Fiat's latest, rather impressive (though very costly) automatic transmission.
Add enhancements such as Anti-Slip Regulation, Rollover Mitigation and Hill Holder – along with Fiat's Eco Pack, comprising stop/start system, smart alternator and an energy-efficient fuel pump – and you have a great base vehicle.
Swift has the base vehicle standard equipment spot on, too. Air-conditioning, an infotainment system (including DAB radio and a 7in touchscreen) and a reversing camera are all included.
Four people can travel thanks to the fold-up single, forward-facing seats in the base of each settee. You do, of course, lose storage with extra passengers, but it's a great option to have.
DAYTIME – 78%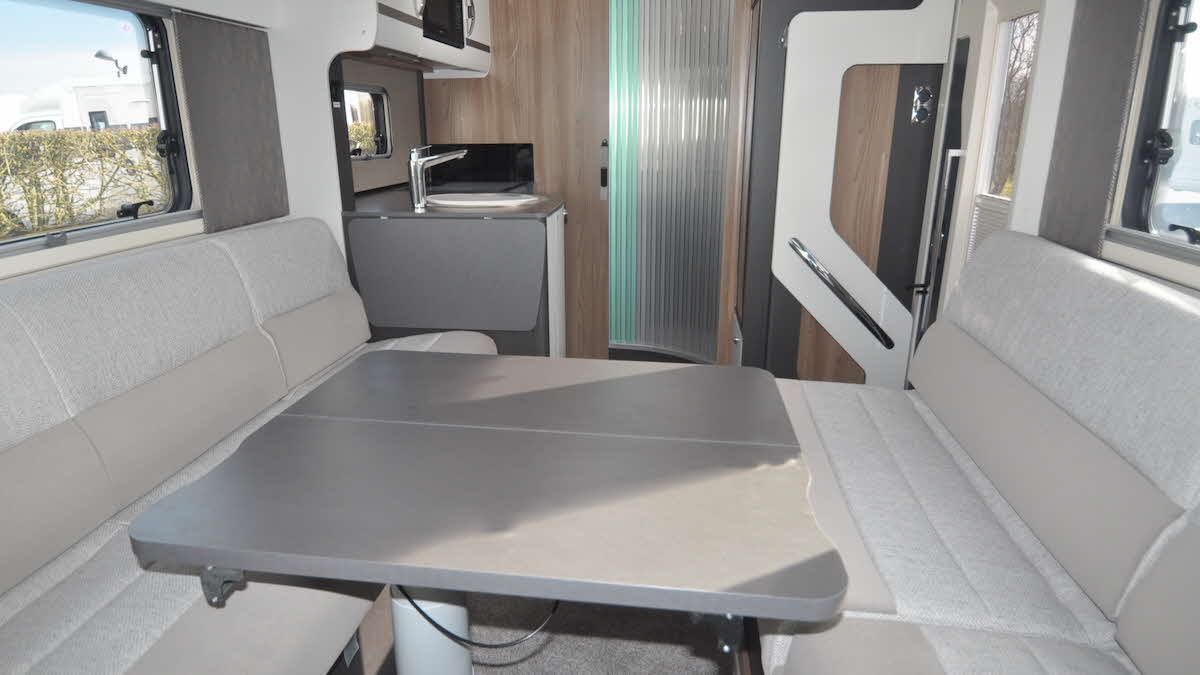 With its two settees and cab seats on swivels, it's a standard enough front lounge arrangement, albeit with a light, modern look. There's a good-sized table on a fixed pedestal leg that adjusts electrically for height as well as manually, fore and aft. The tabletop is hinged down the middle, too, so you can fold it over to ease movement around the lounge.
Side windows are a decent-size double-glazed acrylic, with concertina blinds and flyscreens. Plastic mouldings, along with padded sections at the sides of the lounge windows, help maintain a modern feel. Furniture is from Italian specialist manufacturer, Tecnoform.
There's seemingly no shortage of reading lights and USB ports, while removable carpet sections are stored underfoot. Truma's Combi system provides the heating and hot water.
NIGHT-TIME – 80%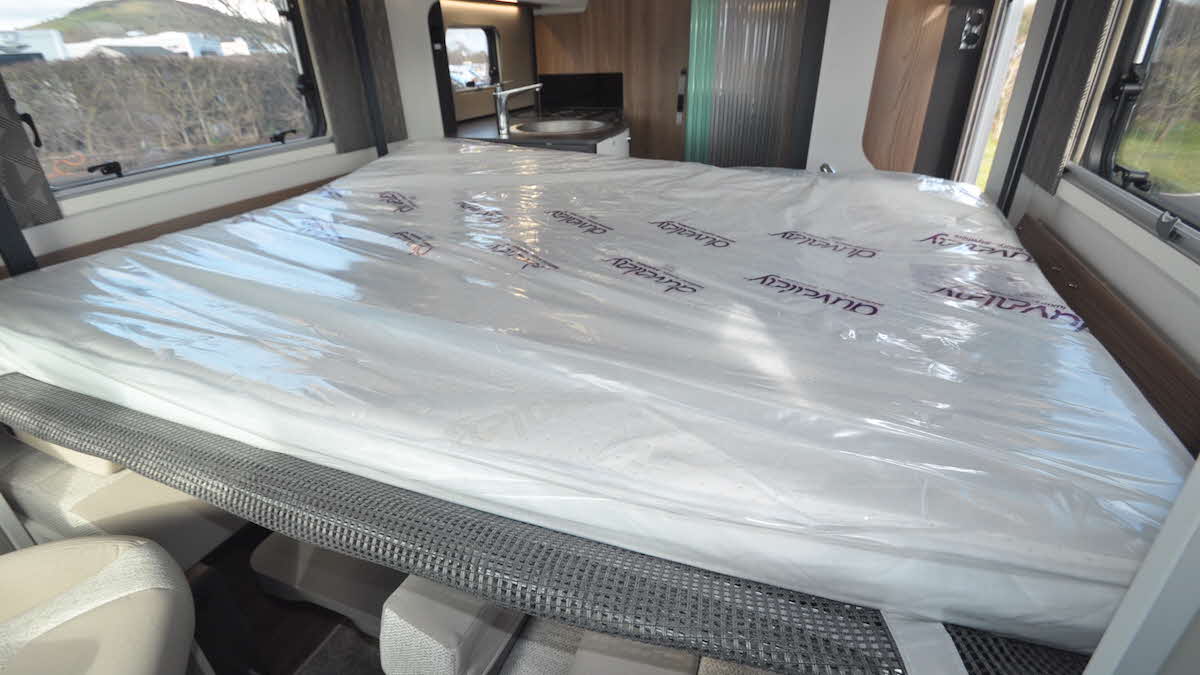 Offering all the comfort of a permanent double (maximum dimensions are 1.89m x 1.50m), it's the electric drop-down bed that makes the 640 so space-efficient during the day. It's very easy to put into place – you just need to remove the settee backrests and, possibly, lower the table. If one of you wants to lie in while the other sits in the lounge, just adjust the bed height accordingly.
Needless to say, the other double – made from a comprehensive rearranging of the lounge seating – isn't so easy to set up, nor as comfortable.
KITCHEN – 72%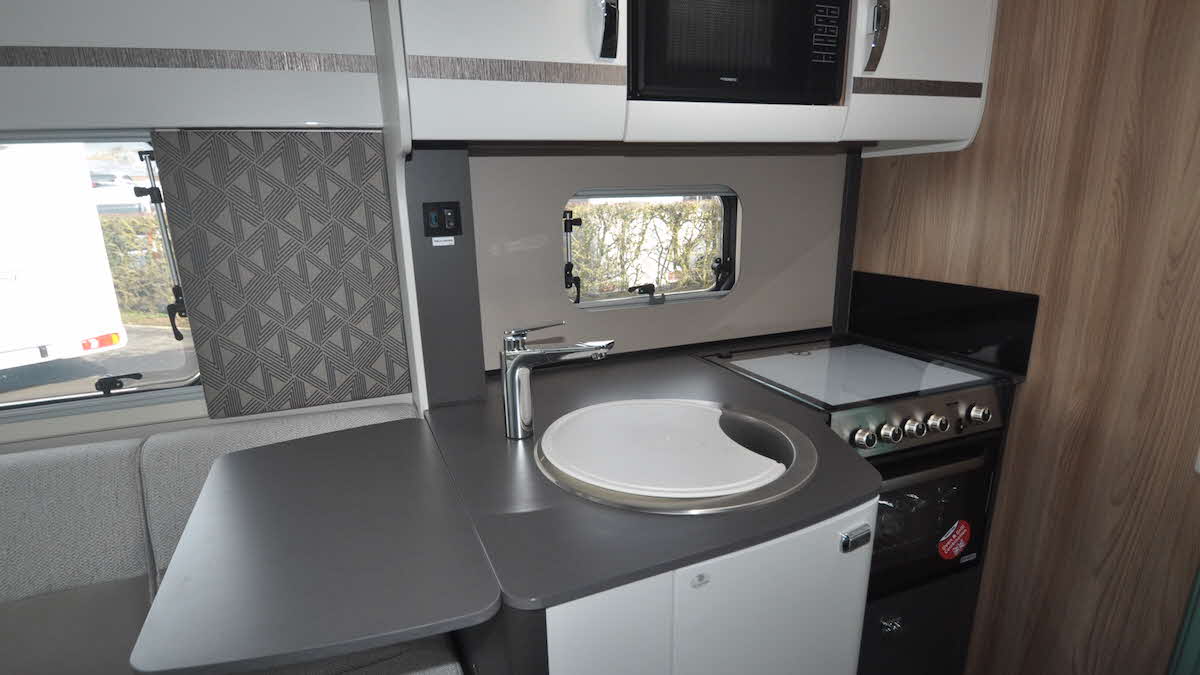 Located towards the back on the offside, the slight L-shape to the main unit here creates more worktop and lower-level storage space. There's a Thetford Triplex Plus cooker with three gas rings and an electric hotplate, as well as a combination oven/grill. The large stainless steel sink has a loose cover that can also be used as a chopping board, plus there's the usual add-on plastic drainer.
The extended cupboard unit below – home to the drainer and sink cover when not in use – contains shelves and a pull-out cutlery tray.
Higher up there's a microwave oven flanked by lockers – the one on the right is home to a plate rack.
Across the corridor is a slimline, 133-litre Dometic fridge with removable freezer box, as well as dual hinges so you can open it from either side. Adjacent to the fridge is a neat little folding hook.
WASHROOM – 81%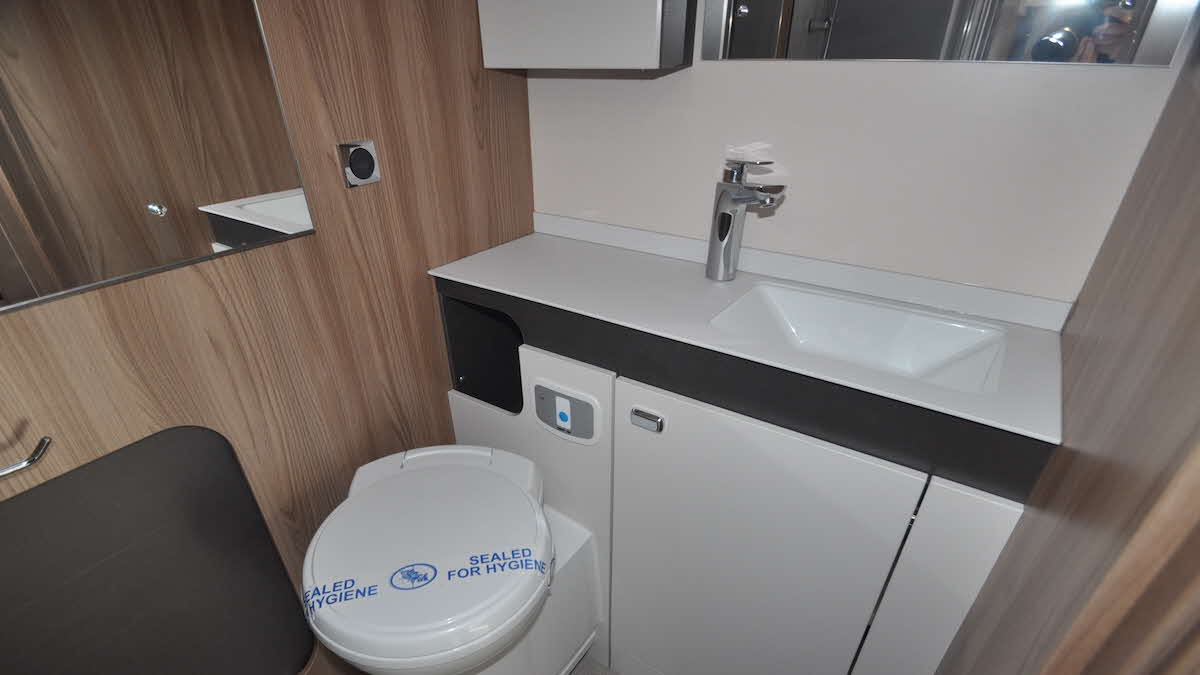 It's all change in the washrooms for these latest Escapes. Step up into a generously proportioned space, complete with fixed inset handbasin, good-sized wall-mounted mirror, swivel-bowl toilet and separate shower cubicle with Ecocamel showerhead on a riser bar. There's an integrated storage space for your toiletries.
There's good storage in here, too: the locker under the basin is shelved, there's a cubby beyond the toilet and to its left is another locker with shelving.
Along the back wall of the vehicle, large mirrors open to reveal a simply huge wardrobe, with hanging rail (admittedly, not full height) and shelving to three sides. Surely nobody takes this much clothing with them on tour? Beneath the clothes store, a sliding door gives internal access to the garage area.
Just the one drainage point for this shower is the only minus.
DETAILS – 78%
Everything you need is here: 100W solar panel; directional TV aerial; rooflight over the kitchen; smoke alarm and carbon monoxide detector. The main control panels and a selection of sockets are neatly positioned over the habitation door, while the door itself has a window with concertina blind, plus a waste bin and even a small inset shelf. The underslung, winter-protected fresh and waste water tanks – 90 and 68 litres respectively – have electrically operated drain valves.
VERDICT – 78%
A very welcome addition to an already impressive 2022 line-up. Great for two; can cope with four – and all with a bit of style
More like this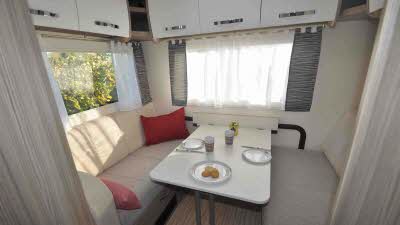 By Nick Harding
04/01/2019
Nick Harding checks out a competitively priced option from Spanish brand Benimar