Swift Kon-tiki 649
The Swift Kon-tiki 649 offers space aplenty at more than 9m long and can happily sleep six people but does it offer value for money considering a price tag close to £100,000? Nick Harding checks it out.
Last time I looked at a Swift Kon-tiki 649, back in 2017, I mentioned that everything about it was big… except for one part. For such a mighty motorhome, the fridge was on the small side. Well, that's been well and truly addressed.
A complete overhaul of its flagship Kon-tiki series at the start of the 2019 season saw Swift retain the 649 format among a total of nine variants. It's even bigger now, too, rocking up at a centimetre over 9m long, which means more living, storage and – yes – fridge space.
Build quality

– 80%
There's no denying the dramatic looks, especially at the front end, where, rather than a more traditional overcab lump, the latest Kon-tikis boast a more swept-back, streamlined design. (The 649 is an overcab-only offering – all other models in the range are offered as both low-profiles and overcabbers.)
The range benefits from Swift's all-GRP SMART construction, with additional premium fittings such as flush-fitting windows, semi-recessed awning, alloy wheels and more.
It all comes on Al-Ko's double-floor chassis, coupled to Fiat's Ducato Maxi cab in metallic black. This is a motorhome for all-seasons use, especially as it boasts a fully-programmable Alde central heating system that extends to underfloor heating in the seating areas. The floorplan doesn't allow for a garage, although there is side-to-side access at the back, plus other external lockers (and a drawer).
Driving – 84%
Tech-savvy motorhomers rejoice. Piloting this behemoth is certainly helped by Swift Vision, which includes cameras monitoring both sides and the rear. Also standard are ESP with hill-hold, traction control and hill descent – all helpful handling features.
Kon-tikis start with the 150bhp version of Fiat's 2.3-litre engine, but you can't help feeling that the 180bhp upgrade (as tested here) is worth having, despite the £2,345 premium. Pay £4,095 and you get both the more powerful engine and Comfort-Matic automatic transmission. Heated cab seats are standard, too – a real boon.
Daytime – 85%
Space and luxury combine here in a 'Brit-friendly', two-lounge floorplan. Up front, there's a four-seater dinette with fixed-pedestal-leg table, complemented by a short settee. Both cab seats swivel, although only the passenger's can feasibly play a part in the lounge setting.
The larger, arguably more relaxing, U-shaped lounge is at the back. Here, the arrangement of windows differs from the norm: there are two side windows and a Heki rooflight, but there's no opening window on the back wall, at least not in the usual location. Instead, there's a high-level, fixed window arrangement, called 'Stargazer'.
With lots of padded linings and a wood-effect panel (with a double USB socket) inset into a plastic moulding section, rather than a lower level rear window, it may well seem extra cosy to some people and claustrophobic to others. The area is genuinely spacious, though, and the seating boasts good support, with superior quality upholstery and four scatter cushions.
Both lounges have LED reading lamps, individually switched and with a dimmer function, plus ambient lighting strips over and under the upper lockers. There are holders and sockets to add flatscreen TVs. The free-standing table for the rear isn't the largest, but it's light and easy to manoeuvre, stowing for safe travel in a dedicated locker handily nearby.
Storage, inside and out, is simply immense. Also, I counted eight mains sockets, supplemented by USBs and 12V outlets.
Night-time – 79%
Unusual indeed to have a motorhome this size without a permanent bed, but that's a bit of a British thing – arguably, we do spend more 'living' time in our 'vans than those on Europe's mainland, hence we want as much living space as possible.
What you do get is a decent (6ft 3in x 4ft 5in) overcab bed on hinges, so you pull it down into position before adding a ladder for access.
The rear is the next obvious sleeping area, with pleated divider for privacy. Here, you can have twin (6ft 4in) singles or a massive double.
The third double, from the dinette seating, is equally impressive in its 6ft 8in x 4ft 5in dimensions. When set up it does prevent access to the overcab bed via the ladder.
Kitchen – 83%
Ah, that fridge! Fridge-freezer, in fact. There's no arguing with its 190-litre capacity now, and its doors are engineered to open from both sides. This is more than just a party trick – it means access is easy whether you're reaching across from the kitchen or the rear lounge. A microwave oven is set above it, a location that hopefully won't be too high for users.
Across the corridor, the main kitchen unit runs along the nearside. There's a full cooker (dual-fuel hob, separate oven and grill) far right, with a neatly integrated extractor unit above. A stainless steel circular sink is to the immediate left of the hob, set into the Corian worktop. Beyond is an acrylic splash panel. Such is the expanse of worktop space there's no need for an extension.
The Alde central heating/hot water boiler takes up much of the low-level kitchen storage, but there are soft-close drawers and overhead lockers. Should you want further kitchen storage, the wardrobe to the left also houses a trio of slide-out wire baskets.
Washroom – 76%
Initially, the washroom seems slightly constricted. That's because priority has been given to the shower cubicle – all plastic-lined, with step-down access via a bi-folding door with a rather nifty travel catch. There's also an Ecocamel Orbit water-saving showerhead in here.
The fixed corner basin is small, but deep, and a swivel-bowl toilet takes centre stage. There's no window, although there is a larger-than-average rooflight. Two lockers provide the main storage, both with shelving, plus there's a good choice of hooks and holders.
Details – 78%
With a standard specification roster that goes on and on, there really is too much to list here. Highlights not already mentioned include DAB cab stereo, 120W solar panel, twin 100Ah leisure batteries, Swift's exclusive Command control system (including tracker and app), Winter Pack…
It would be nice to see some of the wiring at the backs of lockers tucked away, ideally out of sight… indeed, you'd surely expect full-lined lockers when you're this far upmarket. Some of the interior plastics still feel a bit flimsier than you'd expect in a motorhome that's close to £100,000.
Verdict – 81%
This is a big motorhome that waves the flag for British manufacturing. These latest Kon-tikis move up a class, where competition is keener than you might expect. The very UK-friendly floorplan, plus that all-consuming overall specification, will see the 649 winning many friends.
More like this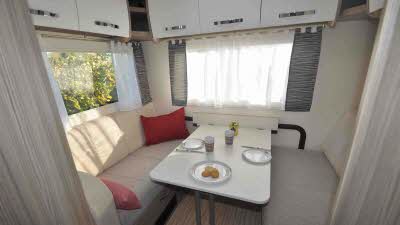 By Nick Harding
04/01/2019
Nick Harding checks out a competitively priced option from Spanish brand Benimar