Caravan and Motorhome Club reopens three sites following investment
16/10/2018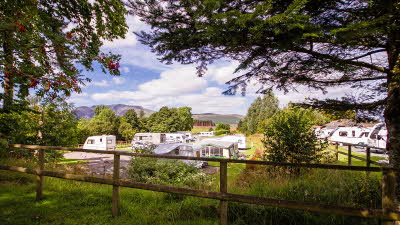 Troutbeck Head Club Site (pictured above) in Cumbria reopened on 3 August and the redevelopments include refurbished washroom facilities, brand new all-weather pitches for vehicles across all seasons, increased car parking spaces, new service points and new-style motorhome and campervan waste disposal points – for that all important easy drive-over waste disposal option! The popular Troutbeck Head Club Site in Penrith is set in classically beautiful North Lakeland countryside; it's a fabulous getaway for nature lovers and walkers and yet is only four miles from the restaurants and shops of Ullswater.
Buxton Club Site situated in Derbyshire will reopen its doors on 16 August. Changes include a new reception area and washroom facilities, a new dog and bike wash area and ten new hardstanding pitches and complete roadway resurfacing for easier site access. The Buxton Club site is within walking distance to the pretty town of Buxton and is surrounded by the superb Peak District National Park. With its extensive network of cycle ways and walks, this is the ideal destination to see the best of England's rolling landscapes.
Say hello to autumn and be one of the first to visit York Beechwood Grange Club Site which reopens its doors on 7 September. Changes to the site include new service points, an improved drainage system across the site, a new dog wash area and new washroom facilities, including a new family room for babies and young kids. Situated in open countryside just outside York, the caravan site is a family favourite, ideal for exploring the historic city or for discovering Yorkshire's many varied attractions further afield, and at the end of the day there's also plenty of space for children to play.
Harvey Alexander, marketing director of the Caravan and Motorhome Club, said: "We're so pleased to be reopening some of our most popular sites and showcasing the new developments for members to enjoy. As always, we have invested in these sites with our members' views at the forefront."
"As a Club our priority is to ensure that we are offering our members the best possible amenities so they can enjoy their adventures safe in the knowledge that they are staying in top quality Club sites. Many of our ongoing upgrades are done as a result of listening to members and refining our product offering to ensure we are giving them the facilities that they want and need."
Sites updated in 2018:
Abbey Wood – open all year, remaining open throughout works
Alderstead Heath – open all year, remaining open throughout works
Bridlington – open all year, remaining open throughout works
Buxton – reopened August 2018
Hebden Bridge – reopened March 2018
Meathop Fell – reopened March 2018
Pembrey Country Park – reopened March 2018
Penrhos – reopened March 2018
Tewkesbury Abbey – reopened July 2018
Thetford Forest – reopened March 2018
Troutbeck Head – reopened August 2018
York Beechwood Grange – reopened September 2018
Fore more information on the Club's site redevelopments, visit www.caravanclub.co.uk/whats-on/caravan-club-news/