Caravan and Motorhome Club Certificated Location of the Year Awards 2020
19/11/2020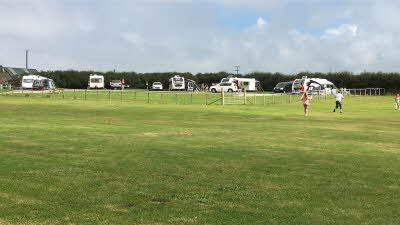 The Caravan and Motorhome Club is delighted to announce the winner of its Certificated Location of the Year Award 2020 is Woody Kiln Farm situated in Milford Haven in beautiful Pembrokeshire; Woody Kiln also claimed the title in 2016.
Second place was awarded to Sorbie Primary School in Dumfries and Galloway and in third place, Cholsey Grange n Buckinghamshire. The Best Newcomer accolade was won by Goodleigh Hill in Worcestershire.
Certificated Locations (CLs) are privately-owned, maximum five-pitch sites found across the UK, open exclusively to Caravan and Motorhome Club members. Many CLs are found in idyllic and remote locations such as farms, country estates and beside inns and they can provide a valuable, additional income stream for local communities. The sites entered for the CL of the Year Awards are nominated by Club members, recognising the very best sites and rewarding hard-working owners who pull out all the stops for guests. The Caravan Sites and Control of Development Act (1960) enables the Caravan and Motorhome Club to grant certificates to landowners to operate CLs.
Nick Lomas, Director General of the Caravan and Motorhome Club said: "The Certificated Location (CL) of the Year Awards celebrate owners who truly go above and beyond to give visitors the very best holiday experience. Our network of around 2,300 CLs provide Club members with the opportunity to stay at unique locations throughout the UK. CLs are the jewels in the crown of our nationwide campsite network and we are delighted that over 80 new CLs have joined the network this year. I'd like to congratulate all of the winners and wholeheartedly thank our CL owners for their hard work and dedication that helps to make lifelong holiday memories for our members."
More about the winners:
First Place -
Dean and Sharon Philpin opened Woody Kiln Farm CL in August 2015, the month after they celebrated their wedding in a Marquee where the Caravan pitches are! The farm was owned by Dean's parents before he took over the running of it with his wife Sharon and daughter Eryn. Woody Kiln Farm is set on a small Farm in the heart of the Pembrokeshire National Park – the only coastal National Park in the UK.
Dean and Sharon Philpin commented, "Our aim is for visitors to be enjoying their holiday, relaxing and to be connected to all services within 20 minutes of arrival. Visitors tend to really enjoy the farmland, which can be accessed for a daily stroll, or to exercise dogs and totals over 10 acres which is all lawned. This includes a large pond, which has ducks, moorhens and swans at different times of the year."
All pitches are surrounded by peaceful paddocks where horses and sheep graze. There is a small orchard adjacent to the park and guests are welcome to sample the fruit. The site operates with hardstanding pitches which are well maintained. The site also offers facilities which are commonly found on larger sites - such as 16 amp electric hook-up, fresh water tap with screw fitting, satellite and terrestrial digital TV points and Free Superfast Wi-Fi.
The site is an excellent base for exploring the vast attractions within the Pembrokeshire National Park. With over 950 km of public footpaths, walking is an excellent way to discover the spectacular scenery, abundant wildlife and fascinating history that Pembrokeshire offers. A sandy beach is 20 minutes walk away. There is a local shop and public house within 500m of the site.
The site is in a perfect location for exploring the spectacular wildlife around the Pembrokeshire coastline. The coastal path is accessible by foot, which is a 10 minute walk from the site. The islands of Skomer, Grassholm, Ramsey and Skokholm will enable you to experience the incredible breath-taking sights of Puffins, Guillemots, Gannets and Razorbills, along with a host of other birds and wildlife including seals and dolphins.
Haverfordwest is an attractive and ancient town (seven miles away) which has a great variety of shops in the town and the outlying retail parks. Nearby are the historic seaside towns of Pembroke and Tenby – probably the most iconic seaside town in Wales. It was awarded a Silver award for the best UK coastal resort at the British Travel awards in 2014.
The site is on a bus route which gives visitors access to many of Pembrokeshire's Villages and Towns, and the village also has a cycle path to the nearby town of Milford Haven. From here, you can access cycle path links to the National Cycle Routes.
Dean and Sharon Philpin continued, "We have continued diversifying from agricultural activities and in August 2019 set up a Hair and Beauty Salon in a traditional stone building just outside the grounds of the CL. This has been incredibly popular with visitors – to the degree that a number of our visitors book on the CL and stay to coincide with hairdressing appointments."
*****************
Second Place - Sorbie Primary School, Wigtown Road, Sorbie, Newton Stewart, Dumfries and Galloway, run by Sue and Les Barrow
Sorbie Primary School CL is situated in the grounds of the former primary school in the centre of Sorbie, a very peaceful and friendly village.
The site is Adult Only for that perfect secluded and peaceful getaway. The CL boasts great views and an abundance of wildlife, deer, foxes, badgers and numerous birds. The site lies immediately to the south of the Galloway Forest Dark Sky Park and on a clear evening you'll see more stars than you could ever count and a wonderful look at our Solar System.
The site is situated in a very central location which is served by a local bus route to nearby Newton Stewart, Garlieston, Whithorn and Wigtown which all have lots of things to discover, and a great location to explore the surrounding areas, also a perfect stop over on your way to the ferry at Cairnryan or for your travels up the west coast.
There are many activities in the surrounding area; the cycling centre at Kirroughtree has a 7stanes mountain bike course and some lovely walks, as well as being a recognised Stargazing Site. There is also Laggan Outdoor Activity Centre about a 30 minute drive away.
Sue and Les Barrow commented, "We're originally from Manchester and we bought Sorbie Primary School in 2017 and opened our CL Site in April 2019. We're motorhomers and we always thought we would love to run our own CL Site. From our own experiences we feel we have provided a site that has a bit of a "wow factor". Sorbie Primary School CL has beautiful views and an array of wildlife, if peace and quiet is what you are after then we are perfectly situated. There are some great cycle routes and walks, also local fishing and some beautiful beaches nearby. There's also an award winning Italian restaurant 100yards from our site and a great pub which offers home cooked food just a few miles from the site."
*****************
Third Place - Cholsey Grange, Ibston, High Wycombe, Buckinghamshire, run by Jackie and Ted Howard-Jones
Cholsey Grange offers fabulous views of the Chiltern Area of Outstanding Natural Beauty from 5 fully-serviced hardstanding pitches. It is the ideal location for a holiday in the beautiful Chiltern Hills. A warm welcome awaits you at Cholsey Grange.
Jackie and Ted Howard-Jones commented, "We aim to provide a first-class experience to our visitors and have consequently invested in facilities based on their feedback and we spend time meeting new arrivals, advising them about the locality and responding to enquiries."
Jackie and Ted Howard-Jones offer mapped walks around the farm and longer walks taking in local (dog friendly) village pubs and landmarks such as the Chitty Chitty Bang Bang Windmill. There are also plenty of lovely local pubs and restaurants to visit in the evening.
On the farm there are horses, sheep and chickens (fresh are eggs normally available). Wildlife is abundant and there are frequent sightings of Red Kites and Fallow Deer and you can often hear the Barn Owls.
Apart from admiring the view and watching wildlife there is plenty to do nearby that will cater for all taste. Explore neighbouring villages where TV Series and films such as 'Endeavour', 'Killing Eve', The Vicar of Dibley', 'Midsomer Murders', 'Goodnight Mr Tom' and 'Chitty Chitty Bang Bang' were filmed.
There are many National Trust properties nearby including Nuffield Place, Grey Court, West Wycombe, Cliveden and Waddesdon. For families, the site is close to the Roald Dahl museum, Bekonscot model village, Legoland and Thorpe Park. The 'Rush' Trampoline centre in High Wycombe is popular with teenagers as is the 'Go Ape' zip-wire course in Wendover.
Local towns such as Henley-on-Thames and Marlow provide lots of interest and walks alongside the River Thames and you can also visit Garsington Opera, Henley Regatta or Henley Festival. Oxford and Reading are both within 30 minutes and West London is just 40 minutes away from High Wycombe train station.
*****************
Best Newcomer - Goodleigh Hill, Pershore, Worcestershire, run by Emily and Matthew Horton
Goodleigh Hill CL is an ideal location as a base to explore South Worcestershire and the North Cotswolds.
The site provides a safe and short walking distance to the town of Pershore, a delightful Georgian town on the banks of the River Avon.
The town attracts many visitors throughout the year to its events, particularly the Plum Festival, Mid-Summer Brass and Jazz Festival.
There are plenty of lovely local eateries and pubs nearby. The nearest being an eight minute walk from the site. Also within short distance are the beautiful villages that nestle the 19 mile loop of Bredon Hill including the Cotswold Stone Kemerton, Conderton and Overbury.
The site is convenient for the Malvern Hills and the Malvern Spring and Autumn RHS shows, Broadway (Northern Cotswolds), plus the towns of Worcester, Cheltenham and Stratford-upon-Avon.
To find out more about Club membership and its campsites, and to view all its advice for first-timers, visit www.camc.com and Discover your CL.
- Ends -
Notes to editors
About the Caravan and Motorhome Club
Champions of the great outdoors – from glamping to touring – the Caravan and Motorhome Club represents the interests of around one million caravan, motorhome, campervan and trailer tent owners across the UK. Founded in 1907, the Caravan and Motorhome Club has a wealth of experience and prides itself on offering great value and high quality campsites for tourers and glampers.
Caravan and Motorhome Club membership is just £54 per year and provides members with access to 2700 quality campsites in the UK and overseas. The Club offers over 340 campsites across 16 countries in Europe including France, Spain and Italy amongst other destinations. Stays at these sites can be packaged with great ferry offers to create holidays that are protected by ABTA. The Club also offers a range of escorted and independent tours in Europe, Australasia, North America and Southern Africa, all of which are protected by ABTA. All members can take advantage of expert advice, overseas travel services, cover and insurance and exclusive member offers and discounts.
The Club offers a choice of glamping accommodation, motorhome hire and tent camping through its Experience Freedom operation, all of which are available to non-members. Caravan and Motorhome Club members receive a 10% discount on glamping and 15% discount on motorhome hire. To find out more about Experience Freedom, visit www.experiencefreedom.co.uk
Covid-19
The health and safety of members, guests and local communities, is of paramount importance to the Club. As more and more members are able to get out and enjoy the great outdoors through the Club's network of campsites, the Club is asking everyone on site to play their part and participate in a voluntary COVID self-health check before arriving on campsites. They must ensure that they are not experiencing any symptoms that are COVID-19 related, including a high temperature, a new continuous cough, or a loss or change to sense of smell or taste. They must also not visit any campsites if they have been in contact with someone with confirmed or suspected COVID-19 symptoms who has not completed 14 days isolation or if they are under any self-isolation orders.
For further information about becoming a member of the Caravan and Motorhome Club, please visit www.camc.com or call 01342 318 813.