Barco Reale
Via Nardini 11, Lamporecchio (Pistoia) , Lamporecchio, 51035, Italy
View on map
Why stay here ...
Situated in the hills of Montalbano, with magnificient views of the valley below the site. Enjoy the panoramic views from the swimming pool with a delicious ice cream from the on-site ice cream cabin and taste some of the declicious local cuisine at the popular on-site restaurant.
This site is perfectly situated for discovering some of the most beautiful and historic towns of Tuscany: Florence and its stunning Cathedral, Vinci the birth place of Lenardo where his home is now open as a museum, Lucca with its moat around the city as a perfect walk and its wonderful square and church, and Pisa with the ever impressive leaning tower. There is a shuttle going from the site to the local train station, making exploring easy.
Discover the Via Francigena, the pilgrims trail though the hills of Tuscany, ideal for walking for all levels.
Around and About
Florence, Vinci, Lucca, Pisa, Pistoia.
Prices
Map
Sites key: Overseas Site
Postcode:

51035

Region:

Italy

Distance to Calais: (kms)

0
GPS:

Lat 43.84161 / Lon 10.910629

Michelin map no.

0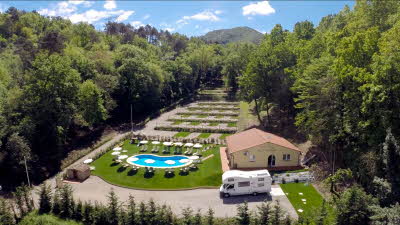 24.31 miles