Cypsela
C/Rodors, 7, Girona, 17256 Pals, Spain
View on map
Why stay here ...
This large, resort-style site is a great option if you're looking for a lively holiday. Located just 3km from Pals on the Costa Brava, it's an efficiently-run destination with a raft of activities for all ages. Alongside a pool complex with water slides, there's bowling, squash and organised entertainment.
A range of pitches are on sandy gravel and shaded by pine trees, and the facilities are kept clean and neat. Amenities such as the restaurant, shops and a cafeteria mean there's little need to leave the site, should guests wish to stay put.
A free bus service from site to the beach, and the beautiful, walled city of Girona is less than an hour's drive. Here, visitors can enjoy the Arabic architecture, the fine cathedral and a range of excellent museums.
Around and About
Girona, Cadaqués, Barcelona, Figueras, Dali Theatre-Museum, Traditional Catalonian Medieval towns, Beaches, Golf, Water sports.
Prices
Useful Info
Is there a set arrival day? No
Map
Sites key: Overseas Site
Postcode:

17256 Pals

Region:

Spain

Distance to Calais: (kms)

764
GPS:

Lat 41.98591 / Lon 3.18196

Michelin map no.

574
Transport links
Buses go to: Pals

Daily public transport within 2 kms

Nearest port: Bilbao (445 kms)
2.36 miles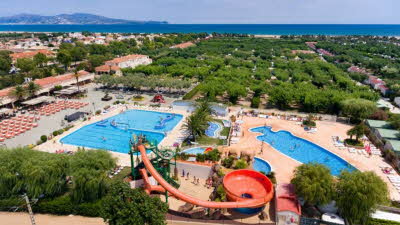 14.12 miles