Auto-Trail Adventure 65 LB review
Auto-Trail Adventure 65 LB review
The Auto-Trail Adventure 65 LB is a van conversion with a difference due to the fact it can provide full four-berth accommodation thanks to being a high-top with elevating roof. Nick Harding takes a closer look.
As part of our series of campervan reviews, we take a look at the Auto-Trail Adventure 65 LB.
Fancy going on an adventure in an Adventure? Well, you can; two such-named models are in Auto-Trail's 2020 portfolio. They are both high-top van conversions with elevating roofs, based on Fiat's Ducato. The one tested here – the 65 LB – is the longer of the two. The high-top plus elevating roof is an interesting proposition – it means that the Adventures can provide full four-berth accommodation in the confines of a van.
Build quality – 78%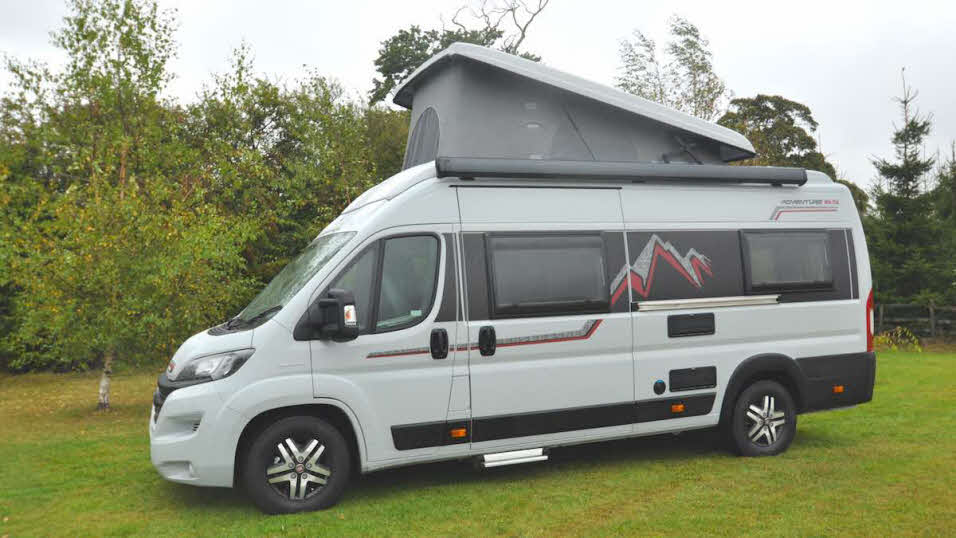 There's a certain reassurance that comes from knowing that these Adventures are produced here in the UK, in the same factory as Auto-Trail's V-Lines, Tributes and more. Equally, the elevating roof on each model comes from Germany's SCA, widely recognised as the leading exponent of such fittings. Manually operated, the various clips, buckles and straps might make it seem a bit belt-and-braces, but there is a solid quality to it all. It requires a bit of strength to push it up (and indeed to pull it back down again) and long arms are definitely an advantage. Access inside is via an open hatch and ladder.
'Expedition Grey' exterior colouring is standard – as are the alloy wheels – but 'Sky Blue' is available as a cost option. All of the top-hinged windows, fitted by Auto-Trail, can be opened.
Driving – 82%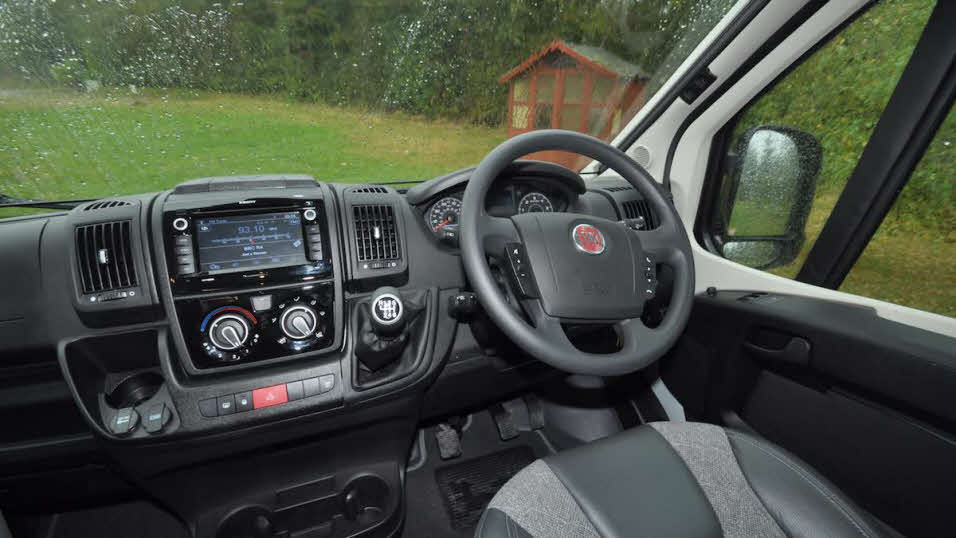 Fiat's Ducato guarantees a good drive. It's hardly a spring chicken but latest versions have Euro 6d engines; the Adventure 65 gets the 2.3-litre, 120bhp offering as standard.
The one you see here has the 140bhp upgrade – the only optional extra fitted to this test vehicle. I'd argue that this is the minimum you'd want on this model, which boasts a healthy 350Nm of torque at 1,400rpm. It certainly seems quieter than its predecessors, the absence of any rattles offering further reassurance as to the quality of the conversion work.
Engine aside, not much has changed with the latest Ducato. The cab – with its central cup-holder console – will be familiar to many of you. Steering wheel controls and a Zenec Xzent 6.2in touchscreen 'infotainment centre' (hosting DAB radio, CD player, Bluetooth, sat-nav and colour reversing camera) are particular highlights.
Daytime – 75%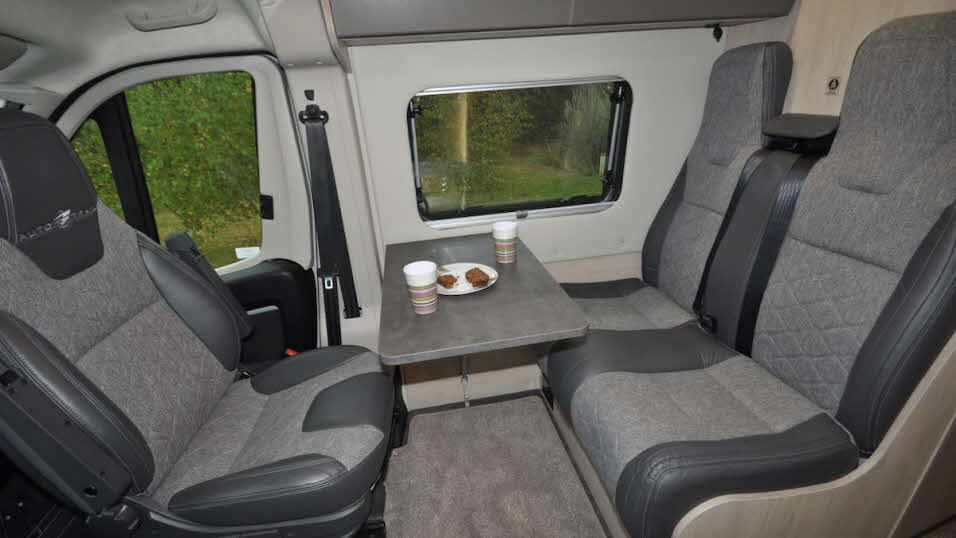 The floorplan is instantly recognisable: end and front lounges are linked by a fairly narrow corridor, with a central kitchen and washroom (à la V-Line 636). Headroom is 6ft 1in throughout and, just as importantly, there's still plenty of high-level locker storage available. These lockers are all properly lined.
The front lounge comprises a double travel seat plus swivelled cab seats, plus a neat side-fixing table that folds flat against the wall when you're on the road. There are concertina blinds plus flyscreens to all the side and rear windows, while the cab has Remis blinds. There's also a full flyscreen for the sliding door.
At the back, the medium-length settees come with backrest panels and twin scatter cushions. A pedestal leg table can be used here – the top stows away in a dedicated locker while a clip to hold the leg can be found inside the wardrobe. A varied choice of soft furnishings will appeal to those who like to put a more individual spin on the interior of their vehicle.
Night-time – 78%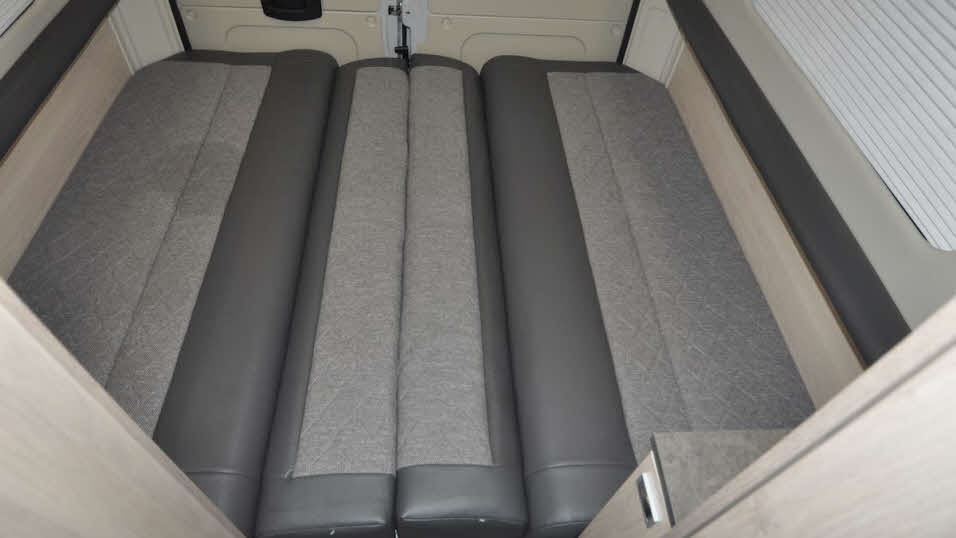 While the Adventure is very much a four-berth, it will be used by a lot of couples, who will get to choose between the two beds. The roof double would be my pick – definitely a contender for 'Most Comfortable in Class'. The mattress may be thin but it's on plastic Froli-type springing for extra support and ventilation.
There are two reading lights on stalks up there, each with a USB socket, while ventilation comes from mesh sections to the front and nearside. Another benefit is there's space to put at least some of your bedding up here, even when the roof is down. Somewhat unusually, the roof bed is fixed, so doesn't hinge upwards when not needed.
A transverse double can be made from the rear lounge settees. It's fairly straightforward to set up – both bench bases slide out – but the resultant bed, using all the seating sections, isn't the flattest.
Kitchen – 76%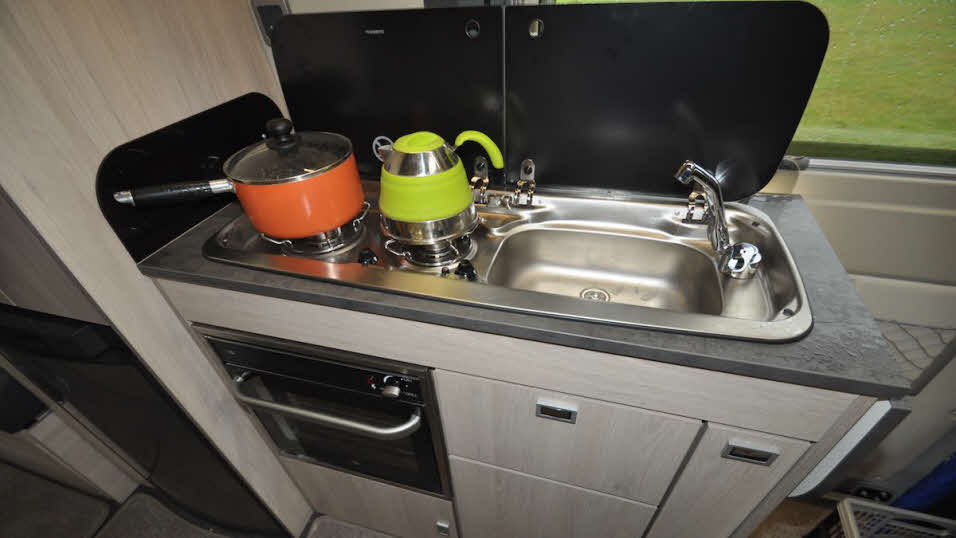 The kitchen is a good example of the hybrid camper/van conversion nature of the Adventure. There's a typical, camper-style two-ring hob and sink combination in stainless steel, but you also get a grill/warming oven (up to 180 ̊). Plus, under the wardrobe to the left of the kitchen unit, there's a Dometic 8-series absorption fridge – and yes, location does allow the freezer box to be removed if you want the 85-litre capacity to be used for chilling only.
You also get a handy flip-up worktop extension and there's a cutlery drawer. Other storage here comprises a single overhead locker (it could do with a deeper shelving lip or a restrainer strap of some kind for its contents) and two floor lockers, one of which is shelved. As mentioned earlier, corridor space is lacking – you'll want to check this before buying to see if it's an issue.
Washroom – 69%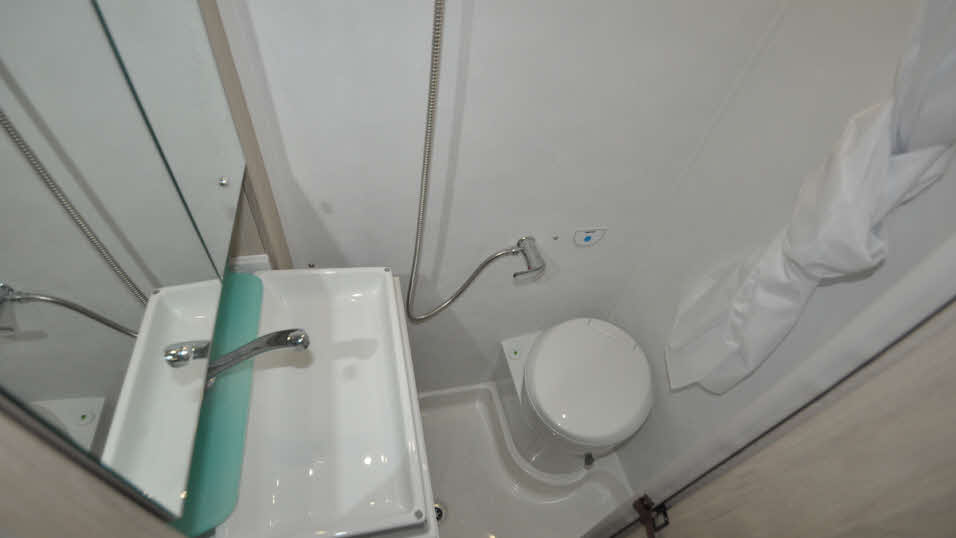 Another way that Auto-Trail has bridged the gap between campervan and van conversion is by providing a washroom. It's not huge, of course, but the available space is used efficiently – there's a trigger- operated hand-held shower, a swivel-bowl toilet set on a pedestal and a mirrored, double-door vanity unit, under which the panel opens to expose a shallow but serviceable basin.
There's open shelving underneath, along with hooks and towel and toilet roll holders, plus three bright downlighters for illumination. The use of somewhat traditional wallboarding and a clingy shower curtain is a tad disappointing. Some folk may find it tricky to access the washroom via the standard door.
Details – 81%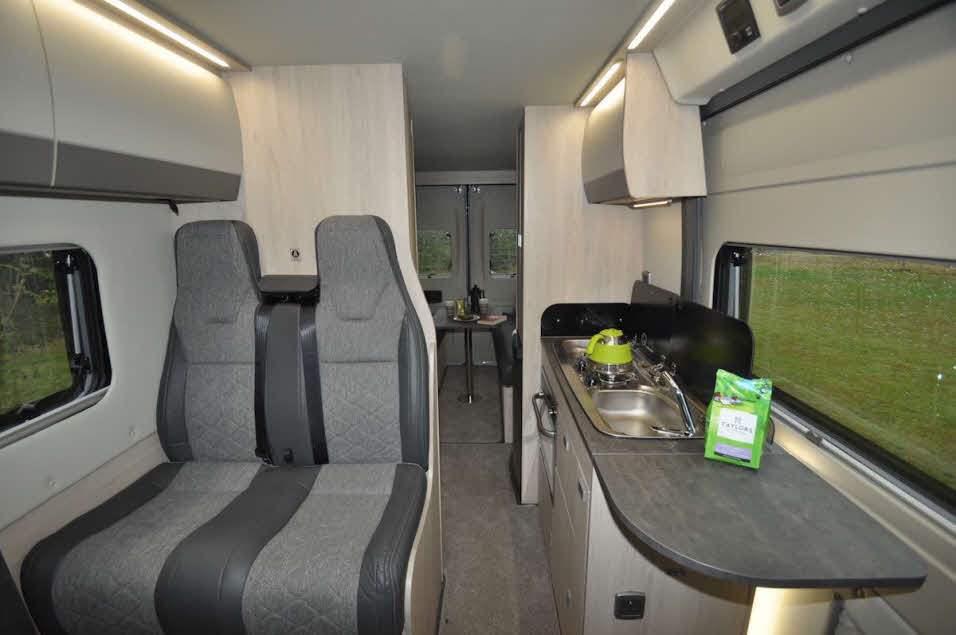 Auto-Trail's approach to the overall equipment levels is spot-on. Standard kit includes a 100W solar panel, permanent gas tank and Auto-Trail Connect tracking system. The Media Pack, which is a £1,000-plus option across the rest of the Auto-Trail portfolio, also comes as standard here.
Then there's the 'small stuff'. There are plenty of USB sockets, net pockets in the sliding door are useful, and strip lights over the lockers also shine in when the doors are opened. Rear speakers in the lounge at the back would be nice, considering that most people will probably use this as the main living area.
Verdict – 77%
A very interesting development from Auto-Trail. You can see the advantages – and there are plenty – of putting an elevating roof on a high-top.
As well as high-tops, make sure you check out the various types of campervan available when deciding which style suits your needs.
More like this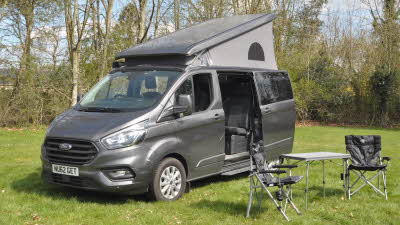 By Nick Harding
11/07/2021
The Ford Nugget could appeal to those who want to a campervan to double-up as a main means of transport as it has five travel berths and is excellent to drive. Nick Harding assesses its other qualities.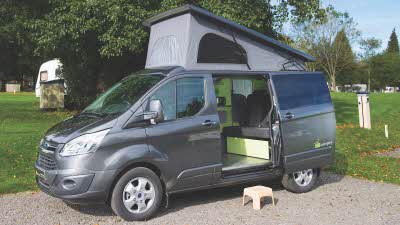 By George Hinton
20/07/2021
The Auto Campers Leisure Van offers plenty of flexibility with two or four berth options and coming on either a Ford Transit or VW Transporter base. It works well as both a family campervan or for daily driving, as George Hinton found out.