VW Grand California 680
Nick Harding tests the new Volkswagen Grand California 680 campervan which offers two-berth accommodation and comes on the Crafter base vehicle
Volkswagen's popular California campervan now has two
 sisters, both of which are based on the company's award-winning large van, the Crafter. The 'grander' of the two – the Grand California 680 – makes its debut here. Nick Harding climbs aboard to put it through it's paces.
Build quality – 92%
Volkswagen makes the Crafter in Poland beside a specialist unit that carries out the camper conversion work – the result is mightily impressive build quality. That two-tone paint finish is a rather hefty £2,868 option but much is standard – slide-out step, awning light, etc. It's a tall vehicle and if you're thinking of adding a TV aerial, or even a bulkier solar panel, you'll find you've gone over 3m.

Inside, the Grand California's build quality really comes to the fore. It's all very automotive in terms of styling – the furniture has an easy-wipe finish and there's not a hint of carpet, either on the floor or sidewalls. Instead, you get lots of quality plastic mouldings.

Other options fitted here include ambient lighting (£480), Lights and Vision Pack B (£420), Driver Assistance Pack A (£390), folding door mirrors (£330), rear view camera (£282), headlamp washer system (£336) and more.
Driving – 89%
The quiet, initial start-up promises so much and, generally, the Volkswagen delivers. There's certainly a big-van feel to the 680 but it's also very well-mannered. The 175bhp engine and eight-speed automatic transmission are standard and this example had 4Motion all-wheel drive – better for overall handling, but you pay a premium in terms of weight, economy and a slightly reduced payload. It also bumps up the price by some £7,000.
My only complaint is that Volkswagen hasn't seen fit to upgrade the cab area, as it does in its Transporter-based Californias. Instead, the dashboard and surrounding areas are a sea of black plastic.
Do take note of the 680's weight. You'll need C1 on your driving licence, and the vehicle's unladen weight means you're restricted to 50/60mph on UK single/dual carriageways (and 70mph on motorways). I'm surprised at Volkswagen's official fuel consumption figures of 22.2-22.8mpg as I have a feeling careful owners will achieve better than this.
Owners have the benefit of four travel seats, with sculpted backrests, adjustable head restraints and Isofix fittings in the rear. A small cubby in this area contains a double USB socket, which is bound to come in handy for charging devices while you're on the move. The shelving overhead is open though, which reduces its handiness when you're on the move.
Daytime – 78%
The Grand California is large enough to support the kind of floorplan you're more likely to find in a coachbuilt motorhome. There's a forward lounge – comprising both cab seats swivelled and the double rear travel seat – as well as a central kitchen and washroom, and rear 'permanent' double bed. The lounge itself is compact but effective with its shaped, detachable table. Top-hinged side windows provide the views out and ventilation, aided by a wind-up sunroof.
Night-time – 80%
Large as this vehicle is, it only sleeps two, albeit in a high degree of comfort. There are three mattress sections in the rear of the motorhome, each of which sits on a plastic support system, providing superb support as well as ventilation. Maximum double-bed dimensions are 6ft 6in x 5ft 6in, and there is a cut-out in the central section to make it easier for you to get in and out of bed. That centre base can also be hinged upright to provide space for transporting larger items.
Overhead, the roof lockers that wrap around three sides of the sleeping area have an airline feel to them, although actual storage space inside is restricted. There are four opening windows, each with concertina blinds and flyscreens. A second opening sunroof here provides ventilation as well as a great way to watch the night sky.
Kitchen – 76%
The all-white kitchen unit houses a two-burner hob and sink combination with permanent worktop to either side as well as a slide-out extension on the left. The fridge – a 70-litre compressor model, with freezer compartment – is at the end of the unit and also has a slide-out action, meaning you can easily access it from inside the vehicle or out. Storage comprises four soft-close drawers of varying sizes (there's also a flap hiding two gas isolator valves), as well as a small but useful fold-up ledge for use when the sliding door is open. Plus, there's a double high-level locker.
Two mains sockets as well as an LED strip light should be plenty for your electricity and illumination needs, while hot water and heating are via Truma's trusty Combi.
Washroom – 75%
A sensor turns on the main light as soon as you step into the all-white, fully-lined washroom. There's the familiarity of a Thetford swivel-bowl toilet here, as well as a not-so-common folding soakaway(rather than a water-holding basin).
The water outlet extends for use as a shower – a suction mount for attaching the shower head wherever you want is also supplied – and there are two diametrically opposed drainage points in the suitably deep floor well.
There's excellent storage for toiletries etc – four sections of shelving plus a single, low-level locker and a strip of four clothes hooks. The large mirror is double-sided and hinged. The only ventilation is via a small rooflight.
Details – 93%
There's not enough room here to cover all the details. As a California, of course, it comes with two camping chairs and a table, while neat touches include the flyscreen arrangement at the sliding door, the switch at the end of the bed for locking all the doors, and the two-tone ambient lighting around the bed itself.
The main habitation control panel is simple to use, as is the touch-control LED strip lighting. There's good storage in the spaces below the bed, including a gas locker that can take two 6kg propane cylinders.
Verdict – 83%
The Grand California 680 
has been superbly designed, with excellent integration of camper and base vehicle. Fit and finish is truly excellent and it has been particularly well thought out. It's thoroughly modern and – if it proves a fraction of the success of the original California – can expect to hold its price particularly well.
More like this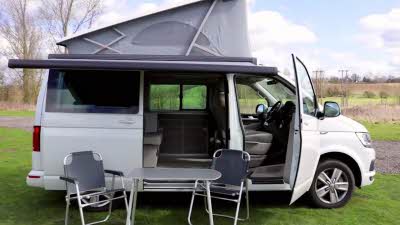 By Nick Harding
21/03/2021
There is little doubt the Volkswagen California is iconic in the campervan world but does the Ocean model based on the T6 Transporter offer value for money? Nick Harding takes it to the beach to find out.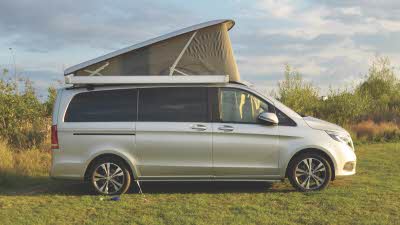 By Nick Harding
20/03/2021
The Mercedes Benz Marco Polo is more of a glampervan than a campervan. The four-berth camper is in the same mould as the popular VW California but which is better?